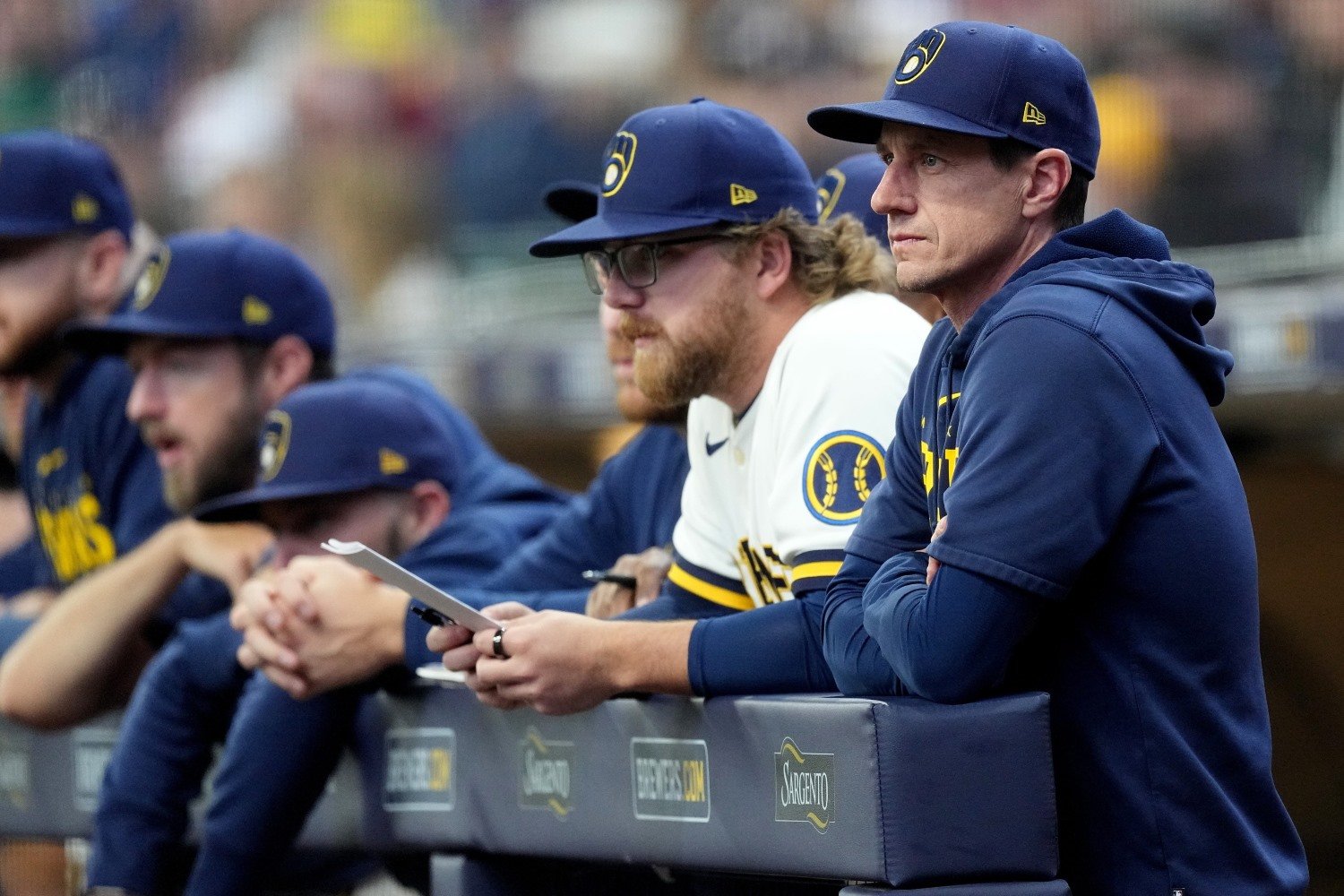 Image courtesy of © MARK HOFFMAN/MILWAUKEE JOURNAL SENTINEL / USA TODAY NETWORK
Craig Counsell might have just reset the value of a top-tier manager like himself, with a whopping contract from the Cubs dwarfing the record-setting extension reportedly offered by the Brewers. However, this type of money brings with it an expectation of significant, real value added. It remains to be seen whether Counsell can provide that in his new job. 
Counsell's Value
Counsell's role was to be someone that seamlessly merged the front office with the on-field product, and he did that incredibly well. He was open and honest with his players about what he needed from them, providing a high level of clarity in each role and maintaining a clubhouse unity that helped the Brewers to thrive in tough situations. They have consistently outperformed their Pythagorean expected wins and losses (which is based on total runs scored vs runs conceded on the season), but a lot of this benefit came in 2017-2019. The Brewers won 40 games more than they were expected to over that three-year period. 
Also, for seven straight years, the Brewers won more one-run games than they had lost, with Counsell briefly (this August) leading all managers in baseball history in this specific split. However, this is a slightly skewed way to analyze his performance. Over the last seven years, the Brewers have been armed with a bullpen that carried lights-out relievers, from Josh Hader, Devin Williams, Corey Knebel, and Jeremy Jeffress, to this year's Joel Payamps and the developing Abner Uribe. It means that, although the Brewers have struggled offensively since 2019, they could hold onto tight leads by shutting games down at the back end. At least some, if not most, of this credit should go to the relievers in question. Yes, Counsell is probably more adept than most at knowing when to use different relievers, but to say he excelled at this when he had many head-scratching decisions too (such as throwing the southpaw Hoby Milner out to face a red-hot, dominating Albert Pujols who had crushed left handers all season) might be too generous. 
With a bullpen like this, a lot of managers could have made different decisions over the course of a season and come out with similar results to Counsell's. His true value came in facilitating an environment where players could thrive with their backs against the wall, and in that, he did excel. It's a big reason for the Brewers coming up clutch so often in the regular season, and will no doubt improve the Cubs significantly next year. He did also get a lot of support in this area from the likes of Brent Suter, Wade Miley, and other veterans, each of whom who took a lot of responsibility for setting the tone in that clubhouse. That being said, players have come out and talked about running through brick walls for him. He's someone they like to play for, and that's crucial in both acquiring talent and in getting it to perform.
There were a lot of queries about bullpen decisions and lineup construction under David Ross last year, and Cubs fans should expect raw scalps to continue with all the head-scratching next year. Counsell's success is undeniable with the Brewers, but it's fair to ask just how much of an impact he had, as opposed to the teams the Milwaukee front office built around him.
What will you miss most about Counsell's stewardship of the Brewers? Did he get too much credit for their recent regular-season success? Does he get too much blame for their playoff disappointments? Tell us what you're thinking about his specific managerial skill set, as he takes it down I-94.