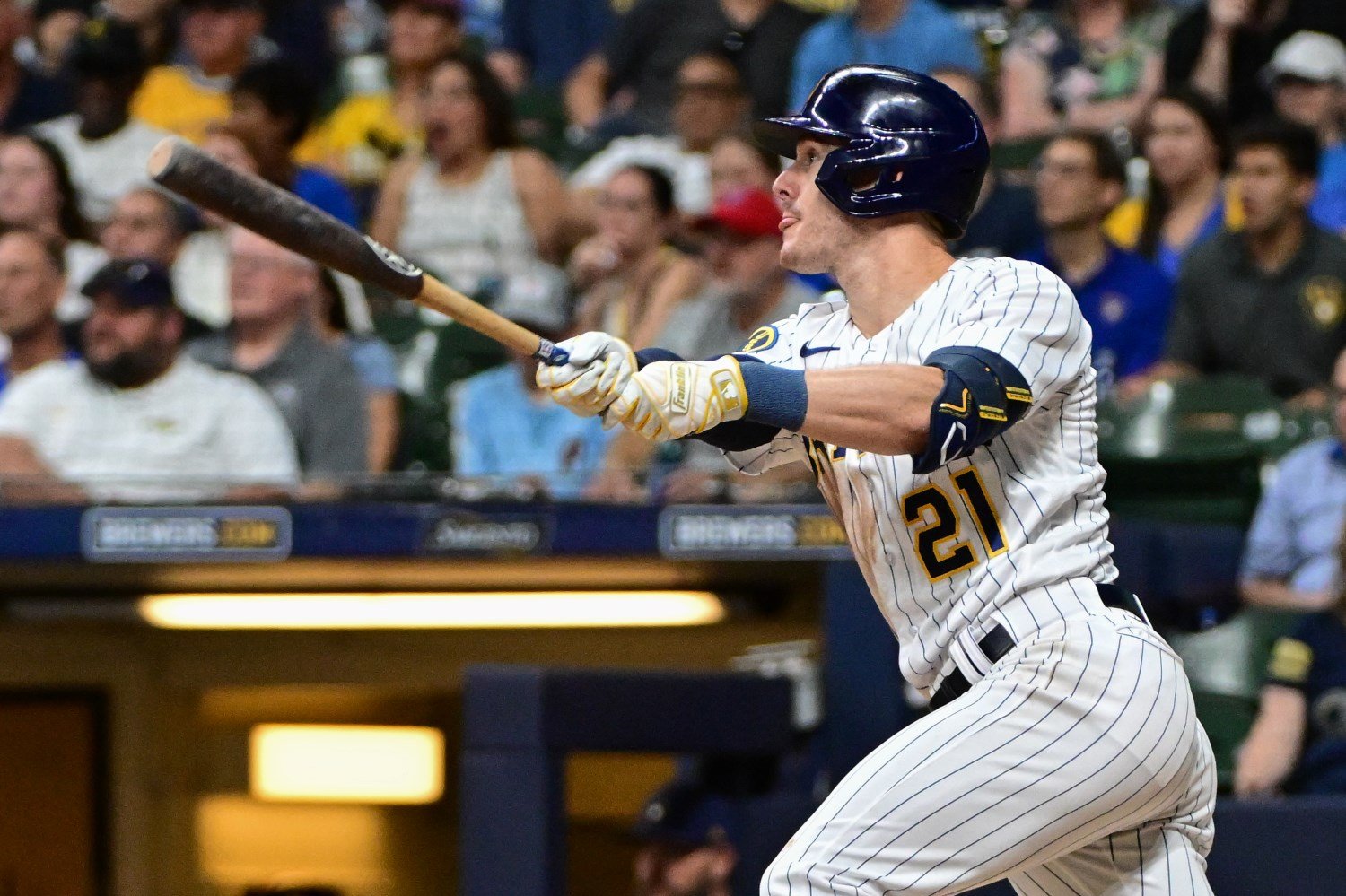 Image courtesy of © Benny Sieu-USA TODAY Sports
It shouldn't surprise us that the Brewers elected not to pay Mark Canha $11.5 million for 2024. Just under a year ago, they traded Hunter Renfroe (a similarly valuable but limited player who was set to earn a similar salary via arbitration) to the Angels. They believe they can find and acquire adequate versions of this type of player for a fraction of the price, and that they can always go get someone (as they did with Canha) if their first attempt (like Brian Anderson, in 2023) doesn't pan out.
The last time around, that confidence was augmented by the fact that the team anticipated having Garrett Mitchell, Joey Wiemer, Tyrone Taylor, and Sal Frelick feature prominently in the 2023 outfield. Injuries interrupted Taylor's season, nearly obliterated Mitchell's, and delayed Frelick's debut, but sure enough, the team patched together the outfield well enough to get them over the finish line as NL Central champions--partially thanks to Canha himself. This time, those players are all still in the picture (at least for the moment), but the people helping to drive their decision are two who have yet to crack the big-league roster: Jackson Chourio and Tyler Black.
Chourio projects to reach the majors and have a significant impact in 2024, and Black is already knocking loudly on the door thereto. Canha would have gotten his playing time with next year's squad as a designated hitter, in right field, and at first base. If Chourio and Black play the way the organization hopes they will, they'll have to take up a significant share of the reps at those positions. Trading Canha cleared the way for the club's two top prospects.
It's hard not to see this as something more, though. Canha's departure also clears an eight-figure space in the budget for next year, which figures to be pretty tight. The timing of this deal tells us, in pretty certain terms, that the Brewers were unwilling to exercise the option themselves, despite Canha's solid production in 2023 and his long track record as a useful hitter. That's a bummer. It implies that the payroll might have a lower, harder ceiling on it than we hoped as of a few weeks ago, and if that's true, it ripples out to other, more obvious aspects of the endeavor of repeating as division champions.
That the team got only a minor-league reliever in exchange for Canha (though a relatively promising one) signals the lack of any real leverage on the part of the team. It does help them, in a small way, because Blake Holub not only isn't on the 40-man roster, but doesn't need to be added to it until next winter. The team gained a little bit of pitching depth, and they cleared a spot on their roster, and they saved some money they clearly didn't feel that they could spend, anyway.
In that way, this is a good move. In the context of the Crew's winter plans, it's clearly necessary. Whether it will ultimately pay dividends, though, depends on what comes next. We've seen the warts on all of the internal options to replace Canha. External ones who will cost meaningfully less than he would have could include names like Carlos Santana, Michael Brantley, Randal Grichuk, or Adam Duvall, and Santana would be a welcome returnee, but he'd hardly move the needle in the lineup. This reads as a big gamble on either an unprecedently healthy and consistent season from Taylor; a sudden developmental step forward by Wiemer, Mitchell, or Frelick; or the massive rookie breakout by either Chourio or Black that is the secret hope of every Brewers fan.
Teams who are willing to spend a bit more liberally can bet on that kind of upside without giving up the surety and positive clubhouse influence of Canha. The Brewers are actively choosing what could be a more sustainable path, but they do so at the cost of some depth and margin for error. Canha will be 35 by next spring, and he might not have repeated the good work he did late in 2023 with Milwaukee even if they brought him back. By deciding they can't risk that at the price of his option, though, the team is rolling a different set of dice. That's the nature of this front office, and it brings their next likely decisions into clearer focus.