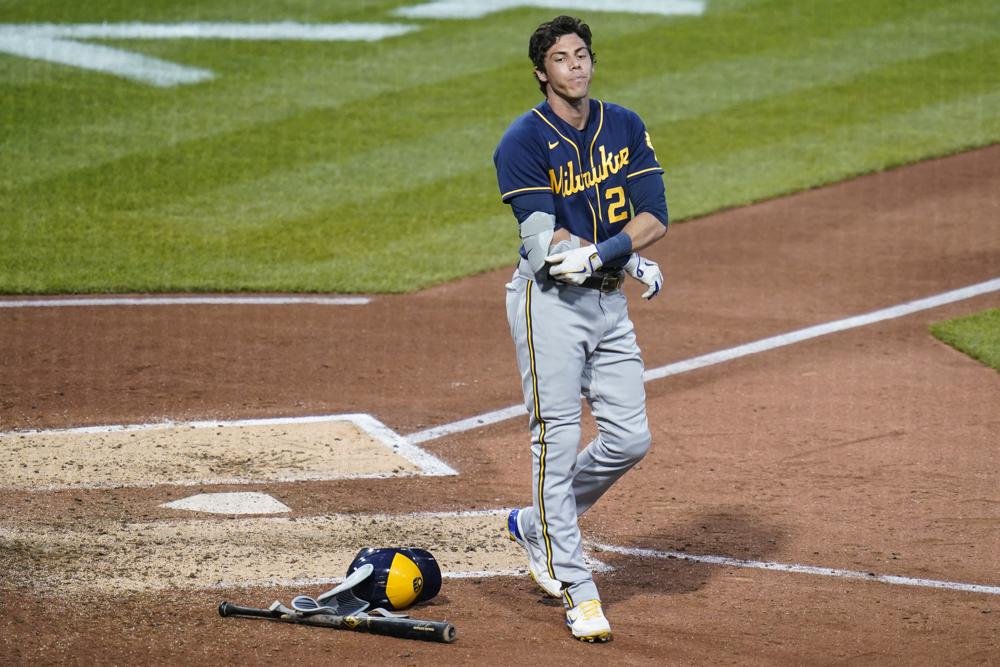 Image courtesy of WKTY
Christian Yelich has become noticeable for his number of hot streaks over recent years that had the crowds hailing his return to form. He caught fire for two months but has regressed massively since. Did he con the fan base again?
This year, everyone was more cautious, but after two months of high-level performance, including an OPS of over 1.000 in July, it seemed as though Yelich had returned to, if not his best, then a Miami Marlins version of himself, basically doing everything his MVP-self executed apart from pulling the ball in the air with regularity. Since then, however, everything has gone downhill. Dreaming of a return to form of mid-year Yelich would tip this offense to the next level, but can he get back on track before the end of the season, and what has changed over the last month?
Is this Just Bad Luck?
Unfortunately, luck doesn't have as much to do with this as you'd like. WOBA is a great measurement for how likely a player's batted balls and walk rates are to get on base, and Yelich's xWOBA on the season as a whole was .387 at the end of July. In August, this dropped to .295, so something has changed markedly in his play at the plate.
As always, the first place to look with Yelich is his launch angle. He can impact so much bat speed on the ball, but the problem comes when his launch angles drop too much, to the point that they're bouncing two or three times in the infield. 


 
Statcast has its monthly alignment slightly off; the highlighted period is July. However, you can see that it's a huge indicator for his form. Particularly concerning is his negative launch angle on fastballs, a pitch he has absolutely crushed so far this season. The trend with his launch angle has a clear pattern for his form when added to the data below:
| | | | | |
| --- | --- | --- | --- | --- |
| Month | Launch Angle | xBA | xSLG | OPS |
| May '23 | 7 | .318 | .582 | .842 |
| Jun '23 | 3 | .294 | .452 | .912 |
| Jul '23 | 6 | .339 | .573 | 1.015 |
| Aug '23 | 0 | .231 | .334 | .676 |
On top of hitting more lower-angled ground balls than at any point in the season, Yelich has also been getting alarmingly increased numbers of swing and miss, with a whiff rate of 21% rising to 27.4% in August and 36.4% in September. Of more issue, however, is that his exit velocity dropped off significantly. His lowest recorded monthly exit velocity this season, coming into August, was 91.8 mph and was up to 94.4 mph in July. In August, this cratered to an average of 86.3 mph. Yelich has always hit the ball hard, even when pounding it into the ground, so this is particularly concerning and a notable outlier from anything he has previously produced for the Milwaukee Brewers.
Taking all this into account, it seems fairly clear that this is not an outburst of poor luck like the one he had in May, and in fact, all the ingredients are there for a sizeable slump in form.
What's changed?
In short, tension. Let's look at a few still frames, and there's one very noticeable difference among them.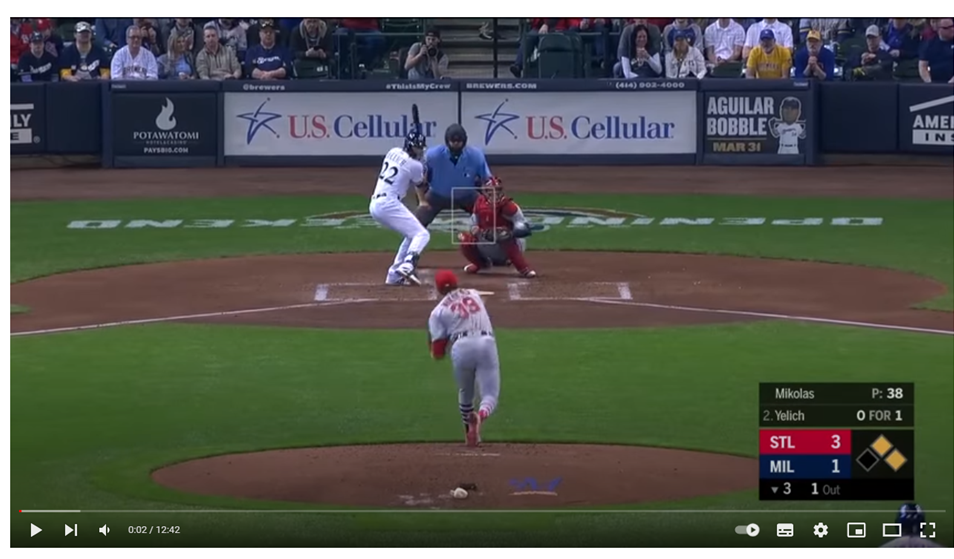 Yelich above is hitting a home run off Miles Mikolas in 2019. In and around the release point, you can see how upright and relaxed Yelich's posture looks. His languid, free-flowing swing loses a lot of power when he forces it, so being limber is key. It's one big reason why I believe he can go on short spurts of vintage performance, where he loosens up and relaxes before tightening up again when something goes wrong.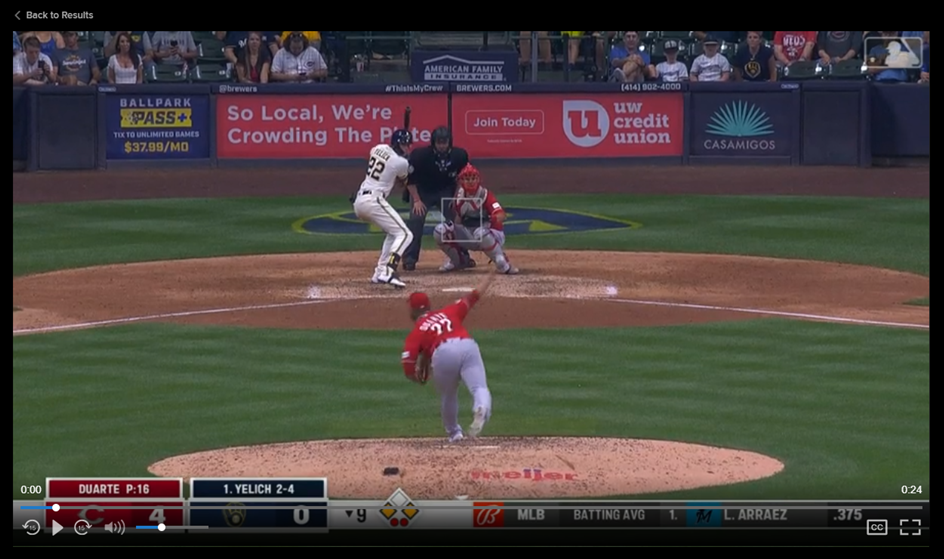 Here he is in July 2023, remarkably similar in the initial stance. During this period, he was crushing balls at a rate not seen since 2019, and you can see why with the similarities between the images at the point of release. Pay close attention to where his right elbow is here and the stance when looking at an image from Saturday's game.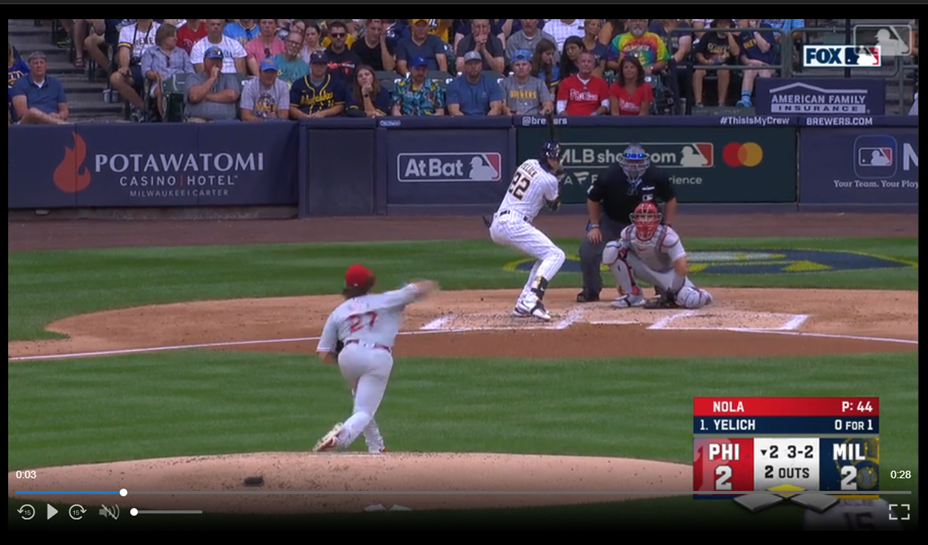 And now for the weekend, lining an RBI single against Aaron Nola for his only hit so far in September, but you can already see just how much more hunched up and crouched over he is at the plate, eliminating a key source of his power. Crouching over to this extent reduces the amount of torque generated by the hips, potentially the source of his dip in exit velocity. His right elbow is pointing almost down toward the ground as a result, instead of the 45-degree angle he has during his hot stretches in both 2023 and 2019, which significantly impacts how he can get the bat into the hitting zone, as well as tensing up the whole shoulder muscle as a result. 
Can He Rebound Again?
Absolutely. While the results may be chalk and cheese, the only noticeable difference is his upright stance at the plate and its lead-on effect on the tension in his shoulder. It's getting in the way of him timing the ball as he would like and timing his swing effectively, making it a little more jerky and wrist-oriented at the end. He can't quite get the bat out in time and has to flick his wrists to get it in the zone on time, resulting in far greater variance in his contact quality. Any sporting movement in the world, to be repeatable and explosive, has to be as tension-free as possible, something Yelich's swing in August has felt the ramifications of.
With the hitting coaches the Brewers have, it stands to reason that a simple fix and tweak could set him on a tear similar to July, at which point, the Brewers offense becomes truly fearsome. He has so much power in that bat waiting to be unleashed and could carry the Brewers through the postseason in a hot stretch.
As always, Yelich is a tantalizing watch, and how he performs will have a close connection with how the Brewers finish out the season.
Think you could write a story like this? Brewer Fanatic wants you to develop your voice, find an audience, and we'll pay you to do it. Just fill out this form.
MORE FROM BREWER FANATIC
— Latest Brewers coverage from our writers
— Recent Brewers discussion in our forums
— Follow Brewer Fanatic via Twitter, Facebook or email