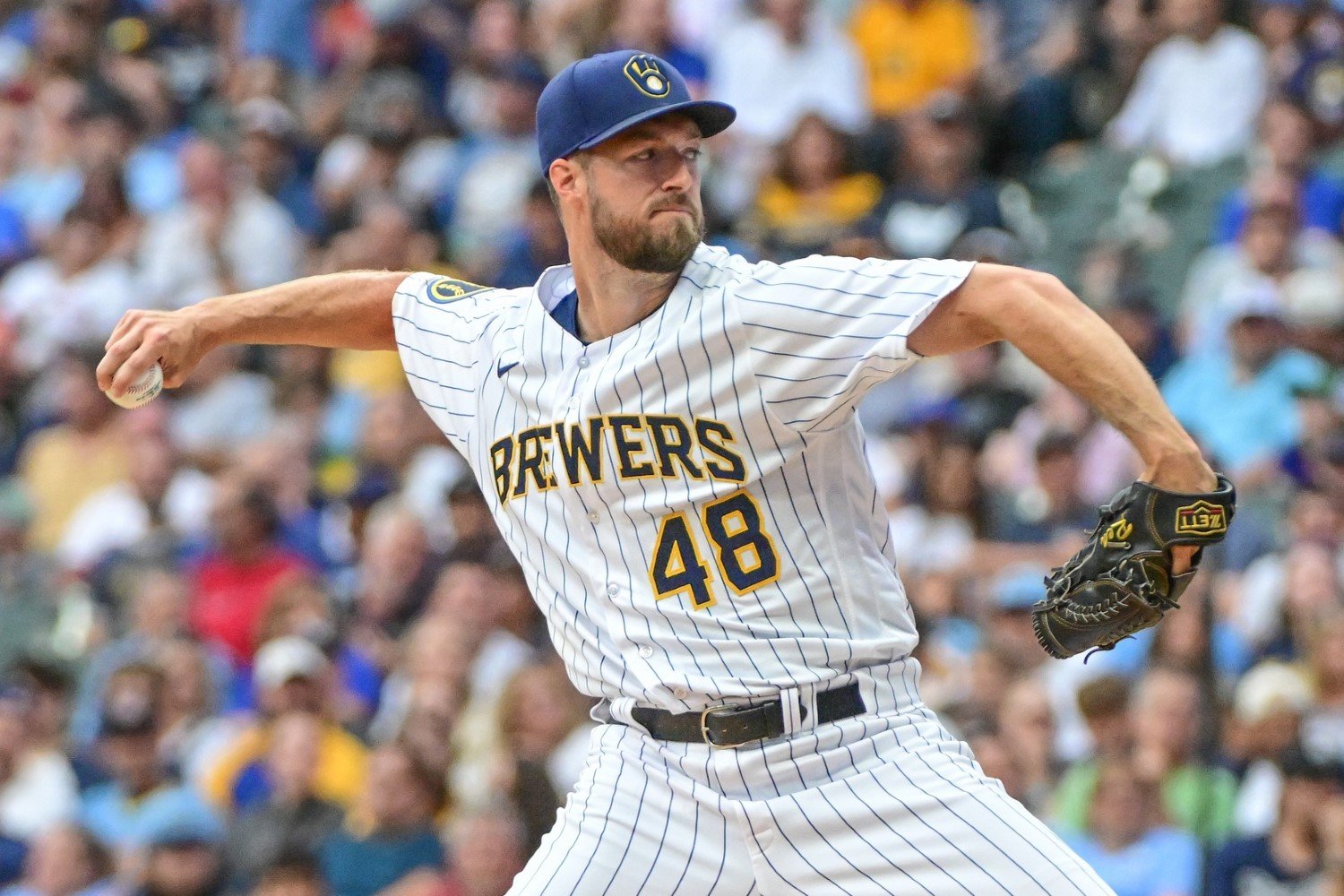 Image courtesy of © Benny Sieu-USA TODAY Sports
Since the All-Star break, no pitching staff in MLB has allowed a lower expected weighted on-base average (xwOBA) than the Brewers, according to Statcast. Only the Dodgers have allowed a lower batting average on balls in play in the second half, and if one focuses solely on starting pitchers, not even Los Angeles is a rival for the Brewers. It's helpful to run out an excellent defense in support of your hurlers, but the Brewers are inducing weaker, less valuable contact than the rest of the league, in addition to running healthy strikeout and walk rates.
Thus, even as another of the absent Adrian Houser's turns in the rotation comes up, Craig Counsell isn't looking to make a big change. Colin Rea has had an unexpectedly large role with the team this year, and his performance has been a bit uneven, but his flashes of success have been worth the occasional clunker of an outing. In this case, Counsell, Chris Hook, and the rest of the Brewers decision-makers are betting that giving the ball to Rea and allowing an extra day of rest for Wade Miley, Corbin Burnes, Brandon Woodruff, and Freddy Peralta is worth whatever value is lost by not using the off day Thursday to skip Rea and pitch each of the others on four days' rest next time through.
It's a sound decision, and not only because (despite the creeping panic fans might feel after the team dropped two out of three to the lowly Pirates) the team has a 1.5-game advantage with which to work in the NL Central standings. It's also informed by the fact that this coalescence into an elite pitching unit has come precisely when the team finally got its key starters healthy again. Woodruff, of course, missed most of the first half, and Miley was out from mid-May through mid-June, then again for the entire second half of July. While neither has evoked any particular concern since returning, and each looks strong, it makes a world of sense to find them extra rest when the calendar permits it, rather than try to keep them on a tight five-day rotation down the stretch. 
If Rea (or the potential alternatives to him, like Julio Teheran and Robert Gasser) were a bit worse, the decision would be more difficult. There's a balancing act going on here, as Counsell tries to get his team to October in good enough shape to win postseason series, but also must think about how to ensure that they reach the postseason at all. Rea makes it somewhat easier, though, by being a perfectly credible stopgap starter in what has been a chaotic season for starting pitching on almost every contending club. 
In 20 starts, Rea has completed at least five innings 16 times. On Sept. 2, in his first start with the parent club in a month, he left after just 4 1/3 innings, but he did so having allowed just two runs and having struck out six. He consistently gives the Brewers a chance to win, even if the chances that he'll be the primary reason why they won seem minuscule.
September has a habit of inviting baseball fans to employ a football mentality, which never ends well. In football, the Brewers' series loss to Pittsburgh would be cause for some species of significant change. As the phlegmatic Counsell has repeatedly shown, though, that kind of panic is counterproductive. By chewing up some innings and leaving open the possibility that the lineup will cobble together enough runs to win, Rea does the team a huge service. He gets them one day closer to the end of the season, without their having to burn out their more valuable starters or tax their relief corps with a bullpen game.
A good bottom-of-the-order hitter knows they need to participate in some rallies even without much hope that they'll score. There's value in keeping the line moving. Rea does that for Milwaukee. Since the emergence of Trevor Megill as a legitimate weapon late in games, and with Abner Uribe gaining the experience requisite to him being treated as worthy of high-leverage situations come the postseason, their bullpen has become overpowering. With Woodruff and Miley back in the fold, the starting rotation is equally so. Though Rea has rarely been more than workmanlike in any appearance, the team has won 12 of the 20 games he's started. 
Under the careful watch of the team's pitching infrastructure, Rea has learned to use his sinker more often against fellow righthanders, at the expense of his four-seamer. That's a simple modern fix for any pitcher struggling to discern the best versions and usage of their fastballs, but it's an important one for Rea,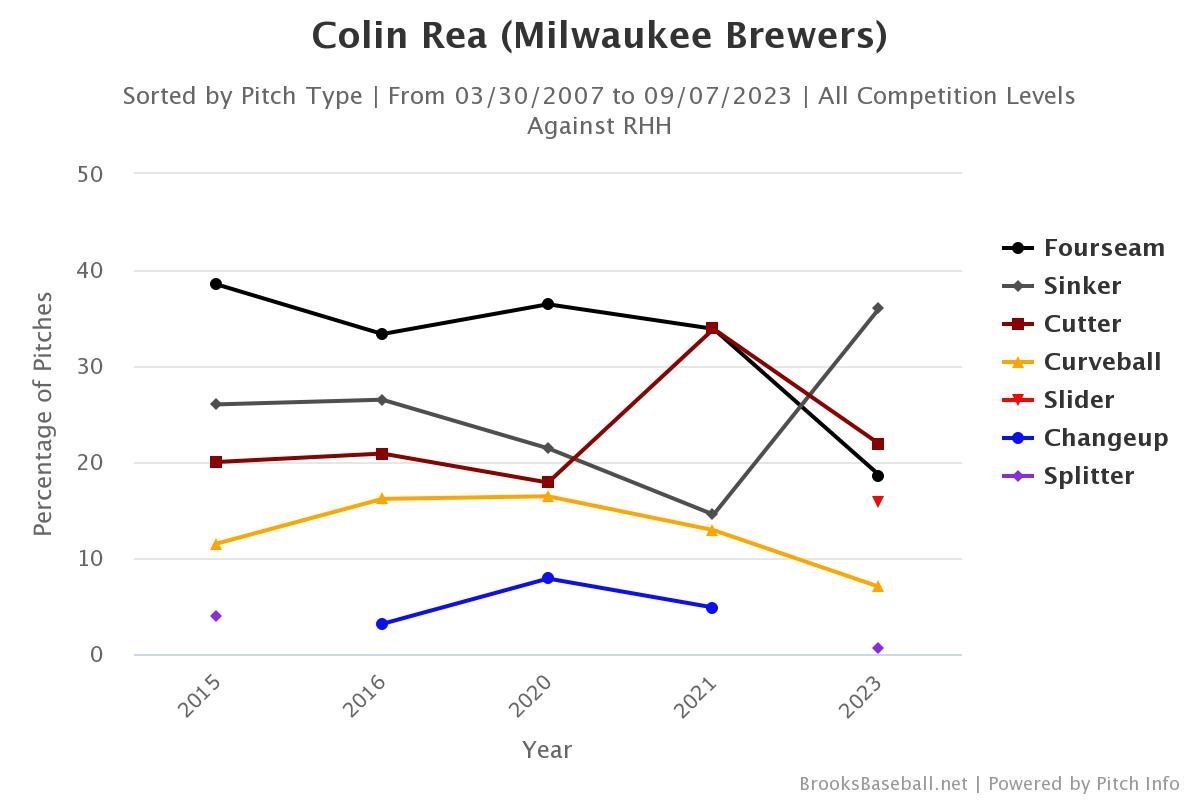 Against lefties, it's a different verse of the same song. Rea has decreased the usage of his four-seamer, in favor of more cutters, but he's also mixing in the sinker in a way he hasn't done in years.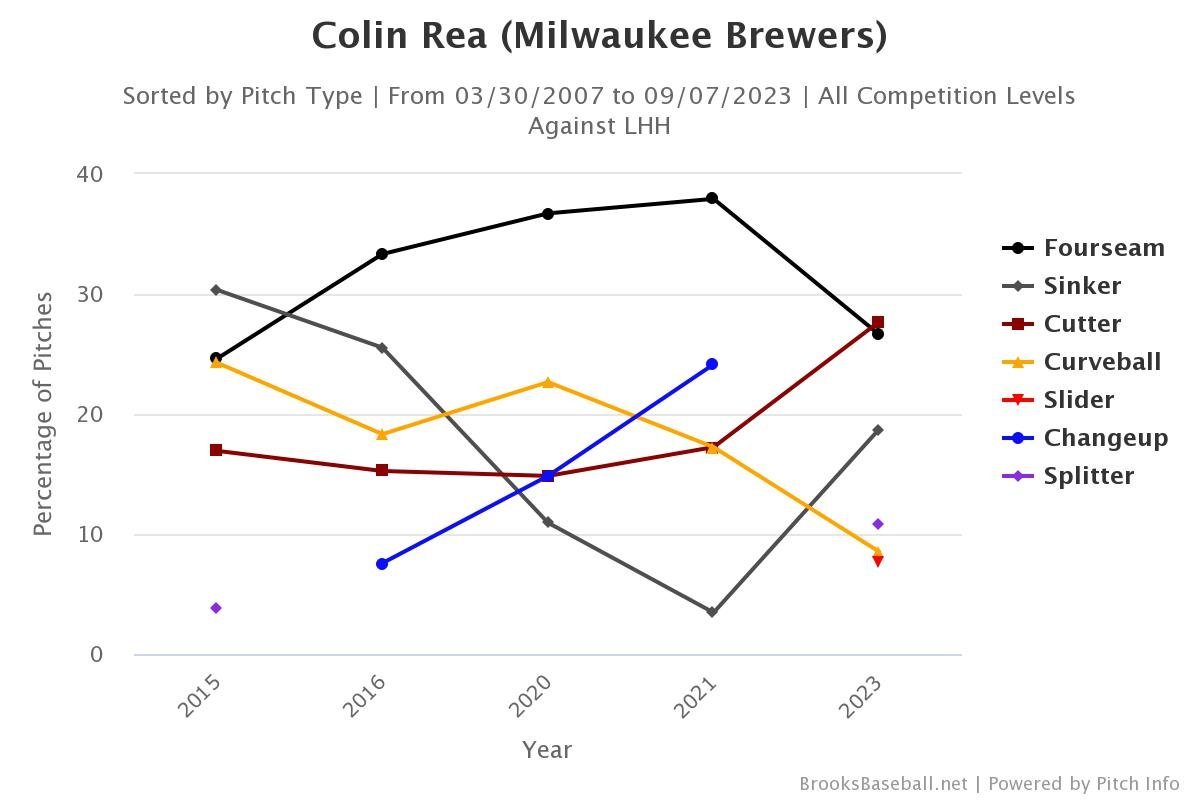 Add these gentle but firm turns of seemingly subtle dials to the fact that Rea has cooked up a sweeping slider, and you have a pitcher who can give big-league hitters enough to think about to prevent them from doing much damage against him. These tweaks are sufficient to get him a few more whiffs and a bit weaker contact, and it's these kinds of adjustments that many pitchers on the staff have successfully made over the last two months. This is, on a smaller scale, how Corbin Burnes and Freddy Peralta became the NL Pitchers of the Month for July and August, respectively. This is how (first) Joel Payamps and (more recently) Megill have turned the corner in their careers, to help this staff become a juggernaut. 
If and when Houser does return, he could still displace Rea, but given the tight timeline and the crowded schedule of the final three weeks for the team, it might make more sense to let Rea take all his turns the rest of the way. Houser would be out of the projected postseason rotation, anyway, so he might as well reacquaint himself with the bullpen, and if truly needed, the team could switch momentarily to a six-man rotation over the final few turns. It's all about finding the highest use of each of these individuals, while keeping the extremely high level of functioning of the group since mid-July clearly in mind.
By no means has Rea earned himself a playoff start, and with another day off left on Sept. 25, the Brewers could elect to skip him next time the chance comes. For now, though, they're sticking to a full rotation, because Rea is a useful (if highly unglamorous) piece of the game's premier run prevention crew. 
Think you could write a story like this? Brewer Fanatic wants you to develop your voice, find an audience, and we'll pay you to do it. Just fill out this form.
MORE FROM BREWER FANATIC
— Latest Brewers coverage from our writers
— Recent Brewers discussion in our forums
— Follow Brewer Fanatic via Twitter, Facebook or email