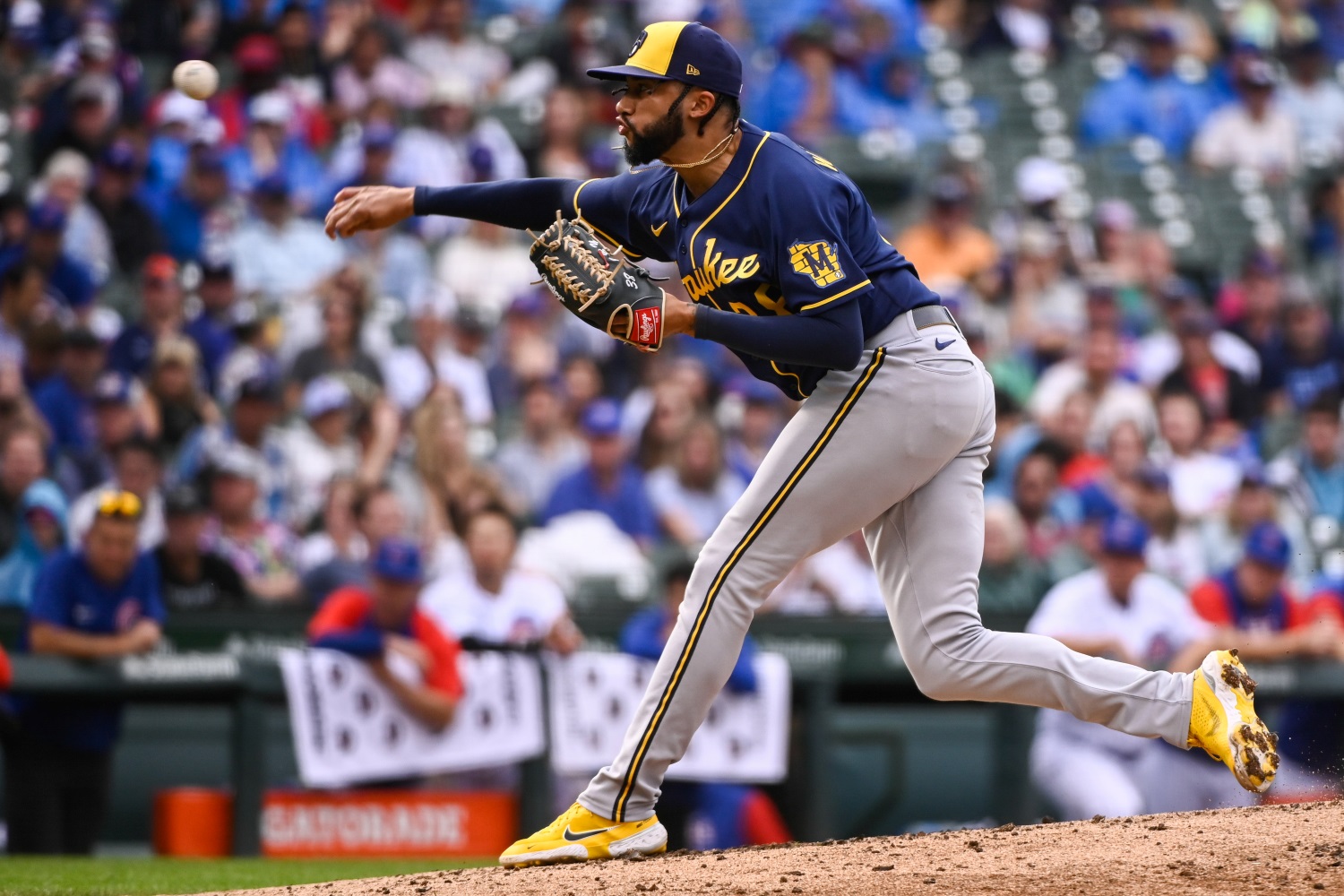 Image courtesy of © Matt Marton-USA TODAY Sports
In 2022, Devin Williams threw his screwball 620 times. It accounted for 58 percent of his pitches. Among hurlers who compiled at least 40 innings, not only did no one throw a changeup that often, but only San Diego Padres right-hander Nabil Crismatt even crept over the 50-percent threshold. However, seven pitchers used a slider at least 58 percent of the time. Breaking pitches, because they rely more on spin and movement and less on deception, are slightly more versatile and useful than are changeups. One argument, then, is that Williams's pitch is some form of breaking ball, purely because it's improbable that he could have this much success while relying on a changeup.
That would be a thin argument on its own, of course, but it's buttressed by the characteristics of the pitch itself. First of all, Williams's pitch has 11.0 inches of horizontal movement on average. That's more than any changeup in baseball, but it's right in line with the best sliders, sweepers, and curveballs in the league, according to the PitchInfo Leaderboards at Baseball Prospectus. A slightly less extreme version of the same story plays out when you compare the pitch's vertical movement to prospective peers.
Again, though, Williams's pitch is obviously an outlier. We can't disqualify it from being a changeup purely because it moves more than any other changeup in baseball. It also moves more than almost any slider, sweeper, or curve. Let's consider another dimension of pitch characteristics, though–first a metaphorical one, then a literal one. Williams's pitch spins at a bit over 2,700 revolutions per minute (RPM), on average. That's not only the highest spin rate on a so-called changeup in the majors, but beats the field by 200 RPM. It's about 500 RPM higher than his fastball spin rate.
A changeup, by any reasonable definition, is a pitch predicated on fooling the hitter into seeing a fastball. The deception comes from using the same arm motion and arm speed, and a very closely matched release point, while killing speed and spin by gripping the ball with more of the pitcher's hand. Most good changeups spin considerably less than their purveyors' fastballs. Williams's pitch spins more.
Now that we have detailed data on exactly where the pitcher releases the ball in three dimensions, we also know that Williams does that differently than guys throwing changeups do. His release extension–the distance in front of the pitching rubber at which the ball leaves his hand–is about an inch and a half greater on his fastball than on his screwball. That's not typical, at all. A changeup not only relies on mimicking the release point of the heater, but usually invites a fraction of extra extension, as the pitcher's hand works through from behind the ball and they "turn it over." That's where both the velocity differential and the fading action of a changeup comes from.
However, many pitchers do have slightly less extension on their breaking balls than on their fastballs. That's because a breaking ball requires something different. The hand goes around the ball, rather than through it, maximizing spin and altering the axis thereof at the same time. That's what Williams is doing with his pitch; he just does it with his outer fingers and a pronating turn of the forearm, rather than his first two fingers and a supinating one. He's using a modified version of what we now call a circle changeup grip, but the circle change is just the gentler, modern variant on the old screwball.
Why does this matter? The result is the same, whether you call it a changeup or a screwball. There's no pitch in baseball quite like it. Well, there are a couple of important factors involved. One is the health implications of throwing the screwball. Creating that much spin with a pronating delivery puts strain not only on the elbow, but on the shoulder, and it's important to remember that as we project Williams's longevity as the Brewers' relief ace. There's a reason why he extends through release less than a pitcher throwing a true changeup, and it's the same reason for which most of the great screwballers you can name (Christy Mathewson, Carl Hubbell, Warren Spahn) have grainy black-and-white photographs on Baseball Reference. The pitch is dangerous. We've already seen shoulder issues render him unavailable at the worst possible time. 
Another reason why we should care what this pitch is called, though, is so that we can understand it–and the sport we love–better. As a changeup, it's not merely awesome, but baffling, and not entirely in a good way. It starts to seem unfathomable and inscrutable. When we reconceptualize it as a reverse breaking ball, though, it makes more sense, and that new comprehension doesn't compromise our ability to marvel at it. It just brings us a little closer to the clarity and vividity reserved for the really careful baseball fan, and that closeness heightens our overall enjoyment of the game itself.
Think you could write a story like this? Brewer Fanatic wants you to develop your voice, find an audience, and we'll pay you to do it. Just fill out this form.
MORE FROM BREWER FANATIC
— Latest Brewers coverage from our writers
— Recent Brewers discussion in our forums
— Follow Brewer Fanatic via Twitter, Facebook or email
1