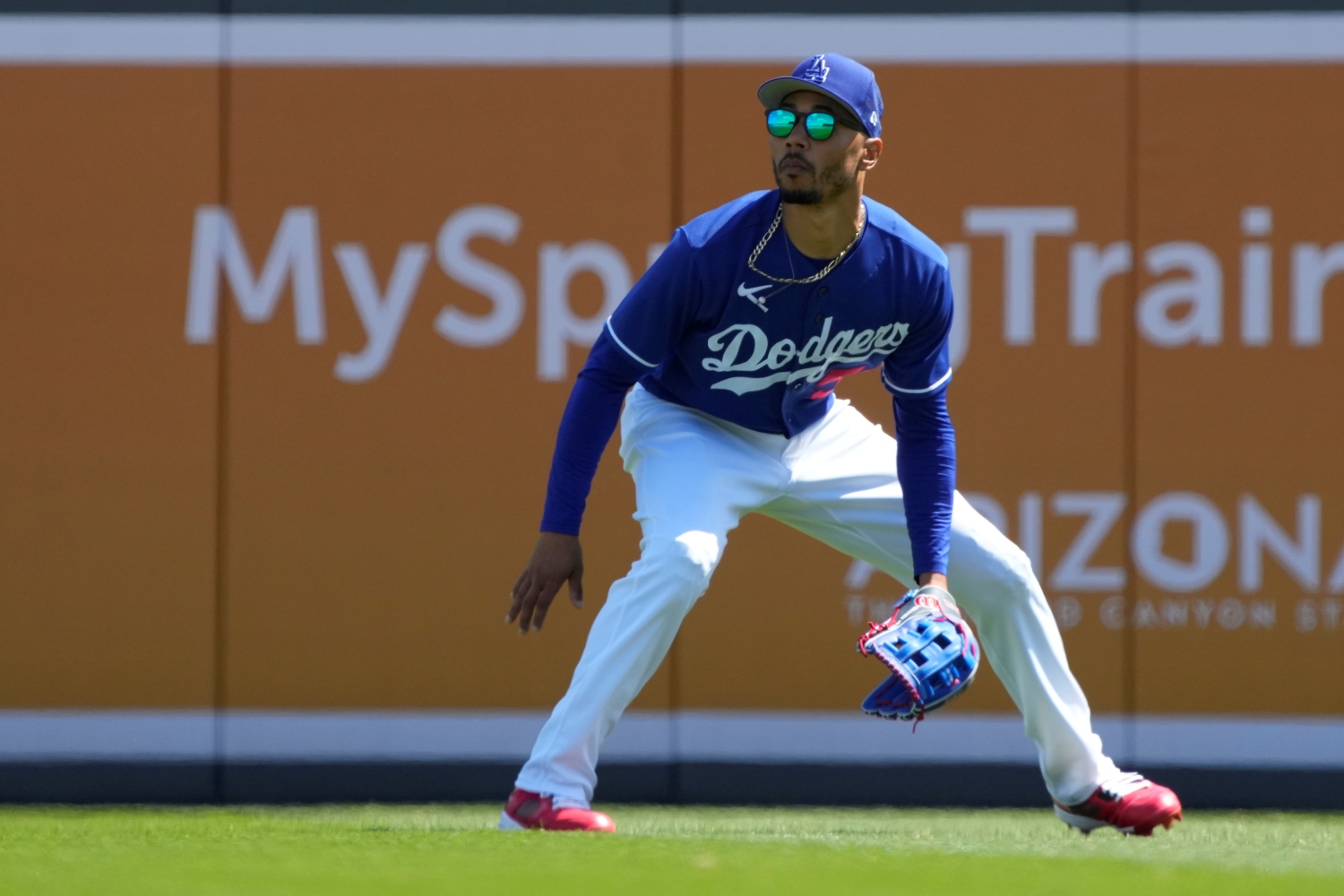 Image courtesy of © Rick Scuteri-USA TODAY Sports
If the 2023 Brewers are going to reach the playoffs, they're most likely to do so by knocking off the Cardinals and winning the NL Central. That's because, in a National League that only admits six playoff teams, there are seven serious contenders, and the best two teams in each of the East and West will be extremely tough to beat. Let's sweep through the league by splitting the 10 teams who make up those divisions into five tiers.
The Four Goliaths: San Diego Padres, Los Angeles Dodgers, Atlanta Braves, New York Mets
For all the money they've spent over the last two years, the Mets remain the most visibly vulnerable of the would-be titans on the coasts. Early injury trouble for José Quintana is just one reminder of a broader, more pernicious fact about the team: they're old, and they're slightly fragile. They've amassed admirable depth by signing enough solid veterans to keep Brett Baty, Mark Vientos, and Francisco Alvarez in the minors to open the season. The same is true on the pitching side, where Tylor Megill constitutes enviable Triple-A depth for a team already down one starter.
Crucially, though, having good depth is not as good as not needing good depth in the first place. The Mets' core hitters and pitchers (outsider, perhaps, Francisco Lindor and Pete Alonso) all have either age- or injury-related red flags attached to them, and it creates a downside the rest of the elite contenders don't quite have. Still, these are largely nitpicky points. New York won 101 games last year, and could easily win 91 this time even if they experience some regression or some bad injury luck. The Brewers will see them very soon, to start to take their measure.
The Dodgers' weaknesses are more glaring than New York's, but the Dodgers' weaknesses hardly ever turn out to be actual weaknesses. More than at any other time in the last decade, this team will be reliant upon its prospects to smoothly transition to the majors and have an impact, but they are the state of the art in player development, even at the big-league level. Mookie Betts, Freddie Freeman, Clayton Kershaw, and Julio Urías have less in the way of star-caliber support staff than they have had in the past, but that quartet is a terrific start on winning 100 games, anyway. If the Dodgers have merely their average year of finding, creating, or promoting good players alongside their superstars, they'll be locks for October.
Bad vibes and bad luck have turned the Padres back in their first few attempts to assert lasting dominance over the NL West, but this year, they might just have both of those things licked. Even a kettle bell dropped on Joe Musgrove's foot doesn't appear likely to portend doom for this crew. They have the highest upside on the circuit, and their downside still doesn't look all that bad. Their DH platoon consists of two guys who remember the fall of the Berlin Wall, but everywhere else in the lineup, there's a prime-aged player with the potential to be somewhere between an average player and a universe unto themselves. Their starting rotation is the only one in the league that feels both as deep and as impressive at the top as the Brewers', and Josh Hader leads a bullpen as deep as any the Brewers built around him during his tenure in Milwaukee.
Even more thoroughly formidable, though, is Atlanta. They had the top two rookies in the National League last year, and they have All-Stars at catcher, third base, first base, and right field, none of whom are either of those now-sophomores. If Ozzie Albies can get out from under the whammy this season, their lineup will be complete. Their relentless success in the Draft is also paying dividends on the pitching staff.
The Brewers can't realistically expect to win a majority of games against any of these teams. It can (and probably will) still happen that they beat one of them more often than not, but there's no individual matchup in which they're even a plausible coin-flip. That means that four of the five non-NL Central champion playoff spots are spoken for, in a single tier that Milwaukee is unlikely to reach.
Richer Cousins: Philadelphia Phillies
The tier into which the Brewers (and, for what it's worth, the Cardinals) fit contains just one team from the East and West combined. The Phillies only squeaked past the Crew to reach the postseason last year, and the fact that they promptly plowed through the NL and took home a pennant doesn't change the fact that they had a similar true talent level to that of the Brewers in 2022.
Over the winter, the Philadelphia front office tried to create some separation from Milwaukee and St. Louis, and close any gap between themselves and the Mets and Braves. They not only signed Trea Turner, but invested heavily in the bullpen, and they rounded out their starting rotation with Taijuan Walker. A couple weeks ago, it felt like the Phillies were a clear step above the Brewers.
Since then, pitching wunderkind Andrew Painter has come down with a balky elbow, and southpaw starter Ranger Suárez has had a setback with what first seemed to be a minor forearm problem. Bryce Harper is still recovering from elbow surgery he had after the World Series last fall, and won't be available in the early going to make up for the absence of Rhys Hoskins, who tore his ACL trying to field a Grapefruit League ground ball last week and is out for the year. The version of the Phillies we'll actually see for much of this season is not the daunting team Dave Dombrowski tried to construct. The Brewers can and should view the free-spending Phils as beatable.
The Real Trouble: San Francisco Giants, Arizona Diamondbacks
They repeatedly came up empty in their pursuit of an elite player over the offseason, but the Giants still picked up a bevy of good players on reasonable deals. They have a deep and varied pitching staff, a highly modular offense that can score runs in more ways than they could a year ago, and the most thorough and multilayered staff of coaches and development specialists in MLB. They have the talent to stay in the hunt for any Wild Card berth that doesn't require 90-plus wins, and their non-player talents will keep them close to the ceiling the players' talent sets.
If anything, though, the Diamondbacks are even more dangerous. They've quietly cultivated not only an unheralded but exciting core (including Rookie of the Year favorite Corbin Carroll, sweet-swinging catcher Gabriel Moreno, perennial Cy Young dark horse Zac Gallen, and the deceptively explosive Ketel Marte), but improved depth. It would take a 90th-percentile set of outcomes for them to compete for the playoffs, but if they catch that wave, it could hit low-lying contenders like the Brewers like a tsunami. 
These are the teams whom the Brewers have to beat resoundingly, when they face them directly, and ahead of whom they need to sit in the standings in order to have any kind of confidence or to take a buyer's stance at the trade deadline. Two West division afterthoughts could have a major influence on Milwaukee's season.
If Pitching Mattered as Much as Old People Say: Miami Marlins
I fervently hope that the Marlins take a turn for the better this year. It's only now, with greater clarity in terms of ownership's commitment and direction and with her own manager in place, that Kim Ng is getting to put her own imprimatur on the Fish. So far, though, her tenure has done nothing to rescue the team from the doldrums in which they've drifted for the huge majority of their existence. A winter trade of Pablo López for Luis Arraez was sensible, in that the team needed an infusion of offense and had surplus starting pitching. What they really needed, though, was another Luis Arraez, and then an Aaron Judge or a Trea Turner to drive the two Arraezes in. Instead, they converted Jazz Chisholm into a center fielder, and it seems profoundly unlikely that he transmogrifies into Ken Griffey, Jr. out there. 
How to Go from High to Low: Colorado Rockies, Washington Nationals
The Colorado Rockies are not a serious MLB team. They don't deserve a serious treatment. They're a disaster, and the Brewers' job whenever they so much as refuel the team jet in Denver is to scoop up wins by the handful. If anything, the Nationals are even worse, though, at least in the short term. They signed a long extension with Keibert Ruiz, whom they acquired in the trade that freed them of the burden of future Hall of Famers Max Scherzer and Trea Turner. They hope to see a full season of the same dazzling defense that C.J. Abrams showed at shortstop last summer, after being acquired in the trade that emancipated Nationals fans from the tyranny of future Hall of Famer Juan Soto. What they can't fairly hope, though, is that they'll do anything to free themselves from the quagmire they've wandered into at any point in the next two years.
Summary
The bottom feeders of the NL are very bad, but there aren't enough of them for the Brewers to rack up enough easy wins. They're going to have to play tough against the handful of dominant teams in the NL, in order to keep themselves in the hunt even for the final Wild Card berth, and the best-case scenario remains that they merely do so better than the Cardinals. If they do that, they should win the division, rendering some of this temporarily moot. Tomorrow, to close out this series, we'll speed run through the American League, because the Brewers also have to worry about all 15 of those squads to some extent this year.
Think you could write a story like this? Brewer Fanatic wants you to develop your voice, find an audience, and we'll pay you to do it. Just fill out this form.
MORE FROM BREWER FANATIC
— Latest Brewers coverage from our writers
— Recent Brewers discussion in our forums
— Follow Brewer Fanatic via Twitter, Facebook or email