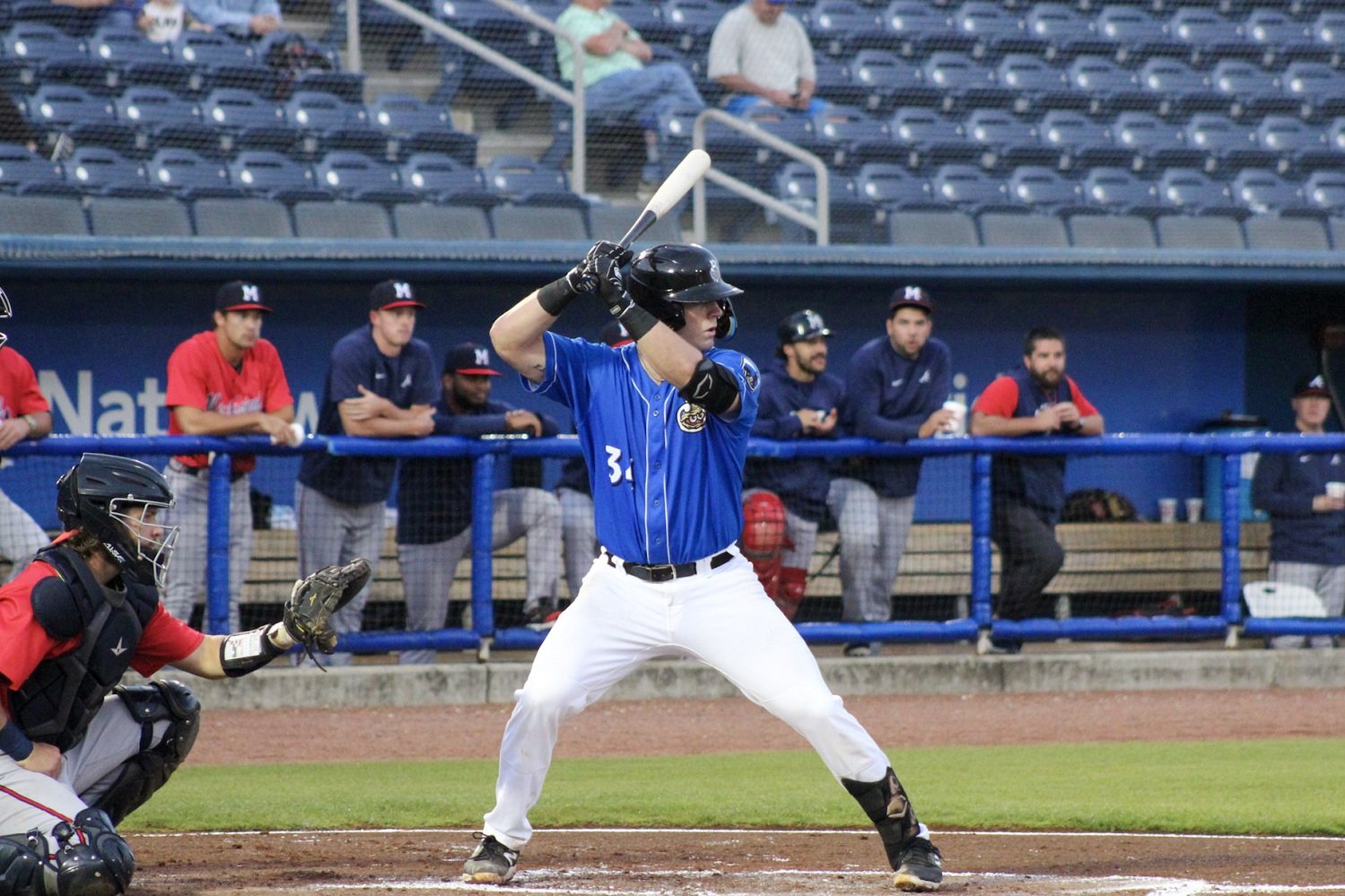 Image courtesy of Joshua Sumrall, Biloxi Shuckers
It might be fair to ask the question: "why look at these minor leaguers that aren't highly touted and discussed?"
Two words: Andruw Monasterio. He didn't get a lot of hype prior to the season - few minor-league signings do. He just performed, and currently he is making a lot of the starts at third base for the Brewers' big-league club.
For the record, the players being written about below were not among the Top 30 Brewers prospects per MLB Pipeline. They didn't appear on any Brewer Fanatic Top 20 rankings. However, they are doing something that has caught my eye and they warrant being discussed. All stats are as of August 5 of this season.
Catcher
Darrien Miller, Wisconsin Timber Rattlers (A+)
.224/.332/.384 in 245 at-bats with 16 doubles, 7 home runs, 34 walks and 58 strikeouts

Miller slumped early in the season, but he has rebounded to a level close to his 2022 production since then. The real question is what, exactly, his defensive home will be, or even should be. His bat certainly seems worthy for promotion to Double-A or Triple-A, but is he more of a first baseman or designated hitter than a catcher? The Brewers will need to figure that out over the offseason.
Edgardo Ordonez, Arizona Complex League Brewers (R)
.242/.388/.379 in 66 at-bats with 6 doubles, 1 home run, 17 walks and 27 strikeouts

Ordonez has been caught up in a crowded catcher situation in Maryvale. The Brewers made the decision to have only one team in the ACL this season. However, in his limited time, he has made a strong case to go to Carolina next season with Satchell Norman. He has shown excellent on-base skills and some pop.
Overview
Both Miller and Ordonez would be considered prospects in a system that did not have Jeferson Quero relatively close to the majors - or in any of their affiliates.
First Basemen
Ernesto Martinez, Wisconsin Timber Rattlers (A+)
.268/.342/.444 in 239 at-bats with 10 doubles, 10 home runs, 23 walks and 57 strikeouts

Martinez repeated at Wisconsin after a 2022 season mostly lost to injury. Like Miller, he struggled early in the season, but his bat has been lethal in July. He remains a threat on the bases, with 13 steals, and his 2021 foray to center field is tantalizing, even with the team's depth at the position. The Brewers may be in need of a new first baseman come 2025, as Rowdy Tellez nears free agency, and Martinez has made a case for consideration. Of course, that is if he can handle Double-A and Triple-A pitching. However, he will be a minor-league free agent this offseason, so the Crew may need to work something out. Should they? 
Jesus Chirinos, Wisconsin Timber Rattlers (A+)/Carolina Mudcats (A)
.241/.372/.372 in 191 at-bats with 11 doubles, 4 home runs, 41 walks and 83 strikeouts

Chirinos slumped and struggled early in the year, and he was sent back to Carolina from Wisconsin. He has rebounded some since then, helping hold first base down for the Mudcats, but splitting time with Tayden Hall, Jesus Parra, and Luke Adams. At 21, Chirinos can turn things around career-wise, but he has taken a hit.
Wes Clarke, Biloxi Shuckers (AA) - New
.216/.361/.454 in 271 at-bats with 14 doubles, 17 home runs, 55 walks and 105 strikeouts

Clarke has seen time both behind the plate and at first base, while having emerged as a legit "three true outcome" bat. While a cutdown in the strikeout rate would be nice, he's made a case to reach Triple-A next season, where he could split time with Zavier Warren at first and also spend time behind the plate.
Overview
Clarke and Martinez have established themselves as solid prospects. Much like Monasterio, they have provided solid production in the minors, and could easily be solid producers at the major-league level. Chirinos will be looking to rebound in 2024, and has to work on reducing strikeouts, but is still very young.
Please share your thoughts on these specific Brewers prospects, and which other Catchers, First Basemen/DHs aren't be talked about enough in your opinion, and why.
Next: Second Base, Third Base, and Shortstop