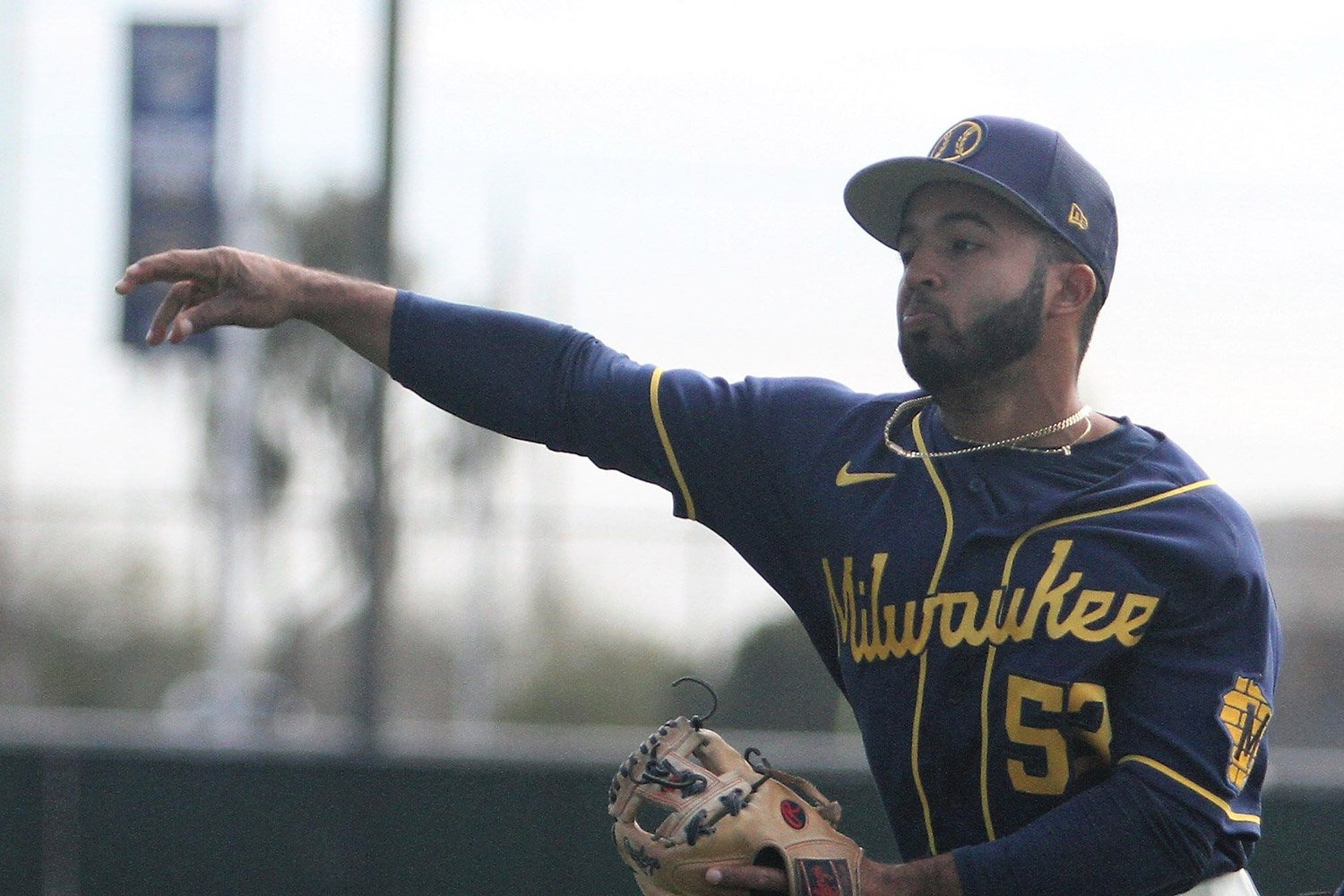 Image courtesy of © Curt Hogg / Milwaukee Journal Sentinel / USA TODAY NETWORK
Brice Turang and Andruw Monasterio ended 2023 by splitting time at second base. They combined for 2.9 Wins Above Replacement – much of it fueled by defense (Turang posted 1.7 dWAR, Monasterio 0.9 dWAR). Turang's struggles at the plate were profound – a .585 OPS is hard to justify, even with Gold Glove-caliber defense. Monasterio's bat is better, and he can produce when he's on a hot streak. He became a bit of a cult hero for the Crew, but his overall offensive production is still slightly below average (87 OPS+).
Who might be available for the Brewers at second base down on the farm? Let's look and see who is potentially available for the team.
Patrick Dorrian (AAA Nashville)
.238/.312/.466 with 18 doubles, 21 home runs, 65 RBI, 34 walks, 127 strikeouts in 367 at-bats
Dorrian spent the most time at second base in 2023 but played all over the diamond. He was purchased from Baltimore in the middle of the 2022 season. His bat has flashed a lot of extra-base power, and his versatility is also a bonus. His 21 homers for the Sounds were second only to Keston Hiura. The one concern offensively is his 127 strikeouts – slightly more than a third of his at-bats.
Felix Valerio (AA Biloxi)
.224/.286/.345 with 10 doubles, six home runs, 31 RBI, 19 walks, 54 strikeouts in 264 at-bats
Valerio came to the Brewers in a 2018-2019 offseason trade with the Mets. He was decent in 2022, but the offense dropped off a cliff in 2023. The good news? He only struck out in 20.4% of hit at-bats and delivered extra-base power. But his walk rate also dropped from 2022 and 2021. Was it the ball used early in the season that caused struggles for a lot of hitters? Valerio is still very young – he will be 23 in 2024, so a rebound cannot be ruled out, but he faces competition from more recently-acquired players.
Robert Moore (A+ Wisconsin)
.233/.321/.361 with 33 doubles, eight home runs, 62 RBI, 55 walks, 108 strikeouts in 490 at-bats
Moore followed up his monster winter season in Brisbane with some solid work in his first full professional season in Wisconsin. Moore flashed excellent on-base skills with some solid pop (44 extra-base hits out of 114). He also added 26 stolen bases, making him a solid offensive threat. He's probably two years away, and the big question will be whether he can improve in his second full season of professional baseball.
Jose Acosta (A+ Wisconsin)
.225/.282/.419 with 10 doubles, five home runs, 19 RBI, 10 walks, 45 strikeouts in 160 at-bats
Acosta was an under-the-radar acquisition in 2022 and has an interesting power bat. His big issue has been hitting for average, and his OBP skills declined slightly as he related with Wisconsin in 2023 and struggled to get consistent playing time. In addition to second base, he saw action at third base, first base, and corner outfield spots.
Mike Boeve (A+ Wisconsin/R ACL Brewers)
.300/.400/.529 with six doubles, five home runs, 30 RBI, 14 walks, 25 strikeouts in 102 at-bats
In a small sample size, Boeve showed flashes of the hit tool that made him an exciting draft pick for the Crew. Even when he scuffled in a smallish sample size in Wisconsin, he drew ten walks out of the 72 at-bats and delivered 18 RBI. While initially drafted as a third baseman, Boeve spent most of his time at second base in the Brewers system. He could rapidly rise if he can adjust to pro pitching.
Jadher Areinamo (A Carolina)
.306/.333/.407 with 26 doubles, four home runs, 52 RBI, 17 walks, 52 strikeouts in 396 at-bats
Areinamo brought a high-contact bat with a lot of doubles to the plate in 2023 while primarily playing second base (he also saw action at third base and shortstop over his professional career). Areinamo saw a decline in his ability to draw walks (11 fewer walks in 146 more at-bats), but his power increased, and his strikeout rate declined. He's not the most spectacular prospect, but then again, Andruw Monasterio wasn't either, and Monasterio turned out quite nicely for the Crew.
Dylan O'Rae (A Carolina/ACL Brewers)
.349/.491/.395 with eight doubles, no home runs, 23 RBI, 57 walks, 37 strikeouts in 218 at-bats
O'Rae, a third-round pick in 2022, has shown a very exciting hit-for-average/walk-drawing/speed combination in his professional career. In 218 at-bats, he stole 44 bases. He spent a lot of time at second base, with some time in center field and shortstop in 2023. While some might view his lack of power as a red flag, he's shown that he can get hits and get on base. His defense was also superb, with only two errors in 33 games at second base.
Josh Adamczewski (R ACL Brewers)
.000/.125/.000 with one walk and three strikeouts in seven at-bats
Don't be worried by the very small sample size. Adamczewski, a 15th-round pick whom the Brewers defied the odds by signing for $252,200, similar to the way the Crew secured 2022 12th-round pick Luke Adams, could be a late-round steal for the Brewers akin to Brent Suter, Brandon Woodruff and Lorenzo Cain.
What do you think about the state of second base in the Brewers farm system? Are there some players who warrant more attention this year? Could any of them force their way to the majors in 2024?