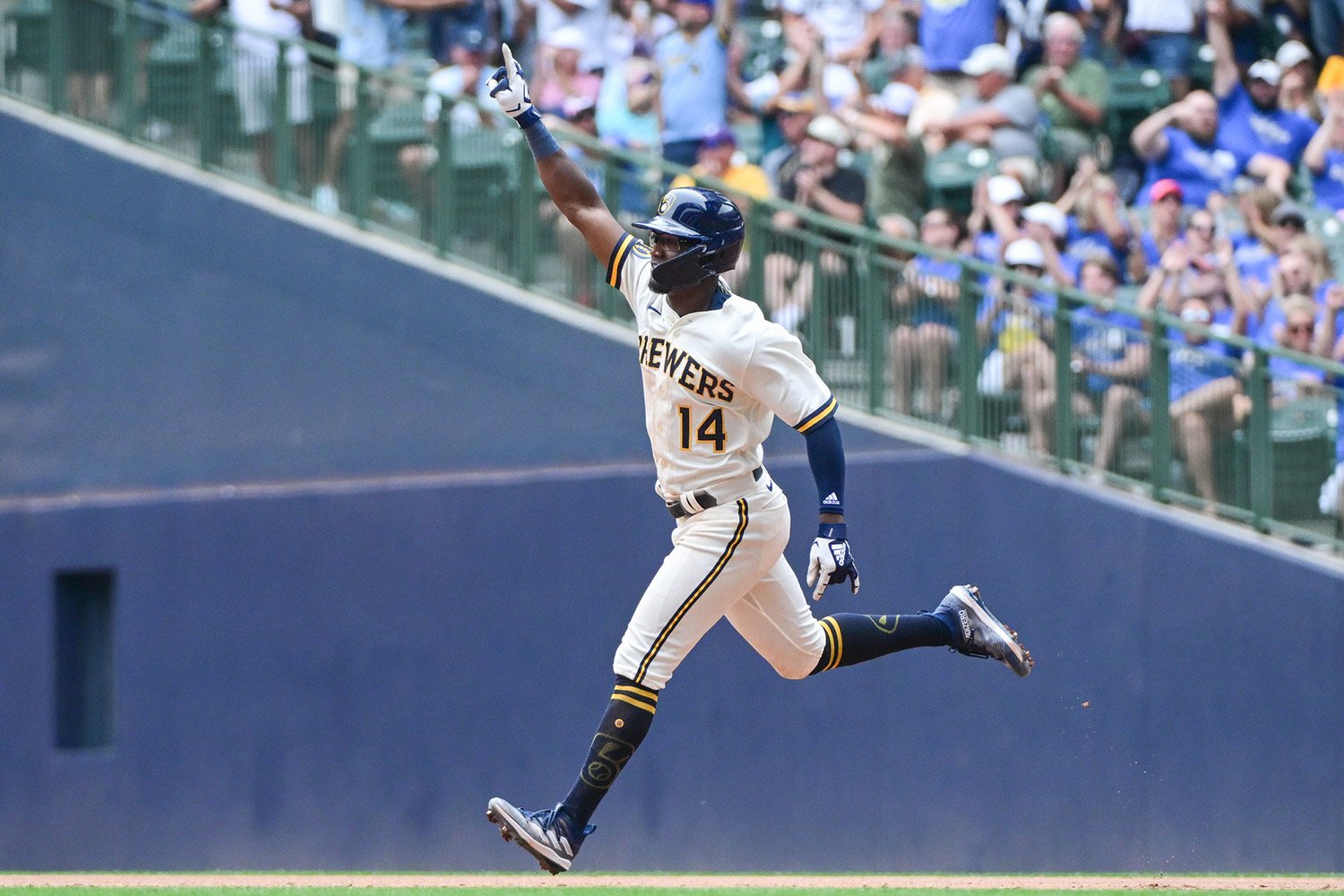 Image courtesy of © Benny Sieu-USA TODAY Sports
Andruw Monasterio has made himself a fixture of the 2023 Milwaukee Brewers, seeing action at second base, third base, and shortstop. The top-line numbers show one reason why: Monasterio's .288 batting average is just behind Christian Yelich for the team lead – the big difference being Monasterio is not likely to qualify on that stat due to having only 153 at-bats as of August 13. His OPS+ of 113 is quite good, coming in fifth among those players on the 26-man roster. His .772 OPS is also fifth.
Memorable Outbursts
His performance in the early August series against the Rockies was memorable: He hit two home runs in that series that tied the game or put the Brewers ahead, had multiple hits in two games, and he won the last game of the series by reaching on an error in the bottom of the tenth inning, allowing Mark Canha to score. Before that, he collected two hits. He also went off in a series at Philadelphia, starting all three games, and collecting multiple hits in each of them, helping the Crew take two out of three in that set.
The game against the Rockies on August 9th was emblematic of Monaterio's breakout season. He went 2-for-5 with a single, homer, reached on an error, struck out, and popped out. The single came on a seven-pitch plate appearance; the strikeout took five pitches. During those two at-bats, he fouled off four pitches, still making contact. He can draw out an at-bat, but he's also not afraid to go for it if he thinks he's got a good pitch to hit. His home run in the fifth came on pitch two. The final at-bat was Monasterio making good contact on the first pitch.
Background
Monasterio was an international free agent from Venezuela signed by the Cubs in 2014. In 2018, the Cubs dealt him to the Washington Nationals as part of the deal for Daniel Murphy – who couldn't quite get the Cubs past Game 163 against the Crew that year. That off-season, he was part of a deal between the Nationals and the Cleveland Indians, which sent Yan Gomes to Washington. After 2021, he became a minor-league free agent and signed with the Brewers, where he emerged as one of the overlooked prospects in my review after the 2022 season.
Monasterio got his break this season due to a pair of injuries. One was infielder Luis Urias's hamstring injury on Opening Day. Joey Wiemer was called up, and Brian Anderson ended up playing a lot of third base. After Willy Adames suffered a concussion after a scary incident involving a line drive, Monasterio was called up to Milwaukee. He's stuck around since after a hot start due to the offensive struggles of Urias and Brice Turang.
Since then, Monasterio has played 25 games at third base, 18 at second base, five at shortstop, and four as the designated hitter. During his time up with Milwaukee, he's collected 42 hits, with nine doubles and three home runs, counting his back-to-back blasts in the last two games of the series against the Rockies.
Where He Stands Out
Overall, Monasterio has stood out in two ways: The first, as seen from his top line numbers, is the fact that he has done well hitting for average and getting on base. This has been rare for the Brewers, who are last in the National League in batting average with .234 and 13th in OBP with .313 as of August 13. Willy Adames, Turang, Anderson, Joey Wiemer, and Rowdy Tellez have all been struggling in that regard as everyday position players.
But the other value Monasterio has provided is in his splits. He is posting a .969 OPS against left-handed pitchers. That's right, folks; the 2023 Brewers have a lefty-killer who slashes .357/.457/.513 for an OPS+ of 165 on their roster. Against righties, he is still pretty solid and posts a decent .711 OPS, for a 96 OPS+, with an OBP of .333.
Monasterio Looks Like Loretta, Only Better
In short, Monasterio is a valuable player for the Brewers this season and likely is staying in Milwaukee. But could he have a long-term future? Believe it or not, his general offensive profile looks like a Brewer from 25 years ago: Mark Loretta.
During his eight years in Milwaukee, Loretta slashed .289/.355/.385 for an OPS+ of 92. During his 796 games over those eight seasons, he hit 135 doubles and 29 homers while stealing 22 bases in 41 attempts.
Monasterio is actually exceeding Loretta as a stolen base threat, stealing five bases in six attempts so far, and he has nine doubles and three homers to date. His 162-game projection from BaseballReference.com is for 30 doubles and ten homers. His OBP skills are also pretty good, taking 19 walks in 153 at-bats, compared to Loretta's 247 walks in 2,596 at-bats over eight years. He does strike out more than Loretta did, though.
With all that taken into consideration, Monasterio looks to be a valuable bench asset, at the very least for the Brewers through 2023, if not longer. He would be a stopgap option should Adames be traded or injured and a very reliable substitute for any infielder.
Monasterio's emergence this season is on the same level as the defensive contributions of Turang and Wiemer and Sal Frelick's offensive spark among the 2023 Brewers rookie class.