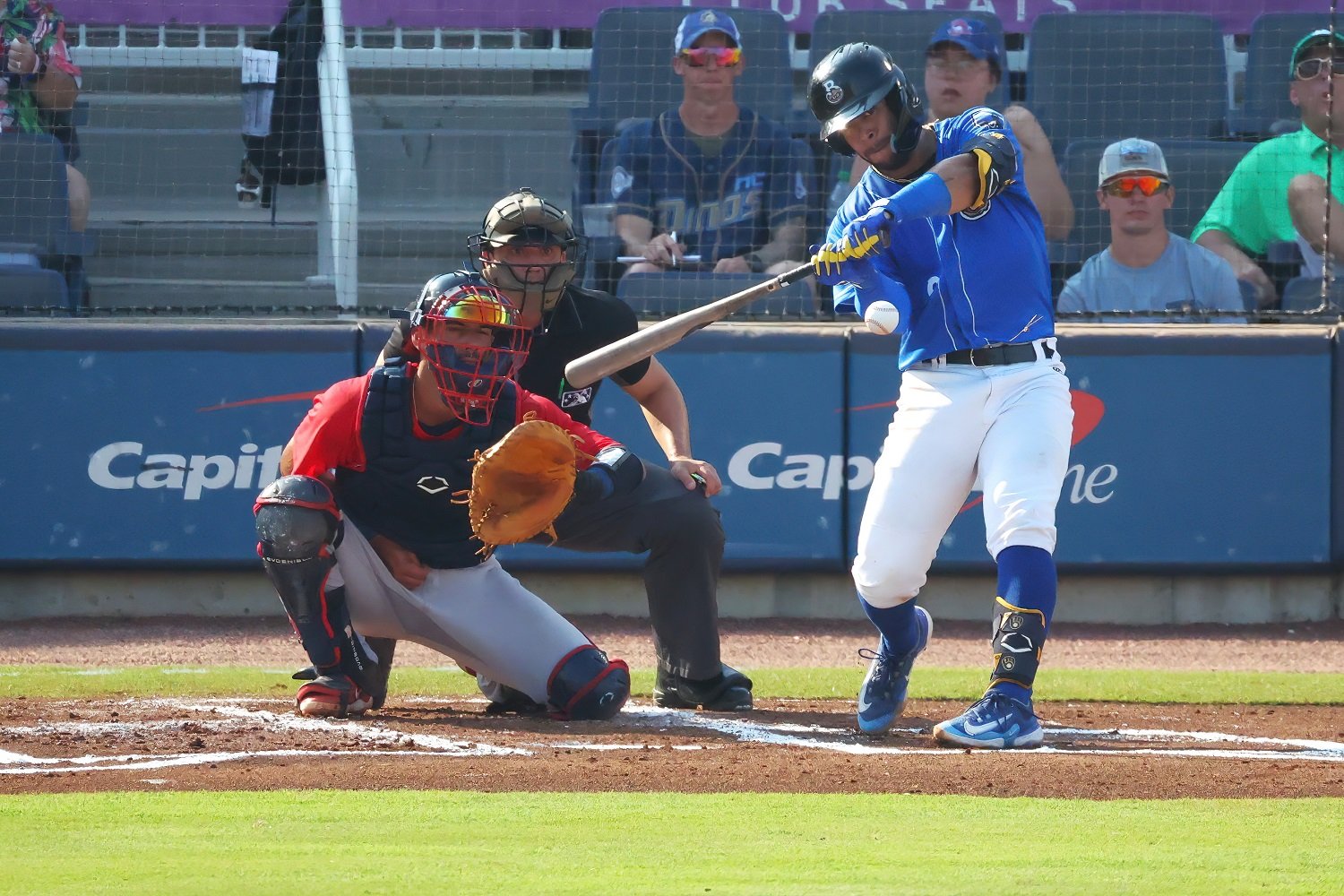 Image courtesy of Mike Krebs, Biloxi Shuckers
#2 C Jeferson Quero (Biloxi Shuckers)
The Brewers signed Quero out of Venezuela in the 2019 international class. He was given the 6th highest bonus in the Brewers class at $200,000. While the Brewers did not hit like they would have liked on their biggest bonus players, like Luis Medina and Hedbert Perez, Quero has been a revelation since signing. From the moment he was signed, Quero has been heralded for his makeup and his ability to handle a pitching staff, both within the organization and externally. 
What to Like:
As mentioned above, Quero has been lauded for his moxie behind the plate and having only turned 21 in early October, is considered to be extremely mature for his age. He has the respect of his pitchers and coaches as a game caller and a vocal and energetic competitor. He's more than just a smart defensive catcher though, he's an extremely talented one as well. His arm grades out as plus, posting pop times as low as 1.86 and averaging around 1.9, which would have placed him in the top 10 in MLB last year. He also does a good job as a receiver, stealing his pitchers strikes and fighting for every close pitch. Defense is definitely his biggest calling card and it gives him a pretty high floor as an MLB level backup. The reason his prospect status has grown so much over the last year and a half is the improvements he has made on the other side of the ball.
At the plate, Quero has consistently had above average bat to ball skills and has always shown some pop in his bat, to all fields. That continued in 2023 as the pop turned into more in-game power than he had shown in the past, hitting 16 home runs. Those 16 home runs surpassed his previous career high of 10 in 2022, in fewer plate appearances. His batted ball profile is one that points to continued improvement in the power department as well. He hits the ball in the air quite a bit, and he hits the ball with authority, posting exit velocities of up to 110 MPH this year. Quero has the potential to hit for a relatively high average and also to hit for power at a premium defensive position.
What to Work On:
While Quero has very good bat to ball skills, he would do well to exercise a bit more patience at the dish. His walk numbers aren't bad, but they are a bit misleading in terms of his plate discipline. He's a very aggressive hitter, and he swings out of the zone at an above average rate. We aren't talking about a Javier Baez level of chase, so it's not something that should ever hamper him completely, but improving his swing decisions would go a very long way toward helping him reach his full potential offensively. Speed is the least important tool for a catcher, so it's not a big deal, but Quero is below average in that regard. He appears to be a heady base runner though and was able to go five for five on stolen bases in 2023. Despite that, his legs are more likely to be a negative than a positive at the MLB level.
On the defensive side, Quero is just very well rounded. He did at times struggle with receiving lower fastballs, but even that improved as the season progressed. He had a few more passed balls than you would hope for, something that is not uncommon amongst younger catchers, for a multitude of reasons. Losing concentration from time to time, or simply being too focused on attempting to frame a pitch rather than making sure the ball is actually caught, are often the culprits. At times Quero can also have a bit too much faith in his arm, which caused a few different errors when he didn't have a chance of getting an out. The good news is that the majority of these "concerns" appear to simply be youthful mistakes and simply trying to do too much. 
What's next:
Quero is Rule 5 eligible in the 2023 offseason, which means he will certainly be added to the Brewers 40 man roster over the next few weeks. Depending on how the rest of the offseason goes, Quero could potentially enter spring training with a chance at the backup catcher position in 2024. The more likely scenario though is that he will begin next season in Triple-A Nashville and get the chance to play every day. Even if it does lean that direction, he will be on the doorstep to the majors in 2024, where he could have a chance to make an immediate impact.
What are your thoughts on Jeferson Quero? What are you hoping to see from him in 2024? Let us know in the comments!
Think you could write a story like this? Brewer Fanatic wants you to develop your voice, find an audience, and we'll pay you to do it. Just fill out this form.
MORE FROM BREWER FANATIC
— Latest Brewers coverage from our writers
— Recent Brewers discussion in our forums
— Follow Brewer Fanatic via Twitter, Facebook or email
1