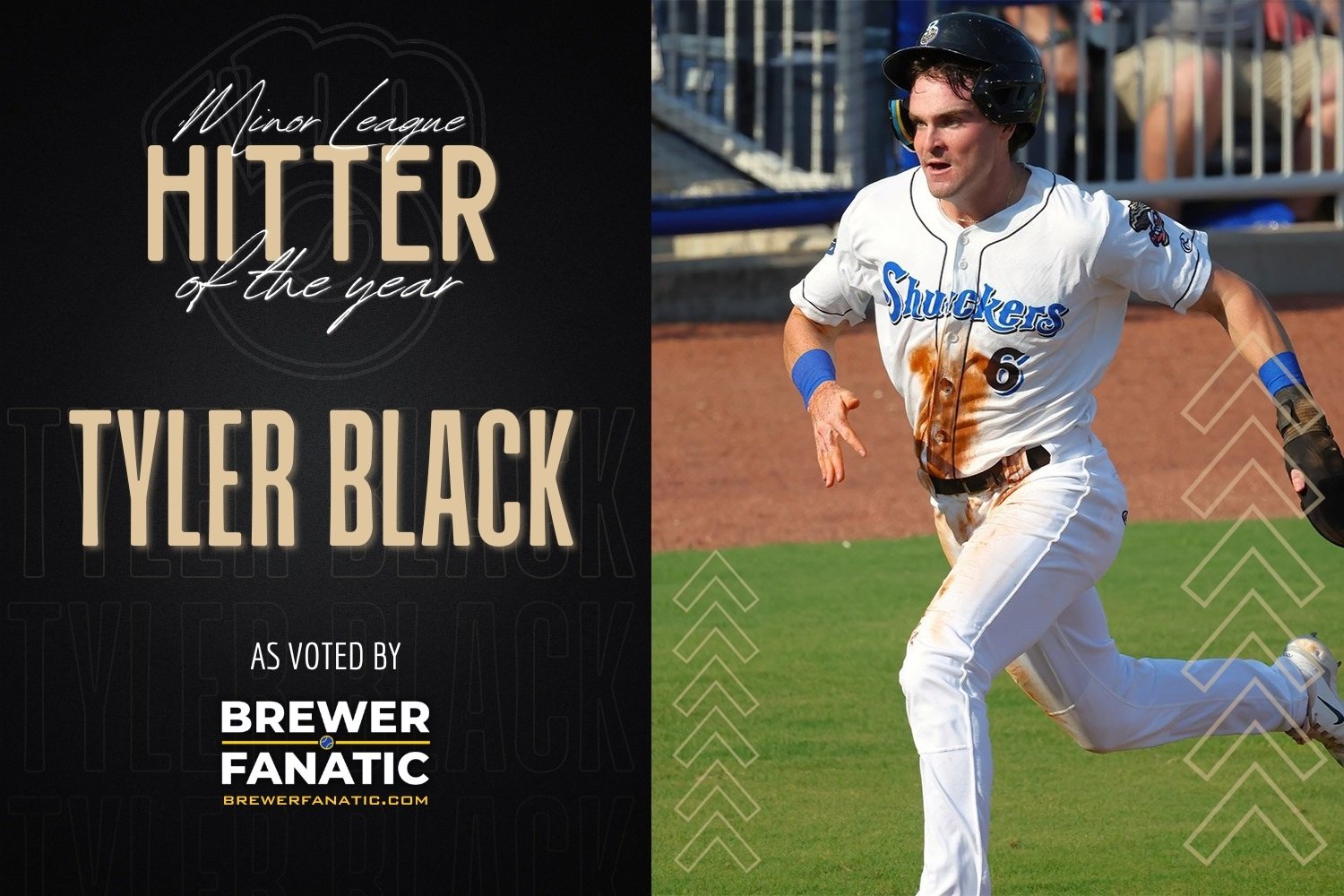 Image courtesy of © Mark J. Rebilas-USA TODAY Sports
Honorable Mentions
Jesus Chirinos – 1B/DH
.265/.406/.433 with 12 home runs, a three true outcome kind of player between Low A and High A
Abraham Toro – 3B/1B
.291/.374/.471 with 46 extra-base hits, and finishing the season with a 41 game on-base streak
Jeferson Quero - C
.262/.339/.440, he added a power bat to his premium defense this season with 16 home runs and just a 17.8% strikeout rate
Jace Avina -1B/OF
.233/.373/.442 with 14 long balls, his strikeout rate hurt him, but he did finish the year strong with a slash line of .310/.435/.600 from the start of July after early season struggles with striking out
Luis Lara - OF
.286/.373/.359 between Low and High A, Lara's exemplary bat-to-ball skills and low strikeout rate at just 18 have many prospect watchers excited
The Verdict
6. Luke Adams – 1B/3B, .233/.400/.401
Adams was a young 18-year-old in Low A Carolina for the year, but showed himself to be an athletic infielder with a strong arm and speed to boot, as evidenced by his 30 stolen bases on the year. Adams struggled mightily towards the end of the season, but earlier in the year, he showed exemplary bat-to-ball skills and the ability to punish mistakes. The home runs were not cheap when he connected, totaling 11 on the season with 76 walks to 99 strikeouts. He has speed and raw power and is athletic enough to develop as a valuable infielder. At just 18, there's a lot to work with, and he could progress rapidly through the system next season. The walks dried up towards the end of the year, but there's hope that physical development can bring a high-upside bat to life.
5. Isaac Collins – Utility IF/OF .263/.419/.421
Collins spent time at both Double-A Biloxi and Triple-A Nashville during the season and showed his skills admirably at both. A name not on the Brewers' top 30 prospects, he had more walks (77) than strikeouts (56) on the season, along with 29 stolen bases and 25 extra-base hits overall. He reached double-digit home runs for the first time. He could be a valuable member of the taxi squad next season with the variety of defensive positions he's capable of playing well and the high floor of his bat in terms of his plate discipline, which usually translates effectively to the big leagues. He may need more power to grow as a solid big-league regular, especially at the ripe age of 26.
4. Wes Clarke – 1B/C, .241/.392/.497
If you're a fan of the three true outcomes, this is the player for you. Clarke had 89 walks, 147 strikeouts, and 26 home runs on the season. A true power bat, his issue can center around excessive patience on in-zone pitches and too much swing and miss early in the count, but when he connects, the sound is different. He's edging more toward an athletic first baseman than a catcher these days, so his bat will need to carry him as he moves on. Clarke is currently playing in the Arizona Fall League to make more contact, and so far, he has hit two home runs and a triple with nine RBIs in his first four games.
3. Jackson Chourio – CF, .282/.338/.467
This may not be the slash line you would expect of the top prospect in baseball. However, Chourio has made huge strides this season, showing booming opposite field power and significantly improved contact skills, leading to a strikeout rate of just 12.1% since June 1st. He was a 19-year-old in Double-A, an extraordinary achievement in and of itself while dealing with a tackier baseball in the first half of the season that more closely resembled the movement of MLB-level pitching. For comparison's sake, Jackson Holliday never faced this particular baseball.
With 22 home runs and 44 stolen bases, it seems the sky is the limit, and there's the potential for even more to come. Chourio's bat has gone through mini slumps this season, and the only real obstacle left is to learn which pitches he can damage and which pitches to take. He occasionally rolled over and grounded out cheaply early in counts, giving cheap outs away, and his contact rate, even on pitches outside the zone, was extraordinary. If he can develop that patience at the plate, looking for pitches to drive rather than merely connect with, it's the final piece of the jigsaw for Chourio.
2. Keston Hiura, 1B/LF/DH, .311/.397/.563
Hiura has just become a major league free agent, and it's fair to say many Brewers fans will wish him the best and wonder what might have been. An early season hand injury after the most torrid of starts, where Hiura blasted 12 home runs in his first 30 games. Upon returning from injury, he had just a 23.3% strikeout rate, in line with his early season form after a pretty horrific start to the year in terms of swing and miss. Hiura had a 1.100 OPS when he went on the injured list, and the power he showed, coupled with the early setting of his left foot, led to him being on time at the plate and doing regular damage while making considerably more contact.
He got injured just before Jesse Winker. Otherwise, he may have been first in line for a callup. A power bat like his is precisely what the Brewers missed in the postseason, but the timing of his injury seemed to sum up his time with the Brewers; it just not quite working out. That said, he was one of the most feared hitters in Triple-A, finishing with 23 home runs on the year, despite the dangerous absences, lofting the balls to all parts of the stadium. It would be no surprise to anyone if Hiura found his feet with some regular game time at the major league level somewhere and took off.
Minor League Hitter of the Year – Tyler Black – 3B, .284/.417/.513
Black started the season with a few interviews talking about his intent to access more power in his swing, and boy, did it show. Black hit 18 home runs, impressive enough in its own right… but he also used the power and speed combo to knock 12 triples and 25 doubles. That being said, Black is not a true power hitter, despite the damage his lefty swing can do; with 88 walks to 100 strikeouts on the season, he grinds out at-bats and finds ways on base when he is struggling, and causing havoc when he reaches with 55 stolen bases last season.
He started the year alongside Chourio against the stickier ball, which barely fazed him, and finished out as the minor league hitter of the week in Nashville. He did take a short adjustment period in Triple-A before the bat created the quality contact that we saw in Biloxi; however, when it did, it came big. In September, at the minors' highest level, Black hit .413/.519/.683, total and utter dominance, giving himself a strong shot at reaching the majors on opening day next year.
One of the biggest things to note about Black wasn't necessarily his bat when he was on form, but how he dealt with his early season struggles in Nashville. He wasn't creating quality contact often, he wasn't elevating the ball particularly well, but somehow he fought his way on base. He was promoted to the Triple A affiliate on August 6th, and reached base in each game until August 29th, with his incredible plate discipline and speed giving him opportunities to positively effect the offensive production. Black finished off the season receiving minor league player of the week awards, and we at Brewer Fanatic think he has more than earned our own Minor League Hitter of the Year Award for 2023.
 
The sky is the limit for Black, and I for one can't wait to see what he'll bring to the table offensively at the major league level. Congratulations Tyler!
A quick note, the others receiving votes for the award due to their promising seasons included Cam Devanney, Jadher Areinamo, Carlos D Rodriguez, Noah Campbell, and Ernesto Martinez.
The Brewers have a lot of minor league talent in both the upper and lower levels of their system, and it's creating a wave of excitement as to what sort of quality they could put on the field in the near and long term future. It's a fantastic situation, and we hope you'll be back next year to follow our expert minor league coverage from our resident gurus, who watch every game between them to bring you the best feedback on how the Brewers system is doing.
1