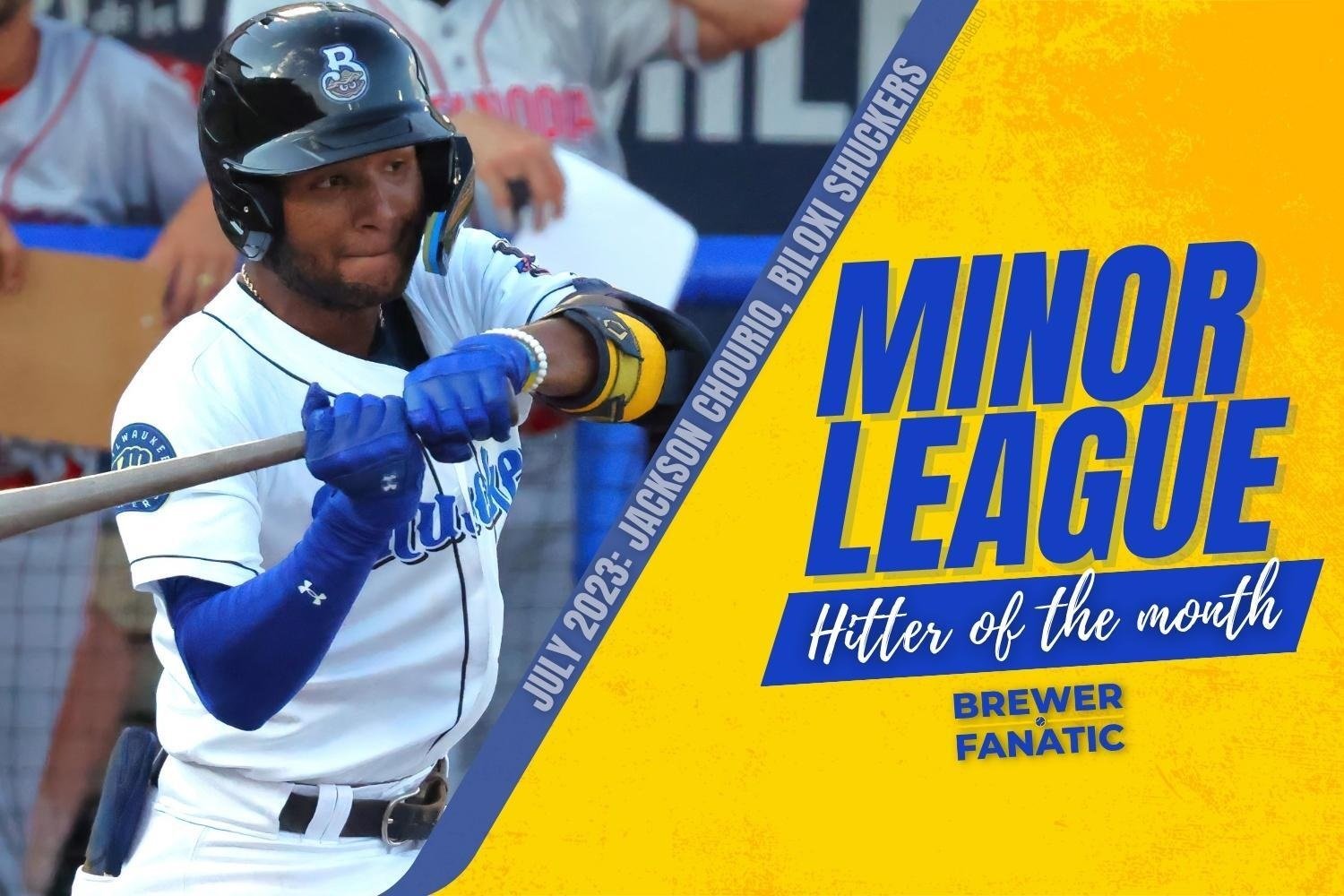 July was the month of the hitter in the Brewers system. Brewers affiliates finished the month with 19 qualified hitters that had an OPS over .900 and an incredible 13 hitters with OPS' over 1.000, including some of the higher ranked prospects in the system. We will look at the top six hitters for the month, as well as a pretty long list of honorable mentions. 
Honorable Mention
THE TOP SIX JULY HITTERS

#6 IF Juan Baez - ACL Brewers - 27 H, .361/.397/.625 (1.022 OPS), 140 wRC+, with 6 doubles, 2 triples, 3 home runs, 12 R, 22 RBI, 3 BB, 6 K, 4 SB

Unranked by all publications
As mentioned in the June version of this article, Baez was signed in the 2022 international class. After a pretty mediocre showing in the DSL, he was given a surprising assignment to the Arizona Complex League as a 17 year old (he turned 18 in late June).  Equipped with a big leg kick and a smooth upper half, Baez has plus feel for contact at the plate. Along with his offensive abilities, he is said to have plus speed and to play a very solid middle infield.
Baez had 26 hits in the month, compared to 27 last month, but the big difference between June and July was the extra base pop he showed. In only nine more at-bats than June, he had 11 extra base hits, compared to the six he posted the month prior. Showing home run power would be a big development for him, as it would raise his ceiling quite a bit and he flashed the ability three times in July. One month isn't necessarily a sign of things to come, but it's nice to know that he has the ability to run into a few.
As was the case in June, his inability to draw walks is the biggest concern. He did triple his walk total from June, but when that is only going from one to three, it isn't quite as exciting as it sounds at first. His improvement in the power department is a welcome sign though, and if he continues to hit like he did in his first two months, it would not be a surprise if the Brewers reward/challenge him with a Low-A promotion later in the season. Not bad for an 18 year old who struggled in the DSL just last season.
#5  1B Jesus Chirinos - Carolina Mudcats - 15 H, .417/.567/.604 (1.171 OPS), 229 wRC+, with 3 doubles, 2 home runs, 12 R, 11 RBI, 17 BB, 16 K, 1 SB

Unranked by all publications
It feels like Chirinos has been in the Brewers system for a long time, and he has been. He was signed as a 16 year old in 2018. Which means, despite this being his sixth year in the organization, he actually only turned 22 years old this past week. After some struggles at the High-A level to start this season, Chirinos returned to Low-A Carolina and has been tearing the cover off of the ball. Especially in July. Chirinos is a large human being, and he possesses quite a bit of raw power, but he has struggled to get to it in games at times. He is not fleet of foot, and his defense can be a little underwhelming at first base. He does however tend to hit the ball hard when he makes contact.
In July, he had the best month of his career in that regard. He walked more often than he struck out and he posted a batting average over .400 for the month. He hit his first two homers of the year at Low-A, his third and fourth overall, on back to back days against the White Sox affiliate Kannapolis Cannonballers. Overall, he looked to be putting it all together on the offensive side of the ball, even stealing a base for the sixth time in his six year career. 
Chirinos likely doesn't have much more to prove at Low-A, but High-A also has a logjam at first base with the one of our honorable mentions on this list currently holding down that spot in Ernesto Martinez. Martinez may also be due for a bump to Double-A as a 24 year old, so that could open the door for Chirinos.
#4  2B/OF Isaac Collins - Biloxi Shuckers - 26 H, .356/.449/.616 (1.066 OPS), 177 wRC+, with 4 doubles, 5 home runs, 18 R, 16 RBI, 13 BB, 10 K, 7 SB, 1 CS

Unranked by all publications

The former Rockies ninth round pick in 2019, Collins was selected by the Brewers in the minor league portion of the Rule 5 draft this past winter, in what is looking to be a shrewd move by the club. Collins is a better infielder than outfielder, but he has shown an ability to play some left field. He's a good athlete and more reps will likely help his development out there. Only 25 years old, Collins shows some similarities to Andruw Monasterio. A player the Brewers signed as MiLB free agent in the 2022 offseason and is now contributing more than anyone would have imagined to the MLB club.
Collins had been showing a lot of the characteristics you look for in a hitter, even prior to July. He had a positive walk to strikeout ratio and he rarely swings and misses, posting a very impressive 6% swinging strike rate. However, before launching five home runs in July, Collins had only six extra base hits the entire season, all of them being doubles. If he has discovered a power stroke, he's going to be someone to watch as a potential utility option. He once again had more walks than strikeouts in July and he was seven for eight on stolen base attempts. It's more likely an end of the order profile than a top of the order profile, but being able to get on base at the bottom of the order is an extremely valuable tool to bring to the table.
Collins' best game of the month came on July 8th, when he went 3-4 with two home runs and two walks as well against a solid Marlins affiliate. That was his first of three games with three hits, and one of nine multi-hit games overall. A player with positional versatility and a bat that seems to be rounding into form, Collins should not be completely overlooked as a potential future contributor.
Collins did reach Triple-A for a few game stretch earlier this year and while it will likely depend on who else gets promoted there over the next month, he could be in line to see another opportunity up there soon.
#3  2B/SS Dylan O'Rae - ACL Brewers - 26 H, .441/.558/.525 (1.084 OPS), 181 wRC+, with 3 doubles, 1 triple, 21 R, 12 RBI, 16 BB, 14 K, 10 SB, 1 CS
The Brewers selected O'Rae with their third round pick in 2022, to the surprise of pretty much everyone. Unranked on all of the major publications at draft time, the MLB Pipeline guys struggled to find information on him. The Brewers clearly dug deep for the pick, and the early returns have been very good. O'Rae is small in stature, standing only 5'7 and is listed at 160 pounds, but he appears to have bulked up this offseason and that weight may no longer be accurate. It isn't out of the realm of possibilities that he has gotten taller either, as he's still a teenager. Even if the growth spurt never hits, O'Rae has the potential to be a top of the order hitter, as well as handle the middle infield defensively. He possesses an elite eye at the plate and very good bat to ball skills with a 22% walk rate and only an 11% swinging strike rate to go with his 14% strikeout rate. All elite numbers for anybody, but especially for a teenager in his first real taste of pro ball.
O'Rae drew a ton of walks in the month of June, but in July he combined the walks with 26 hits, including four extra base hits. His best game of the month came on July 27th when he went 3-3 with two walks and a stolen base. That was one of three games with three hits, and one of nine total multi-hit games. The extra base hit power is currently close to non-existent, and many of his extra base hits, presently, will likely come due to his speed stretching singles into doubles. However, he is carrying a very strong 27% line drive rate, so if he continues to add strength and impact as one would expect him to as a 19 year old, he might be able to become more of a pure doubles hitter with enough pop to hit a few home runs. O'Rae will also likely be able to steal quite a few bases, which helps negate some of the extra base hit pop he is currently lacking. 
Carrying a .514 OBP through two months is pretty incredible, and that ability to get on base could give O'Rae a chance to see Low-A Carolina in his first full season of professional baseball. Much like the next player on this list, the Brewers scouting department should be applauded for the depths they have gone to in order to find talent.
#2  3B/1B Luke Adams - Carolina Mudcats - 18 H, .321/.513/.518 (1.031 OPS), 194 wRC+, with 5 doubles, 2 home runs, 15 R, 11 RBI, 19 BB, 17 K, 8 SB, 2 CS
Adams continues to put up really strong numbers as a 19 year old in Low-A. For a bit more information on him as a player, check out April's Hitter of the Month article. As for what he was able to do in July, it was more of the same from Adams, who has been mentioned in all of these articles outside of May. The on-base machine lived up to that moniker in July, reaching base in over half of his plate appearances, and walking more than he struck out. His funky swing mechanics make his plate discipline and bat to ball skills hard to believe, but he continues to pull it off. In fact, his 7.9% SwStr% is fifth among all qualified Brewers minor league hitters, of which there are 43 hitters who fit that description. 
In July, Adams had seven extra base hits, including two home runs. He hit the ball over 108 MPH at least eight times and he broke 110 MPH a few times as well. 19 year olds do not tend to put up those types of exit velocities, especially with wood bats. The raw power is up there with anybody in the system, and his batted ball profile has continued to improve as the season has progressed. He is cutting down on infield pop-ups and turning those into more fly balls, which allows that raw power to translate more to games. 
If Adams had made it to Michigan State instead of signing, this may have been a guy who was generating first round buzz in a couple of years. This is a huge win for the Brewers scouting department. Tyler Black is a Top 100 prospect by most publications, and Adams is putting up similar plate discipline numbers to what Black did in Carolina two years ago. Adams is two years younger than Black was then, and he's showing a lot more power than Black did. First round pick Brock Wilken will likely end up in High-A Appleton soon, which may make an Adams promotion to High-A difficult, logistically. But his play may end up forcing the Brewers hand anyway. 
#1 OF Jackson Chourio - Biloxi Shuckers -  33 H, .388/.447/.718 (1.165 OPS), 200 wRC+, with 6 doubles, 2 Triples, 6 home runs, 24 R, 20 RBI, 8 BB, 10 K, 9 SB, 1 CS 
Chourio is probably the most well known Brewers prospect to come through the system over the last decade and a half. A top five prospect by basically every national outlet, Chourio flew through the system in 2022 as an 18 year old. He destroyed Low-A Carolina, took care of business at High-A Wisconsin and then got a short cup of coffee in Double-A to end the season. When the 2023 season began, he was sent to Double-A once again. He has been the youngest player at that level all season. Even now he is over four months younger than the next youngest (recently promoted Jackson Holliday).
The "five tool prospect" moniker is thrown around more often than it should be in prospect circles, but in the case of Chourio, it's an apt description. Chourio has both the hit tool and the power that can make someone one of the better hitters in all of MLB. He has 70 grade speed and he knows how to use it on the bases, as well as in the field. That speed helps him in center field where his routes are closer to average than elite, but his jumps have improved this season. He is still learning the position, but he has shown huge strides this season and has the potential to be a plus defender in center field in the future. The one tool that might be lacking more than the others is his arm. However, it has been noted that due to some past elbow issues, he's been instructed to only air it out on special occasions. When he does actually attempt to put a lot behind his throws, it appears to be at least an average arm, potentially above average. 
Chourio's statline through June was certainly nothing to scoff at for a 19 year old at this level, he was on pace for a 20/40 season after all, but his 89 wRC+ didn't exactly look the part of a top five prospect in baseball. That all changed in July. After the month he put together, Chourio's season-long wRC+ is up to 115. Raising that number nearly 30 points at this point in the season is not easy to do, but a 1.165 OPS over a full month isn't exactly common either. His breakout does appear to coincide with the dismissal of the pre-tacked baseballs that the Southern League had been using this season. However, he was showing signs of putting it all together even before that change. The change likely expedited the progress he was already making.
If you tuned into a Biloxi Shuckers game in July, you likely saw Chourio reach base. The only time he didn't reach base at least once was on the 4th of July. He was only held hitless in three games all month. Chourio matched his career high for hits in a month with 33, though he did that in only 19 games due to the All-Star break. Of the 19 games he played in, he had more than one hit in 12 of them. 14 of his 33 hits went for extra base hits, including six home runs. He also stole nine bases in ten attempts. Meaning even when he didn't hit an extra base hit, he often turned a walk or single into a double on the bases. It was an utterly dominant month from him at the plate and likely re-cemented him as an elite prospect in the eyes of most national publications.
 Chourio has been pushed extremely aggressively so far in his young career. A promotion to Triple-A may be in store after the trade deadline, and if he continues to hit at that level, it's hard to rule out a September call-up to Milwaukee for the final push. Waiting until that point would also allow Chourio to maintain his rookie eligibility for 2024, which the Brewers will likely want to do for a number of reasons. The possibility of gaining a draft pick if Chourio wins Rookie of the Year in 2024 being one of them.
Please feel free to agree or disagree with the rankings. Putting them in order was quite difficult. Age and prospect standing were the deciding factors when settling some of the closer calls. Let us know what you think! 
Think you could write a story like this? Brewer Fanatic wants you to develop your voice, find an audience, and we'll pay you to do it. Just fill out this form.
MORE FROM BREWER FANATIC
— Latest Brewers coverage from our writers
— Recent Brewers discussion in our forums
— Follow Brewer Fanatic via Twitter, Facebook or email
4