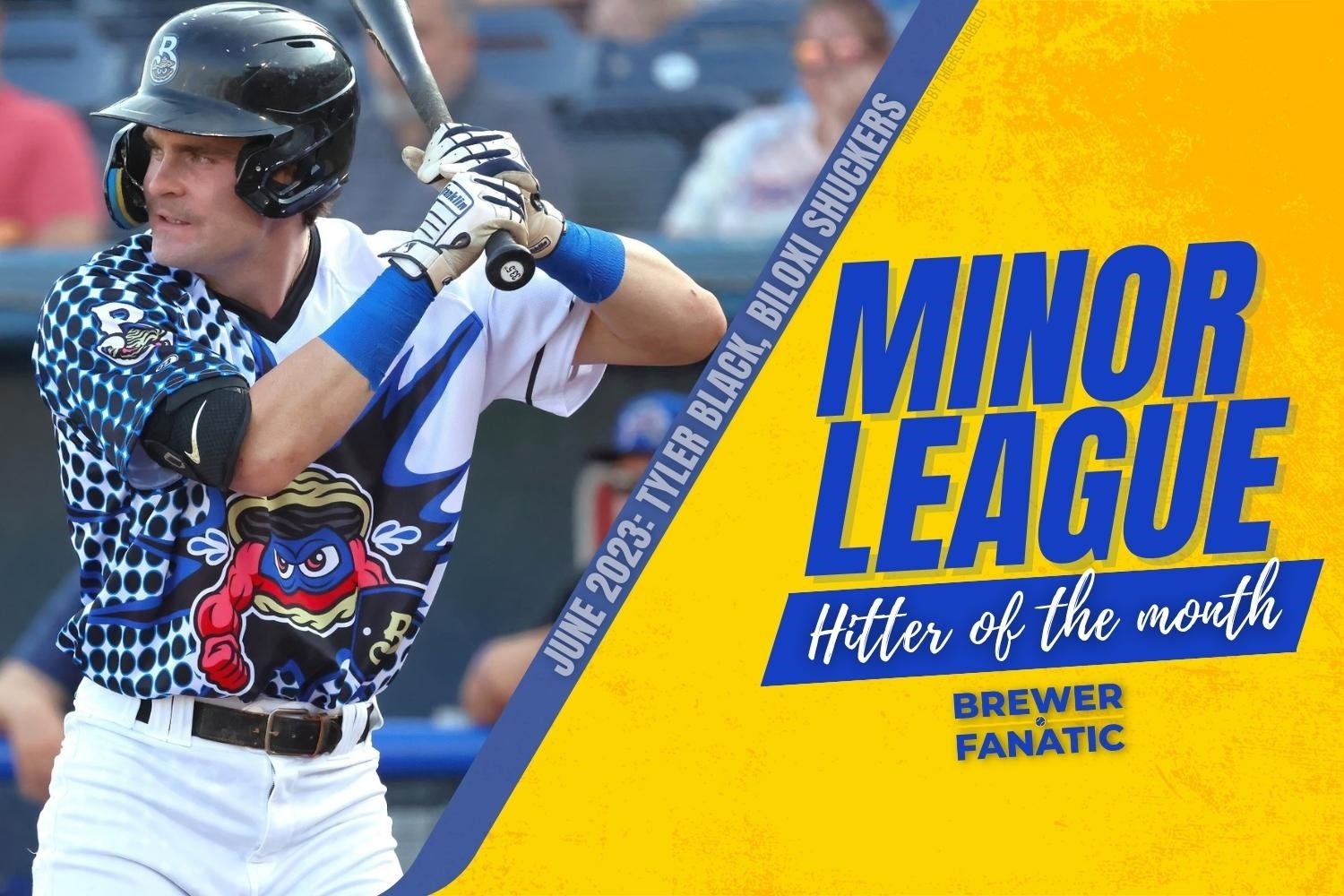 Image courtesy of Mike Krebs, Biloxi Shuckers
June was an exciting month for prospect followers, as some of the higher ranked prospects had breakout months at the plate. We will look at the top five hitters for the month, as well as a few honorable mentions.
Honorable Mentions
C/DH Alex Jackson - Nashville Sounds - 19 H, .442/.546/.930 (1.476 OPS), 251 wRC+, with 3 doubles, 6 home runs, 17 R, 13 RBI, 8 BB, 8 K.
Jackson may have had the best month of any hitter in the system. However, he didn't have enough PA's to be a "qualified" hitter and is no longer a prospect, so he finds himself in the honorable mention section. He has some of the biggest raw power in all of baseball with a max exit velocity of 114.4 and a 90th percentile EV of 107.7. He has proven that he can hit at the AAA level and it will be interesting if the Brewers end up giving him a shot this year as a jolt to the lineup.
3B/1B Luke Adams - Carolina Mudcats - 19 H, .274/.436/.425 (.861 OPS), 155 wRC+, with 3 doubles, 1 triple, 2 home runs, 15 R, 7 RBI, 19 BB, 22 K, 6 SB, 3 CS
Adams continues to put up really strong numbers as a 19 year old in Low-A. For more on him, check out April's Hitter of the Month article.
C Jeferson Quero - Biloxi Shuckers  - 19 H, .297/.418/.438 (.855 OPS), 137 wRC+, with 3 doubles, 2 home runs, 6 R, 11 RBI, 14 BB, 10 K, 1 SB
Quero keeps hitting, this month doing it in a totally different way than April and May. He raised his season long walk rate to over 10% and lowered his K rate to under 20%. Check out more on Quero in the article on May's Hitter of the Month.
THE TOP FIVE MAY HITTERS
#5 IF Juan Baez - ACL Brewers - 27 H, .429/.431/.540 (.971 OPS), 141 wRC+, with 5 doubles, 1 triple 14 R, 13 RBI, 1 BB, 10 K, 8 SB, 1 CS
Unranked by all publications
Baez was signed in the 2022 international class. After a pretty mediocre showing in the DSL, he was given a surprising assignment to the Arizona Complex League as a 17 year old (he turned 18 in late June). In his first month, he showed why the Brewers were so aggressive with him. Baez has plus feel for contact, is said to have plus speed and to play a very solid middle infield. One thing Baez is going to have to work on is his patience at the plate. He drew his first (and only) walk of the season in the second to last game he played in June, but the bat to ball skills did all of the heavy lifting on his way to an extremely successful month.
Baez had 27 hits on the month and his .429 batting average was the highest for all qualified hitters in the Brewers system. He also showed some gap to gap power by hitting five doubles, as well as a triple. He is not thought to have much game power at the moment, but does have a good frame and might be able to develop it over time. If you're a player who is lacking in power, you want to have a high line drive rate, and Baez is carrying a 19% rate so far. Not an elite number, but certainly a solid one. He has a middle of the field approach as well. Line drives that are hit up the middle are rarely going to end in outs. Along with his ability to generate hits, Baez also uses his plus speed to steal bases, going 9 for 10 on attempts in June. 
The only real knock on his month will be the walk rate. In order to be a top of the order bat as he moves through the ranks of the organization, Baez will need to draw walks a bit more often. Everything else in his profile points to a player Brewers fans will want to follow. If he continues to hit like he did in June, it would not be a surprise if the Brewers reward/challenge him with a Low-A promotion later in the season.
#4 OF Yophery Rodriguez - DSL Brewers 1 - 27 H, .286/.465/.476 (.941 OPS), 148 wRC+, with 4 doubles, 1 triple, 2 home runs, 17 R, 15 RBI, 21 BB, 14 K, 7 SB, 4 CS.
The Brewers handed Rodriguez their biggest signing bonus in the 2023 international class, giving him $1.5 million to join the system. All reports on him point to a hitter with great bat to ball skills and plate discipline. Defensively scouts believe he has the instincts, jumps and routes to stay in center field, but the speed is closer to average and that could cause him to move to a corner eventually. Equipped with the very good bat to ball skills and plate discipline, Rodriguez has a good hit tool in general. He has a flat swing path, one that does currently prevent him from getting to some of his big raw power, but also allows him to make consistent contact. Adding a bit of loft to the swing might eventually be necessary, as his 58% ground ball rate is rather high. Despite that, the ground ball rate was not an issue for Rodriguez in June as he got off to a fantastic start in his professional career. 
High walk rates aren't that uncommon in the DSL, take a peek at a few DSL box scores if you have any doubts about that, but a 24% walk rate is still incredibly high for a calendar month. Strikeouts are also quite common in the DSL, but Rodriguez kept his strikeout rate to a meager 15% in June. Showing off both the bat to ball and the plate discipline skills that scouts were raving about post-signing. While the ground ball rate was high, he did a good job of making his elevated batted balls count, hitting two home runs, along with four doubles and a triple. On the bases he was 7-for-11 on stolen base attempts, a sign that the average speed grades may be onto something. Outside of the stolen bases, the rest of the offensive output in June was very encouraging and it will be interesting to see how he carries it into the coming months.
If Rodriguez does continue to hit like he did in his first month, he might be on the Luis Lara and Jackson Chourio path to making his full season debut in his second professional season. 
#3 OF Luis Lara - Carolina Mudcats - 22 H, .339/.434/.446 (.880 OPS), 157 wRC+, with 4 doubles, 1 home run, 16 R, 5 RBI, 11 BB, 10 K, 7 SB, 3 CS
The Brewer Fanatic #11 prospect, Lara was one of the bigger signings for the Brewers in last year's international free-agent class. After getting off to a scalding hot start in the DSL, he slowed down dramatically for a few weeks before a strong finish. Lara's 2022 stats did not end up being super exciting, but a 12% K-Rate and 9% BB-Rate were great signs for a player his age. Lara has the potential for a plus hit tool, potentially even elite. Scouts have said he should be able to stay in center field defensively, and FanGraphs has given him a 60-grade arm. The power is probably the biggest question mark for Lara, but despite his diminutive stature, Lara has shown flashes of raw power and even some in-game power from both sides of the plate. Both of his home runs in 2023 are from the right side however. 
All of the tools are there for Lara, but perhaps the biggest source of excitement should be based on the Brewers willingness to move him as aggressively as they have. So far, he is on a very similar timeline to Jackson Chourio. Not to say that he will ever be the same level of prospect as Chourio (that will likely depend on the power development), but it is hard to ignore that level of belief from any organization in an 18 year old. Lara has handled it all extremely well so far and his second month of full season ball gave a good look at everything he can do.
Lara's OPS of .880 was 12th in the entire Carolina League for the month. Only one other player in the top 15 was younger than 20 years old (fellow Brewers prospect Luke Adams). He tapped into a little more extra base hit power in his second month, with five total, including his second home run. Lara has plus speed, but thus far in his professional career he's been a mediocre base stealer. He is at 14 of 21 on the season, including 7/10 in June, which is not a great ratio. However, those jumps may improve over time as he gets more and more accustomed to professional pitchers. The carrying tool will be his hit tool. His bat to ball skills and his swing decisions, along with ridiculous bat speed are what helped him to a .339 average in June and will be what carry him through the ranks of the minor leagues.
Due to the previously mentioned hit tool, Lara is a prime candidate to move quickly through the system, despite his age. In fact, it would not be a surprise to see him reach High-A soon, especially if he continues to put up results like he did in June.
#2  IF Cam Devanney - Nashville Sounds - 24 H, .303/.365/.636 (1.001 OPS), 139 wRC+, with 8 doubles, 1 Triple, 4 home runs, 12 R, 13 RBI, 6 BB, 6 K, 2 SB, 2 CS 
Unranked by all publications
The Brewers selected Devanney with the 463rd pick in the 2019 draft. Not many 15th rounders last as long as he has, but he's earned it every step of the way. Outside of one poor season in 2021, Devanney has carried a wRC+ of over 110 at every level of his professional journey. While he did finish June at a 95 wRC+ for the 2023 season, he is definitely trending upward, as his number for the month was 139. Devanney plays solid defense at every infield position and has a pretty decent throwing arm to go with it. He is the epitome of a solid baseball player.
In June, his bat was more than just "solid" as he posted an OPS of 1.001. Devanney is not known for being a free swinger, but he did not draw many walks in June. His bat to ball skills are very good though, so while the walks were not high, the strikeouts were equally limited at six apiece. Along with his ability to put the ball in play, Devanney also showed some pop in his bat last month with 13 extra base hits, including four home runs. He has a max exit velocity of 108 MPH this year and a 90th percentile exit velocity of 103.4 MPH, neither are elite numbers but they are signs of a bat that is capable of playing at the MLB level. 
Devanney's steady bat, and ability to play average or better defense all over the infield gives him a path to the majors as a utility man. As a near major league ready player, he will be one to watch for Rule 5 protection this next offseason. He may be one to keep an eye on in trade talks at the deadline as well. 
#1 2B/3B Tyler Black - Biloxi Shuckers -  24 H, .347/.449/.653 (1.103 OPS), 192 wRC+, with 5 doubles, 3 Triples, 4 home runs, 19 R, 13 RBI, 10 BB, 15 K, 16 SB, 1 CS 
The Brewers Competitive Balance Round A selection in 2021, Black has broken out in a major way this season. After some tough injury luck in his first full season last year, Black has been able to stay on the field so far this year and the results are getting to a point where it's hard to believe he's still in Double-A Biloxi. Not only is he carrying a .941 OPS and 155 wRC+ into the second half of the season, but Black is showing off a different skill set that nobody could have seen coming. An elite ability to steal bases. Now up to 40 steals on the season, Black is putting up these numbers with what most would consider good, but not great, speed. His baserunning instincts are borderline elite however and that is what is helping him to this ridiculous stolen base clip, including successfully stealing 16 of 17 in June.
In June, Black built upon what was already a very good start over the first two months. Black has begun to tap into his raw power quite a bit more this season. He hit four home runs this month, which matched his total for all of 2022, and brought his total in 2023 up to eleven. Black has raised his 90th percentile exit velocity by around four MPH and raised his fly ball rate to over 40%. This improvement in batted ball profile is not common for a college draft pick. Both he and the Brewers have clearly worked hard and done a good job with his development. The current offensive profile is that of an MLB hitter. One that could be very good at the highest level. 
Along with the power and the baserunning, Black has also shown elite plate discipline and an extremely patient approach at the plate. He has maintained a walk rate of 18% this season and while it was lower in June, it was still a very respectable 11%. Black also has an on base skill that often goes overlooked. He gets hit by a lot of pitches. He is not afraid to hang in on an inside pitch and wear it to get himself on base. He was hit four times in June which brought his total to ten for the season.
Tyler Black is far from a perfect player. His defense is a definite work in progress. He has developed a bit more swing and miss to his game, though it comes with the trade-off of the added power. What Black is, is a baseball player. He's a fantastic hitter, he plays with a lot of fire and energy, and he clearly works his tail off to get better. His progress since being drafted has been rapid and he has put himself in a position, not only to be promoted to Triple-A, but he is likely on the edge of the major leagues at this point as well.
Please feel free to agree or disagree with the rankings. Putting them in order was quite difficult. Age and prospect standing were the deciding factors when settling some of the closer calls. Let us know what you think!
Think you could write a story like this? Brewer Fanatic wants you to develop your voice, find an audience, and we'll pay you to do it. Just fill out this form.
MORE FROM BREWER FANATIC
— Latest Brewers coverage from our writers
— Recent Brewers discussion in our forums
— Follow Brewer Fanatic via Twitter, Facebook or email
3