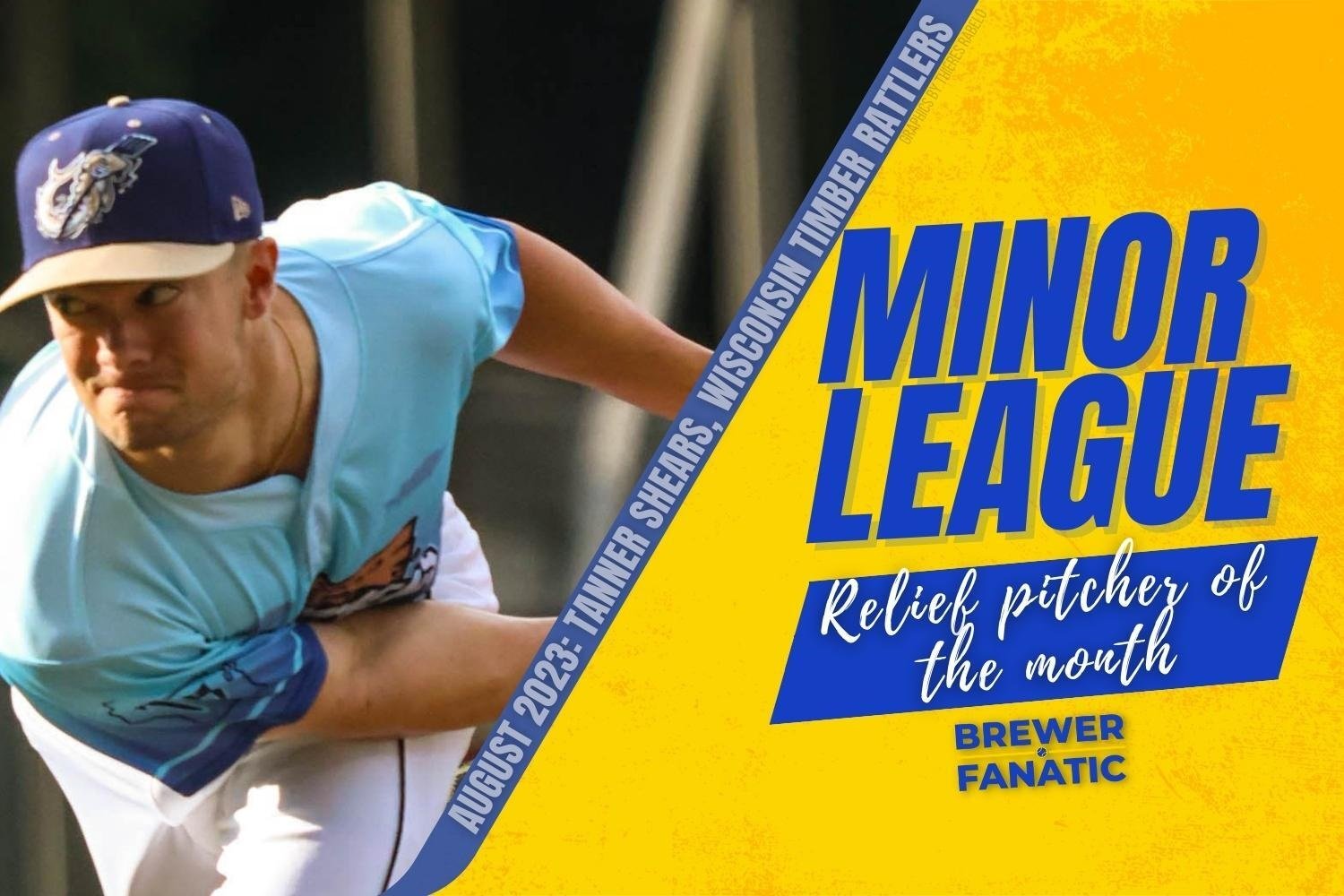 Image courtesy of Wisconsin Timber Rattlers
We close out our MiLB Player of the Month series with our top five Relief Pitchers for the month of August. It wasn't the most dominating month from the system's relief group, but a few stood out from the pack. Beginning with a couple of honorable mentions.
HONORABLE MENTIONS
RHP - J.B. Bukauskas - Nashville Sounds - 9 G, 10.1 IP, 1-0, 1.74 ERA, 2.71 FIP, 1.06 WHIP, 8 H , 3 BB, 9 K
LHP - Clayton Andrews - Nashville Sounds - 8 G, 9.0 IP, 0-0, 2.00 ERA, 2.14 FIP, 1.11 WHIP, 7 H , 3 BB, 11 K
TOP FOUR RELIEF PITCHERS FOR JUNE
#4 LHP - Ethan Small - Nashville Sounds - 9 G, 10.1 IP, 1-0, 1.74 ERA, 2.91 FIP, 0.88 WHIP, 9 H , 0 BB, 10 K, 1 SV
Unranked by all publications
The Brewers first round selection in 2019, everyone knows what the deal is with Small at this point. If he can command his pitches on any given day he will have success. His fastball is a good pitch in terms of its characteristics, and his changeup is a great pitch. The issue is that he doesn't often command his pitches, and he has been unable to develop a consistent breaking ball to use as a third offering, though his slider has shown some signs of life this year.
While command has been an issue for Small, he showed some great signs in August, not allowing a free pass of any kind. 10 strikeouts to zero walks is about as good as it gets. Small has also had some issues with the home run ball in the past and he was able to limit the gopher ball to only one this past month. 
Small is an extremely smart guy with an understanding of what works best for him. It's not fair to expect Small to completely eliminate free passes moving forward, but hopefully August was a sign of things to come, in terms of his control and he is able to provide the Brewers with some help in the future. 
#3 RHP - Cam Robinson - Biloxi Shuckers - 11 G, 13.1 IP, 1-0, 0.67 ERA, 3.61 FIP, 1.05 WHIP, 8 H , 6 BB, 9 K, 6 SV.
The Brewers 23rd round selection in the 2017 draft, Robinson blew up last season moving all the way up from High-A Wisconsin to Triple-A Nashville, forcing his way onto all of the prospects lists along the way. He performed so well that the Brewers added him to their 40 man roster in order to protect him from the Rule 5 draft. Unfortunately 2023 has not gone very well for Robinson, and he has not only been DFA'd off of the 40 man roster, he is actually back at Double-A. 
In 2022, Robinson was showing a cutter up to 96 and using his slider and curveball, all to great success. In 2023, his cutter has been sitting closer to 92-93 and he has struggled to command his offspeed offerings, as well as the cutter itself. The good news is that in August he did a much better job of being in the zone consistently and his results followed suit.
While Robinson wasn't striking batters out at the same clip as he became accustomed to in 2022, he was limiting baserunners. His WHIP through July of this season was a staggering 2.31, but he was able to keep it to 1.05 in August. While he had walked 8.7 per nine through July, he was able to keep that number to 4.05 in August.
His month was highlighted by a 1-2-3 inning to record a save on August 3rd, in which he struck out two of the three he faced.
Despite the dip in velocity, Robinson's stuff hasn't stepped back all that much. If he can regain his command he could still have a future at the big league level.
#2 RHP - Thyago Vieira - Nashville Sounds - 9 G, 9.0 IP, 1-0, 1.00 ERA, 2.25 FIP, 0.78 WHIP, 3 H , 4 BB, 15 K, 4 SV.
Unranked by all publications
A minor league signing this past offseason, Vieira is a player with MLB experience as a member of the Mariners, as well as the White Sox. He had spent the last few seasons in Japan before returning stateside. A Future's Game participant in 2017, Vieira is equipped with a fastball that reaches triple digits, and a wipeout slider to go with it. In the past his command was, to put it nicely, lacking. So far in 2023, he is only walking 2.3 batters per nine innings and that will be huge for him moving forward. 
Vieira throws his four seam and his two seam fastball in the 97-98 MPH range, he uses the four seam up in the zone more and the two seam down more often. The four seam has generated a higher ground ball rate, interestingly. His slider is his go-to out pitch. It's a very sharp breaking pitch. Not a huge sweeper, but late moving and sharp. He is getting whiffs on 43% of the swings against it this season.
Vieira's best outing of the month came on the 24th when he went 1-2-3 with three strikeouts to close out a game and record one of his four saves on the month.
Once again a minor league free agent this offseason, it would not be a huge surprise to see the Brewers add him to the 40 man roster to keep him in the system. That is, assuming he doesn't get added before the end of the season, which is looking less and less likely.
#1 RHP - Tanner Shears - Wisconsin Timber Rattlers - 9 G, 9.2 IP, 1-0, 0.00 ERA, 4.84 FIP, 1.45 WHIP, 3 H , 11 BB, 13 K, 2 SV
Unranked by all publications
An Independent league signing by the Brewers this past offseason, Shears has continued to work through some command issues all season but he has really good stuff. His splitter is a borderline elite pitch that completely kills spin and sits around 83-86. His fastball has arm side run, but sits mid-90's and touches higher. It does a great job riding up in the zone and plays well with the big splitter. He also mixes in a slider as a solid third pitch that gets some sweep in the mid-80's as well. Shears' stuff is pretty ridiculous to watch. It's so nasty that catchers have been struggling to catch his pitches, even when they're in the zone and I feel quite confident that he would have fewer walks if there was an automatic strike zone in place. That said, the walks are a real concern and they are killing his FIP.
Despite the FIP being as high as it is, Shears earned the number one spot this month. This is in part due to a bit of a down month across the system, but also because he refuses to let these walks hurt him. Despite walking over ten per nine, he did not allow a single earned run in August. Only allowing three hits and striking out over 12 per nine went a long way toward helping him wiggle into and out of trouble all month.
In August Shears had his best appearance on August 8th. He went 1 1/3 hitless innings that night, striking out three and only allowing one walk. 
Shears is 24 years old, and the command issues are pretty legitimate, but he has the type of stuff you find in MLB relievers.  His range of outcomes is very big, but there's a possibility that Shears could see time in the MLB bullpen as early as next season. His command will need to improve for that to happen, though some help from his catchers would go a long way as well.
Thanks for following along with this three part series on the Brewers minor league system. Please let us know your thoughts in the comments. We hope you learn something new each time around!
Think you could write a story like this? Brewer Fanatic wants you to develop your voice, find an audience, and we'll pay you to do it. Just fill out this form.
MORE FROM BREWER FANATIC
— Latest Brewers coverage from our writers
— Recent Brewers discussion in our forums
— Follow Brewer Fanatic via Twitter, Facebook or email
1