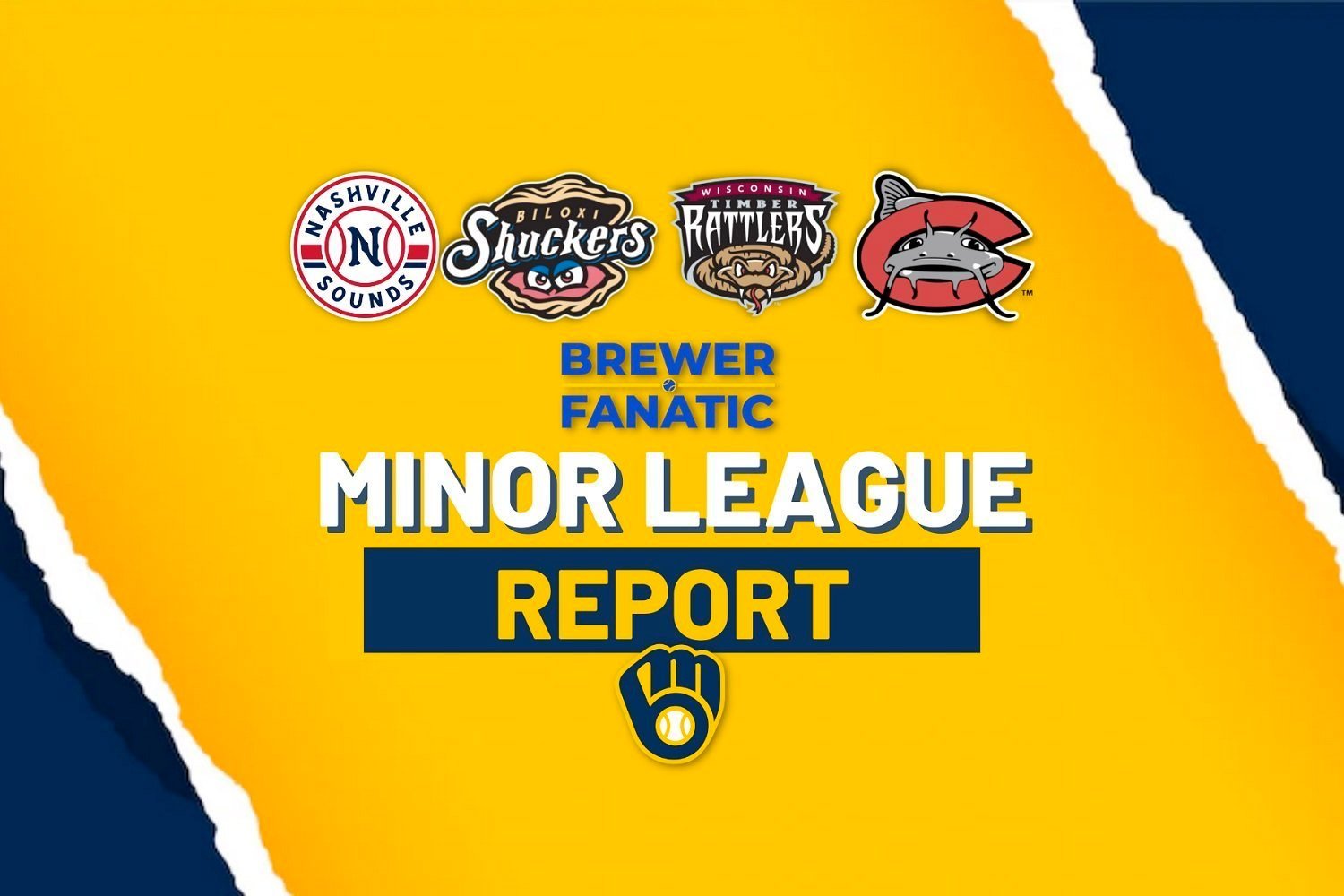 Image courtesy of BrewerFanatic
Game Balls: We're going with the fine late relief output from RHP Tyler Wehrle to seal the victory for Carolina, OF Edquarqui Fernandez and his first home run of the 2023 campaign (a solo shot) during his 3-for-4 evening at the dish, LHP Russell Smith and his second fantastic outing with his trim new look in 2023, OF Sal Frelick with his bounce back two double evening in a 3-for-5 night, and we'll finish with RHP Michele Vassalotti who continues to shine on the mound since his solid showing at the WBC.
Transactions: 
C Payton Henry was sent outright to Nashville and activated by the Sounds
Highlights from the Week that Was:
Congratulations are in order for one of my early season standouts in RHP Aidan Maldonado. He wins the Carolina League Pitcher of the Week Honors for the Mudcats. A really fantastic start for a young man who is clearly a very talented pitcher. If he pitches like he did his first two outings, it's fair to say his time in Low-A may be brief. Here's a glance at his stuff:
He said it in the off-season. The power will come - it's a focus now. Given his already noteworthy patience and discipline at the dish, INF Tyler Black has already demonstrated the fruits of this focus. Now that he's getting a serious look at the hot corner? Whewwww. This young man is fast erasing concerns of his 2022 injury with a scorching run of late after an 0-for-10 start. I said it last year and I'll say it again: this is an MLB baseball player. So many tools with that piece of lumber in his hand:
---
Final: Jacksonville (Marlins) 3, Nashville 2
Box Score / Game Log
Game Notes 

Via the Sounds' site, game details, please visit and review:
Sounds Late Rally Falls Short in Jacksonville
The results were mixed for RHP Adrian Houser in the series opener in Jacksonville and, as such, and much like his Sounds outings in 2022, it's hard to tell where we are with the up-and-down hurler. All in all, given the state of affairs with Milwaukee's pitching staff, the fact he left the game with a clean bill of health has to be the main takeaway. Doing his best Matt Bush impression in the second frame, Houser gave up two solo shots and did give up six hits overall with a walk in just three innings. We'll look to the five punch outs for some solace and hope we get a healthy and effective Houser with the Brewers pitching staff soon.
Three Quick Strikes:
1) It's tough to win a game when your line-up puts forth a woeful 1-for-17 mark with RISP. That's not a typo. Nothing exemplified this more than the lead-off triple by INF Eddy Alvarez in the top of the ninth inning. Trailing 3-2, and with Alvarez jonesing to tie the game up, we saw Andruw Monasterio rip a hard-hit grounder directly to the third baseman, Blake Perkins strike out looking on an outside breaking ball, and Sal Frelick ground out weakly to second base. That was the ball game. But perhaps it was also a metaphor for the Sounds struggles all game long.
2) That ninth inning score was kept to a mere 3-2 deficit by a fantastic play deep at the left field fence by none other than Keston Hiura. He's back in left field everyone - rejoice! It was truly a fabulous play in a key situation, and it most likely robbed the Shrimp of a two-run home run salvaging any further damage to RHP Cam Robinson's already tenuous WHIP and ERA in early 2023. Hiura was calm, controlled, and smooth while he tracked the tailing fly ball to the top of the wall, his glove and all momentum bringing him just over the padded yellow rail. I wish I had a clip to share but take our word for it:
3) Heat check: After ripping an absolute dart high off the right field wall, INF Abraham Toro stretched his hitting streak to six games. He's lifted his batting average 56 points to 0.250 in the process. He's playing improved defense at 3B and he's providing another meaningful bat in the batting order. Let's see if he can keep the hot streak going throughout the remainder of the series. 
---
Game Notes 

Via the Shuckers' site, game details, please visit and review:
Shuckers Fall to Trash Pandas in Series Opener at Toyota Field
** Be sure to check Shuckers broadcaster Javik Blake's ongoing pre-game interview series . Tonight, he met with OF Lamar Sparks - new to the Shuckers and the Brewers organization in 2023. Listen to the Sparks interview HERE **
We've now put two less than stellar starts in the books for LHP Adam Seminaris and the Shuckers to begin this young season. He was effective early, but his inability to put the Pandas away with two outs led to his early departure. I will say this: I do like what I'm seeing from Seminaris' change-up. It's an effective and deceptive pitch. We can work from there. Things definitely didn't get any easier for RHP TJ Shook. There's no getting around it - Shook was shelled. He was hit hard and often to the deep parts of the ballpark. It's an unfortunate outing for a young man looking to find that once dominant form from High-A.
Three Quick Strikes:
1) Thankfully we did get to see Chourio flash some of that defense that saw him receive a Minor League gold glove in 2022. Here he is gunning down the lead runner at home base in the bottom of the second of a 1-1 ball game. This at least prevented more two out runs from crossing the dish (eight of nine Trash Pandas runs came with two down):
2) 
It wasn't all bad on the mound in game one. Actually, RHP James Meeker was simply 
fantastic
. He has added a new wrinkle, by my eyes, in 2023 via the breaking ball department. This is a really big development for the future of Meeker's career. His pitches were sneaking up on nearly every batter faced and this is a testament to fine-tuning his off-speed deliveries. He afforded me some ease and recovery after watching the middle innings onslaught. A big tip of the cap to Meeker for calming a game that was fast turning into a blowout.
3) What would a current Shuckers game report be without an homage to suddenly power surging INF Tyler Black. He started another game with another homer - another oppo blast at that. The swing is so pure and so pretty:
However, let's also bring that ball back to Earth: Black's defense is still very much an unknown work in progress. The third base audition is completely new for 2023 and tonight we saw a fairly bad routine throwing error and a botched grounder to his glove side. As others with educated baseball eyes have opined on this very website: We might actually be looking at a future first baseman. Let's not make judgments after one game but let's not ignore Black's defensive history either. Let's simply this for now: hopefully, it all improves as he gets more comfortable at the hot corner.
 
---
Final: Quad City (Royals) 2, Wisconsin 0
Box Score / Game Log
Game Notes 

Via the Timber Rattlers' site, game details, please visit and review:
Rattlers Drop Game One at Quad Cities
A fantastic outing from LHP Russ Smith followed by dominant work from RHP Michele Vassalotti went for naught as the T-Rats gave up two runs late and were incapable of mustering a rally. I remain extremely encouraged and optimistic by the new physical look of Smith and the continued dominance of Vassalotti - both young men are showcasing qualities that will solidify the T-Rats pitching staff in the early part of this season and perhaps deep into the summer (lest they merit a promotion). 
Three Quick Strikes:
1) It's been a rough start for blue chip prospect Eric Brown Jr. However, games like tonight's might get the young talent headed in the right direction. Two walks, a single, and two stolen bases is definitely a productive night at the plate and on the base paths. Hopefully, we can start seeing some more power and some more line drives to all fields as well. He's greatly reduced his infamous lead leg lift in his stance. Now it's a matter of taking his refinements and new look adjustments and getting the innate athleticism and power in synch.
2) It's tough to overcome eight punch outs in ten at bats from the heart of your batting order. Joe Gray Jr., Ben Metzinger, and Eduardo García were the culprits in game one. No strikeout was more important than Metzinger's swing and miss with Moore at second base and Joe Gray Jr. having worked the walk to put two on. It was the key moment for a T-Rats offense that had very few. At the time, they were still within one run.
3) Let's get back to Vassalotti for a moment. Two innings pitched and six strikeouts is not a result to scoff at - in any sample size. That's shutdown stuff. On the season, in three outings, he has a 7:1 K:BB ratio. In the small sample of four innings pitched, he's conceded a mere two hits and the above single walk. We might be looking at a breakout candidate in 2023. We know he was very good for Carolina in 2022. But, coming off a very solid showing at the WBC it appears to me he is really stating his case. This is an exciting development for a young hurler who is still a mere 22 years old. 
 
---
Final: Carolina 5, Down East (Rangers) 2
Box Score / Game Log
Game Notes 

Via the Mudcats' site, game details, please visit and review:
Fernandez and Wood Power Mudcats to 5-2 Victory
I never quite get adjusted to the inability to view games at the Down East Wood Ducks venue. Alas, such is life in the lower levels. I missed what certainly appears to have been a fantastic Mudcats pitching performance across the board - Patricio Aquino, Jeferson Figueroa, and Tyler Wehrle combined for 9 IP, 4 H, 2 BB, 2 ER, 14 K. That'll play most nights. As noted above, special mention is deserved for Wehrle and his 2 H, 0 BB, 6 K, 1 ER over 4 IP. We'll live with the harmless solo shot late protecting a four-run lead.
Three Quick Strikes:
1) If you're paying attention in any fashion to the Mudcats early season you may have noticed the elephant in the room: the ongoing struggles of OF Jace Avina. Strikeouts were definitely a mild concern last season as they reared their heads in both the ACL and Low-A. However, they weren't overwhelming, and he was certainly filling up the stat sheet with many other positive qualities. In 2023, in the early going with the caveat that these sample sizes are obviously small as a result, the strikeouts have pretty much taken over. There's a long season ahead, yes, but there's just not a whole lot of lipstick to pretty up 15 K in 19 AB. What's more, we don't see a single XBH. Thankfully, we do have seven BB. We'll hang our hat there for now. Ouch.
2) Juxtapose Avina's early struggles with the continued precocious and disciplined approach of INF/OF Luke Adams. Two more walks to one punchout tonight. A run, an RBI, and an extremely productive 0-for-2 evening. That's now a 9:6 BB:K ratio in 26 PA's for the young Adams who will turn 19 on April 24th. One of the more intriguing storylines in all of the Brewers Minor Leagues in the early part of the 2023 season.
3) I will personally be looking for OF Hedbert Perez and INF Jadher Areinamo to get things going as this series progresses. Both young men possess the skills and talents that should see them thriving at the Low-A level. The early going has largely been an offensive struggle, but we saw the tools and flashes in 2022. If we are to see Gregory Barrios and Daniel Guillarte make strides this season, I'd look to the leadership and examples set by Areinamo and Perez. The Mudcats need them to get going.
---
It is a three-game morning buffet tomorrow so tune in early and often to our game thread. Robert Gasser will be trying to find more consistency in the zone in Jacksonville. Tobias Myers will attempt to even the series at Rocket City. And we don't know who's taking the hill for Victor Estevez and his staff in Down East. For our lone evening slate, talented Joseph Hernandez will look to fine-tune his enticing mix as the T-Rats look to even things up at Quad Cities. 
Current Milwaukee Brewers Organization Batting Stats and Depth
Current Milwaukee Brewers Organization Pitching Stats and Depth
Think you could write a story like this? Brewer Fanatic wants you to develop your voice, find an audience, and we'll pay you to do it. Just fill out this form.
MORE FROM BREWER FANATIC
— Latest Brewers coverage from our writers
— Recent Brewers discussion in our forums
— Follow Brewer Fanatic via Twitter, Facebook or email