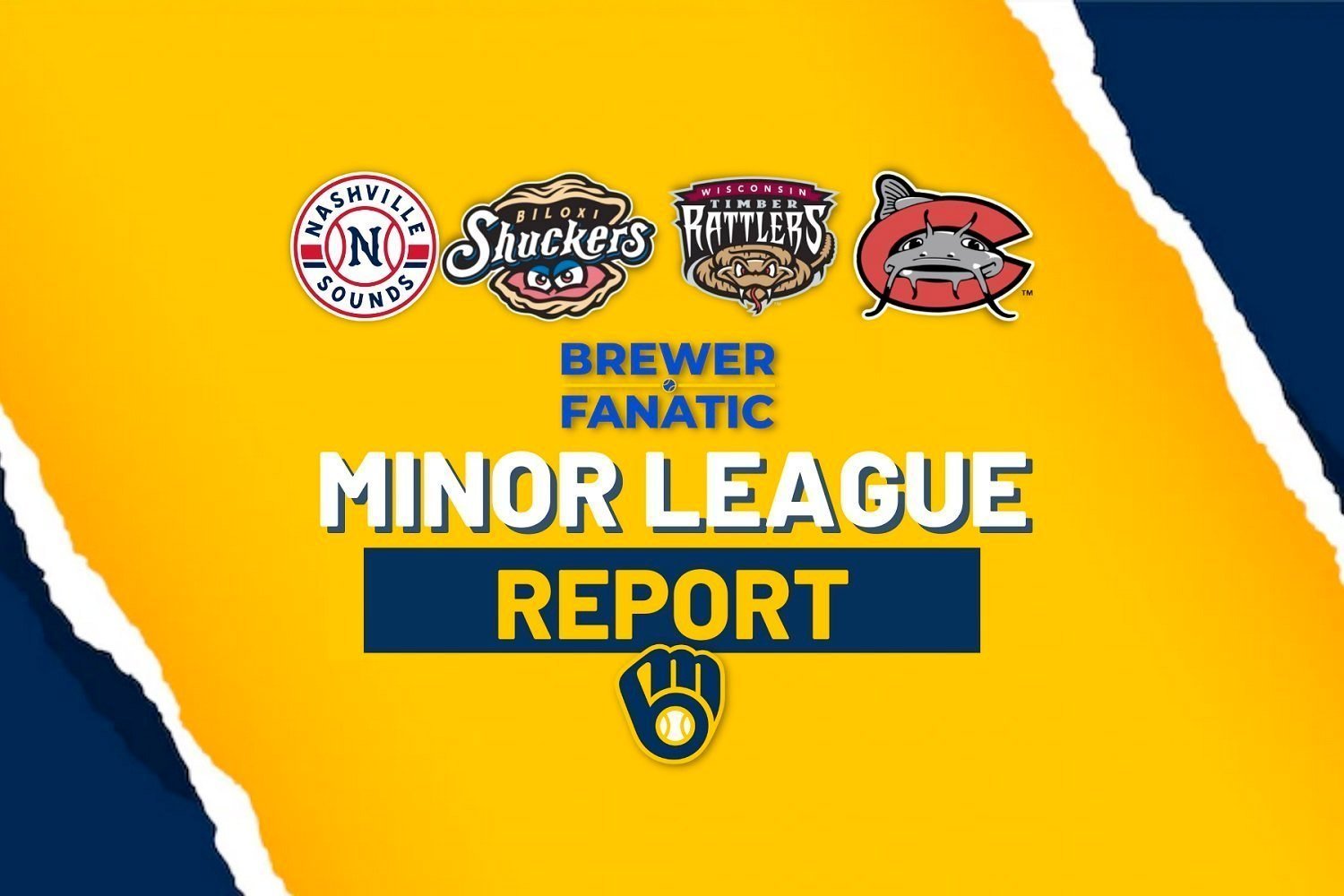 Image courtesy of BrewerFanatic
For the week, Carolina won its series over Kannapolis 4 games to 3, while Nashville managed a 3-3 draw in Durham. Unfortunately, Biloxi and Wisconsin were a combined 1-and-11 on an awful week for them.

Sunday's Game Balls go to Jeferson Quero, Luke Adams, Alex Jackson, Carlos F. Rodriguez and Tyler Black, with an honorable mention to Thyago Vieira and Patrick Dorrian.
Transactions:
RHP Caleb Boushley activated by AAA Nashville from Development List
Game Action:
Nashville Pre-Game Media Notes
Final: Nashville 6, Durham 4 (in 10 innings)
Box Score / Game Log

Via the Sounds' website, game details, and we encourage readers to review the affiliate write-up as part of their Link Report routine: Sounds Win In Extra Innings Over Bulls

The Sounds needed a victory to forge a 3-3 series tie in Durham, but faced a tall task against rehabbing Major League RHP Tyler Glasgow. They managed to keep the game close at 2-1 before doing just enough damage against the Bulls' 'pen.
Three Quick Strikes:
RHP Caleb Boushley (4 IP, 2 R, 3 H, 3 BB, 4 Ks) started in his first action in nine days, working around constant traffic over four innings (76 pitches) and greatly assisted by C Alex Jackson throwing out two basestealers.
Jackson (1-for-3, HR, HBP, 2 RBIs) may only be sporting a .160 season average, but his hits are often impactful, collecting his fifth of homer of the year in the top of the 7th inning to give the Sounds their first lead at 3-2. He was also hit by pitch to lead off the top of the 10th inning, coming around to score a critical insurance run. 3B/1B Patrick Dorrian (2-for-4, HR, 2 RBIs) also came through with a solo homer off Glasgow and an RBI single to score the Manfred Man.
If the Brewers are looking for right-handed bullpen relief, they may not need to look any further than 29-year old Brazilian fireman Thyago Vieira (2 IP, 0 R, 1 H, 1 BB, 3 Ks; season ERA 0.00). Thrust into a difficult situation in the bottom of the 7th inning with nobody out and runners on second and third while clinging to a 3-2 lead, he managed to limit the damage to just an RBI groundout, then kept the Bulls off the board in the 9th inning as well, ultimately earning his second win of the year for his efforts.
Next week's outlook: The Sounds (23-21) host Cubs' affiliate Iowa (25-17), with RHP Janson Junk (3.86 ERA, 1.34 WHIP, 6.7 K/9 in 35 IP) the expected opening game starter.
Biloxi Pre-Game Media Notes
Final: Biloxi 9, Chattanooga 7 (in 10 innings)
Box Score / Game Log

Via the Shuckers' website, game details: Jeferson Quero Smashes Two Homers, Tallies Five RBI in 9-7 Extra Innings Win

For the second time this week, 20-year old C Jeferson Quero (2-for-6, 2 HRs, 6 RBIs) blasted two home runs in a game, this time enabling Biloxi to grab a 7-2 lead by the 6th inning as they appeared ready to coast home to their first victory of the week.

I suspect that Quero may have more pop than many of us realized: 
21-year old starting RHP Carlos F. Rodriguez (6 IP, 2 R, 4 H, 3 BB, 5 Ks) bounced back from a rare bad start on Tuesday, as well as a difficult second inning in this game to deliver a quality start, although denied a win. 3B Tyler Black (2-for-4, triple, 2 walks, 2 SBs) also recovered from a mini-slump by reaching base four times.
Three Quick Strikes:
Perhaps unsurprisingly in light of their 7-game losing streak, the Shuckers found a way to nearly blow this game, squandering a 1st and 3rd, nobody out opportunity in the top of the 7th inning, then seeing the lead frittered away with RHPs Cam Robinson and Zach Vennaro allowing five runs (four earned) and RHP Robbie Baker (1 2/3 IP, 0 R, 1 H, 1 BB, 1 HBP, 2 Ks) being tagged with a blown save.
The team then wasted another 1st and 3rd opportunity in the top of the 9th inning, this time with one out, before thankfully coming through in the 10th inning with a INF Zavier Warren walk, DH/OF Noah Campbell (2-for-6, 2 RBIs, SB) RBI single and Quero RBI groundout. Manager Mike Guerrero then finally brought in RHP James Meeker to close out a 3-up, 3-down 10th inning for his first save in 2023.
Warren only managed a walk in four plate appearances, but his contribution was far greater, as SS Freddy Zamora exited after three innings, forcing Warren to play shortstop for the first time since his college days (2020), with INF Ethan Murray (last played Wednesday the 17th) apparently also unavailable. Let's hope that Zamora and Murray are both healthy by Tuesday's home game.
Here's switch-hitting Campbell's big RBI single in extra innings:
Next week's outlook: Biloxi (20-19) returns home to face Rays' affiliate Montgomery (also 20-19), with LHP Adam Seminaris aiming for a third straight outing (2.25 ERA over last 12 innings, with 12 strikeouts) on Tuesday.
Wisconsin Pre-Game Media Notes
Final: Quad Cities 7, Wisconsin 4
Box Score / Game Log

Via the Rattlers' website, game details: Bandits Hold on to Beat Wisconsin

At this point, I'm sorry to say that it can be a struggle to even glance over at the Timber Rattlers game, with this loss capping off their second 0-and-6 sweep of 2023, dropping their season record to 11-27.

In this game, Wisconsin fell behind 4-0 by the 3rd inning and 7-2 by the 7th inning, but kept battling enough to bring the potential game-tying run to the plate in the bottom of the 8th inning, although that opportunity went for naught (center fielder Terence Doston pop out, SS Eric Brown Jr. strikeout).

As always for home games, check out the extensive video highlights compiled by the Wisconsin's excellent media team.
Three Quick Strikes:
Concern may rightfully be growing after 21-year old starting RHP Stiven Cruz (2 2/3 IP, 4 R, 3 H, 2 BB, 3 Ks) failed to make it past the 4th inning for his fourth consecutive contest. His strikeout rate per nine innings is down from 10.7 last year to 7.9 in 2023 and his strikeout/walk ratio is woefully down at 1.44 versus 4.54 in 2022.
Sporting the lowest runs per game (3.74), batting average (.208), OBP (.298) and OPS (.642) in the 12-team Midwest League, I can at least see a glimmer of upside given their league-lowest .270 BABIP (vs. .298 league average).
Looking for additional positives in the abyss, we can point to LHP Luis Amaya and RHP Bo Bowman (combined 5 1/3 innings scoreless), 2B Robert Moore with his fifth homer of 2023, C Matt Wood with two hits and an RBI, and Je'Von Ward with a single, walk and two runs batted in. Also, Moore and Brown got special kudos for giving extended autographs despite the rough week.
There's a big time highlight here:
Next week's outlook: Wisconsin heads on the road to take on Twins' affiliate Cedar Rapids (22-17), with RHP Tyler Woessner (2.52 ERA, 1.37 WHIP, 7.8 K/9 in 35 2/3 IP) ready to win games on Tuesday and Sunday.
Carolina Pre-Game Media Notes
Final: Carolina 12, Kannapolis 6
Box Score / Game Log

Via the Mudcats' website, game details: Mudcats Go Big, Win 12-6, Before Going Home

Losses Friday and Saturday tied the special 7-game series at three games apiece, putting some extra pressure on Carolina in this road contest.

But master motivator Manager Victor Estevez got his team to respond early to build a 7-3 lead and then again late to score five runs after Kannapolis had cut the lead to 7-6 in the 6th inning. 
Take a gander at the Mudcats Twitter feed for a few more highlights.
Three Quick Strikes:
19-year old 3B Luke Adams (2-for-5, HR, walk, 3 RBIs) is hitting only .186, despite making consistent contact and drawing 27 walks in just 30 games played (.396 OBP), as his .209 BABIP tells his tale of frustration. You can see his shout of joy and relief in the video above after his 3-run homer in the 3rd inning.
Eight of nine Mudcats starters recorded at least one hit, as the team out-hit the Cannon Ballers 14-to-8 on Sunday, with right fielder Hedbert Perez having three singles drop in and each of DH/OF Luis Lara, 2B Daniel Guilarte and C Jose Sibrian registering two singles.
Manager Estevez obviously wanted this victory, actively replacing pitchers mid-inning, with RHPs Chase Costello, Tanner Shears and Shane Smith combining on 4 2/3 scoreless innings, while RHPs Yujanyer Herrera and Jeison Pena unfortunately struggled (combined 4 1/3 IP, 6 ER).
Next week's outlook: Carolina (22-16) comes home to play Rangers' affiliate Down East (21-16). No starter is presently listed for Tuesday's opening game, though perhaps we'll see 20-year old RHP Patricio Aquino for the first time in 13 days.
We hope that you enjoy the Minor League Link Report. Enjoy the day off on Monday.

Organizational Scoreboard including starting pitcher info, game times, MiLB TV links, and box scores
Current Milwaukee Brewers Organization Batting Stats and Depth
Current Milwaukee Brewers Organization Pitching Stats and Depth
Think you could write a story like this? Brewer Fanatic wants you to develop your voice, find an audience, and we'll pay you to do it. Just fill out this form.
MORE FROM BREWER FANATIC
— Latest Brewers coverage from our writers
— Recent Brewers discussion in our forums
— Follow Brewer Fanatic via Twitter, Facebook or email