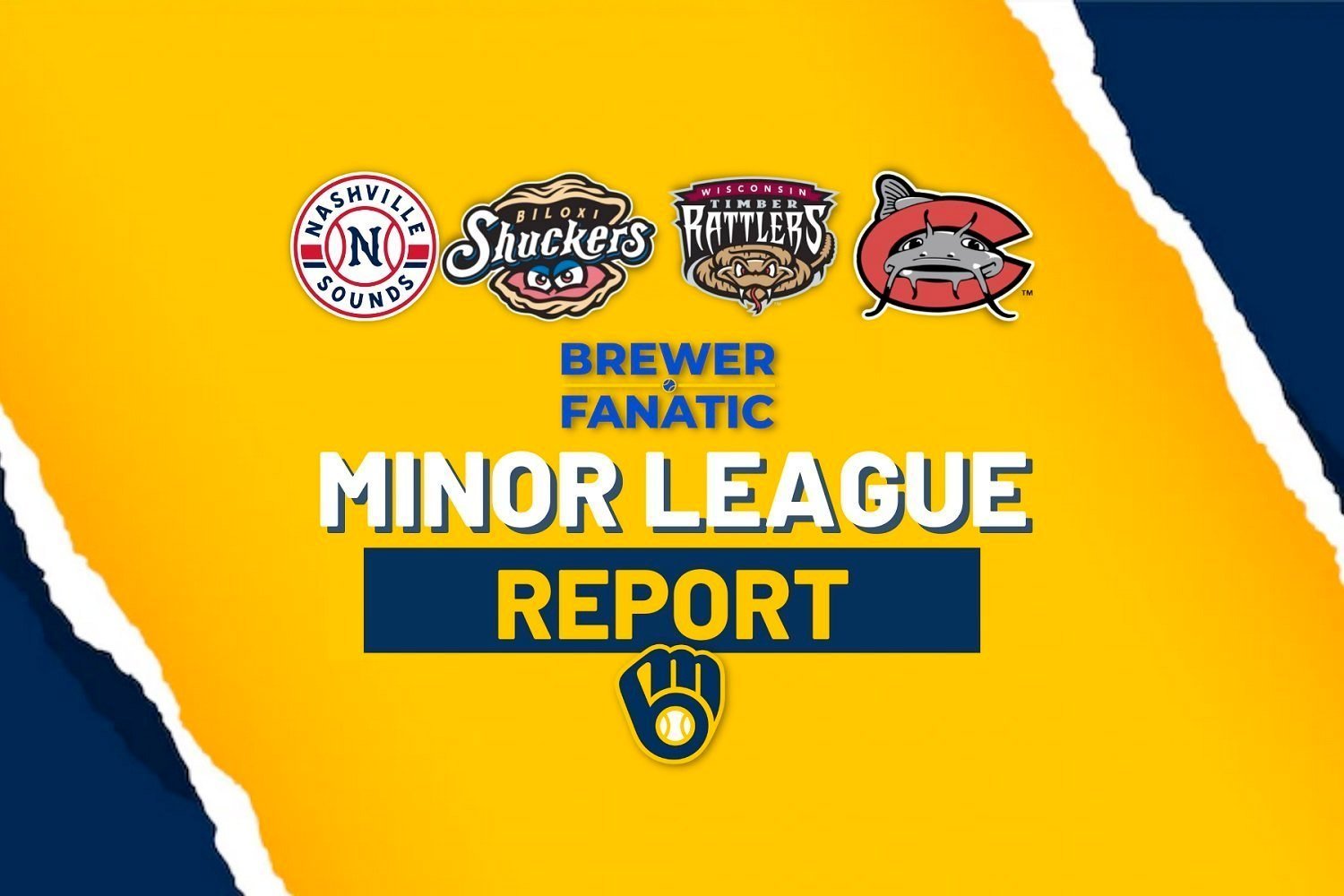 Image courtesy of Brewer Fanatic
Game Balls:
We're recognizing:
Transactions:
LHP Ethan Small was recalled by the Milwaukee Brewers from the Nashville Sounds
RHP Tyson Miller was optioned to the Nashville Sounds from the Milwaukee Brewers
2B/OF Isaac Collins was assigned to the Biloxi Shuckers from the Nashville Sounds
---
LHP Thomas Pannone was very solid through 3 IP. However, the wheels started to lose their balance in the fourth inning when he gave back a three run lead. It's a testament to his savvy he made it 5 IP but it was a struggle: 8 H, 3 BB, 5 K, 4 ER. That's limiting the damage considering the number of runners he had on the bags. 
Three Quick Strikes:
1) RHP JC Mejía has been a different pitcher since his Development List stint. Tonight exemplified this with his slider suddenly the dangerous weapon it was touted to be when he first was traded to the Brewers. He is sharper. He is more accurate. He is simply pitching at a much better capacity. You love to see it (well, I certainly do). 2 IP, 0 H, 1 BB, 3 K, 0 ER. His scoreless innings were pivotal.
2) I continue to be impressed with RHP Thyiago Vieira. He is an imposing mound presence and he is delivering in every outing so far in his brief stint as a member of the Sounds bullpen. Tonight he grabbed his first save and looked the part. After tonight's closing performance, he has pitched in 8 games and completed 10 2/3 IP. He has yet to concede a run. He has a 14:5 K:BB ratio. Batters are hitting a measly 0.111 against him while he sports an extremely impressive 0.56 WHIP. As @damuellehas alluded to in recent threads: this is an arm we might just see in Milwaukee. I personally hope we see it.
3) It was as clutch as they come and it was even enhanced by the rare fake bunt into level swing. OF Blake Perkins did not disappoint in this AB resulting in the go-ahead run in the eighth frame. This is definitively not as easy as Perkins makes it look:
Kudos to Cam Devanney here for really turning on those jets despite the bounce over the wall. You love the hustle. Several Sounds are worth mention in this one, overall, so please scan the box score.
---
RHP Christian Mejias has shown throughout the early going: he can pitch quite effectively in the Southern League as a starter. He was on point tonight, as he has been several times this year. At this point, we're just looking for that all elusive consistency. 6 IP, 5 H, 0 BB, 2 ER, and 9 K is going to play nearly every night of baseball. Can we get some stacked success? That is always the challenge. Here's hoping.
Three Quick Strikes:
1) You'll be hard pressed to find a better throw in a more crucial spot than what OF Lamar Sparks put on tape in the top of the 10th inning. With RHP Cam Robinson finding more bad luck in his 2023 season and RHP Zach Vennarro on the try and put the fire out, a fairly deep fly ball was hit to the right field grass. Sparks corralled the ball with very little charging momentum and fired an absolute dart on the button to C Jeferson Quero who calmly laid down the tag. It was just an incredible throw:
2) Coming to the plate in the 10th inning (after INF Tyler Black worked a fantastic patient walk), OF Jackson Chourio was mired in an 0-for-21 slump. All he had to show for his evening of work at the plate was a beanball to the glute. However, there just isn't another player in the system you'd rather have at the dish in such a high leverage situation - slump and all. He just has a knack for the dramatic - a skill you really can't teach - and has a penchant for doing superstar things in big moments. Tonight, he ripped a high and inside heater over the wall in left field and that was ball game. Three runs plated. The Shuckers stole a victory:
3) RHP Cam Robinson continues to search for his form of 2022. He was definitely the victim of some poke bloop hits, so let's not make too big a deal of tonight's outing. But, what I continue to see in his recent outings is a sudden lack of confidence and a lack of effective execution in favorable counts. He's simply put: in a funk. When Robinson is at his best, his violent delivery is a single ingredient ameliorating his mix of offerings as they flirt in and out of the zone while effectively attacking hitters. What I see now is a pitcher who has lost a bit of that violence - he's dumbed down his delivery (for lack of a better phrasing) and he's throwing a bit timidly. If he wants to get back to dictating the AB's, he's going to need to find that fire and that attack mode. This is a crucial stretch for the young man and I'm certainly  pulling for him. 
---
Final:  Cedar Rapids (Twins) 4, Wisconsin 1
Box Score / Game Log
Game Notes 
Via the Timber Rattlers' site, game details, please visit and review:
Kernels Quiet Rattlers

RHP Cameron Wagoner avoided the big inning for the most part but he had far too many runners on base - this continues to be a major problem for the young hurler. I would say his main culprit at this point is his hanging curveballs. He had conceded nine hits through a mere 3 IP - with a 1 BB, 1 WP, and a balk . That's simply not a recipe for success at any level. Several of those knocks came on center cut hanging curves - those are pitches that leave the yard on most nights. All we can hope for as the season progresses is continued work and fine tuning the location issues. Make no mistake about it, however: nearly every outing is a struggle at present. Tonight was no different. It's almost a war with himself when he takes the mound in 2023. 
Three Quick Strikes:
1) SS Eric Brown Jr. continues to show the entire package of late. He is a gold glove caliber infielder - in every sense of what that means. He is just as smooth as they come covering the infield dirt. He has a very good plus arm and he covers so much ground with great athleticism and lateral movement. Now, we're starting to see the bat catch up with the stance and pre-swing adjustments he made this off-season. There is so much to like here. It's a pleasure seeing him start to find success.
2) Let's honor the fine recovery bullpen work we saw from LHP Luis Amaya (3 1/3 IP, 1 H, 1 ER (HR), 0 BB, 5 K) and RHP Michele Vassalotti (1 IP, 0 H, 0 BB, 1 K). After Wagoner nearly caused the wagon wheels to fall off, these two gave their teammates a serious opportunity to make a ball game of the affair. Unfortunately, though their efforts certainly go noticed, those T-Rats bats were relatively silent and ineffective throughout.  
3) I haven't seen the same version of early-season INF Ben Metzinger since he's returned from a brief stint out of the line-up in late April into early May. I personally wonder if he's dealing with a nagging something. If he isn't, he's in a month-long slump at present. There are many months ahead, but the concerns about his arm from 2022 still linger. I'm going to rest my hope on the possibility this is merely a mini-slump in a long season from a very fundamentally sound baseball player and nothing more. ?
---
Final:  Carolina 4, Down East (Rangers) 2 
Box Score / Game Log
Game Notes  
Via the Mudcats' site, game details, please visit and review:
Perez Hits Walk-Off For First Place Mudcats
RHP Logan Henderson struck out four through 2 IP but it was a hanging curveball that caused a wee bit of damage as it was ripped 105 mph over the left field wall. The Mudcats trailed 1-0. With Henderson, it's all about developing and fine-tuning those off-speed offerings - primarily the curveball as the change-up is already a plus pitch. The fastball is a very advanced pitch - it has fantastic rise out of the hand, sneaks up on many a hitter, and gets many a swing and miss. If he can continue to mix in, locate, and fine tune those off-speed offerings he is likely going to rise through the system quite quickly. Obviously, the addendum here is: health is the key. Henderson's counterpart, the Rangers' RHP Brock Porter, was perfect through 3 IP and was quite impressive for a 19-year-old 4th round pick in 2022 fresh out of high school. Unfortunately, he left early with an apparent left leg injury. He remains a young arm in the Rangers arm I'd peripherally follow.
Three Quick Strikes:
1) The Mudcats bats were silent and off-balance through the first four innings. RHP Brock Porter and his replacement, RHP Kai Wynyard, went 12 up and 12 down with a perfect game in tact. Even though the hits were lacking, the AB's were purposeful. The Mudcats ultimately drove Wynyard's pitch count into the 50's 
2) The Mudcats had the bases dripping with no outs in the fifth inning. OF Hedbert Perez swung at three balls outside the zone. C Blayberg Diaz struck out looking. INF Alexander Perez walked the first run in. It was 1B Jesus Chirinos who walked in the tying run in the eighth inning. With the score knotted at 2-2, OF Hedbert Perez came to the dish looking for redemption after an Avina single led off the ninth inning. Honestly, it looked like a possible repeat fifth inning AB as he swung and missed on his first two strikes on balls outside the zone. He must have learned from his previous AB, however, as he delivered mightily for a walk-off blast on a beautiful swing. He laid back on the off-speed delivery and calmly drove the ball over the right field wall. It was a heck of a moment for the young outfielder and the first walk-off for the Mudcats in 2023.
3) Strikeouts. Strikeouts. Strikeouts. What a fantastic performance from the Mudcats pitching staff. The combined efforts from RHP Logan Henderson, RHP Jeferson Figueroa, and RHP Tyler Wehrle was a sight to behold. Each and every arm, to a man, was dialed. When all was said and done we saw 9 IP, 5 H, 2 BB, 17 K, 2 ER. Nobody was more impressive on this fine evening than RHP Tyler Wehrle who just dealt over his 4 IP. This was the best he's looked in 2023 and it was head turning.
---
We have four extremely closely contested series on our hands. As a Brewers Minor League aficionado, I revel in these moments. The uber-talented RHP Carlos F. Rodriguez takes the hill for the Shucker tomorrow and looks to build off tonight's dramatic victory. RHP Caleb Boushley looks to keep the good times strumming in Nashville. RHP Stiven Cruz will look to re-discover the fine form of 2022 in what has been a mysterious struggle so far in 2023. And, in Zebulon RHP Yujanyer Herrera will look to find the pre-injury form in what has been an up-and-down 2023. Thank you for reading and, as always, thank you for supporting Brewers Minor League baseball.
Organizational Scoreboard including starting pitcher info, game times, MiLB TV links, and box scores

Current Milwaukee Brewers Organization Batting Stats and Depth

Current Milwaukee Brewers Organization Pitching Stats and Depth
Think you could write a story like this? Brewer Fanatic wants you to develop your voice, find an audience, and we'll pay you to do it. Just fill out this form.
MORE FROM BREWER FANATIC
— Latest Brewers coverage from our writers
— Recent Brewers discussion in our forums
— Follow Brewer Fanatic via Twitter, Facebook or email