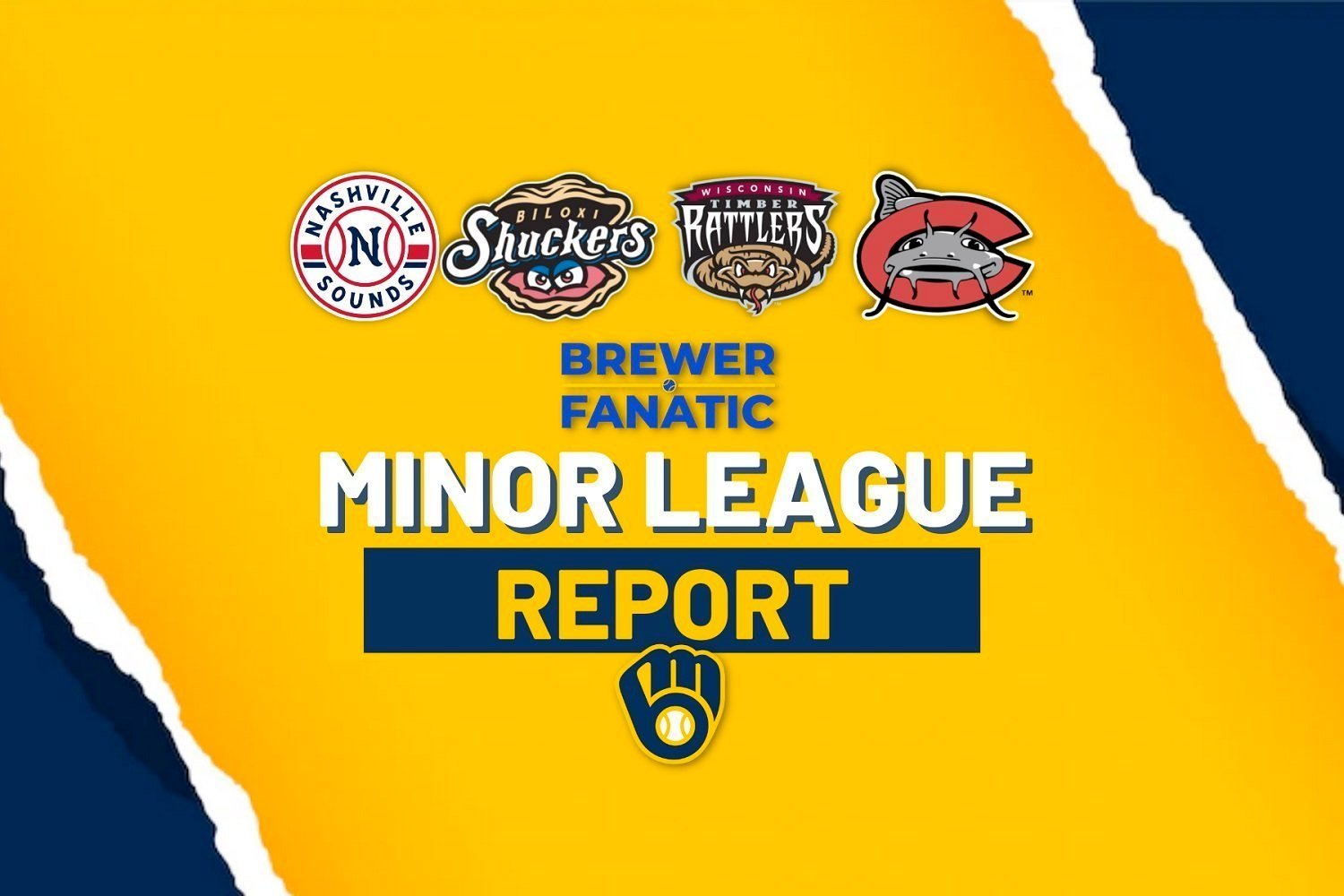 Image courtesy of Brewer Fanatic
Transactions:
INF Mike Brosseau recalled from Nashville as Andrew McCutchen hits the Covid IL.
Nashville Pre-Game Media Notes
Final: Nashville 1, Norfolk (Orioles) 0
Box Score / Game Log
Via the Sounds' site, game details, and we encourage readers to review each of the affiliate write-ups as part of their Link Report routine:

Turang's Late Base Hit Lifts Sounds Past Tides - Dylan File tosses five scoreless innings as Sounds toss fourth shutout of the year
Runs were not going to be easy to come by against Baltimore stud starter Grayson Rodriguez, but Dylan File and the bullpen crew were more than up to the task in matching zeroes. File simply needs a full and productive 2022 in his 2nd option season, and he's on his way, as his 1.28 WHIP thus far matches the career mark that landed him on the Crew's 40-man roster in the first place.
Brice Turang is a dude, everyone. Unfortunately, no video clip of the go-ahead knock, If Kolten Wong is counting on Milwaukee to pick up his 2023 option, well, he shouldn't be. Should Wong face any type of extended absence this summer, Turang's going to get his chance.
Manager Rick Sweet and Pitching Coach Jeremy Accardo have a seemingly endless line of effective relievers they call on night after night. Year in and year out, the David Stearns/Matt Arnold combo prove just as adept at building a AAA roster as they are on the big-league level. A bit over two weeks ago, Voice of the Sounds Jeff Hem interviewed Accardo, in his first year in the organization, for the pre-game show (audio). I came away impressed with Jim Henderson's replacement. We link on our forums whenever Jeff releases his weekly collection of pre-game chats, hopefully you've been checking them out -- you can catch up on all of them here.
Finally, going back to Wednesday's 4-2 Nashville win for a moment, the losing Tides relief pitcher was RHP Logan Gillaspie, the 2019 Timber Rattler who was a surprise cut by the Crew in September of that year. Gillaspie persevered, latched on with Baltimore (smart move), and may have been one of the bigger stunner 40-man roster adds in all of MLB last fall. He has a 1.61 WHIP in seven relief appearances thus far, but hey, great situation for him.
Biloxi Pre-Game Media Notes via the Shuckers' Virtual Press Box
Final: Montgomery (Rays) 3, Biloxi 2
Box Score / Game Log
Via the Shuckers' site, game details, please review:
Pair of Homers Lifts Biscuits Over Shuckers 3-2 - Frelick Records Two Hits, Scores Two Runs
Don't want it too, but the word underperforming is starting to sneak into our thoughts with this Shuckers squad. There was statistical evidence that the season-opening 7-0 run was a bit of a mirage, but few of us expected the performances we've seen as of late.
First off, the Shuckers have played only 26 games. We're just under one-fifth of the way through the AA season. But since we can't quite write about circumstances come August, we're left to ponder performances through May 7th.
Garrett Mitchell (not singling him out, but well, kind of) is 2-for-his-last-33. Joey Wiemer's .872 OPS through 26 games is pretty, but 36 strikeouts in 101 AB's included the golden sombrero on Saturday evening. Gabe Holt seems like he's lost all sorts of statistical mojo by not being a leadoff mainstay, evidenced by his .462 OPS. Thomas Dillard is fanning in nearly 45% of his at-bats. This isn't a very deep roster -- outside of the backup catchers, struggling small-samplers Noah Campbell and Ashton McGee comprise the Biloxi bench. We're never going to see thumping Southern League offensive figures (well, Prince Fielder-Rickie Weeks-Brad Nelson sure tried in 2004 for a 65-75 Huntsville Stars squad), but the league just isn't built that way, and we need to remember that. Here's hoping for some turnarounds soon.
If you wish to sample the Biscuit home runs that did in the Shuckers, Lucas Erceg was victimized here and southpaw Andy Otero here.
Let's end on a high note - Joey's Wiemer's bubble gum of choice is "Bazooka".
Wisconsin Pre-Game Media Notes via their all-encompassing Virtual Press Box
Final: Wisconsin 6, Fort Wayne (Padres) 3
Box Score / Game Log
Via the Timber Rattlers' site, game details, please review:
Wisconsin Tops TinCaps 6-3 - Gray homers and Smith earns first pro win
Catcher Darrien Miller on base all four times up out of the cleanup spot. Young man just turned 21 in March.
In case you missed it in our Minor League Forum or via my Twitter feed, be sure to catch this interview with the well-spoken and fun Miller.
Via WSCO's "The Show with Leo and Balky: Timber Rattlers catcher Darrien Miller 
Six Rattlers reached base at least twice (first baseman Wes Clarke walked thrice).
I failed to note yesterday that Tyler Black returned after missing just over a week of action - he had been sidelined after a collision at first base, Black quintupled his stolen base count in one game, going from one to five. Now that's a successful injury rehab!
We could dig into the box score further, but it's tough to beat the combination of the Wisconsin media crew's You Tube highlight compilation and then be sure to listen in with Chris, Kyle, and their interview guests on the easily-digestible (meaning just the right length) postgame podcast.
Also, this was an excellent interview, too, and after 6'9" Russell Smith's performance Saturday, a good take --
Via WSCO's "The Show with Leo and Balky: Timber Rattlers Pitching Coach Will Schierholz (go to the 14:00 minute mark)
Among those discussed - LHP's Antoine Kelly, Smith and Brandon Knarr, RHP's Cam Robinson
Final: Augusta (Braves) 6, Carolina 5, ten innings
Box Score / Game Log
Via the Mudcats' site, game details, please review:
Carolina Comes Up Short in 6-5 Loss in Extras - Arbert Cipion hit his second home run of the season in Saturday's loss
So the first thing we had to review was why prized shortstop Eduardo Garcia had to be pinch-run for after a line drive RBI 5th inning single. It comes at the 02:18 hour minute mark at the game archive here (for MiLB.TV subscribers). There is no video specific to Garcia running through first base or anything, and when you hear Voice of the Mudcats Greg Young Jr.'s account of the situation, it seems Garcia was not feeling well, something that was hinted at earlier in the game. That's not a definitive diagnosis, but let's hope that's all it was.
Cheerio, Jackson Chourio! Two more hits for the precocious youngest player in full-season ball, because by law, the youngest player must be labeled as such, especially when the talent is shining right away.
Catcher Jeferson Quero is 4-for-his-last-34, because this game is hard, folks.
RHP Carlos F. Rodriguez (not to be confused with Wisconsin OF Carlos D. Rodriguez) made his 5th pro appearance ever, all this spring. He was the Brewers' 6th round pick out of Florida Southwestern State JC last July, and did not pitch in Maryvale after that draft date, The bullpen let him down on this day.
We'll wrap up by sharing some positive offensive vibes --
Game start times range from noon Central to 3:33 Central Sunday (yes, 3:33, those cute folks in Montgomery). I hope everyone enjoys their Mother's Day, whether in person or in memories with their loved ones. Be sure to mix in Brewers organizational baseball!
Organizational Scoreboard including starting pitcher info, game times, MiLB TV links, and box scores
Standings and sortable stat pages
Current Milwaukee Brewers Organization Batting Stats and Depth
Current Milwaukee Brewers Organization Pitching Stats and Depth
Think you could write a story like this? Brewer Fanatic wants you to develop your voice, find an audience, and we'll pay you to do it. Just fill out this form.
MORE FROM BREWER FANATIC
— Latest Brewers coverage from our writers
— Recent Brewers discussion in our forums
— Follow Brewer Fanatic via Twitter, Facebook or email
2