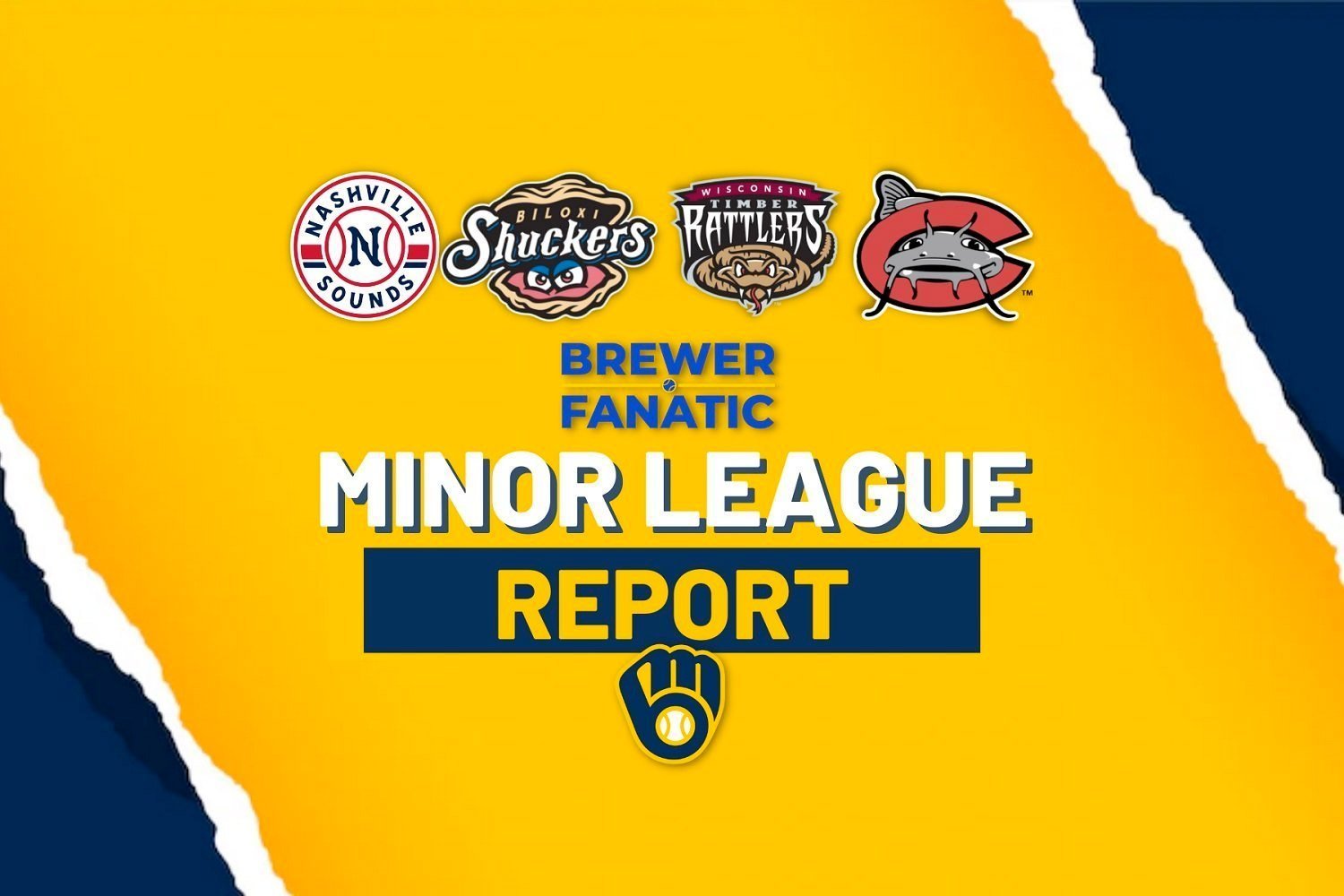 Image courtesy of BrewerFanatic
Transactions:
- LHP Justin King promoted to High-A Wisconsin from ACL Brewers Gold
- RHP Victor Castaneda activated from AA Biloxi's 7-day injured list
- RHP Harold Chirino activated from AA Biloxi's 7-day injured list
- OF Tristen Lutz placed on AA Biloxi's 7-day injured list
- C Brent Diaz placed on AA Biloxi's 7-day injured list
- OF Micah Bello placed on High-A Wisconsin's 7-day injured list
- RHP Trevor Gott sent on rehab assignment to High-A Wisconsin
- 3B Mike Brosseau sent on rehab assignment to High-A Wisconsin
***
Nashville Pre-Game Media Notes
Final: Nashville 4, Gwinnett (Braves) 1
Box Score / Game Log
Via the Sounds' site, game details, and we encourage readers to review each of the affiliate write-ups as part of their Link Report routine:

Sounds Top Stripers to Begin Homestand - Josh Lindblom tosses six shutout innings in win
No video for Mario Feliciano's first home run of the season. If a tree falls in the woods...
Jeff Hem's pregame interviews are excellent, and we link to them on our Minor League Forum each week. 
If you are pressed for time, I strongly suggest you minimally listen to the chat with Sounds' Video Coordinator Danny Althoff. Enthusiastic and passionate about his craft, I found it to be very eye-opening regarding the sheer volume of effort the Brewers, and in this case, Althoff, puts in.
***
Biloxi Pre-Game Media Notes via the Shuckers' Virtual Press Box    
Final: Biloxi 5, Pensacola (Marlins) 3
Box Score / Game Log 

Via the Shuckers' site, game details, please review: 

Zavolas' Quality Start Helps Shuckers to Series-Opening Win - Reetz Sets New Career High With 14th Home Run
Be sure you read that game summary, so much video within! Has any right fielder in all of MiLB had a better defensive night in 2022 than Joey Wiemer did Tuesday?
And yes, Wiemer did nab the #5 and #1 spots on SportsCenter's Top Ten.
Unfortunately...
***
Wisconsin Pre-Game Media Notes via their all-encompassing Virtual Press Box
Final: Quad Cities (Royals) 13, Wisconsin 5 
Box Score / Game Log
Via the Timber Rattlers' site, game details, please review:

Quad Cities Cracks Wisconsin - River Bandits beat Timber Rattlers 13-5
That game summary includes:
- Details on Tyler Black's night (on base five times)
- Rehab performances by Trevor Gott and Mike Brosseau
- The YouTube full game highlights
- The Rattler Radio Postgame Podcast Soundcloud link
In other words, Chris Mehring and the Rattler's' production staff, as per usual, just saved me a bunch of keystrokes!
***
Final: Down East (Rangers) 5, Carolina 2
Box Score / Game Log

Via the Mudcats' site, details, please review:

Quero Homers in 5-2 Series Opening Loss in Kinston - The Mudcats remained in first place in the first half standings despite the loss
This is crazy!
We won't be getting any video from the Down East home games this week, which is unfortunate. The Mudcats are the lone full-season affiliate on the road currently.
Brewers brass couldn't have asked for more in terms of getting the young Muddies pressure-packed pennant chase experience, well, except for getting a win here.
***
Final: ACL D-Backs Black 12, ACL Brewers Blue 1, seven innings as scheduled
Box Score / Game Log

Admit it, you saw the final score and immediately pounced on the "black-and-blue" association. Ouch!
Now I'm starting to think the extreme heat is leading to all these seven-inning games, rather than the availability of arms on these split-squads.

Pitch counts not listed here, but 19-year-old Venezuelan RHP Jesus Rivero did not last the first inning. He's finding his first stateside season rough going.
Three lonely singles, two errors (miscues did not lead to unearned runs), Blue's only run scored on a passed ball, but regardless, nurse the bruises on Wednesday's off day. Blue now 3-9 on the season.
***

Final: ACL Mariners 11, ACL Brewers Gold 0, seven innings as scheduled
Box Score / Game Log
Yikes, what happened in Arizona Tuesday? The Golden Boys normally fare better, now 7-5 on the season.
What were we saying about lonely singles? Four of them here.
20-year-old Dominican RHP Yerlin Rodriguez appears as though he could have used time in the DSL, either last year or this. 
UPDATE: For even more on Arizona Complex League action, check out the post in our Minor League Forum here.

***
To wrap up, I again turn things over to my buddy @damuelle for the Dominican details.

Final: DSL Baltimore Black 5, DSL Brewers1 2
Box Score / Game Log

The Brewers1 squad actually led most of this game, as all the Baltimore Black damage took place in a five-run sixth inning. The loss dropped the team's record to 3-9.

18-year old starting LHP Osbriel Mogollon pitched three scoreless, hitless innings, striking out four batters and issuing two walks. His ERA remains 0.00 through three appearances on the season (six innings, nine Ks).

Throughout the organization, catchers are hitting surprisingly well and this is no different for our DSL clubs. Here, 17-year old left-handed hitting C Roman La Torre (OPS of .931 in 15 plate appearances) hit an RBI double in the second inning to give the Brewers1 team a 1-0 lead. La Torre also threw out an attempted base stealer in the top half of the inning.

Neither team had any hits from the third through fifth innings, as drama built in the one-run contest planned for just seven innings.

However, Baltimore Black got to the Brewers1 relief core in the sixth inning, scoring five runs on four hits and a hit batsman, the last such hit being a two-run homer.

Generating just two hits in any game will not get the job done, but we'll still note that it was 18-year old switch-hitting 1B Arnys Rodriguez (.931 OPS in 27 plate appearances) who collected that second hit with two outs in the final inning to cut the deficit to 5-2.

Exciting DH/OF Luis Lara continued his mini-slump (0-for-last-10; 1-for-last-14), but still sports an OPS of .966 through 51 plate appearances.

Better luck Wednesday, young men (when you face off against your DSL Brewers counterparts!)

***

Final: DSL Brewers2 8, DSL Texas Red 7
Box Score / Game Log

The Brewers2 squad came out on top of this high-scoring, see-saw, nine-inning contest, taking leads in the first, fifth, seventh and eighth innings, before holding off the Texas Red team for the final six outs. The victory raised Brewers2's record to 5-7.

Major contributions were received from:
18-year old left-handed hitting 1B Yeison Perez (3-for-5, 2 doubles, 2 RBIs) - 1.392 season OPS in 43 plate appearances 
18-year old left-handed hitting RF Irving Igualas (4-for-5, 1 RBI, 1 SB) - 1.005 season OPS in 25 plate appearances
18-year old DH/C Brayan Oropeza (2-for-3, 2 walks, 2 RBIs) - 1.825 season OPS in 14 plate appearances
Starting 18-year old LHP Anfernny Reyes (4 2/3 innings, 3 R (0 ER), 6 H, 1 BB, 2 WPs, 2 Ks) - 0.00 season ERA in 13 1/3 innings
Winning 19-year old RHP pitcher Hamlet Vasquez (3 IP, 1 R, 3 H, 1 BB, 1 WP, 4 Ks) - 2.08 season ERA in 4 1/3 innings.
Brewers2 opened the scoring in the top of the first inning, with SS Demetrio Nadal walking and coming home on a LF Jose Gonzalez sacrifice fly.

Texas Red answered back with two unearned runs in the second inning, aided by an infield hit and an error.

But the defense behind starter Reyes wasn't all bad, as three Texas Red singles in the third inning yielded no runs, thanks to a LF Gonzalez-3B Juan Baez-C Eric Martinez relay to nab a runner at home.

Brewers2 grabbed its second lead of the game in the fifth inning, courtesy of Perez providing an RBI single, then scoring on a ground out for a 3-2 lead. Reyes exited after retiring the first two batters of the fifth inning, but Texas Red then tied it back up via an error and a balk.

The game remained 3-3 until the top of the seventh inning, when a Perez RBI double scored Baez (who'd singled - .923 season OPS in 52 plate appearances), then Igualas singled home Perez for a 5-3 lead.

Of course, this lead didn't lead last, as Texas Red responded with four runs in the bottom half of the seventh inning for a 7-5 advantage.

The entertainment continued in the top of the eighth inning, with Brewers2 plating three runs for an 8-7 lead that would hold up until the end. All the action came with two outs, as Perez doubled and scored on a wild pitch, then Oropeza singled home two runs to score Gonzalez (who'd walked) and Martinez (who'd been hit by a pitch).

Hamlet Vasquez did give up three hits and a walk in his three innings of work, but only conceded one run in earning the victory. He struck out the final two batters in a three-up, three-down ninth inning.

***

On Wednesday, it's all evening action for the four full-season clubs. We'll be rooting on Carolina to hold on to their slim lead in the division. As of press time, we are scheduled to welcome back @Julio Muchachoto be your Link Report guide for the night, we're sure he'll bring back his eternal optimism and enthusiasm for all things Crew prospects after some well-earned time off. Until then, here's to a Happy Humpday, everyone!
Organizational Scoreboard including starting pitcher info, game times, MiLB TV links, and box scores

Dominican Summer League Scoreboard

Standings and sortable stat pages

Current Milwaukee Brewers Organization Batting Stats and Depth

Current Milwaukee Brewers Organization Pitching Stats and Depth
Think you could write a story like this? Brewer Fanatic wants you to develop your voice, find an audience, and we'll pay you to do it. Just fill out this form.
MORE FROM BREWER FANATIC
— Latest Brewers coverage from our writers
— Recent Brewers discussion in our forums
— Follow Brewer Fanatic via Twitter, Facebook or email