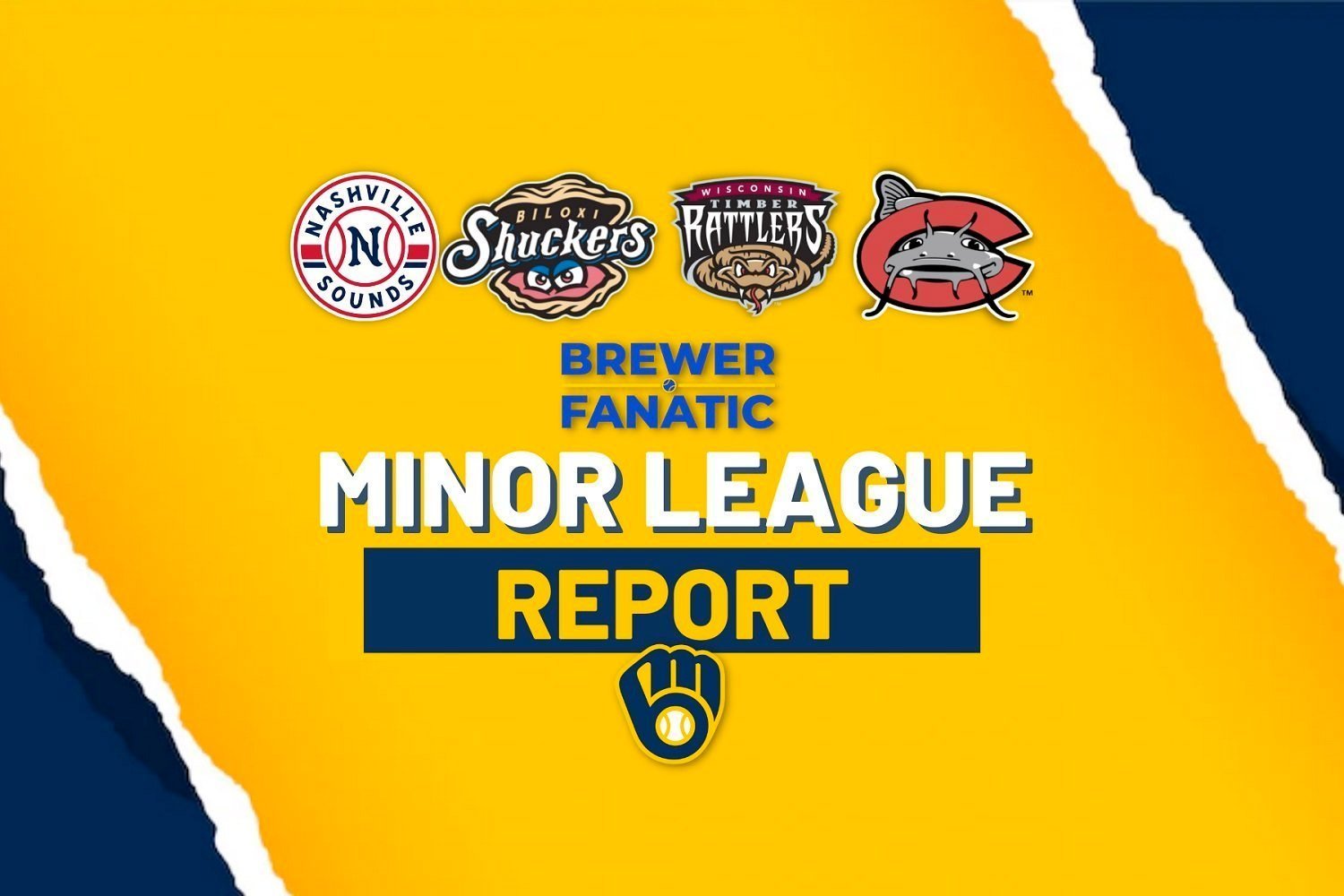 Image courtesy of BrewerFanatic
 Sunday was a day for the hitters, with a combined 57 runs scored on 79 hits across the four full season affiliate games. Thankfully, the clutch hitting came from the Brewers' squads, as Wisconsin, Biloxi and Nashville picked up three one-run victories, despite being outhit 35 to 28 in their three contests.

Jason Lopez came through with the 9th inning, 2-out, bases clearing double to enable Biloxi snatch a victory from Pensacola, giving Biloxi a satisfying 4-2 series win.

In Nashville, it was Brice Turang's turn to play hero, with a game-winning, 2-out RBI single in the 11th inning. Kudos to relievers Connor Sadzeck and Lucas Erceg for impeccable work in extras.

Wisconsin wasn't fazed by a late deficit, tying the game in the 7th inning, then getting 2-out hits in the bottom of the 8th inning from Tristan Peters and Zavier Warren to grab a lead which is always safe in closer Cam Robinson's hands.

The Mudcats offense was missing for the first of the game, but homers from Jheremy Vargas, Jackson Chourio and Hedbert Perez made the final scoreline look more respectable.

Sunday's Game Balls go to the aforementioned Peters, Lopez, Turang, Vargas and Arbert Cipion.
Transactions:
INF/OF Pablo Reyes recalled to MLB Brewers from AAA Nashville (replacing OF Hunter Renfroe, who was placed on 10-day injured list, retroactive to 6/23, with a left calf strain)
Game Action:

Carolina Pre-Game Media Notes
Final: Down East 7, Carolina 5
Box Score / Game Log

Via the Mudcats' website, game details, and we encourage readers to review each of the affiliate write-ups as part of their Link Report routine: Carolina Swept in Kinston Despite Hitting Three Homers

Carolina had started the week trying to hold onto a first half division title, but instead lost six straight games at Down East, mainly weighed down by relatively absent offense.
After being 1-hit in Saturday's loss, the Mudcats were down 4-0 in this game before collecting their first hit in the 5th inning. Thankfully, that hit was a Jheremy Vargas 2-run homer. Semi-slumping super prospect Jackson Chourio then collected the team's second hit via a solo shot in the 6th inning, momentarily cutting the deficit to 5-3. It was not until the 9th inning that the Mudcats collected their third and fourth hits, with a Hedbert Perez 2-run, 2-out homer making the final scoreline 7-5.

23-year old RHP Brannon Jordan has yet to adjust to work as a reliever (3.64 ERA with 38 Ks in 29 2/3 innings of long work; 4.73 ERA with 13 Ks in 13 1/3 innings of short work). At least RHP Michele Vassalotti looks back to full form, striking out both batters he faced.
Performances of Note:
Jheremy Vargas – 1-2, HR, walk, 2 RBIs, SB
Hedbert Perez – 1-4, HR, 2 RBIs
Jackson Chourio – 1-4, HR, RBI
Jeferson Quero – 1-4, double
Edwin Jimenez (Loss) – 3 2/3 IP, 4 R, 6 H, 3 BB, 1 HBP, 3 Ks
Michele Vassalotti – 2/3 IP, 0 R, 0 H, 0 BB, 2 Ks
Next week's outlook: Carolina (34-35) will be home hosting Fayetteville (32-36) this week. Expect dominant RHP Carlos F. Rodriguez to start the opener.
Wisconsin Pre-Game Media Notes
Final: Wisconsin 6, Quad Cities 5
Box Score / Game Log

Via the Timber Rattlers' website, rainout details: Rattlers Make It Five Wins in a Row 

Youtube highlights from Wisconsin's exceptional media team: 
This was an entertaining back-and-forth contest in Appleton, as starting LHP Russell Smith returned from a 3-week absence and MLB rehabber Kolten Wong gave the offense a boost with a first inning home run. Wong is expected back with the Brewers on Tuesday this week.
Dependable Tristan Peters homered to re-claim the lead in the 4th inning at 3-2, but Quad Cities took it back 4-3 with two runs in the 5th inning, then a solo shot in the 7th inning for a 5-4 advantage.
Arbert Cipion then singled, stole second base and third base, then scored on a Tyler Black sacrifice fly to knot the game back up 5-5 in the bottom of the 7th inning.

With 2 outs in the 8th inning, Peters doubled, then scored on a Zavier Warren single to grab the late lead 6-5.

I don't think it's much of a limb to claim that Cam Robinson's 17th save leads the entire minor league system. He pitched a 1-2-3 ninth inning to send the crowd home happy.

The win was Wisconsin's 5th in a row, as they defeated Quad Cities 5-1 in the series.
Performances of Note:
Arbert Cipion – 3-3, RBI, 3 SBs
Tristan Peters – 2-4, HR, double, RBI
Kolten Wong – 1-2, HR, walk, RBI
Ethan Murray – 1-4, triple
Zavier Warren – 1-4, RBI
Russell Smith – 3 IP, 2 R, 2 H, 0 BB, 2 Ks
Christian Tripp – 1 1/3 IP, 0 R, 1 H, 0 BB, 1 K
Joey Matulovich (Win) – 1 IP, 0 R, 1 H, 0 BB, 0 K
Cam Robinson (Save) – 1 IP, 0 R, 0 H, 0 BB, 2 Ks
Next week's outlook: Wisconsin (39-29) will be home against a terrific Cedar Rapids (44-25) squad this week. Expect RHP Zach Mort to make his third start of the year in the opening game.
Biloxi Pre-Game Media Notes
Final: Biloxi 9, Pensacola 8
Box Score / Game Log

Via the Shuckers' website, game details: Lopez' Walk-Off Double Caps Largest Comeback In Shuckers' History 

This was not RHP Noah Zavolas' best game, though I'm sure he'll re-set and return stronger than ever next week. Blue Wahoo Griffin got him with a 1st inning solo shot, then a 4th inning 3-run blast, as the Shuckers trailed early 7-2.

The game was 8-3 in the 6th inning, as RHP JT Hintzen entered with 1-on and 1-out. Hintzen coolly dispatched the dangerous Conine and another batter, then pitched a clean 7th inning to at least give the Shuckers a long-shot chance.

From that point, it was clutch city for Biloxi, as Jakson Reetz and Yeison Coca knocked in three runs with two outs in the 7th inning to make the game interesting at 8-6.
Then again with 2 outs, this time still down 8-6 in the 9th inning, Jason Lopez collected his first hit of the game via a game-winning, bases clearing double to left field.
Although Pensacola won the first half division title, the Shuckers won this week's series 4-2.

And since no Biloxi game is complete without a Joey Wiemer highlight, here he is gunning down a Blue Wahoo at third base for his 10th assist of the year!
Performances of Note:
Thomas Dillard – 3-4, HBP, RBI
Jakson Reetz – 2-3, double, 2 walks, 2 RBIs
Jason Lopez – 1-3, double, 2 walks, 3 RBIs
Cam Devanney – 1-3, double, walk, RBI
Terence Doston – 1-3, walk, SB
Joey Wiemer – 1-4, HBP
Noah Zavolas – 4 IP, 7 R, 8 H, 1 BB, 1 HBP, 2 Ks
JT Hintzen – 1 2/3 IP, 0 R, 0 H, 0 BB, 1 WP, 2 Ks
Robbie Hitt – 1 IP, 0 R, 2 H, 0 BB, 2 Ks
Nash Walters (Win) – 1 IP, 0 R, 1 H, 0 BB, 1 HBP, 1 K
Next week's outlook: Biloxi (34-33) gets to face the Mississippi Braves (29-40) at home this week. Expect RHPs Justin Bullock and Carlos Luna to tag-team the opening game.
Nashville Pre-Game Media Notes
Final: Nashville 9, Gwinnett 8
Box Score / Game Log

Via the Sounds' website, game details: Brice Turang Delivers Walk-off for Nashville

With such a talented and overflowing roster, Nashville decided to let this game go to extra innings, thus giving their excellent bullpen a bit more work and opportunity to shine.

Starting RHP Josh Lindblom wasn't able to put together a third consecutive strong start, as the team fell behind 5-2 in his four innings of work. Jon Singleton had contributed one of those Sounds' runs with this loud shot:
Nonetheless, the Sounds' offense got him off the hook quickly with Mario Feliciano hitting a 2-run homer in the 4th inning (second of the year), then Mr. Contributor David Dahl collecting an RBI single to tie it 5-5 in the 5th inning.
Recently-optioned Mark Mathias then gave the game a real jolt with a 2-out, 3-run 7th inning homer to put the squad up 8-5, which many families probably thought was enough to ice the win.
Unfortunately, RHP Zack Brown continued his relatively difficult month of June by giving up a game-tying 2-run homer to Alex Dickerson, so to extra innings the Stripers and Sounds went.

RHP Connor Sadzeck was lights out, leaving Manfred's ghost at second base in the 10th inning, but Gwinnett's Chadwick Tromp was equal to the task as all three Sounds struck out in the bottom half of the inning.
In the 11th inning, RHP Lucas Erceg kept the ghost from scoring, getting a strike out and fly out to leave the runner at third base. Then in the bottom of the inning, super prospect Brice Turang collected his third hit of the night, this one a game-winning, 2-out RBI single to left field.
Newcomers RHP Marcus Walden and 3B Patrick Dorrian both got plenty of work in their debuts, with Walden covering 3 innings in the bullpen and Dorrian earning a walk in one of his five plate appearances.
Performances of Note:
Brice Turang – 3-5, walk, RBI, SB
Pedro Severino – 2-5, double, RBI
David Dahl – 2-5, RBI, SB
Mark Mathias – 1-5, HR, 3 RBIs
Mario Feliciano – 1-5, HR, 2 RBIs
Jon Singleton – 1-4, HR, walk, RBI
Josh Lindblom – 4 IP, 5 R, 8 H, 2 BB, 5 Ks
Andy Otero – 1 IP, 0 R, 2 H, 0 BB, 0 K
Marcus Walden – 3 IP, 1 R, 3 H, 2 BB, 2 Ks
Connor Sadzeck – 1 IP, 0 R, 0 H, 0 BB, 2 Ks
Lucas Erceg (Win) – 1 IP, 0 R, 0 H, 0 BB, 1 K
Next week's outlook: Nashville (43-28) will also be home this week, facing the Indianapolis Indians (35-35). Expect RHP Caleb Boushley or Tyler Herb to get the start in Game One.
We hope that you enjoy the Minor League Link Report. Enjoy your travel day, full season squads!
Organizational Scoreboard including starting pitcher info, game times, MiLB TV links, and box scores
Standings and sortable stat pages
Current Milwaukee Brewers Organization Batting Stats and Depth
Current Milwaukee Brewers Organization Pitching Stats and Depth
Think you could write a story like this? Brewer Fanatic wants you to develop your voice, find an audience, and we'll pay you to do it. Just fill out this form.
MORE FROM BREWER FANATIC
— Latest Brewers coverage from our writers
— Recent Brewers discussion in our forums
— Follow Brewer Fanatic via Twitter, Facebook or email
1