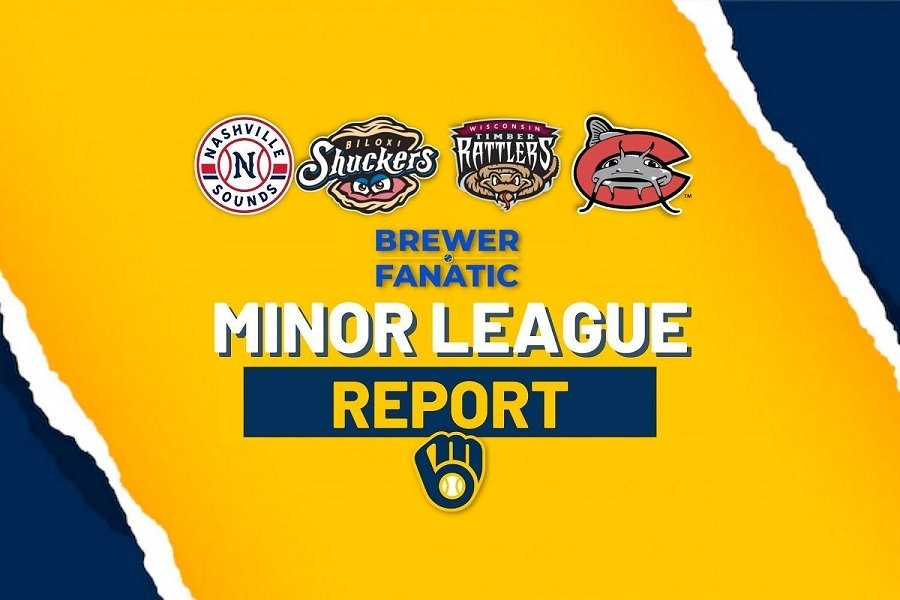 Israel Puello limited the opposition to one run on three hits in a successful Wisconsin debut against a superb Cedar Rapids team, with Darrien Miller providing the entire offense (2-run shot).

Miguel Segura, Jefferson Figueroa and Karlos Morales combined to cover 10 innings of 1-run, 3-hit, 11-K ball, giving time for the Mudcat offense to collect a tying run in the 6th inning and walk-off Hendry Mendez single in the 10th inning.

The heroics of TJ Shook (4 scoreless innings) and Jakson Reetz (3-run homer) were not quite enough as Biloxi fell to Mississippi 6-5.

Nashville fell behind 3-0 early, but left the potential game-tying run on base in the 9th inning to lose 4-3 against Indianapolis.

ACL Blue scored five runs in the final inning to win 11-9, the last four coming on 18-year old infielder Ney Serrano's 2-out grand slam, while ACL Gold were shut out 7-0.

DSL Brewers1's game was suspended by rain (down 6-0, to recontinue on July 15), while DSL Brewers2 got terrific pitching in a 5-1 victory.

Thursday's Game Balls go to the aforementioned Puello, Shook, Miller, Figueroa and Reetz, with apologies to Segura and Andruw Monasterio .
Transactions:
Game Action:

Carolina Pre-Game Media Notes
Final: Carolina 2, Fayetteville 1
Box Score / Game Log

Via the Mudcats' website, game details, and we encourage readers to review each of the affiliate write-ups as part of their Link Report routine: Mendez Mashes Walk-Off Single in 2-1 Pescados Victory

While starting RHP Miguel Segura was terrific (5 IP of 1-run ball), perhaps the more encouraging performance came from RHP Jefferson Figueroa, who delivered his best result of 2022.

With CF Jackson Chourio facing his first real slump of the year (0-for-4, all strikeouts), the offense had to find another way.

SS Eduardo Garcia drew a full count, 2-out walk in the 6th inning, stole second base and scored on a 2B Zack Raabe opposite field single to tie the game 1-1.
LHP Karlos Morales pitched a clean 10th inning as Manfred's ghost slept on second base, then RF Hendry Mendez produced his first hit of the game in walk-off fashion and a 2-1 series lead.
Performances of Note:
Jeferson Quero – 2-4, SB
Zack Raabe – 1-3, walk, RBI, SB
Jean Carmona – 1-3, HBP
Hendry Mendez – 1-5, RBI
Miguel Segura – 5 IP, 1 R, 2 H, 4 BB, 2 HBP, 5 Ks
Jefferson Figueroa – 4 IP, 0 R, 1 H, 2 BB, 5 Ks
Karlos Morales (Win) – 1 IP, 0 R, 0 H, 0 BB, 1 K
Friday's outlook: Exciting 20-year old RHP Stiven Cruz gets the start in Game 4 of the series.
Wisconsin Pre-Game Media Notes
Final: Wisconsin 2, Cedar Rapids 1
Box Score / Game Log

Via the Timber Rattlers' website, details: Rattlers Edge Kernels 2-1

While RHP Israel Puello was the big story, striking out seven Kernels while only allowing three hits and one walk, C Darrien Miller produced his best game in months

Miller threw out an attempted base stealer in the 1st inning, then homered to score Tristan Peters (who'd singled) to give the Timber Rattlers a 2-0 lead in the 2nd inning.
Ethan Murray also made an exceptional defensive play at second base to end Puello's 1st inning of High-A ball.
And then first baseman Ashton McGee put in his own claim for defensive play of the day as he tested the strength of the wall:
Puello's 3rd inning escape (two strikeouts in a 2nd and 3rd, 1-out situation) was a game-changer.

RHP Christian Tripp continued the amazing effort with two scoreless innings, also escaping a 2-on, 1-out situation via ground ball double play.

RHP James Meeker's shutout inning dropped his ERA to below 4.00, while RHP Cam Robinson was dominant again: 3-up, 3-down 9th inning for his 19th save and a 2-1 series lead.
Performances of Note:
Darrien Miller – 2-2, HR, walk, 2 RBIs
Arbert Cipion – 1-3, double
Tristan Peters – 1-3
Zavier Warren – 1-3
Israel Puello (Win) – 5 IP, 1 R, 3 H, 1 BB, 1 HBP, 7 K
Christian Tripp – 2 IP, 0 R, 2 H, 1 BB, 1 K
James Meeker – 1 IP, 0 R, 1 H, 0 BB, 1 K
Cam Robinson (Save) – 1 IP, 0 R, 0 H, 0 BB, 0 Ks
Friday's outlook: The home fans get another chance to see exceptional LHP Antoine Kelly (3.27 ERA, 1.10 WHIP, 93 Ks in 71 2/3 innings).
Biloxi Pre-Game Media Notes
Final: Mississippi 6, Biloxi 5
Box Score / Game Log

Via the Shuckers' website, game details: Mississippi Strikes Back To Take Down Biloxi 6-5

Starting LHP Nick Bennett was hit hard (home run, double, six singles), but at least he didn't issue any walks, hit any batters or throw any wild pitches. Get 'em next time, Nick!

25-year old SS Andruw Monasterio is sending a very loud message to the organization that he belongs back in AAA: he's now 8-for-13 with two home runs and a double in three Biloxi games. His 1st inning homer tied the game 1-1.
2B Felix Valerio certainly ripped this ball to bring the score back to 4-2 in the 3rd inning:
A 6-2 deficit in the 5th inning held up until the 8th inning, when Monasterio led off with a single, Joey Wiemer followed up with an infield hit and Future MLB All-Star C Jakson Reetz followed with his 17th home run of the year to narrow the gap to 6-5.
Unfortunately, that was Biloxi's last hit of the game, so the fabulous efforts of RHP TJ Shook and Reetz went for naught on this night. But don't worry, the Shuckers still lead their series 2-1.
Performances of Note:
Andruw Monasterio – 2-4, HR, RBI
Jakson Reetz – 1-4, HR, 3 RBIs
Joey Wiemer – 1-2, 2 walks, SB
Thomas Dillard – 1-4, SB
Felix Valerio – 1-4, double, RBI
Nick Bennett (Loss) – 5 IP, 6 R, 8 H, 0 BB, 5 Ks
TJ Shook – 4 IP, 0 R, 2 H, 0 BB, 5 Ks
Friday's outlook: LHP Brandon Knarr will try for a third straight terrific start: 11 innings, 2 runs, 4 hits, 10 Ks over last two outings.
Nashville Pre-Game Media Notes
Final: Indianapolis 4, Nashville 3
Box Score / Game Log

Via the Sounds' website, game details: Shaky First Inning Costs Sounds 

Just allow RHP Dylan File to undo the first five batters of the game and this would be a Nashville win and a 2-1 series lead. But alas, those three runs on two hits, a walk and hit-by-pitch really determined the outcome of this game.
Singles in the 3rd inning by Weston Wilson, Pablo Reyes, Brice Turang (RBI) and David Dahl (RBI) nearly knotted up the contest 3-3, but Turang was thrown out on the bases to end the inning.
Two walks (Jon Singleton, Mario Feliciano ) to start the 7th inning and an 8th inning leadoff single (Reyes) unfortunately all yielded nothing.

Right fielder Dahl singled and scored on an error in the 9th inning to bring the Sounds back within a run at 4-3, but Feliciano was stranded on first base to end the game. The loss puts Nashville down 2-1 in this week's series.
Performances of Note:
Pablo Reyes – 2-4
David Dahl – 2-4, RBI
Garrett Whitley – 1-3, SB
Brice Turang – 1-4, RBI
Weston Wilson – 1-4, SB
Dylan File (Loss) – 5 1/3 IP, 3 R (2 ER), 4 H, 2 BB, 1 HBP, 5 Ks
Connor Sadzeck – 2 IP, 0 R, 1 H, 1 BB, 1 HBP, 3 Ks
Friday's outlook: Super prospect LHP Ethan Small got his groove back in his last start (7 IP, 1 run, 3 hits, 10 Ks) and the Sounds need another solid effort from him to tie up the series 2-2 tonight.
We hope that you enjoy the Minor League Link Report. Good luck on Friday, teams!
Organizational Scoreboard including starting pitcher info, game times, MiLB TV links, and box scores
Standings and sortable stat pages
Current Milwaukee Brewers Organization Batting Stats and Depth
Current Milwaukee Brewers Organization Pitching Stats and Depth
Think you could write a story like this? Brewer Fanatic wants you to develop your voice, find an audience, and we'll pay you to do it. Just fill out this form.
MORE FROM BREWER FANATIC
— Latest Brewers coverage from our writers
— Recent Brewers discussion in our forums
— Follow Brewer Fanatic via Twitter, Facebook or email
1