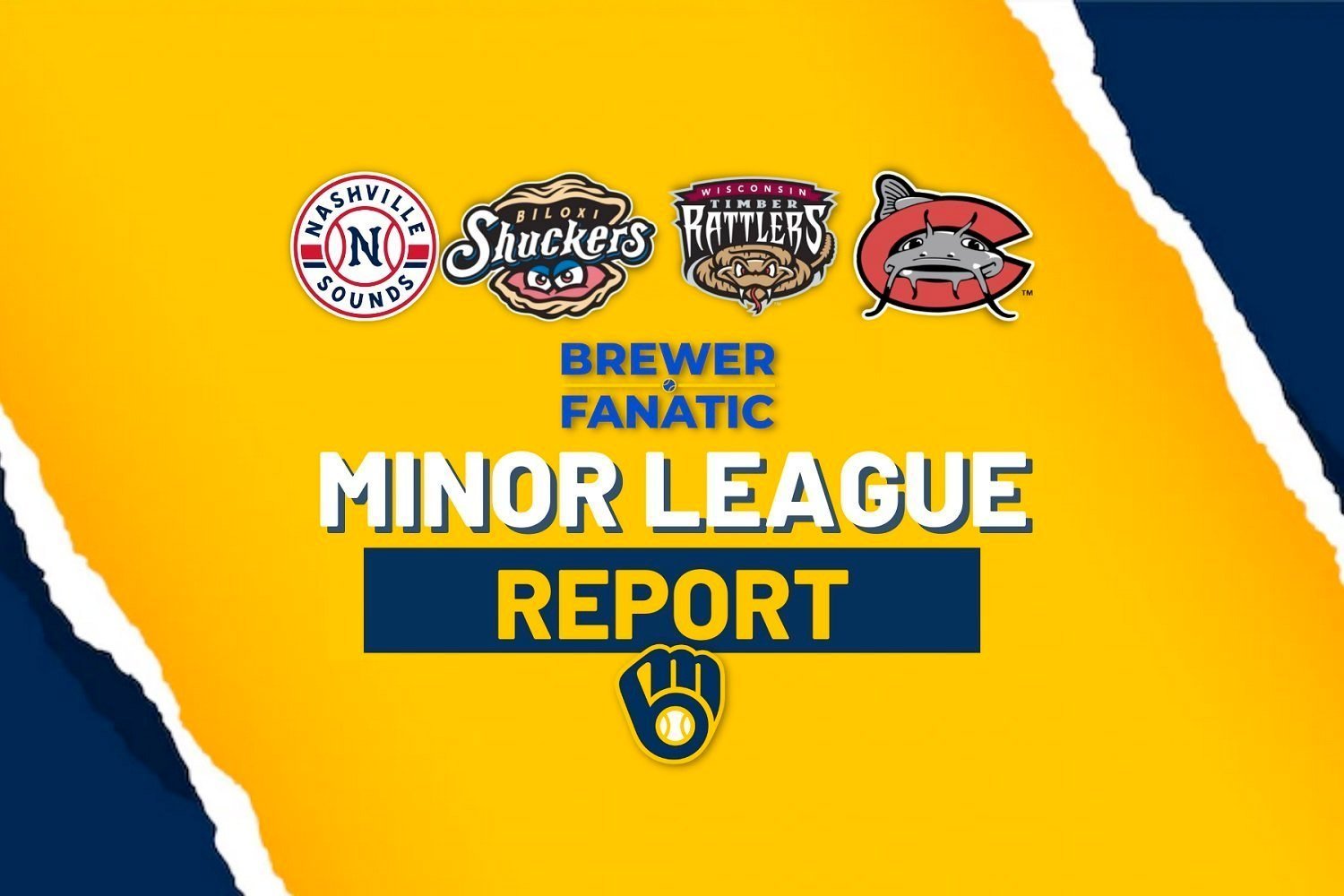 Image courtesy of Brewer Fanatic
Transactions: 
RHP Justin Bullock was assigned to the High-A Wisconsin Timber Rattlers from the Double-A Biloxi Shuckers
The Shuckers officially activated RHP Cam Robinson
Biloxi also activated RHP Arnaldo Hernandez off the 7-Day IL
***
DSL Brewers #1 5, DSL Phillies Red 3
Box Score/Game Log
I'm starting to get used to looking at dominant Box Scores from 19 year old Venezuelan RHP Kevin Briceno. Today was certainly no different. Because our coverage is limited and information so sparse on these tantalizing young DSL prospects, I'll refresh your memory with a tweet shared by the beloved 'Brewers Player Development' twitter team on June 30th:
Today was more of the same dominant stuff for the young hurler: 6 2/3 ip, 1 hit, 2 walks, 6 k's. Given his 2021 stint started with a 60 Day IL stint, and his 2021 outings thereafter were limited to shortened two/three inning (only two starts) stretches, it would seem (entirely my speculation, mind you) the goal for the organization is to stretch Kevin out for future work as a starter stateside. He has started all six games to date in 2022 - his inaugural four inning opener the least amount of innings pitched - and today was his longest outing of the year. Here's to even brighter bright days ahead! Keep your eyes on those box scores.
DSL Brewers 1 relief pitcher Jesael Cabrera was coasting for 2 1/3 inning before things began unraveling a bit in the ninth. With the Brewers comfortably ahead 5-0, Jesael loaded the bases with a walk; double; and a second walk after a fly out opened the frame. This being said, it would appear a missed catch error by second baseman Jose Pena extended the Phillies frame. After another fly out, and with two down, Jesael gave up a double to right field. The game ended there, however. The game log reads as a bang-bang relay play from right fielder Duncan Garcia to shortstop Gery Holguin to home plate where catcher Edgardo Ordonez applied the tag for the third out. Whewwww! That was close. All three early Brewers runs crossed via error, balk, and wild pitch. Though, for good measure, Richard Rojas and Luis Lara did plate runs via doubles - their second and seventh doubles, respectively. The young Brewers 1 now move to 7-13 on the year.
DSL Brewers #2 6, DSL White Sox 4
Box Score/Game Log
Let's hop to the offensive side for the DSL Brewers 2 and highlight the emerging play of young 18 year old Venezuelan INF/OF prospect, Yeison Perez. Yeison had been out of action (non-disclosed) since June 23rd. So, one could expect a possible drop off from his early offensive output. This was not the case, however. In now 44 AB's, Yeison has hit 6 HR (his sixth, a solo shot, hit today in a 2-for-4 game) and is hitting to the tune of 0.409 with an OPS of 1.424. Toss in five doubles, a triple, and 15 rbi's for good measure. That's after missing two weeks of games, folks. I don't know about you, but, this is quite deserving of early attention. It would certainly appear, early at least, Yeison has grown-up a bit since his first year playing for the DSL Brewers 2 where he played primarily left field with some work at first base and in the DH spot. To date, he's played primarily 1B (six games) and filled the DH spot - with a couple of games working in the outfield. 
Further shoutouts to:
18 year old Venezuelan C/1B/DH Eric Martinez - with his second home run today, his OPS is now up to 0.835. One would surmise, much like Jon Singleton in Triple-A, if he could get that batting average up his numbers might really fly off the page (Eric's current BA is sitting at 0.220 in a mere 41 AB's) 
17 year old Dominican INF (SS and 3B primarily at present) Juan Baez. With his 2-for-3 outing today, including his fourth double, Juan's average is up to a robust 0.329 with an 0.814 OPS in 82 AB's. Interestingly, he appears to be working on his stolen base game: 6-for-10 on the year. He did commit his 6th error today - all have occurred manning shortstop. 
20 year old Dominican RHP Waldin Rodriguez picked up his second save in as many opportunities with a scoreless ninth inning of work - two infield pop outs and a groundout. He has pitched effectively in 7 1/3 innings of relief work over 7 DSL Brewers 2 games. 
All told, the DSL Brewers 2 are now back to 0.500 ball at 11-11 overall. Let's hope they can get some more wins and break above 0.500 in the days ahead!
ACL Giants Orange 11, ACL Brewers Gold 8
Box Score/Game Log
It was a true back-and-forth affair today for the Brewers Gold and, unfortunately, they were on the wrong side of the final score. After falling behind 3-0 in the second inning, the Brewers Gold managed to plate three runs themselves in the same bottom half - a solo home run from Carlos Roa (his first) and a two-run single from up-and-comer Jadher Areinamo. The Gold briefly took the lead 4-3 on a Blayberg Diaz ground out and fielder's choice but the back-and-forth contest continued as the Giants tied it on a sac fly and scored another go-ahead run on a single to right field and consequent missed catch error from catcher Blayberg Diaz - right fielder Luis Castillo was credited with the outfield assist, regardless. Trailing 5-4 in the bottom of the fourth, the Brewers Gold managed to retake the lead on a two run-scoring Gregory Barrios single and a run scoring Luis Castillo double - whose impactful game clearly continued. It was suddenly 7-5 Brewers. Kaylen Nicasia then hit his second home run to of his ACL season in the bottom of the fifth and the Brewers were further ahead 8-5. However, this lead was cut to 8-7 on two two-out doubles and a single off of 20 year old RHP Yerlin Rodriguez. Still leading 8-7 in the final seventh frame, lefty Fraudy Maldonado - who had gone three consecutive scoreless outings - came undone to the tune of two opening walks, two left-field singles and a sacrifice fly. It was 11-8. The attempt at a bases loaded one-out mini-rally was cut short when the Giants brought in 21 year old reliever, Yoniel Ramirez, who promptly struck out Areinamo and Barrios on six consecutive pitches. A heck of a shutdown by Ramirez. It simply wasn't to be in what seemed an exciting seesaw baseball game. The Brewers Gold did outhit the Giants 12-9 - led by Areinamo's 3-for-5 outing (0.312 BA and 0.840 OPS 9:13 BB:k). The Gold fall to 10-11 overall on the season.
ACL Royals 7, ACL Brewers Blue 5
Box Score/Game Log
Let's refresh your memories of RHP Alexander Valecillo's most recent two starts via the aforementioned Brewers Player Development twitter: 
Unfortunately, unlike Briceno's continued dominance, Vallecillo struggled a bit today in a shortened outing: 2 2/3 innings, 3 earned runs, 4 hits, 2 walks, 1 HR, 3 k's. He was actually cruising through two innings and started the third with two straight punch outs. But, after a solo home run given up on a 3-1 count, and with two down, things appeared to have broken down a bit. After a first pitch run-scoring single with men on the corners, Alexander was visited on the mound and replaced by 19 year old lefty, Junior Castillo. Let's hope it was just a hiccup and nothing physical-related.
All told, the Brewers Blue made a game of this late as they fell behind 7-0 by the end of the fifth inning. The Blue plated two runs in the seventh and three more in the eighth, however, after a Jonatan Guzman single to lead the ninth the Blue ultimately fell in order -  a strike out, force out, and fly out to end the game. 
Performances of Note:
DH Alexander Perez went 1-for-5 but did manage a two-run homer in the eighth - his first of the season.
Shortstop Ney Serrano went 3-for-4 with two runs. He did commit his sixth error (throwing), however.
20 yo Venezuelan RHP Michael Perdomo managed 3 1/3 very effective scoreless innings late - two hits, one walk, three punch outs.
***
Carolina Pre-Game Notes

Final:  Carolina 4, Kannapolis (White Sox) 3 
Box Score / Game Log                               
Via the Mudcats' site, game details, please visit and review:
Sibrian Homers as Mudcats Win Fifth Straight 4-3 - The Mudcats Scored Four Runs in the First, Including Three on Jose Sibrian's First Homer of the Season
In a recent game thread we discussed improvements we'd like to see from some of our highest ranked prospects. Nobody in the system trends higher and faster than beloved and tantalizing prospect, Jackson Chourio. As we tend to scrutinize and discuss with several of the Brewers' young bats, we talked of strikeouts and walks - ratios perhaps out of balance etc. Whereas Hendry Mendez is thriving in a lead-off role and carries a fantastic walk:strikeout ratio, Jackson has been trending more that route of 30% and higher k rate. In the modern game these strikeouts aren't frowned upon as in previous decades but it is definitely something a younger prospect can work on improving. It was much to my satisfaction, then, when Chourio led-off his first inning with a walk. He promptly scored on a single to center field off the bat of suddenly red hot Jeferson Quero  (was hitting 0.270 after the knock). Then, with the lead 1-0, Jose Sibrian managed to blast his first home run of his season over the wall in left field scoring three more runs. It was suddenly 4-0 Mudcats. The point is: those free passes matter in many different ways - just ask Wes Clarke, Thomas Dillard, and Jon Singleton. Here's hoping for many many more walks ahead for Jackson! What's more, Chourio grabbed his second free-pass later in the contest. All told, on the evening 1k:2bb for the young Chourio. 
Further Game Notes:
Speaking of the Sibrian homerun blast, let's take a look: 

RHP Alexander Cornielle had another mixed-outing. As he matures and develops, he's simply going to need to fine-tune his control. Another five walks on the evening to pair with four hits added too much danger on the base paths. On the season he now has 43 walks to his 78 punch outs and it's a major reason why his WHIP is elevated to a 1.53 mark - in the 62 2/3 innings pitched he's only given up 53 hits to the tune of a 0.229 BAA.  He did grab the win and improved to 4-7 on the season. Lots to build with and plenty of room to grow.
Clinging to a 4-2 lead the Mudcats brought the great unknown of RHP Jakob Brustoski to start the bottom half of the sixth. On this evening, we watched the wild and inaccurate version: walk, walk, walk, walk, strikeout, pitching change. Jakob has been the very definition of hot/cold, hit/miss, (insert erratic cliché here). He handed the ball to recently re-assigned RHP Miguel Guerrero with the bases juiced, one out, and the game 4-3 Mudcats. Not an ideal scenario when you're looking to protect and then pad a lead.
Major major kudos are in order for Miguel. He came on and shut it down. A strikeout on three pitches to start it off. A pop-up to third base finish the bases loaded threat. Excellent stuff considering his recent re-assignment and a bases loaded one out debut! Overall, in his first outing back with the Mudcats he was the calming force that kept the game in check before handing it over to intriguing (if somewhat inconsistent) RHP Karlos Morales who shut it down in the ninth. Miguel managed 2 2/3 innings of one hit, zero walks, four strikeout ball. 
In summary:
***
Wisconsin Pre-Game Media Notes            
Wisconsin 9, South Bend (Cubs) 1 
Box Score/Game Log                               
Via the Timber Rattlers' site, game details, please visit and review:
Jarvis Strikes Out Eleven, Offense Scores Nine, Rattlers Win Sixth Straight - Gray, McGee, Acosta Homer in 9-1 Victory at South Bend
With all the attention doled out to his recently promoted housemate, Cam Robinson, and rightfully so, I was curious to see how Justin Jarvis would respond. He seems to bring his best stuff against the Midwest League's finest and, simply put, tonight was definitely more of the same. With the Brewers coming off a walk-off win versus the Cubs, it seemed as though a convincing victory in South Bend would be the cherry on top. Justin certainly did his best to help this cause: 7 innings pitched, 6 hits, 1 walk, 1 earned run, 11 K's. Whew. Can you say: "Ace in the Making"?
After a rough start to his season in April, Justin has been really really good. If you take away that same April (four starts), he has double digit strikeouts in four of his last 11 outings and of those remaining seven games he has nine strikeouts in two of them. That's incredible production. He has quickly taken over that coveted Ace status since TJ Shook, Brandon Knarr, and, now, Cam Robinson have headed South to Double-A. Here's hoping for more of the same for this up-and-coming hurler in his remaining starts of 2022. The remaining games against South Bend most likely won't be this lopsided but Justin set the tone for the remaining T-Rats' starters.
Further Game Notes:
He didn't man the backstop or even play in this game (

?

), but let's retroactively celebrate Darrien Miller's recent hot streak coming off his recent extended absence:

Why does Joe Ayrault get such consistently good production with injuries rearing their heads, promotions aplenty, and new acquisitions to blend in? I'd say one really good reason is he doesn't take himself too seriously and he encourages the young men to have fun. There's some real solid looks in this one, men:

In the most recent post-game podcast, Robbie Baker appeared to come to the mic with renewed enthusiasm and charisma. Chris Mehring jokingly asked: "Where has this been all year?!" Well, I'd like to tip off us fans a little nugget: Robbie has better stuff than his current numbers suggest. I think we have a chance to see a successful and improved second half from him. His stuff - from delivery to execution - is what I would call 'violent'. I mean this in the best possible way. It was a comfortable 9-1 lead, but, Robbie shut that door down quite easily in the ninth. Here's hoping he has batter luck with BABIP contact and he can lower that WHIP in the second half.
With 11 hits on the evening there was plenty of kudos to go around, but, let's focus on the following:

Jose Acosta: 2-for-5, 1 HR (2-run jack), 1 run, 3 rbi, 3 k's
Joe Gray Jr.: 2-for-5, 1 HR, 1 run, 1 rbi, 1 k
Ashton McGee: 2-for-5, 1 HR (2-run jack) 2 runs, 2 rbi, 2 k's
Arbert Cipion: 2-for-4, 1 run, 2 rbi, 2 k's

The T-Rats now move in sole position of the second half leader board at 9-1. South Bend moves to second at 8-2. 
***
Final:  Biloxi  , Montgomery (Rays) 
Box Score / Game Log             

Via the Shuckers' site, game details, please visit and review:
Seesaw Middle Innings Push Biscuits to Series Opening Win - Reetz Hits 20th Homer
Let me just start with the logo face-off between the 'Biscuits' and the 'Shuckers' is modern sports art at its finest. It's just an incredible display of quality logo work. Every time they play each other, I find myself staring at these logos for seriously way too long: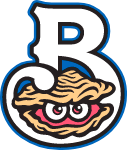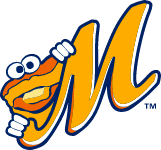 For fun reads on both logos, please visit a Biscuits tidbit HERE  (apparently, Illinois' 'Professional Sports Marketing' owns both the Biscuits and the High-A Lansing Lugnuts Minor League Brand Stalwarts) and a Shuckers tidbit HERE (including a nostalgic look at a young Orlando Arcia running the basepaths!). 
The last time the Shuckers went to Montgomery in early May they, um, well, they didn't fare quite so well: two one-run losses, a two-run loss, a four-run loss, and a good ol' 9-run shellacking. The 6-game sweep was bookended, in heart breaking fashion, by blown saves - one each for Lucas Erceg and JT Hintzen, respectively. I went into this Fourth of July contest, frankly, a wee rattled. Being a Shuckers fan in 2022 is a bit like raising a child: there are good days, there are bad days, and we just pray for growth. I fondly recall that red hot 8-1 Biloxi start to 2022 - the nostalgia is real. SO, with this being said, how did it go in Montgomery during Game 1?
Game Notes:
Coming off the top-half of the fifth inning, whereby the Shuckers managed to take a 3-2 lead, the following sequence was showcased and seemed the perfect crystallization of the roller-coaster 2022 season. Let me share it with you: lead-off single to right field, ground-out to pitcher Victor Castaneda (runner advances to second base), wild pitch advances runner to third, full count 9 pitch at bat results in game-tying single to right field, full count two-run homer surrendered and Shuckers trail 5-3, next batter walked, pitching change. Seriously, folks. That sums it all up in a nutshell and it has absolutely been that kind of season on a weekly basis. The struggle is real for our Shuckers and they have somehow managed to stay around 0.500 all season. All we can do is root for them to gather momentum, again, and maintain it longer than they have. 
The positive to take away from Victor's outing, regardless of the blown lead, is he clearly managed to get his pitch count and innings up and seems to now be removed from any lingering concerns over potential effects coming off the IL. Perhaps he tired in the fifth? Regardless, he was relatively effective until that mini meltdown.
Thomas Dillard continued his impactful play from the dish with his 6th home run on the season and his 18th double and his 45th rbi. I mentioned it recently, but, it's worth mentioning again: Don't forget about this young man. He's been one of the steadily improving players on the Shuckers roster in 2022. Speaking of the home run, I believe they call it a 'No Doubter'?

Jakson Reetz in left field, you say? I do. It's not the first outing he manned the corner outfield spot either. He's an incredibly underrated athlete from my vantage point. But, let's be honest, in 2022 he'll hit home runs from any position:

Jakson in right field, Thomas Dillard in the DH spot, Noah Campbell at first base. Speaking of Campbell, man, what a tear he's been on. Here's a highlight from tonight - a game-tying double in the fifth:

The Shuckers did manage to load the bases in the top of the seventh inning but they couldn't plate any more runs - including Dillard stranded off his double in the sixth, those four RISP were the key misses in the game.
We'll close with a tip of the cap to some solid bullpen work from just activated RHP Arnaldo Hernandez and recently activated RHP Harold Chirino. Both had scuffled some in recent outings - before and after their respective IL stints. Tonight, both hurlers executed scoreless and relatively uneventful evenings to close another loss in Montgomery.
***
Nashville Pre-Game Media Notes      
Final:  Nashville 5, Columbus (Guardians) 2
Box Score / Game Log                        

Via the Sounds' site, game details, please visit and review:
Sounds Celebrate Fourth of July with Win - Almonte Totals Four RBI's, Boushley Pitches Six Scorless Innings in Series Opener
The Sounds headed up river to take on former Brewer farmhand David Fry and the second-place Columbus Clippers. The Clippers host the Sounds this week coming off their recent 5-1 roadtrip at the Iowa Cubs. Columbus came into this contest scoring 90 more runs than the Sounds and lead the International League with 490 total runs - that's 6.28 runs per game to Nashville's 5.19 runs. 
Let's start it off by looking at a quick tidbit from the those 'Game Notes' (directly above - click that link): (Caleb) Boushley is among International League leaders in wins (8, T-1st), starts (15, T-2nd), innings (80.2, 3rd), ERA (3.24, 4th), WHIP (1.17, 4th) and opponent average (.226, 4th). There are always incredible nuggets on the affiliate players just like this. I highly recommend giving them a quick glance daily as part of your Minor League ritual. With Jason Alexander now with the big club in Milwaukee, Boushley has been asked to fulfill that role of Sounds' starting staff Ace. How did he fare in tonight's contest? Quite well!
Caleb is known as a strike thrower and he started tonight in that fashion pounding the zone early with 10 of 12 pitches thrown for strikes. He gave up a lone softly pushed liner to left field in the first inning but held serve from there with a strike out, fly out to Almonte in left field, and force out at second base. On the other side of the diamond, our Sounds saw five of their first six batters strike out in their first two innings - including a three up and three down strikeout buffet in the second. After the Sounds hit two deep fly balls to the warning track in their half of the third inning, the Clippers managed a two-out double off the wall in center field past the chasing Garrett Whitley. One batter later, Garrett managed to run down a deep fly ball high up the wall in center field and made the leaping grab crashing high up the padding. It was a huge play and he saved at least one run and a possible double or triple.
Further Viewing Notes:
The Sounds were hitless through 4 1/3 and their sole baserunner was Tyler White who reached to begin the fourth inning on a slow chopper to third and throwing error into the dugout. He was given second base. Brice Turang followed with a strikeout - the sixth Sounds punch out of the game. BUT, crafty Mark Mathias said: 'No more, fine Sirs!' He knocked a looping single to center field. Tyler White scored and the throw was off line and bounced past Fry as he attempted to corral the off-target throw. Mathias managed to grab second base - a better throw from the back-up would have grabbed him. 
Jon Singleton followed suit with another hit - this time a well-hit line drive to right field. Suddenly, there were runners on the corners and the Sounds led 1-0. Keep in mind, as Big Jon approaches the 0.200 BA mark it's due to a torrid hot nine game run of hitting:  batting .429 (12-for-28) with two doubles, a triple, three homers, 11 RBI and nine walks.
Boushley's greatest impact pitch this evening appeared to be his change-up. It was butter. He got the ever-dangerous lefty David Benson to an unfavorable 0-2 count on a change and, man, it was a glorious sinking pitch just below the zone. Benson then grounded out into a hard-hit double play to Pablo Reyes on a 2-2 count. That change kept him on his heels. He used it with aplomb throughout the contest. All told, Caleb finished his evening with another fantastic body of work: 6.0 ip, five hits, three walks, four strikeouts. His ERA is now down to 3.01 on the season with a 9-2 record overall. 
An incredible chopper that hit the dirt and leapt a good 15 feet into the air over the third baseman's head plated two in the top of the sixth and it was 3-0 Sounds. Almonte continues his fabulous season switch-hitting at the dish. He's a joy to watch hit baseballs. He also managed the only home run in a game filled with wind-killed fly outs. Abraham's 10th of the season. We know the man can get hot as demonstrated awhile back and now we have this:

The ball was oddly not blowing out to left field (as is per usual) in Columbus on this beautiful evening, it was blowing in from dead center field. Several well-hit balls from both ball clubs fell short of the mark, including Tyler White's smash to left center in the top of the sixth that literally fell from the sky like a wounded duck. It sounded beautiful off the bat. I was left scratching my head. 
Matt Hardy came on in relief to start the bottom of the seventh and, let me tell you, he was absolutely saved by the 12' high extended wall in right field. Bobby Bradley hit an absolute cannon that appeared to miss leaving the playing field by a mere foot or two. Whew. Unfortunately, Hardy faced some adversity with runners on the corner and a wild pitch sending Bradley home and it was 3-1. Matt managed to be his best advocate, however, with two very nice defensive plays to first base to leave the inning with the mere run allowed. The final out was a running barehanded grab and throw to first base on a weakly hit chopper between the mound and third base. Savvy stuff from the young hurler.
The pitching mix and development I've witnessed from RHP Lucas Erceg since his promotion from Biloxi is something to behold. In Biloxi he was overwhelmingly relying on his 97-99mph fastball. In Nashville, he's mixing in a breaking ball; change-up; and slider on a fairly regular basis. If he can continue to locate and fine-tune his pitching mix, we are looking at a MLB pitcher. Very exciting stuff.
Speaking of relief work, after consecutive walks to put runners on first and second base, how about a three consecutive slider - dead middle, off the outside of the plate, and circling back on the inside edge - strikeout to settle things down? Courageous stuff from Connor Sadzeck. We'll forget about the wild pitch that advanced the runners and the ensuing walk to load the bases. He got the final batter to 0-1 on another savvy first-pitch slider to another righty and then got the lazy fly out to shallow left field on a change-up. The Sounds pulled out another victory and extended their division lead to 2.5 games.
***
Please keep in mind the Low-A through Triple-A affiliates are all taking the day off on Tuesday having played on the Fourth - en lieu of their typical Tuesday series openers. However, the ACL Brewers Gold and Blue will play games tomorrow as will the DSL Brewers 1 and 2. As always, we'll be here to give you the summaries and highlights as they arise. Thanks for reading!

Arizona Complex League Scoreboard

Dominican Summer League Scoreboard

Standings and sortable stat pages

Current Milwaukee Brewers Organization Batting Stats and Depth

Current Milwaukee Brewers Organization Pitching Stats and Depth
Think you could write a story like this? Brewer Fanatic wants you to develop your voice, find an audience, and we'll pay you to do it. Just fill out this form.
MORE FROM BREWER FANATIC
— Latest Brewers coverage from our writers
— Recent Brewers discussion in our forums
— Follow Brewer Fanatic via Twitter, Facebook or email