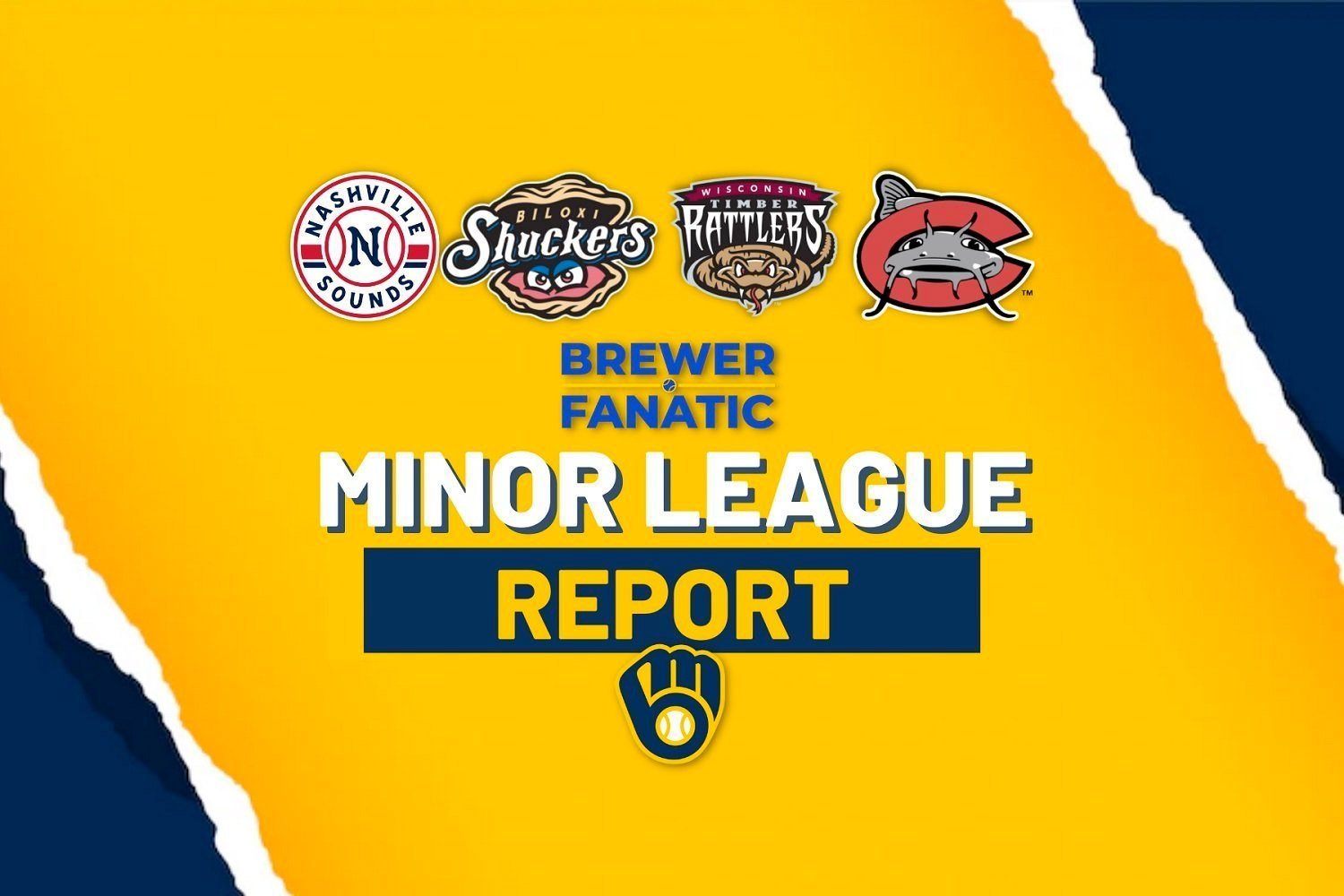 Image courtesy of BrewerFanatic
TRANSACTIONS:
I am told that Alvarez executed a player opt-out. 

The three Maryvale youngsters had yet to see action in 2023. By being placed on a full-season injured list, they no longer count against the 180-player stateside organizational limit. Spots are needed for newly drafted players.
 
---

Final: Louisville (Reds) 14, Nashville 8

Via the Sounds' site, we encourage readers to review each of the affiliate write-ups as part of your season-long Link Report routine:
Sounds Hit Five Homers, Fall to Bats in All-Star Break Return - Patrick Dorrian homers twice but Nashville fails to overcome Louisville's 14-run barrage
Box Score / Game Log

The Reds' youth movement depth is ridiculous. In any of the other 29 MLB organizations, corner infielder Christian Encarnacion-Strand would already be on a big-league roster. Thankfully, the 19 hits by Louisville bats here were limited to the AAA level Friday. 

Boy, when the Sounds' pitching staff gives up runs lately, they really give up runs. RHP Luis Contreras has emerged as the "need to bring him in by the 3rd inning because the starter has been shelled" guy. A bit of an exaggeration, but not really.

In last Sunday's Nashville pre-game chat via Voice of the Sounds Jeff Hem (link), always-entertaining Manager Rick Sweet brought up an interesting point. He's been unable to get clarification on the length of suspension for LHP Robert Gasser (and catcher Alex Jackson), mainly because of the implications of the new MiLB union. So, we wait on that front. Sweet also describes rehabbing LHP Justin Wilson as still "a ways away", although he tossed another scoreless inning Friday.

The Sounds smacked ten hits including six for extra bases, but alas, nothing but a walk for CF Sal Frelick. Two of his outs are described as lineouts in the game log, and no K's, so we hope he's just snakebit more than anything at this time.

View Keston Hiura's double here.
 
---

Final: Rocket City (Angels), Biloxi 7

Via the Shuckers' site:
Shuckers' Wild Comeback Falls Short in Series-Opener to Rocket City - Tyler Black, Jackson Chourio both homer in the loss

Pre-Game Media Notes 
Box Score / Game Log

5,002 the announced attendance, nice job Shuckers fans.

As advertised in our headline, here's what you came to see:
Oh, by the way, #3 in the lineup, catcher Jeferson Quero, singled twice and has a line of .293/.369/.498 (.867 OPS) as a 20-year-old in AA. So yeah, inject Black-Chourio-Quero into our veins.

One caveat, Black committed his 11th error of the season at third base, the only position he has seen action at in 2023. This one was of the throwing variety. Wouldn't mind seeing some first base action for Black at some point (has never played there as a pro).
 
---

Final:  Peoria (Cardinals) 3, Wisconsin 2, ten innings

Via the Timber Rattlers' site:
Chiefs Beat Rattlers in Ten Innings - Wisconsin rallies to take late lead before losing 3-2
Pre-Game Media Notes (Download Link) via the team's Virtual Press Box

Box Score / Game Log

Wow, almost snatched victory from practically no attack.

RHP Tyler Woessner is a different cat, albeit a highly entertaining one. Can a right-handed pitcher thrive long-term with a bigtime pitch-to-contact efficiency? We're going to find out following Woessner's career path. Seven one-run innings on only 79 pitches, zero walks and two K's. He's a bit of a unicorn in the Crew's system (a bit of a unicorn? I guess you're either a unicorn or you're not, but I digress.) We know the Rattlers staff appreciates the innings and stability Tyler provides.

The highs and lows within a single game. Ernesto Martinez with the 7th inning blast to break up the no-no and tie the game. Ernesto Martinez with the pop out with one out and men on 2nd and 3rd in the 10th.
 
---

Final: Carolina 5, Myrtle Beach (Cubs) 3
Mudcats Win Fourth Straight 5-3 in Myrtle Beach - Carolina took Friday's series opener with three-hit nights from Jadher Areinamo and Tayden Hall
Box Score / Game Log

About time this report found a victory! And over a Cubs affiliate, nice!

Sweet job by Mudcats staff for culling video highlights for us from the road feed. See multiple clips via the Carolina Twitter Media link. Even better, squeezing all three base knocks for 1B/C Tayden Hall into one post as seen here:
Hall last played for the Muddies on May 9th. He began a Maryvale rehab on June 26th (lower back injury). Listed at 6'4", 215, Hall doesn't turn 21 until January. Hopefully the SLG will come given his frame, because the two-year OBP of .439 (.476 in 84 plate appearances this year!) is tremendous. The organization needs bright lights to dream on at first base.

Of Jadher Areinamo's 66 base hits in 2023, 55 are singles, thus the middling .649 OPS despite batting .289.

This Will Rudy start looked a lot like his early-season efforts (check out his game log). Would be big if this set Rudy up for a big second half, it's in him.
 
---

Final: ACL Brewers 17, ACL Reds 16

Box Score / Game Log

So, while we were watching the parent clubs in a 1-0 thriller, this happened.

Really, A-Crew, of all days! Let's see what we can spotlight.

OK, easy MVP. 20-year-old Venezuelan RHP Gerson Calzadilla allowed only a ghost runner (unearned run) in working the final five innings. Who would have guessed given that final score? Calzadilla lowered his 2023 ERA to 0.71 and WHIP to 0.87 in eight relief appearances covering 25.1 innings. A manager's dream (by the way, that would be former Brewer farmhand catcher Rafael Neda, now 34 years old. Time flies.)

Starting LHP Brian Fitzpatrick (2022 10th round, Rutgers) had a rough outing, but it's only his 3rd game back from Tommy John rehab, so very much excused. RHP Samuel Dario missed nearly a month, and this was his first game back off the IL, so again, we need to read between the lines sometimes.

Game time temp 111 degrees, we've all been watching the news reports nationwide. So, let's play a four hour, 14-minute game (not by design). This is why we see shared catching duties in ACL games so often, including this one.

Four singles for rehabbing Carolina shortstop Daniel Guilarte in his 2nd Maryvale game. The Mudcats family can't wait.

Brewers won despite having their ghost runner thrown out at home trying to score with no outs on a throw from the Reds' right fielder. No bueno, third base coach...

Crooked numbers for some of the usual Maryvale suspects - king of OBP Dylan O'Rae (.490!), 2023 breakout SS/3B Juan Baez (1.027 OPS), and C/DH Satchell Norman (15 RBI in just 45 AB's, five of them here).
 
---

Final, Game One: DSL Brewers #1 Squad 7, DSL Brewers #1 Squad 1 , seven innings, completion of July 4th game

Box Score / Game Log

The Uno Club was up 2-0 in the top of the 1st when this one was suspended, that's why the unusual lines for the starting pitchers in the box score. The skippers carried over the exact lineups from ten days prior, and there were no substitutions in this contest.

It was 4-1 after three, and a three-run 6th sealed the deal. 

17-year-old rookie Venezuelan RHP Gabriel Colmenarez was the standout moundsman, just one unearned run in five innings. He has 13 K over 19 IP, but we very rarely see high strikeout figures from the 16- and 17-year-old pitchers still growing into their bodies. Colmenarez won't even turn 18 until March, but we love the effectiveness thus far (1.11 WHIP).

Continuing to make that top $1.5 million bonus look wise, RF Yophery Rodriguez doubled and came through with two sacrifice flies. Just wait, his day was just getting started!
Making it a trio of 17-year-old's (along with Rodriguez), check out the near-matching gameday production from 3B Gery Holguin and SS Joan Gutierrez, each with a double, single and walk.
 
---

Final, Game Two: DSL Brewers #1 Squad 7, DSL Brewers #1 Squad 5, seven innings as scheduled

Box Score / Game Log

Team Dos (now with an 11-17 record) couldn't stand a bit of prosperity, up 5-1 through four innings of this planned shortened game. Team Uno improves to 18-11.

But then again, Team Dos doesn't have Yophery Rodriguez, who pulled a grand slam to right field to jump Team Prime Number ahead in the bottom of the 6th. Oh my! It is not easy living up to super-early and super-spiked (by bonus $$) expectations, but the 6'1" Dominican native, moving over to CF in this one, is doing just that, now with a .995 OPS. He'll likely follow the Jackson Chourio path of joining Carolina by next May after some time in extended spring training.

Rodriguez was the only player for either club with more than one base hit. No pitcher stood out, so we'll let young Yophery be our lasting focus. Peruse the box score and log as you wish.
---
It's a traditional seven-game slab of action on Satudrday, evening starts for the full-season clubs. The Maryvale Crew is scheduled for a 10:30 AM local first pitch, which is the norm on their Saturday. Is that wise given the heat situation? Guess it's not much better in the early evening, but still, stay hydrated, kids! You also, reading out there, and thanks for visiting!

Organizational Scoreboard including starting pitcher info, game times, MiLB TV links, and box scores
Current Milwaukee Brewers Organization Batting Stats and Depth
Current Milwaukee Brewers Organization Pitching Stats and Depth
Think you could write a story like this? Brewer Fanatic wants you to develop your voice, find an audience, and we'll pay you to do it. Just fill out this form.
MORE FROM BREWER FANATIC
— Latest Brewers coverage from our writers
— Recent Brewers discussion in our forums
— Follow Brewer Fanatic via Twitter, Facebook or email
3