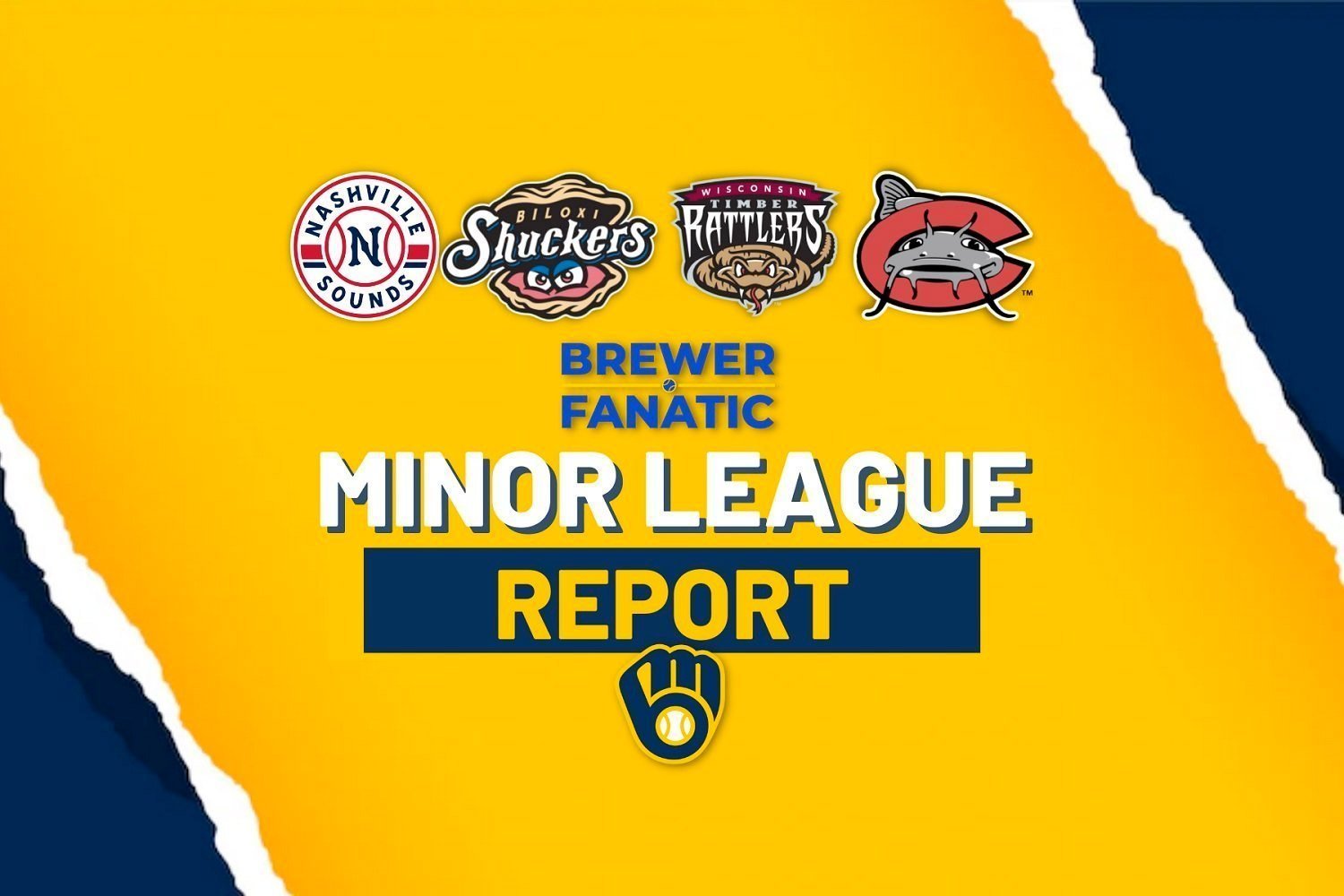 Image courtesy of BrewerFanatic
As I got on a domestic flight, I noted Nashville was trailing 8-1 against Memphis in the 6th inning, while Wisconsin was leading West Michigan 3-1 late in their game. Being something of a pessimist generally, I wasn't surprised to discover later that the Timber Rattlers had lost that game but was stunned to see that the Sounds mounted a massive comeback to snatch a victory.
Tyler White knocked in Nashville's first and last runs via homers in the 3rd and 8th innings, while Weston Wilson and Brian Navaretto also homered in the come-from-behind win which salvaged a 4-2 series loss for the Sounds.
As for Wisconsin, they led 3-1 for most of the game after some fine pitching by James Meeker and Christian Tripp, coupled with a Tristan Peters two-run shot, but coughed up two runs in the 8th inning and a one-run lead in the 10th inning to drop their contest at West Michigan 5-4, resulting in a miserable 5-1 series loss.
Biloxi put together a solid game all-around, with TJ Shook and relievers limiting Tennessee to one run on three hits, while Cam Devanney hit two home runs and was joined by Andruw Monasterio and Sal Frelick (who went 4-for-5) in the dinger club. They won 7-1, grabbing the finale in a 4-2 series loss on the week.
Carolina needed a win to be the organization's sole series winner this week, but couldn't keep up with Delmarva in a 10-4 loss, giving them a 3-3 series split. Jesus Chirinos and Hedbert Perez each homered, as the Mudcats had managed to keep it close until the 8th inning.
Sunday's Game Balls go to the aforementioned White, Frelick, Monasterio, Navaretto and Devanney, with apologies to Peters, Meeker and Wilson, along with a tip of the cap to the Biloxi bullpen (six shutout innings in their win).
Transactions:
Game Action:

Carolina Pre-Game Media Notes
Final: Carolina 10, Delmarva 4
Box Score / Game Log

Via the Mudcats' website, game details, and we encourage readers to review each of the affiliate write-ups as part of their Link Report routine: Chirinos and Perez Homer in 10-4 Finale Loss to Delmarva
Delmarva was eager to jump on the Mudcats to grab a series 3-3 split, getting two runs on three singles off RHP Jefferson Figueroa (5 IP, 5 R, 4 ER, 8 H, 3 BB, 1 HBP, 8 Ks) in the first two innings for an early 2-0 lead.
However, Carolina battled back in the 2nd inning with a 1B Jesus Chirinos (2-for-4, HR, RBI) home run and an RBI single from Jheremy Vargas (1-for-3, walk, RBI) to knot the affair 2-2.
In the 3rd inning, three Delmarva hits and the Mudcats' second error of the game allowed the Shorebirds to take a 5-2 lead, which OF Hedbert Perez (1-for-3, HR, walk, 2 RBIs) sliced into with a 2-run homer in the 5th inning, his 11th dinger of 2022. Perez started in center field for the second straight game, with OF Jackson Chourio away to play in the Futures Game.
RHP Miguel Segura (3 IP, 5 R, 4 H, 5 BB, 4 Ks) entered in relief in the 6th inning, conceding a run in the 7th inning on two walks and a single for a 6-4 deficit. A C Jeferson Quero (3-for-5, 2 doubles) single and Perez walk unfortunately produced no runs in the bottom half of the frame, before Delmarva blew open the game with a four-run 8th inning.
At least RHP Miguel Guerrero (1 IP, 0 R, 1 H, 0 BB, 0 Ks) pitched a clean final inning.
Next week's outlook: 43-44 Carolina will host 45-41 Down East starting Friday.
Wisconsin Pre-Game Media Notes
Final: West Michigan 5, Wisconsin 4
Box Score / Game Log
Via the Timber Rattlers' website, details: West Michigan Walks Off Wisconsin in Ten Innings
OF Tristan Peters (2-for-5, HR, 2 RBIs) homered on the first pitch he saw in the 1st inning, bringing home Joe Gray Jr. (who'd singled; 2-for-4, walk, RBI, SB) for the early 2-0 lead.
RHP James Meeker (4 IP, 1 R, 2 H, 1 BB, 1 HBP, 1 WP, 3 Ks) made his 2nd start of 2022 in his 24th appearance, giving up just an RBI double in the 2nd inning as West Michigan kept the game close.
2B Jose Acosta (2-for-4, triple, walk) tripled and scored on a Gray single in the 3rd inning for a 3-1 lead, but the offense squandered most chances from that point onward.
Leadoff hit-by-pitches in the 4th and 8th innings, a double and two walks in the 5th inning, a 6th inning single and a single and walk in the 9th inning all resulted in zero runs, giving the Whitecaps ample time to send the game to extra innings.

RHP Christian Tripp (2 IP, 0 R, 0 H, 1 BB, 1 K) ably covered the 5th and 6th innings before RHP Robbie Baker also pitched a clean 7th inning. However, Baker ran into trouble in the 8th inning, giving up two singles and a walk, with Manager Joe Ayrault calling on RHP Taylor Floyd to try to escape the two-on, one-out jam in a 3-2 game. Unfortunately, a single tied the game 3-3 before Floyd induced an inning-ending ground ball double play.

After the Timber Rattlers failed to score with two-on and one-out in the top of the 9th inning, West Michigan got an infield single to lead off the bottom of the 9th inning. Thankfully, Floyd deftly escaped that jam through a sacrifice bunt and two ground outs.

In the 10th inning, Wisconsin regained the lead 4-3 thanks to a Peters single and 1B Wes Clarke sacrifice fly, but the team needed more. Sent out for his 3rd inning of work, Floyd conceded a walk and then a two-run double as West Michigan walked it off 5-4.
We should credit the Whitecaps' defense, as they converted three ground ball double plays, picked off a runner and threw out another Timber Rattler stealing giving them five extra outs in their tight win.
Next week's outlook: 48-38 Wisconsin will return to action on Friday, hosting 39-47 Beloit.
Biloxi Pre-Game Media Notes
Final: Biloxi 7, Tennessee 1
Box Score / Game Log
Via the Shuckers' website, game details: Biloxi Blasts Four Homers In 7-1 Sunday Win
Hitting home runs early and often is a great recipe for victory, which Biloxi enjoyed on Sunday.
Although starting RHP TJ Shook (3 IP, 1 R, 1 H, 5 BB, 2 HBPs, 2 Ks) struggled a bit for form (three walks and a two hit-by-pitches in the first two innings), he managed to keep it scoreless, enabling the Shuckers to grab a 3-0 lead in the 3rd inning on an Andruw Monasterio (2-for-4, HR, walk, 2 RBIs) 2-run shot and a Cam Devanney solo homer.
Two more walks and an RBI single in the 3rd inning cut the deficit to 3-1, though Shook managed to complete that inning on a fly out and infield line out. But that was all for TJ after 67 pitches (34 strikes), as he handed it off to the bullpen early.
By the 4th inning, OF Sal Frelick (4-for-5, HR, RBI) had already collected his third single, though the game remained tight at 3-1.
JT Hintzen pitched a scoreless 4th inning, before 3B Cam Devanney (2-for-5, 2 HR, 3 RBIs) hit a two-run blast in the 5th inning for a 5-1 advantage.
The Biloxi bullpen show continued with RHPs Kent Hasler, Nash Walters, Zach Vennaro and Robbie Hitt each completing at least one scoreless inning. Vennaro earned his fourth win of the year for his effort, stranding two inherited runners and retiring all four hitters he faced, including three by strikeout.
Frelick wasn't content with just a 3-for-3 day, hitting the first pitch he saw in the 7th inning over the wall in right center field for his 3rd homer of 2022. An RBI double from 1B Thomas Dillard in the 9th inning concluded the scoring at 7-1.
Strangely RHP Cam Robinson entered to pitch the 9th inning, but was immediately pulled in favor of Hitt, not registering a pitch in the contest. Let's hope that Robinson feels better after a few scheduled rest days.
Next week's outlook: 40-45 Biloxi will host a difficult Pensacola (44-38) side as of Friday.
Nashville Pre-Game Media Notes
Final: Nashville 10, Memphis 8
Box Score / Game Log
Via the Sounds' website, game details: Tyler White Leads Sounds to Dramatic Comeback
Despite some humbling losses this week and daunting deficits of 5-0 (3rd inning) and 8-1 (6th inning), the Sounds gave 6,739 loyal home fans an epic comeback victory to remember, scoring the final nine runs of the game in this 10-8 thriller.
Unfortunately, reliable starting RHP Caleb Boushley was hit hard, giving up five runs on six hits in the third inning. That's more runs in one inning than the Hortonville-native has yielded in any game this season, to give you a sense of how solid he's been this year.
1B Tyler White (2-for-4, 2 HR, walk, 4 RBIs) grabbed a run back in the bottom of the 3rd inning, hitting his 12th homer of 2022 on an 0-2 pitch for a 5-1 deficit.
Memphis grabbed a 6th run on a homer off RHP Hobie Harris in the 5th inning, then consecutive 6th inning home runs off rehabbing RHP Miguel Sanchez for a sizeable 8-1 advantage.
In the bottom of the 6th inning, OF/C Jakson Reetz got the comeback started with a single, before 3B Weston Wilson (2-for-4, HR, 2 RBIs) smacked a two-out, two-run shot. OF Garrett Whitley then walked and C Brian Navaretto (3-for-4, HR, 2 RBIs) hit another two-run, two-out home run to excite the home crowd as the game tightened at 8-5.
Consecutive leadoff walks issued by RHP Peter Strzelecki in the 7th inning thankfully produced nothing for Memphis (strike out, fly ball double play to Whitley who caught a runner off first base).
DH/OF Tyrone Taylor (3-for-4, SB) then continued the comeback with a leadoff 7th inning single, followed by a White walk. Taylor scored on a 2B Mark Mathias RBI double and White came home on a ground ball out, as the Sounds inched closer at 8-7.
RHP Alec Bettinger came in for his first appearance since July 3rd, retiring all three hitters he faced in the 8th inning (two line outs, one fly out).
Nashville then put two aboard in the bottom half of the inning, setting the stage for White's three-run homer to give them their first lead of the game at 10-8. The beautiful golf shot (from one knee!) was on an 0-2 count with two outs.
RHP Trevor Kelley pitched a three-up, three-down 9th inning to earn the save, while Bettinger was credited with the win.
Next week's outlook: The 54-35 Sounds will be on the road, facing 36-53 Louisville starting Friday.
We hope that you enjoy the Minor League Link Report. The Full Season Affiliates are off for four days this week, resuming play on Friday, July 22nd, while the Arizona clubs re-commence on Thursday and the DSL squads are back in action today.  Enjoy your rest, young men! 
Organizational Scoreboard including starting pitcher info, game times, MiLB TV links, and box scores
Standings and sortable stat pages
Current Milwaukee Brewers Organization Batting Stats and Depth
Current Milwaukee Brewers Organization Pitching Stats and Depth
Think you could write a story like this? Brewer Fanatic wants you to develop your voice, find an audience, and we'll pay you to do it. Just fill out this form.
MORE FROM BREWER FANATIC
— Latest Brewers coverage from our writers
— Recent Brewers discussion in our forums
— Follow Brewer Fanatic via Twitter, Facebook or email
1