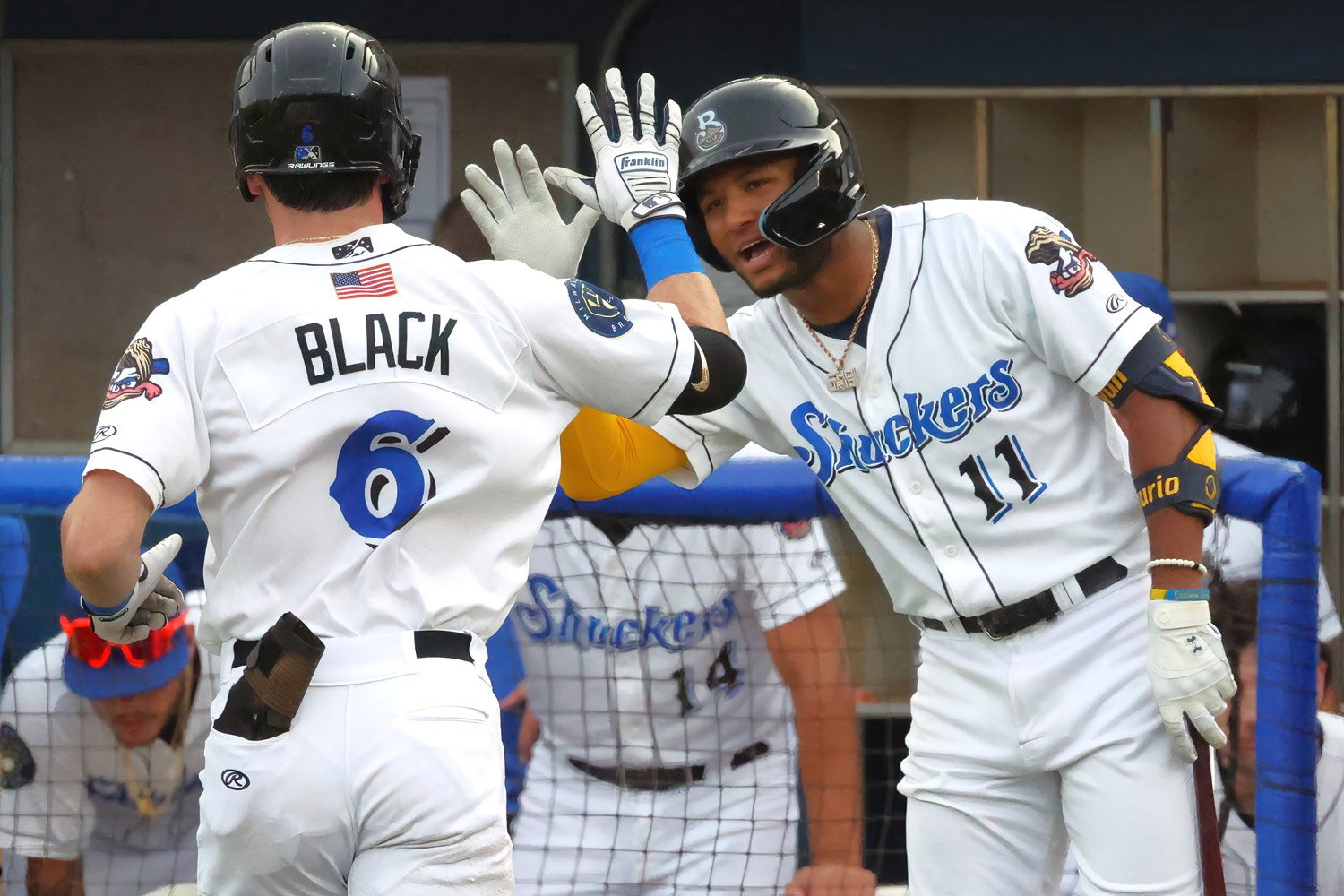 Image courtesy of Biloxi Shuckers
Game Balls:
* Honorable Mention: LHP Russ Smith and 2 IP, 2 H, 0 BB, 3 K, 0 R ball is very worthy of celebration. Can he stack success? Always the question with these young men - much easier said than done. RHP Enniel Cortez gets the mention here for his season-long stellar work but, more importantly, his 3 IP, 0 H, 0 BB, 3 K shutdown work for his fourth win and throwing the DSL Dodgers monkey off his back. 
Transactions:
RHP Trevor Megill was recalled by the Milwaukee Brewers from the Nashville Sounds
LHP Ethan Small was activated off the 7-Day IL by the Nashville Sounds
C Alex Jackson was activated by the Nashville Sounds (suspension)
---
Final:  Jacksonville (Marlins) 6, Nashville 4
Box Score / Game Log

Game Notes 

Via the Sounds' site, game details, please visit and review: 

Missed Chances Loom Large for Sounds in Frustrating Defeat

The Sounds fell to 8-7 in the second half and 48-41 overall as they dropped game one at home to the Jumbo Shrimp after being swept at the Louisville Bats. The Sounds, in this recent stretch, very much have the look of a 0.500 ball club so their 8-7 record feels apt, unfortunately.

RHP Justin Jarvis indeed was back to his fast-working ways we saw every time out while with Double-A Biloxi. He is still very much learning how his mix plays in the International League, but tonight's outing was definitely a step in the right direction. He looked more comfortable on the mound. In the end, he threw a quality start and gave his team every opportunity to break away from a tie score: 6 IP, 7 H, 1 BB, 6 K, 4 ER, 2 HR. He'll obviously look to tone down the long balls, but we'll consider this outing a success.

Three Quick Strikes:
1) When you start experiencing throwing arm injuries like RHP Jake Cousins (he is just coming off a shoulder injury while with Milwaukee and this after last year's elbow injury), it can start to take a toll on a pitcher. Cousins' velocity was well below what we've grown accustomed to averaging 92.4 mph on his evening. He was inaccurate to boot throwing five consecutive balls to start his outing. Cousins did suffer from some seeing eye dribblers, but his recipe for success is far murkier than it used to be. 
2) The Sounds stranded 13 men on base after six innings and this ultimately came back to haunt them when the above-mentioned Cousins couldn't find anything resembling his best stuff. They didn't go down in order until the seventh inning. They had the bases loaded in the first three innings and they stranded two runners in both the fourth and fifth inning. A 4-4 ball game heading into the eight inning, in other words, felt inauspicious given the Sounds inabilities throughout the contest to capitalize in favorable situations.
3) The last thing of note from this tilt was the move of CF Sal Frelick from the lead-off slot to the two-spot in the batting order. INF Luis Urias took the lead-off to open the series - given Urias' extremely slow gait, I don't know what precipitated this move other than a kick start for both men but it definitely worked early. Urias hit a long ball and a double but popped out 15 feet up the first base line with men on 2nd and 3rd base while trailing 6-4 with two down in the ninth and final inning. He'll obviously want that AB back. Frelick finished 2-for-4 with his 8th SB. However, he'll be remembered for his defense tonight as he continues to showcase his range and underrated arm:
---
Final:  Biloxi 13, Montgomery (Rays) 6
Box Score / Game Log 

Game Notes  

Via the Shuckers' site, game details, please visit and review:

Five Multi-Hit Performances, Four Home Runs Power Shuckers to 13-6 Win

The Shuckers moved to 8-8 in the Southern League second half and 42-43 overall behind RHP Tobias Myers' 11 K and their 10 run cushion earned in the early going. Myers got the game ball nod above, but this game was really about the offense. The talented Shuckers showed out early and often and, as the article above points out: this was the Shuckers 12th series opening victory in 16 tries in 2023. Let's just highlight a few things I saw throughout the contest.
Three Quick Strikes:
1) All the mainstream media hype for the young and talented Reds of late is extremely well-deserved. BUT, Brewers fans don't get distracted. Say the course. Let's not overlook the immense amount of talent sitting in Biloxi in INF Tyler Black, OF Jackson Chourio, and C Jeferson Quero. These young men are, quite simply, studs. And with RHP Jacob Misiorowski coming to the pitching stables shortly, it is quite simply a talent buffet down yonder. Handling the 1-through-3 spots in the batting order, Black; Chourio; and Quero went a combined 9-of-14, 2 2B, 1 HR, 4 R, 4 RBI, 3 BB, 1 K. The only surprise here tonight is Tyler Black didn't swipe another base. Let's also not forget the back-to-back-to-back we saw Sparks-Black-Chourio in the fifth inning:
2) INF Isaac Collins (sometimes LF'er) has definitely had his own share of bright moments in 2023. He was called up to Nashville for a reason in the first half though he wasn't capable of taking advantage of that opportunity at the time - unfortunately, he was asked to play mostly  LF in his very brief stint which isn't his natural position. Tonight, he managed a 2-for-4, 2 R, 2 RBI, 1 2B, 1 SB (his 18th) output while adeptly manning second base. It may surprise you, but as someone who watches the Shuckers regularly I want you to know: Collins is now hitting 0.265 with an 0.845 OPS in 143 AB's - 7 2B, 4 HR, 30 R, 18 RBI, 37 BB, 29 K. This is a quality baseball player and my hunch is you may not quite know this yet. 

3) I continue to enjoy watching INF Ethan Murray play the game of baseball. He had an uncharacteristic bout of errors playing SS in the past month but that is the exception not the norm. He is a very good infielder with a capable arm and surprising range and leaping ability. Since his surprising call-up to Biloxi lat year, however, he's really advanced in the batters box. This is a player on the rise. He finished his evening 2-for-5 with 2 R, 2 RBI, and 1 K. He also hit his fifth long ball of the year - an oppo blast to right center on a mistake curve: 
---
Final:  Wisconsin 9, Dayton (Reds) 8
Box Score / Game Log 

Game Notes 

Via the T-Rats' site, game details, please visit and review:

Wisconsin Wins a Wild One at Dayton

They had outhit the Dragons. They had more RISP throughout the contest and, yet, the T-Rats trailed 8-6 heading into the ninth frame. Fear not, I said! Let us adorn our baseball crowns with mighty T-Rats rally caps! Fear not, I said! The T-Rats may have been 1-for-40 coming back when trailing after eight innings but the Dragons bullpen had blown 21 save opportunities in 2023. The Reds pitching woes run deep into the thorny briars. It was the perfect recipe the young Timber Rattlers needed to go 2-for-41 in their late game comeback bids.

RHP Stiven Cruz got the opening nod and, well, he was mostly the 2023 version of Cruz we've become accustomed to. We hope he bends but doesn't break. This is the nature of his season so far, unfortunately. He ended his work after just 4 IP and just 67 pitches 6 H, 2 BB, 4 ER, 2 K. The Timber Rattlers led 5-4 at that point after rallying for five runs of their own in the top-half of the fourth inning.

Three Quick Strikes:
1) Egregiously left out of the 'Game Ball' and 'Honorable Mentions' above (who writes these things anyway - sheesh), OF Je'Von Ward was clutch at the dish all night. No hit was more meaningful than his one out tailing double off the low left center wall to keep the comeback mojo alive post-Darrien Miller solo shot. He finished his evening 4-for-5, 2 2B, 3 R, 1 RBI at the plate and throw in a pivotal OF assist in there as well. No game ball? Unacceptable.
2) He just keeps hitting. And, as a result, he's now seeing his name in the clean-up spot to open a road series. 1B Ernesto Martinez Jr. is cooking in July. After tonight's 2-for-5 work at the dish, Martinez is hitting a scorching 0.375 BA with a 1.111 OPS in 48 AB's in July. And, this is after hitting 0.295 BA with a 0.839 OPS in 51 AB's in June. He's trending. Two-month trending. How Martinez Jr. closes out his 2023 season is one of the most inriguing storylines in all of Brewers Minor League baseball given their lack of meaningful depth at the 1B position.
3) 10-9 overall in the second half and just three games back of first place Peoria. A win like this demonstrates why several of us were so high on the T-Rats potential in the second half of their 2023 season. This just feels like a team on the rise. They are executing better in key spots. They are playing better baseball for longer stretches. If (and it's a big if given trends) they can get more arms pitching more consistently from the starting rotation, they could really make some noise to close their season. Stay tuned.
---
Final:  Carolina  6, Kannapolis (White Sox) 0
Box Score / Game Log 

Game Notes 

Via the Mudcats' site, game details, please visit and review:

Mudcats Blank Ballers 6-0 in Series Opener
The Mudcats moved to 9-9 in the first half - just 1 game out of first place Delmarva - and 42-39 on the season as a whole. It was a combined shutout effort between starter LHP Nate Peterson (3 2/3 IP, 2 H, 2 BB, 3 K), RHP Tyler Wehrle (4 1/3 IP, 2 H, 3 BB, 3 K, 1 W), and RHP Jeison Pena (1 IP, 1 K). The entirety of the Mudcats damage came in the first four frames. Baseball is a game of opportunity, however, and the Mudcats made their mark when the irons were in the proverbial fire. 

Three Quick Strikes:
1) My memory certainly isn't what it used to be, but, I'm going out on a limb here: INF Luke Adams adjusted his leg lift during the All-Star break. I absolutely don't recall this pronounced action:
Do you? Chime in below. I'm going off memory here but I've watched likely 2/3rd the Mudcats game so the memory is fairly informed. Regardless, Adams had an improved night at the dish. That's now 24 SB (7 CS) in 2023. The athletic tools continue to pop. He remains a massive wealth of athletic talent. He is still just 19 years old through the entirety of 2023 and into the first month of the 2024 season.
2) OF Jace Avina has fallen to the ninth spot in the batting order? Well, when you are hitting 0.192 in July and that is your second best month of your season that will happen. However, I still see better things than I did in the very early going of this season. The 8:3 K:BB ratio in July plays for me - this is improved. His 0.738 OPS is acceptable as well. This is a big couple of months for the young man and I'm hoping these improved approaches lead to better contact and better results. I still appreciate his effort and he hasn't once given bad body language - believe it or not, this is meaningful. He likely isn't pleased with his season but he's working. The results will come with his commitment.
3) 1B/DH Jesus Chirinos has had one of the more forgettable seasons in the entire Brewers system in 2023. His struggles in Wisconsin - offensively and defensively - carried with him when he was re-assigned to Carolina. However, his 2022 surge truly began around this very same time - his birthday. He celebrates yet again on July 27th. Are we in store for another anomalous breakout? I have no clue. For a man his size to hit his first home run of 2023 on July 18th is quite surprising and I'm unsure if I'll ever understand the physics of taking your energy away from the baseball in a batting approach. But, hope springs eternal for this aging Brewers fan. The power is certainly in there:
---
ACL Brewers 13, ACL Cubs 4
Box Score / Game Log

The ACL Crew bounced back from their Monday woes in fine fashion as they scored runs in each of the 4th-through-8th frames. They outhit the Cubbies 12-to-4 and managed a 5-for-16 mark with RISP. INF Dylan O-Rae continued to excel in the lead-off spot with his 1-for-3, 1 R, 1 RBI, 3 BB, 1 K evening (a very healthy 0.325 BA and 0.854 OPS). I already alluded to INF Juan Baez's stellar and outgoing offensive output above, but the 7th error and combined 0.9055 fielding percentage between SS and 3B has to be cause for concern. C Edgardo Ordonez continues to shine in nearly every opportunity he receives behind the plate and his offensive output is anything but offensive: 3-for-5, 3 R, 2 2 B on his evening. Also of note in this one, RHP Ryne Moore's successful opening 2 IP, 2 H, 0 BB, 0 R, 1 K as he continues to rehab in hopes of a promotion back to Low-A or High-A. Finally, LF Miguel Briceno continues to shine in his limited plate appearances: 3-for-5, 1 R, 1 RBI - 0.370 BA and 0.840 OPS in a mere 30 PA's. With the victory, the young ACL Brewers moved to 14-15.
 
---
DSL Brewers #1 3, DSL Dodgers Mega 1
Box Score / Game Log

The combined victories here and for the Brewers Dos were the highlights of my Brewers Minor League day. Finally, the Dodgers fall at the hands of the young DSL Crew. A quiet sigh of relief stirred through my mountain valley. In the case of these Brewers Uno, they trailed 1-0 early to boot. They managed to score their first two runs on an infield single and a balk but INF Gery Holguin managed to smack his 8th double for the third and final run. This game was all about the combined pitching efforts of RHP's Jesael Cabrera and Enniel Cortez. 17-year-old Nicaraguan RHP Enniel Cortez, in particular, continues to showcase a game well beyond his years. He picked up his 4th win of 2023 in his 3 IP, 0 H, 0 BB, 0 R, 3 K work. In 28 2/3 IP in 2023 he now has 33 K to just 4 BB. Batters are hitting a mere 0.194 BAA with an 0.84 WHIP. Quite the season. The DSL Brewers Uno moved to 20-11 on their season and they moved into sole possession of second place in the DSL North just 5 GB of the Dodgers Bautista.
---
DSL Brewers #2 7, DSL Dodgers Bautista 3
Box Score / Game Log

I don't know why this game was called after six innings, but I don't really care when it means the DSL Crew finished 2-0 versus the mighty DSL Dodgers. This was a big victory for the young DSL Brewers Dos who moved to 12-18 in the process - 5-5 in their last 10 games and 12 1/2 GB these same Dodgers Bautista. INF Filippo Di Turri continues to get on base at an accelerated clip (1-for-2, 1 R, 2 BB, 1 SB) for the Brewers Dos despite their losing record. DH Pedro Ibarguen was the main run producer on the day as he sent three across home plate via singles (2-for-4, 3 RBI, 1 R). Scanning the box score and game logs, however, we see only three of the seven DSL Dos runs were earned. They were the willing beneficiaries of some much needed luck. We'll gladly take it.
 
---
We'll be back at it again tomorrow. Both DSL Crew teams will be taking a much-deserved day off. The ACL Crew will be taking on the ACL Athletics late in the evening. RHP's Quinton Low and James Meeker will be the highlights for me personally as they take the hill for the Mudcats (in the very early going matinee - 8 am PST for me) and Shuckers, respectively. RHP Caleb Boushley will look to help get the suddenly struggling Sounds back on the winning track while RHP Cameron Wagoner will look to help the T-Rats start their road series at Dayton 2-0. As always, thanks for reading and thanks for supporting Brewers Minor League baseball.

Organizational Scoreboard including starting pitcher info, game times, MiLB TV links, and box scores

Current Milwaukee Brewers Organization Batting Stats and Depth

Current Milwaukee Brewers Organization Pitching Stats and Depth
Think you could write a story like this? Brewer Fanatic wants you to develop your voice, find an audience, and we'll pay you to do it. Just fill out this form.
MORE FROM BREWER FANATIC
— Latest Brewers coverage from our writers
— Recent Brewers discussion in our forums
— Follow Brewer Fanatic via Twitter, Facebook or email