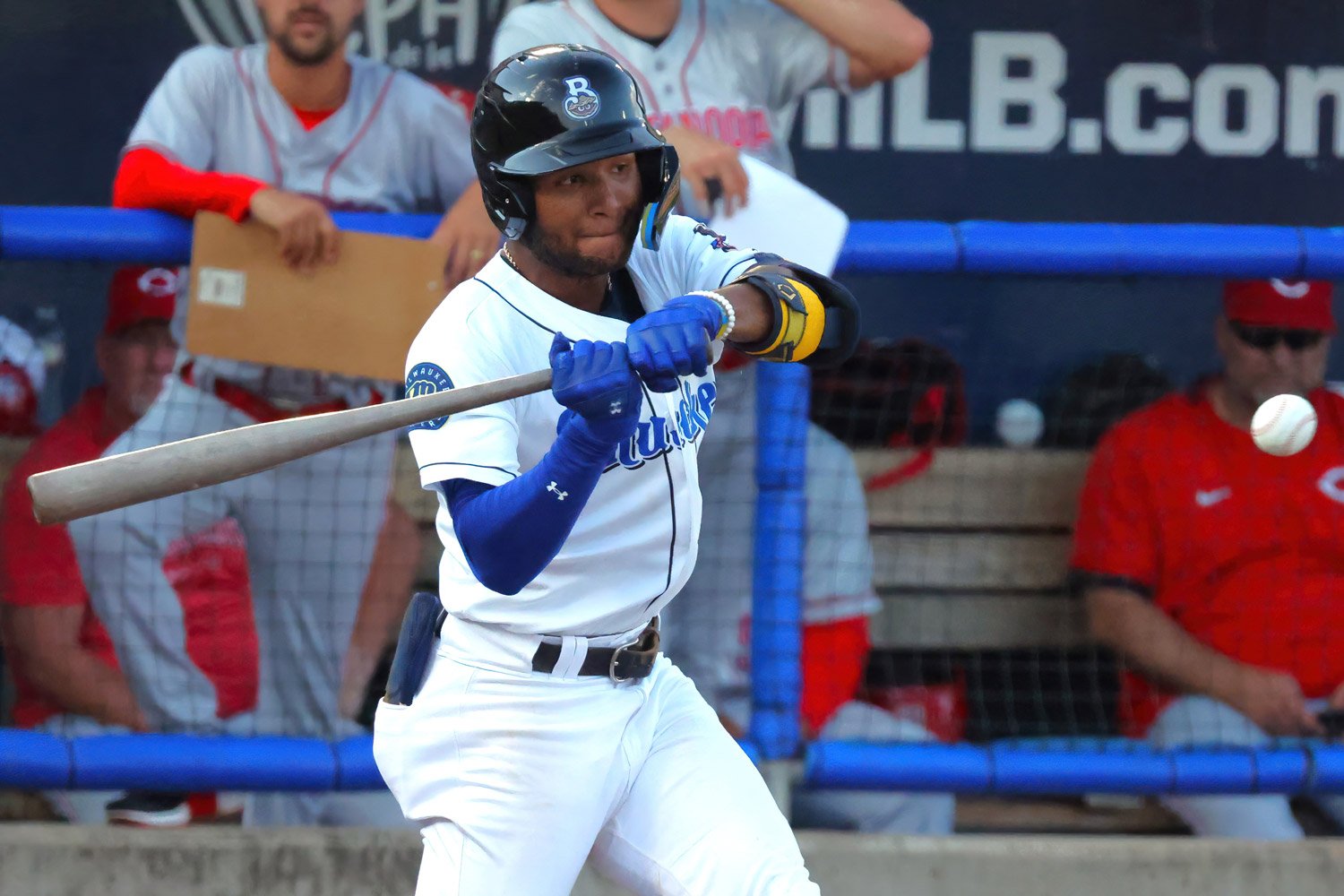 Image courtesy of Biloxi Shuckers
Transactions:
Game Action:

Nashville Pre-Game Media Notes
Final: Nashville 12, Jacksonville 10
Box Score / Game Log

Via the Sounds' website, game details, and we encourage readers to review the affiliate write-up as part of their Link Report routine: Frelick's Explosive Night Powers Sounds Victory

Have a day, Sal – 3-for-4, HR, two doubles, walk, 6 RBIs!
He homered on the second pitch he faced, a two-run shot to give Nashville an early 2-0 lead

Then doubled in two more runs in the 4th inning to grow the advantage to 6-2

And after Jacksonville dribbed and drabbed their way to a six-run seventh inning to cut the Sounds' lead to 10-8, Frelick brought home two more runs with a 7th inning double to provide essential cushion. 
And you'll more video highlights (e.g. of Hiura, Toro, Brian Navarreto & Co.) at the Sounds Twitter feed.
Sounds' Extras:
Supported by the offensive outburst, RHP Jason Alexander (6 1/3 IP, 7 R (2 ER), 7 H, 0 BB, 1 HBP, 2 Ks) cruised until the 7th inning, when the team nearly squandered its 10-2 advantage, hurt by two errors and a bunt single before giving way to LHP Darrell Thompson with the bases loaded and two outs and a 10-4 lead. Thompson promptly threw a wild pitch and gave up two doubles to tighten things considerably.
Others on Promotion Watch: Abraham Toro – HR, double, walk, HBP, 2 RBIs, fielding error at third base; Keston Hiura - single, 2 HBPs, 2 RBIs; Clayton Andrews – came in to face the final batter, striking him out to earn the save.
DH/INF Josh VanMeter got a rare chance to lead off, singling, walking three times and scoring three runs, while unsung Navarreto added a solo homer. On the flip side, INF Patrick Dorrian was given his fourth (and last?) start at shortstop, having a miserable day: 0-for-5 at the plate, 3 errors in the field including one with two outs in the 9th inning.
Friday's outlook: RHP Janson Junk is the scheduled starter, aiming to extend the Sounds' series lead to 3-1.
Biloxi Pre-Game Media Notes
Final: Biloxi 9, Montgomery 8
Box Score / Game Log

Via the Shuckers' website, game details: Shuckers Score Four in the Ninth, Come Back and Defeat Biscuits, 9-8

What a back-and-forth affair in the late innings, with the Shuckers winning despite blowing a 5-3 lead in the 8th inning and committing five errors in the game.

Left fielder Noah Campbell (3-for-5, HR, double, 3 RBIs) provided the early muscle, then each of 1B Wes Clarke (1-for-4, HR, 2 RBIs), DH/3B Tyler Black (2-for-5, triple, 2 RBIs, 2 SBs), center fielder Jackson Chourio (2-for-5, RBI) and Campbell came through late in Biloxi's pivotal 8th and 9th innings which produced six runs. 
You'll find a lot more highlights of this road game (thank you Biloxi media team) at their Twitter feed.
Shuckers' Extras:
This was starting RHP Christian Mejias' best outing (5 2/3 IP, 2 R (1 ER), 5 H, 2 BB, 2 Ks, 1 WP) since late May, a welcome development for a team which has struggled with starting pitching performance and depth.
Bad defense and a rare shaky relief appearance from RHP Ryan Brady (1 1/3 IP, 3 ER, 4 H, 0 BB, 2 Ks) set up for a wild and woolly finish. Four Shuckers committed the five errors, which you'll see at the box score link, with the real back-breaker being Freddy Zamora's fielding error with two on and one out while clinging to a 5-3 lead in the bottom of the 8th inning. The Biscuits grabbed four runs that inning, despite only hitting two singles to the outfield.
After being part of that 8th inning storm (one single, one walk conceded against seven batters faced), RHP Cam Robinson (2 IP, 3 R (0 ER), 2 H, 1 BB, 1 K) stayed in to earn the save in the 9th inning, but not before additional drama: 2-out triple, error on Ethan Murray (who'd ironically entered as a defensive replacement).
Of course, the defense wasn't all bad, as right fielder Lamar Sparks showed off his cannon:
Friday's outlook: RHP Carlos F. Rodriguez gets the start, with Biloxi also seeking a 3-1 advantage in the series.
Wisconsin Pre-Game Media Notes
Final: Wisconsin 11, Dayton 2
Box Score / Game Log

Via the Rattlers' website, game details: Rattlers Offense Continues to Click in Dayton

This game was never in doubt, with Wisconsin pounding out 14 hits and seizing an 8-1 lead by the 4th inning, as seemingly everybody contributed:
2B Jose Acosta plays with clear joy and confidence, so it was great to have him start the scoring with a 2nd inning, two-run homer to give the Timber Rattlers their first lead at 2-1

Right fielder Je'Von Ward (3-for-5) continued his recent extra-base hit surge, collecting two doubles to give him eight extra-base hits (2 HRs, 6 doubles) in his last six games

C Matt Wood (3-for-5) hit his first dinger since his time with the Mudcats in May, capping off Wisconsin's six-run 4th inning

Every spot in the lineup produced at least one hit.
Timber Rattlers' Extras:
Starting RHP Alexander Cornielle (4 IP, 2 R (1 ER), 4 H, 4 BB, 4 Ks) was the beneficiary of the offensive explosion, though he still had to battle control issues over four innings of work.
25-year old RHP Nick Merkel (4 IP, 0 R, 1 H, 0 BB, 5 Ks) had a grand time in relief, firing 33 strikes in 46 pitches as he breezed through four scoreless innings, lowering his season Wisconsin ERA to 3.20 and overall season ERA (including Low-A ball) to 3.45, with 60 Ks in 47 innings.

With the game a blowout and rains coming in, the game was declared over with one out in the bottom of the 9th inning.
Friday's outlook: RHP Tyler Woessner gets the chance to clinch a series victory, as the Timber Rattlers seek a 4th straight win over Dayton.
Carolina Pre-Game Media Notes
Final: Carolina 9, Kannapolis 7
Box Score / Game Log

Via the Mudcats' website, game details: Adams Homers as Mudcats Win Third Straight 9-7

Similar to the Biloxi storyline above (but without any errors committed by our squad), this game was a see-saw affair, with the lead changing hands five times over the first six innings before the Mudcats came out on top.

Six players had multi-hit games for Carolina and the team needed every one of them, with veteran C Jose Sibrian (2-for-5, 2 RBIs; starting at catcher for the 4th time in 5 days) connecting on what proved to be the game-winning hit, a two-run single with two outs in the bottom of the 6th inning to give the Mudcats an 8-7 advantage. 
Mudcats' Extras:
19-year old 3B Luke Adams (2-for-4, 3 RBIs) is in the zone, doubling in the 1st inning, hitting a two-run homer in the 3rd inning to give Carolina its first lead (3-1), then adding a 6th inning sacrifice fly to cut the deficit to 7-6 at the time.
Others with multi-hit games: 1B Tayden Hall (two singles, 3 walks), center fielder Luis Lara (double, two singles), right fielder Luis Castillo (2 singles, 2 RBIs).
On the mound, starting RHP Patricio Aquino (4 IP, 5 R, 4 H, 3 BB, 1 HBP, 5 Ks) had one of his roughest outings, walking all three batters he faced in the 5th inning, all of whom scored on a 3-run double which gave Kannapolis a 5-4 lead. RHP Alexander Vallecillo also struggled in his first inning of work (2 runs on 3 singles and a walk in the 6th inning), before settling down to pitch two scoreless frames. RHP Yerlin Rodriguez then showed off his 100mph heat in striking out three of four batters faced to earn the save. 
Friday's outlook: RHP Will Rudy aims to grab a victory which would give Carolina a 4-0 series advantage.
Arizona Complex League Action

Final: ACL Brewers 4, ACL Cubs 3 (in 7 innings)
Box Score / Game Log

Given the many recent high-scoring games and bullpen blow-ups, this 7-run, 8-hit, 1-error (by the Cubs) contest had to be a refreshing game for the coaching staff. And beating the Cubs is always fun!

19-year old LHP Osbriel Mogollon (4 IP, 2 R, 2 H, 0 BB, 7 Ks) and 23-year old LHP Brian Fitzpatrick (3 IP, 1 R, 1 H, 1 BB, 5 Ks) combined to strike out 12 Cubs, while conceding only one walk, with no hit batsmen, wild pitches or balks. As I said, refreshing!

19-year old right fielder Reece Walling (2-for-3, HR, double) seized his opportunity as the leadoff batter, hitting his first home run in the Brewers' organization in the 1st inning, then adding a double in the 4th inning.

SS Juan Baez (RBI single; 1.020 OPS), left fielder Angel Pereira (RBI triple) and 1B Yeison Perez (single) contributed the other three hits.
Dominican Summer League Action

Continuation Game (from bottom of 3rd inning) Final: DSL Guardians Blue 7, DSL Brewers #2 Squad 6
Box Score / Game Log

Down 5-0 before the day started, the Dos young men valiant fought back with a five-run 6th inning to tie the game 6-6. However, they fell by conceding one run in top of the 9th inning, then failing to score despite putting four baserunners aboard (single – caught stealing, 3 walks) in the bottom half of the frame.

Starting RHP Bryan Rivera had been roughed up (5 ER in 1 2/3 IP) when the game started three days ago, but 17-year old Luis Guevara followed with his best outing: 4 IP, 1 R (0 ER), 2 H, 1 BB, 6 Ks).

Four players had multi-hit games, all of which can be categorized as "usual suspects":
Regularly Scheduled Game Final: DSL Brewers #2 Squad 7, DSL Guardians Blue 2 (in 7 innings)
Box Score / Game Log

The Dos squad got their revenge in the follow-up game, taking a 2-0 lead in the 4th inning and extending it to 7-0 by the 7th and final inning.

The seven runs came despite producing only four hits, helped by six walks and two Guardian errors. SS Demetrio Nadal (1-for-2, HR, walk, 3 RBIs, SB), DH/SS Filippo Di Turi (2-for-4, triple, double, 2 RBIs) and C Freider Rojas (1-for-1, 2 walks) lead the offense.

Starting 17-year old RHP Melvin Hernandez (5 IP, 0 R, 4 H, 1 BB, 6 Ks; season ERA 1.80) put together his best game, striking out six and not allowing a run despite two doubles conceded.
Final: DSL Braves 3, DSL Brewers #1 Squad 2
Box Score / Game Log

Outhit 8-4, this was still a tough loss for the Uno men, conceding two unearned runs in the top of the 9th inning to lose and fall to a 20-12 record on the year.

17-year old starting RHP Eric Prado was once again terrific (4 IP, 1 R, 2 H, 1 BB, 2 Ks), though the earned run actually increased his season ERA to 1.04. 18-year old LHP Jose Meneses (3 IP, 0 R, 1 H, 4 BB, 3 Ks, 1 WP) also tacked on three scoreless innings of relief, despite issuing four walks, lowering his own ERA to 1.82.

22-year old RHP Roman Perez (1 IP, 2 R (0 ER), 3 H, 0 BB, 0 Ks) took the loss, with SS Kevin Ereu committing a key error before the game-tying and game-winning singles.

At the plate, 3B Luis Alastre (1-for-2, HR, walk, 2 RBIs) delivered the key production, his first homer as a Brewer coming as a 2-run shot in the 5th inning. C Yannic Walthier also reached based three times on a double and two walks.
We hope that you enjoy the Minor League Link Report. Good luck in Friday's 7-game MILB slate!

Organizational Scoreboard including starting pitcher info, game times, MiLB TV links, and box scores
Current Milwaukee Brewers Organization Batting Stats and Depth
Current Milwaukee Brewers Organization Pitching Stats and Depth
Think you could write a story like this? Brewer Fanatic wants you to develop your voice, find an audience, and we'll pay you to do it. Just fill out this form.
MORE FROM BREWER FANATIC
— Latest Brewers coverage from our writers
— Recent Brewers discussion in our forums
— Follow Brewer Fanatic via Twitter, Facebook or email
1