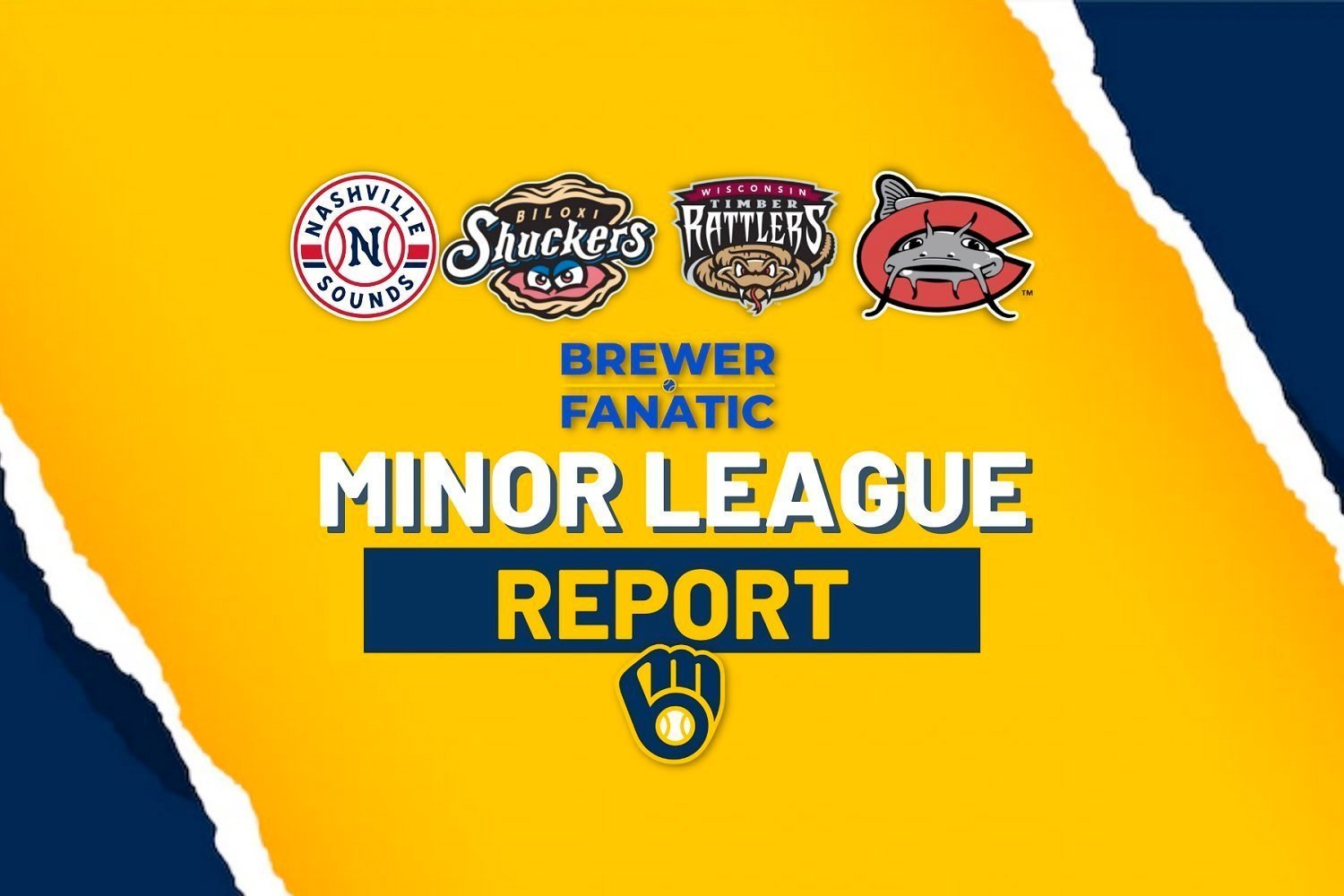 Image courtesy of BrewerFanatic
TRANSACTIONS:

- INF Jose Caballero activated from ACL Brewers' 7-day injured list 

This is Caballero's third season in the system, all his time spent in Maryvale (not assigned to the DSL in his rookie 2020 season). Caballero had been out since July 1st, having played in only ten games this season. Like the bulk of the July 2019 international signing class, Caballero has not inspired, similar to $1.3 million OF Luis Medina. That class is going to be saved by one prominent name who was not the main highlight that day. Thank you, Jeferson Quero (more on him later on...)
 
---

Final: Nashville 17, Jacksonville (Marlins) 3

Via the Sounds' site, we encourage readers to review each of the affiliate write-ups as part of your season-long Link Report routine:
Sounds Grill Jumbo Shrimp - Abraham Toro ties franchise record with five hits in 17-3 rout
Box Score / Game Log

I love the miscellaneous notes section at the tail end of each Nashville game summary, nice touch. 

"The Sounds became the first full-season Minor League Baseball team to score eight runs in multiple innings in a single game."
Somebody please help decipher the Brewers big-league infield situation, it's given us roster mavens headaches all season. Abraham Toro and Luis Urias are both on the 40-man and ready to return and contribute. Maybe there will be a deal with another contending team in which one of them is dealt. 

That's an odd "back wall" location, it must be a nightmare for Voice of the Sounds Jeff Hem and the visiting announcers, you make the initial call on this poke:
For such an outburst, the game doesn't have much to report that's truly compelling. All nine Sounds scored. Janson Junk was his imperfect yet OK self. See you back at the park Saturday.
 
---
Final: Biloxi 6, Montgomery (Rays) 1

Via the Shuckers' site:
Four Home Runs, Six Runs Lead Shuckers to 6-1 Win over Biscuits - Two-hour rain delay hits when Shuckers lead 6-0, bullpen allows one run over final 5.1 innings

Pre-Game Media Notes 
Box Score / Game Log

Yes, the Biscuits' starter's last name is Montgomery.

Shuckers' starter Carlos Rodriguez the victim of the lengthy rain delay. He's at 80.1 innings pitched (107.2 in 2022), so perhaps not the worst thing. Bulk reliever TJ Shook and then Max Lazar for the final frame picked up right where Carlos left off, nice.

With all due respect to Voice of the Shuckers Javik Blake, this MLB Pipeline video composition combines Jackson Chourio's efforts into one tweet, though with the host call:
Did we mention Chourio is 26-for-30 in SB attempts after two swipes Friday?
Don't worry, Javik's calls are within other highlights via the team Twitter Media feed.
Regarding the as-promised Jeferson Quero mention, we do our usual fanbase "reads probably too much into early exit" thing here, I'm as guilty as anybody, though not this time. We shall see...

Tyler Black triple, three walks. Caught stealing #8, now 45-for-53 there. Matt Arnold is hearing that name a lot this week. Don't, Matt...

Hard not to notice the sea of empty seats in Montgomery all week. 2,416 announced.
 
---

Final:  Dayton (Reds) 6, Wisconsin 2

Via the Timber Rattlers' site:
Rattlers Win Streak Stopped by Dayton - Wisconsin rallies to take late lead before losing 3-2
Pre-Game Media Notes (Download Link) via the team's Virtual Press Box

Box Score / Game Log

No worries here, the T-Rats have been very solid for quite some time now, especially on the road.

If this is what Tyler Woessner lines are going to look like when he fans eight batters, we may prfer the pitch-to-contact version.

I hope the Brewers are already whispering to 24-year-old (as of last month) 1B Ernesto Martinez about an extended system stay in 2024. He's minor league free agent eligible this fall. OPS off .839 in June, 1.128 thus far in July.

Do Dayton fans deserve a Brandon Woodruff rehab start Saturday? They will pack the house, but this is Dayton. They always pack the house. 
 
---

Final: Carolina 8, Kannapolis (White Sox) 5
'Cats Take Over First With Fourth Straight Victory 
Box Score / Game Log

Combined lines for RHP's Will Rudy and Chase Costello - 8 IP, 7 H, 1 R, 2 BB, 8 K.

Very busy night on the ol' Mudcats video feed -

First of all, Jesus Chirinos, we're not posting this to admire your knock. Run hard out of the box, dude!
Though this was OF Reidy Mercado's Carolina debut, it's not his full-season debut. He spent all of August and September in Wisconsin last summer (.489 OPS). Here's his first Mudcat base hit.

Welcome back, indeed to the MLB Pipeline Brewers staple!
The best part of this Luke Adams highlight? Try to contain your smile watching Luis Lara churn on the basepaths.
 
---

Final: ACL Brewers 6, ACL Guardians 4

Box Score / Game Log

113 degrees at game time, Thursday's game was 115.

Waiting for The Athletic (or someone) to write about playing conditions, get quotes from front office staff, etc., on the Arizona weather topic.

The key hit was a 4th inning Yeison Perez ground ball single to left, plating two in a three-run frame for a 3-1 lead. The left fielder added another base knock later.

Third-year RHP Gerson Calzadilla continued an amazing season out of the pen. He held things at 5-4 in the 8th when only one of three inherited runners scored. 

Dylan O'Rae (ho-hum) on base thrice more (.479 OBP). Someone convert that to the metric system for the Canadian youngster.

After grounding into a double play to end the 2nd inning, SS Jose Caballero (see transaction note above) was replaced. Hopefully planned...

Not from this game but earlier in the week, we don't get much video on OF Reece Walling, so enjoy -
---
Final: DSL Red Sox Red 12, DSL Brewers #1 Squad 9

Box Score / Game Log
This was a "normal" game through five innings, with the teams tied at 3-3. Then, stuff happened...

Red Sox go up 4-3. Team Uno grabs the lead at 5-4. Red Sox turn, up 6-5. Four-run 7th and the good guys are now up, 9-6. Time for a lockdown inning, right? 

Not so much. A six-run top of the 8th ended the scoring mayhem.

Where to begin? The Cerveceros committed five errors, all in the infield. Only two Boston runs were unearned, so in that regard, the arms limited the damage. Review the game log for the flow of all that activity, while player notes reside below.

17-year-old top bonus signing CF Yophery Rodriguez has hit a quiet stretch, hitless in four games (three walks). He was caught stealing for the 6th time, now 11-for-17, a reminder that stealing bases is a skillset beyond just speed. We see other middling SB numbers throughout these lower levels, but I'm actually surprised so many DSL pitcher-catcher combos successfully neutralize effectively. Takes time to learn those skills as well.

Speaking of top dollar signings, middle infielder Kevin Ereu's last multi-hit game was June 12th, which was his final game prior to missing two weeks of action, and he's now 6-for-56 since he returned. Another 17-year-old, the Venezuelan has time to turn things around. Normally the high $$ signings are stateside in Year Two, we'll see next spring where Ereu lands.

So the Brewers score nine runs on nine hits and nine walks and I focus on the two hitless guys atop the order, shame on me. 19-year-old LF Brian Sanchez is still rocking an OPS north of 1.000 after 81 plate appearances. Sanchez singled and walked twice here. RF Pedro Tovar, who only turned 17 last month, singled three times. Both Sanchez and Tovar stole their 6th bases in nine attempts. Switch-hitting infielder Luiyin Alastre, 17 and DH'ing here, was on base four times including a double. Congratulations to yet another of the 17-year-old's, infielder Tyler Rodriguez, on his first professional home run, yeah kid!

Five in this starting lineup have more walks than strikeouts on the season - both Rodriguez' (Yophery and Tyler), Sanchez, Alastre, catcher Ludwin Tejada.

How old is starting RHP Gabriel Colmenarez? You guessed it! (17). Nice effort here, he's been very solid all spring/summer.
 
---
Final: DSL Red Sox Blue 6, DSL Brewers #2 Squad 2

Box Score / Game Log
Finally vanquished the Dodgers affiliates, new rival in the BoSox?

2nd-year starting RHP Aneuris Rodriguez has posted a 3.69 ERA through 17 pro appearances (11 of them starts) but did not have it in his middle relief stint Friday, walking five and was charged with three of the four Boston runs in a game-deciding four-run bottom of the 6th.

Recently-turned 19-year-old INF/OF Demetrio Nadal is listed at 5' 7", 125 (!), but this is his 2nd year and that likely reflects his vitals as of spring 2022 or even when he first signed in July of 2021. Our longtime Brewerfan co-founding contributor Patrick Ebert ("colbyjack") always reminded me not to waste time analyzing vitals, especially at the lower levels. An OPS of 1.061 through 76 2023 plate appearances is worth noting, on base three times here and his 14th SB in 15 attempts.

Switch-hitting middle infielder Filippo Di Turi, along with DSL Uno's Yophery Rodriguez and Kevin Ereu, netted a 2022 bonus over $1M. Our theme of discussing 17-year-old's continues, Di Turi has seven errors in 19 games at short, one error in eight games at second base.

Team Dos pitchers threw three wild pitches, and catcher Eric Martinez had two passed balls. As Martinez' career fielding numbers show, he's making strides in his third teenage pro year, and has thrown out 34% of baseunners in 2023, which is a much more important factor at this stage of development than whether DSL official scorers are accurately representing wild pitches vs. passed balls.

Pedro Ibarguen is playing all over the infield and outfield though the (say-it-with-me) 17-year-old rookie was the DH here, was on base three times and got his OPS up over .800.
 
---

Carolina has a 4:00 Central start, other full-season clubs are under the lights. Happy Brandon Woodruff Saturday!

Organizational Scoreboard including starting pitcher info, game times, MiLB TV links, and box scores
Current Milwaukee Brewers Organization Batting Stats and Depth
Current Milwaukee Brewers Organization Pitching Stats and Depth

 
Think you could write a story like this? Brewer Fanatic wants you to develop your voice, find an audience, and we'll pay you to do it. Just fill out this form.
MORE FROM BREWER FANATIC
— Latest Brewers coverage from our writers
— Recent Brewers discussion in our forums
— Follow Brewer Fanatic via Twitter, Facebook or email
2