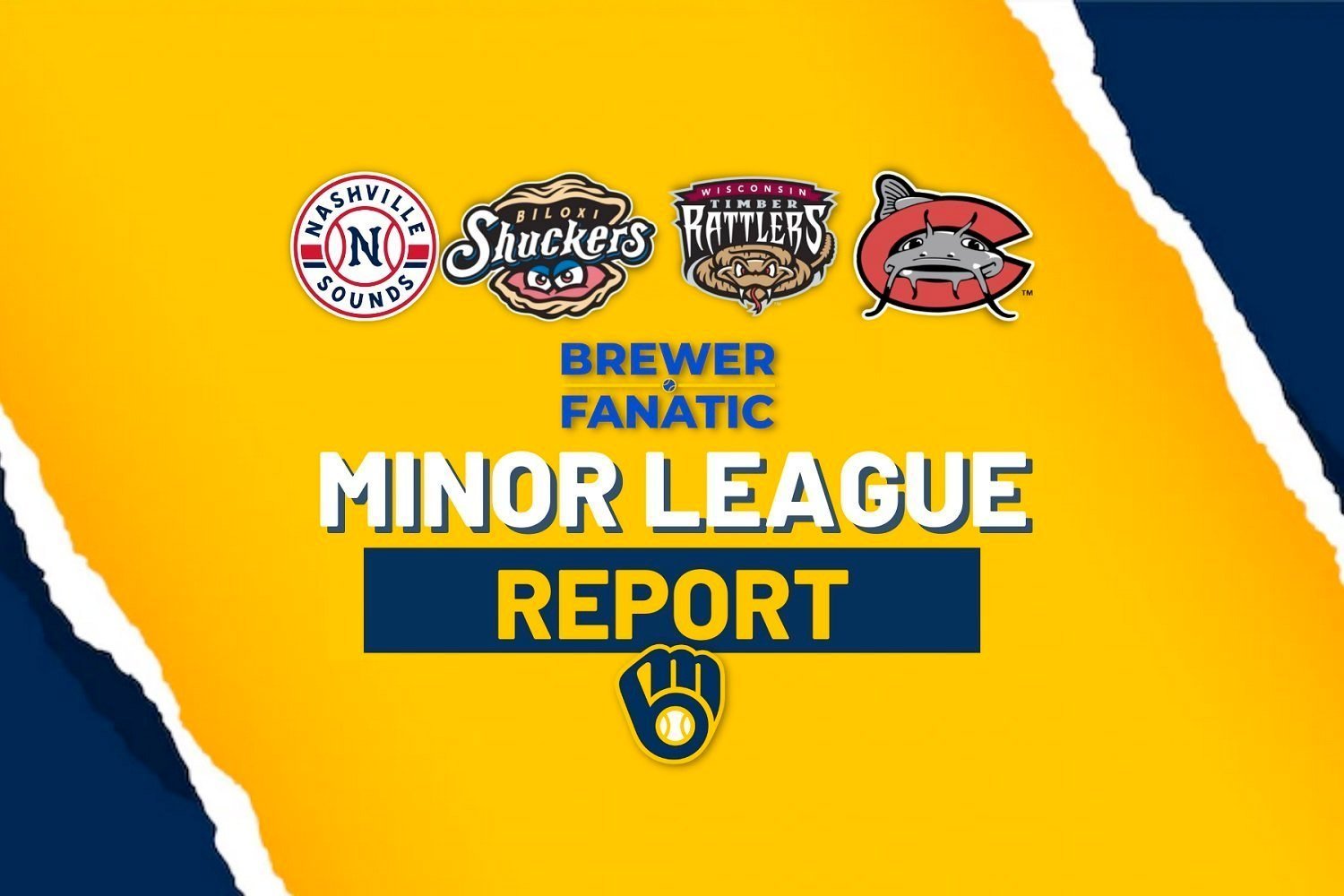 Image courtesy of BrewerFanatic
Transaction:

Sounds RH reliever Luke Barker has not officially been placed on the AAA injured list as of yet, but the news isn't great - Barker is not the injured prospect I refer to above.
Our best to Luke, it's now #HealLukeBarker.

- RHP Rafael Garcia was assigned to ACL Brewers Blue for rehab assignment, 21-year old Garcia threw 49 2/3 innings in Maryvale last year (6.16 ERA). He made his 2022 debut Friday after dealing with an undisclosed injury. Garcia was placed on the High-A Timber Rattlers' injured list to begin this season in what must have been a paperwork maneuver related to roster juggling.

***

Final: Nashville 12, Louisville (Reds) 6

Via the Sounds' site, game details, and we encourage readers to review each of the affiliate write-ups as part of their Link Report routine:

Singleton Hits Two Homers as Sounds Runaway Late - Nashville cracks four homers, use big innings late to overcome early deficit at Louisville

Pre-Game Media Notes / Box Score / Game Log

Cincinnati's AAA club has been as unsuccessful as their big-league mates - now 36-54. Your first-place Sounds, however, chug along at an impressive 55-35. Too bad this is only a three-game series.

Sadly, road game without cultivated video, so take our word for it when we remind you that the top five in the order went 13-for-23 with six extra-base hits and seven walks. Only Mario Feliciano, back from his MLB taxi-squad stint, went hitless, though he drew a walk.

Business card: 33-year-old switch-hitting OF Abraham Almonte, professional hitter. He has a 1.004 OPS vs. RHP's, may as well be stronger vs. those you'll see more often.

No Keston Hiura (yet), thought this would be his latest "first game back" at AAA.

Close games, blowout wins, bailing out the starting pitcher, it's been the theme of the Nashville pitching season - the bullpen's performance has been ridiculously strong and consistent.

***

Final: Biloxi 5, Pensacola (Marlins) 1

Bennett's Seven Frames Helps Shuckers Start Home Stand with Win - Biloxi Pitching Holds Wahoos' to Two Hits, Frelick Homers in Second Straight Game

Pre-Game Media Notes / Box Score / Game Log

It wasn't an eye-popping team offensive outburst (6 H, 4 BB, 13 K), but there's something about seeing a healthy Mitchell-Frelick-Wiemer outfield to be sure. Garrett and Sal combined for three stolen bases as well. This lineup is deep, Lutz-Valerio-Devanney in the 6-7-8 spots for this one. Shouldn't avoid mentioning Joey Wiemer's K %-age is now over 34% after his sombrero here.
As for southpaw Nick Bennett, I strongly encourage you to read through this thread from earlier this month. It's by Jackson Sigman, a RH reliever for the 2019 Rocky Mountain Vibes team in the Brewers' chain. He now works for Driveline, the data-driven player development gurus.
That's fantastic stuff! Now, Bennett's game log shows that he has sandwiched one middling effort between two stellar ones since that came out, but Nick is trending in the right direction. The Brewers' pitching development staff has been very productive, but this shows that sometimes a player has to go outside the system for a fresh perspective. If this is the new Nick Bennett, it's good for all.
***

Final: Beloit (Marlins) 10, Wisconsin 9

Late Rattler Rally Falls Short of Sky Carp

Pre-Game Media Notes / Box Score / Game Log
 
Nice to have this audio back!

Audio via the Rattler Radio SoundCloud - "The Timber Rattlers lost 10-9 to the Beloit Sky Carp in their first home game since July 3. Chris Mehring and Kyle Lobner talk about the 9-2 deficit and the comeback by the Rattlers to make Beloit just a little nervous. Manager Joe Ayrault joins the podcast with some clubhouse comments, too."

Eight in the lineup with base knocks, five with multiple, including three for Ashton McGee. The three team errors were unfortunate, and RH starter Israel Puello's very impressive run of four starts to begin his High-A career hit a road bump.

If you remember the "Beloit Snappers", then like me, this will make you laugh:

***

Final: Down East (Rangers) 12, Carolina 10

Wood Ducks Outlast Mudcats 12-10 in Series Opener - Jackson Chourio went 3-for-6 with three doubles, three runs and two RBI in the Carolina loss

Pre-Game Media Notes / Box Score / Game Log

I've had many people send me messages about when the Chourio call-up will happen - I guarantee you the Wisconsin ticket office staff would like to know as well --
The start by RHP Stiven Cruz was similar in nature to that of Israel Puello in Appleton, heralded young arm who had a clunker coming out of the break.

The darn box score and game log sent us to the MiLB.TV archive once again. Why would prized SS prospect Eduardo Garcia have to be lifted for a pinch-runner after going from first to third on a base hit in the 9th? 

For MiLB.TV subscribers: Go to the 03:45:45 hour/minute mark. The camera work captured it all very clearly. Looks like a right hamstring issue, though that's the unofficial word - because as we know, we won't get an official word! Definitely did not look promising for a quick return, though...

***

Final: ACL Reds 11, ACL Brewers Blue 7
Box Score / Game Log

Rafael Garcia, who you read about in the Transaction note to kick things off today, did not retire any of the four batters he faced in his start (three walks). Baby steps, Rafael, welcome back.

My, oh my, Jace Avina, are you kidding? In case you missed the written report we linked to earlier this week, here it is in video form: 
Avina clubbed home runs #7 and #8 in this game, in just 90 at-bats! No bandboxes in Arizona, either! Avina added a single and a walk and now sports a .300/.427/.656 line. Now we should mention that 38 of his 63 outs have come via strikeout, a 42.2% K rate. Unlike his long balls, that won't "fly". What a fascinating rookie-level prospect!
***
Final: ACL Brewers Gold 8, ACL Athletics 3
Box Score / Game Log

Six Golden Boys with multiple hits, including 18-year-old infielder (3rd base here) Jadher Areinamo, who is flashing a .902 OPS.

Unlike their counterparts in several outposts across the chain, the club here combined their efforts at the plate with solid defense and mound work.

The two Maryvale clubs square off for the umpteenth time on Saturday morning.
***

Final: DSL Reds 12, DSL Brewers #1 Squad 2
Box Score / Game Log

Final: Nationals 4, DSL Brewers #2 Squad 3
Box Score / Game Log

In that 2nd game, the Crew lost on a walk-off three-run triple after loading the bases on three non-base hits. 

Further specific details on both games are available via @damuelle in our Minor League Forum, follow this link to see the two posts.
***
On Saturday, all the full-season clubs play early evening games. So that being said, we leave you with one of the more catchy pop hits of America' bicentennial year, though the artists came from across the pond.
 
Organizational Scoreboard including starting pitcher info, game times, MiLB TV links, and box scores

Arizona Complex League Scoreboard

Dominican Summer League Scoreboard

Standings and sortable stat pages

Current Milwaukee Brewers Organization Batting Stats and Depth

Current Milwaukee Brewers Organization Pitching Stats and Depth
Think you could write a story like this? Brewer Fanatic wants you to develop your voice, find an audience, and we'll pay you to do it. Just fill out this form.
MORE FROM BREWER FANATIC
— Latest Brewers coverage from our writers
— Recent Brewers discussion in our forums
— Follow Brewer Fanatic via Twitter, Facebook or email
1