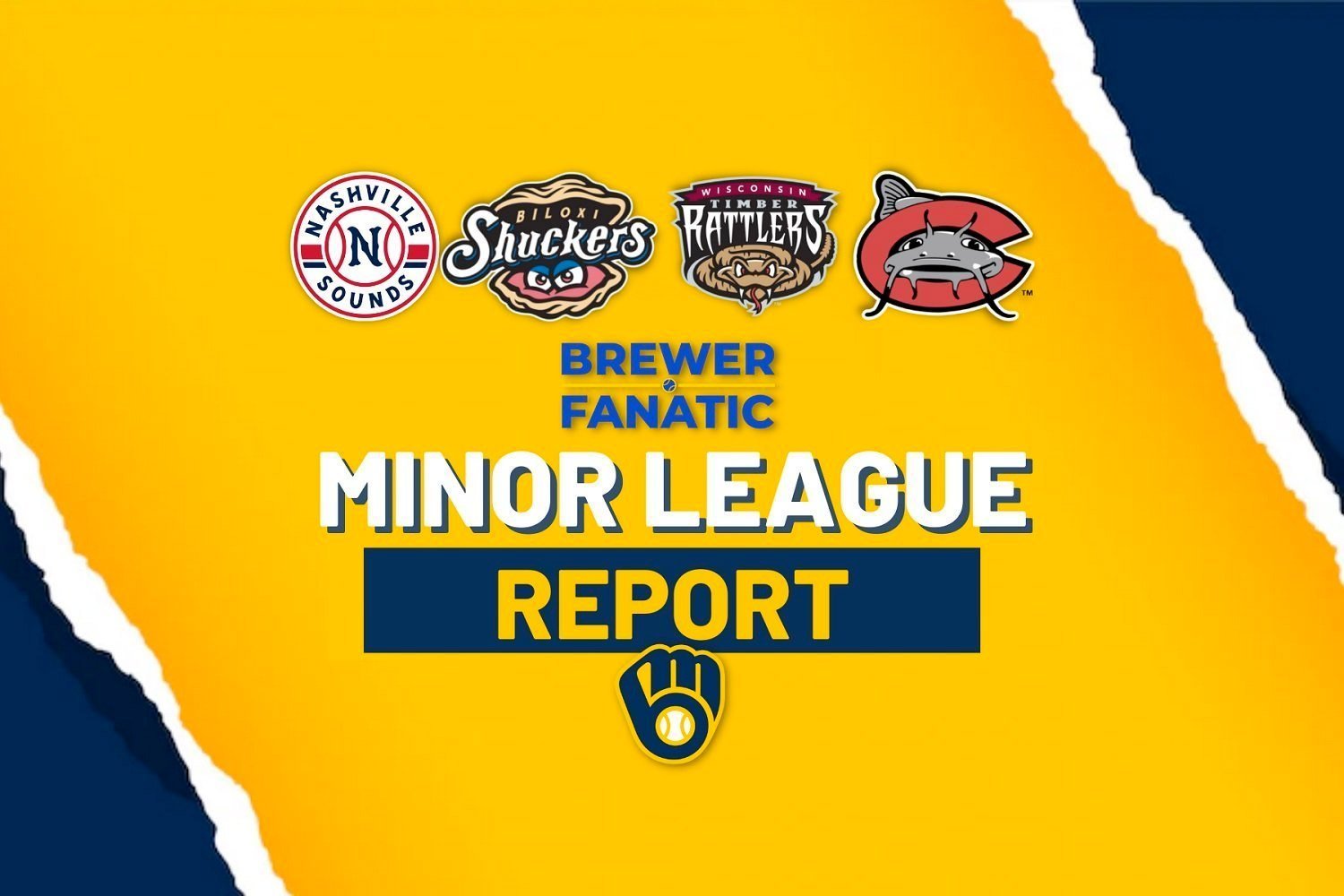 Image courtesy of BrewerFanatic
Somehow, at every turn, the affiliates tried to match the level of excitement that Sal's debut brought to Am-Fam Field. It was an epic evening of action, as you'll see below.
 
---

TRANSACTIONS:
Brewers selected the contract of OF Sal Frelick from AAA Nashville (well, yeah...)
2B Noah Campbell assigned to AAA Nashville from AA Biloxi 
RHP Jacob Misiorowski assigned to AA Biloxi from High-A Wisconsin 
 
---
Final: Jacksonville (Marlins) 10, Nashville 9, ten innings

Via the Sounds' site, we encourage readers to review each of the affiliate write-ups as part of your season-long Link Report routine:
Sounds Drop Thriller in Extras to Jumbo Shrimp - Patrick Dorrian ties it in ninth, but Jacksonville's 10th inning tally gives them 10-9 win
Box Score / Game Log

Before (another) sellout crowd, and for those of us following online and bouncing from one Brewers virtual locale to another, it was as if the energy in Milwaukee transferred immediately to Nashville. On the Sounds' Twitter highlights, the little logo in the lower-right obscures some of the game info - keep in mind there were two outs when this happened, courtesy of Patrick Dorrian -
Here's the Nashville media feed, which includes multiple additional game moments, including an odd bullpen-protecting miscue from Alex Claudio, who otherwise had the night off.

From the linked summary you just read, and in direct relevancy to upcoming Milwaukee roster moves --
Justin Wilson continued his MLB rehab assignment with his sixth outing. Since joining Nashville on July 6, Wilson is 1-0 with a 1.59 ERA (5.2 IP/1 ER), 1.06 WHIP and .237 opponent batting average.

Yes, Keston Hiura did not play, and it would seem to be nothing more than a standard day off. "Hug season" is wild across the baseball landscape.

It was Monte Harrison striking out leading off the 10th that was the killer, not advancing the ghost runner. Bummer...
 
---

Final: Biloxi 12, Montgomery (Rays) 7

Via the Shuckers' site:
10-Run Ninth Leads Shuckers to a 12-7 Comeback Win Over Biscuits - Shuckers score 10 runs on seven hits in the ninth to clinch first series win in Montgomery since 2018

Pre-Game Media Notes 
Box Score / Game Log

"10-Run Ninth" - not a headline you'll see very often.

This game was streamed free to all via MiLB.com and certainly had the eye of national prospect watchers.

What were we saying about the Frelick electricity magically permeating the rest of the system? Coming back from 7-2 to start the 9th is tremendous, but we do need to review the line from RHP Jacob Misiorowski's AA debut. 

It wasn't stellar, 4 IP, 4 H, 4 R, 4 BB, 2 HBP's, 2 WP's, 5 K.

It started well -
Jackson Chourio is ridiculous. Tyler Black is ridiculous. Did I say it's a good time to be a Brewers fan?
Now, not only is it a must to review the game log linked above for the wild 9th inning rally, but be sure to check out Cam Robinson's bottom of the 9th to close things out. It was...interesting.

Jeferson Quero was idle, we hinted in yesterday's report that may be something to monitor, and it will definitely be if he's sitting again Sunday.
 
---
Final:  Dayton (Reds) 3, Wisconsin 0

Via the Timber Rattlers' site:
Dayton Shuts Out Wisconsin - Woodruff looks sharp with three scoreless innings in rehab start
Pre-Game Media Notes (Download Link) via the team's Virtual Press Box

Box Score / Game Log

So, in the midst of all the goings-on in Milwaukee, Nashville, and with Biloxi (in Montgomery, AL), the always sold-out Dayton ballpark hosted the T-Rats and Brandon Woodruff. Hopefully things worked out better from a uniform perspective than Big Woo's Timber Rattler stint last June.
As for Woody's mound performance, it was wonderful. 
RHP Edwin Jimenez' five-inning piggyback outing was a bit uneven, but he spared the bullpen any action.

Every Timber Rattlers game of late features an Ernesto Martinez mention, he was on base three times here. The rest of the lineup reached base twice. So, thanks Brandon, for making this a game of note on this exciting night.
 
---

Final: Carolina 13, Kannapolis (White Sox) 1
Mudcats Hit Back-to-Back-to-Back Homers in 13-1 Victory - Jace Avina led the Mudcats with four hits, four runs, four RBI and two home runs
Box Score / Game Log

Post-Game Interview: Manager Victor Estevez - Yes, a must-listen...

Carolina got the jump from a time perspective on all the Saturday festivities and didn't waste much at all. 
Like seriously? This happened!
Backing up Logan Henderson, RHP Jesus Rivero showed why he earned a late-June jump up from Maryvale, three fine innings to get a "blowout save".

LF Jace Avina only turned 20 years old last month. Fifty of his 101 pro hits have gone for extra bases, including 25 HR's. Yes, the strikeouts. Note only a .256 BABIP in 2023. Such a fascinating profile. Could see him repeating A-Ball to begin 2024, dominating, and then moving up. Huge 4-for-5 night here.

This recent hot stretch finally brings Carolina over .500 at home at 22-21 (24-18 on the road). Thank goodness, because earlier home futility was infuriating as it contributed mightily to a first-half standings collapse.
 
---

Final: ACL Brewers 10, ACL Guardians 8, seven innings as scheduled

Box Score / Game Log

A-Crew pitching was not good early here, surrendering all eight runs through the first four innings. So a huge shoutout to former Mudcat RHP Brailin Rodriguez. The 20-year-old (21 next month) had struggled in his comeback outings post-Tommy John surgery. His 3.1 inning line was near-immaculate here and allowed for a major Maryvale rally. That's a real feel-good effort, happy for the young man.

It was "only" 106 degrees at game time for this day game, actually an improvement from recent contests. Smart to see that catchers still share duties in these games.

Speaking of catchers, birthday boy Satchell Norman celebrated his 21st with a designated hitter assignment, two singles and a walk. Dylan O'Rae managed to lift his unworldly OBP to .484 - listed at 5'7", but we imagine that perhaps he's snuck up an inch or two since signing last summer. O'Rae had a triple among his contributions here.

Please box score browse as all nine spots in the lineup contributed.

Can you imagine "if"?!
---

Final: DSL Guardians Blue 12, DSL Brewers #1 Squad 6

Box Score / Game Log

Though now 20-14, the Brewers Uno club has lost three in a row, allowing exactly 12 runs in each contest.

The Crew was actually up 6-5 heading to the bottom of the 7th. Skipper (and former Crew farmhand) Fidel Pena put his trust in 16-year-old RHP Saul Sanchez (17 next month), and the Nicaragua native was touched for a double and four singles in a four-run Guardians rally.

Considering he'll turn 23 years old in October, 2nd-year RHP Roman Perez needs to tighten up his efforts, as 9-6 became 12-6 under his watch.

Shoutout to recently-turned 19-year-old LF Idalberto Santiesteban, who singled twice and walked twice. At 6'2" and a LH bat, he's cut from central casting in the vitals department. Mix in an outfield assist (and a caught stealing). And if you think I typed his name without utilizing copy-and-paste, you'd be mistaken.

It's been a tough rookie campaign for 17-year-old second baseman Jhon Bencosme, but the Dominican switch-hitter was placed in the leadoff spot, smacked two doubles, and walked. Again, showing faith, nice!
 
---

Final: DSL Dodgers Mega 4, DSL Brewers #2 Squad 1, seven innings as scheduled

Box Score / Game Log

Back to Dodger troubles...

Game was tied at 1-1 heading to the final frame, and LAD had been held to one hit through those six innings. 17-year-old Venezuelan rookie RHP Ismael Yanez has made three starts, and his combined line is 6 IP, 0.00 ERA, 1 H, 2 R (0 ER), 1 HBP, 6 BB, 8 K.

RHP Ranwell Smith and LHP Pedro Quintana had a rough go as the late inning game log will attest.

There he is again. SS Demetrio Nadal is plastered all over this box score, quite a feat considering how little was going on otherwise. Two singles, a HBP, three stolen bases, a caught stealing (on a pickoff), not a fan of how box scores notate that - it was one play. How's 79 plate appearances - 1.094 OPS.

Team Dos now 13-21.
 
---

Nashville (6:05 Central start) plays the one night game Sunday, and it's free for all via MilLB.TV, so check out RHP Justin Jarvis. The rookie clubs enjoy their usual Sunday off.

Organizational Scoreboard including starting pitcher info, game times, MiLB TV links, and box scores
Current Milwaukee Brewers Organization Batting Stats and Depth
Current Milwaukee Brewers Organization Pitching Stats and Depth

 
2