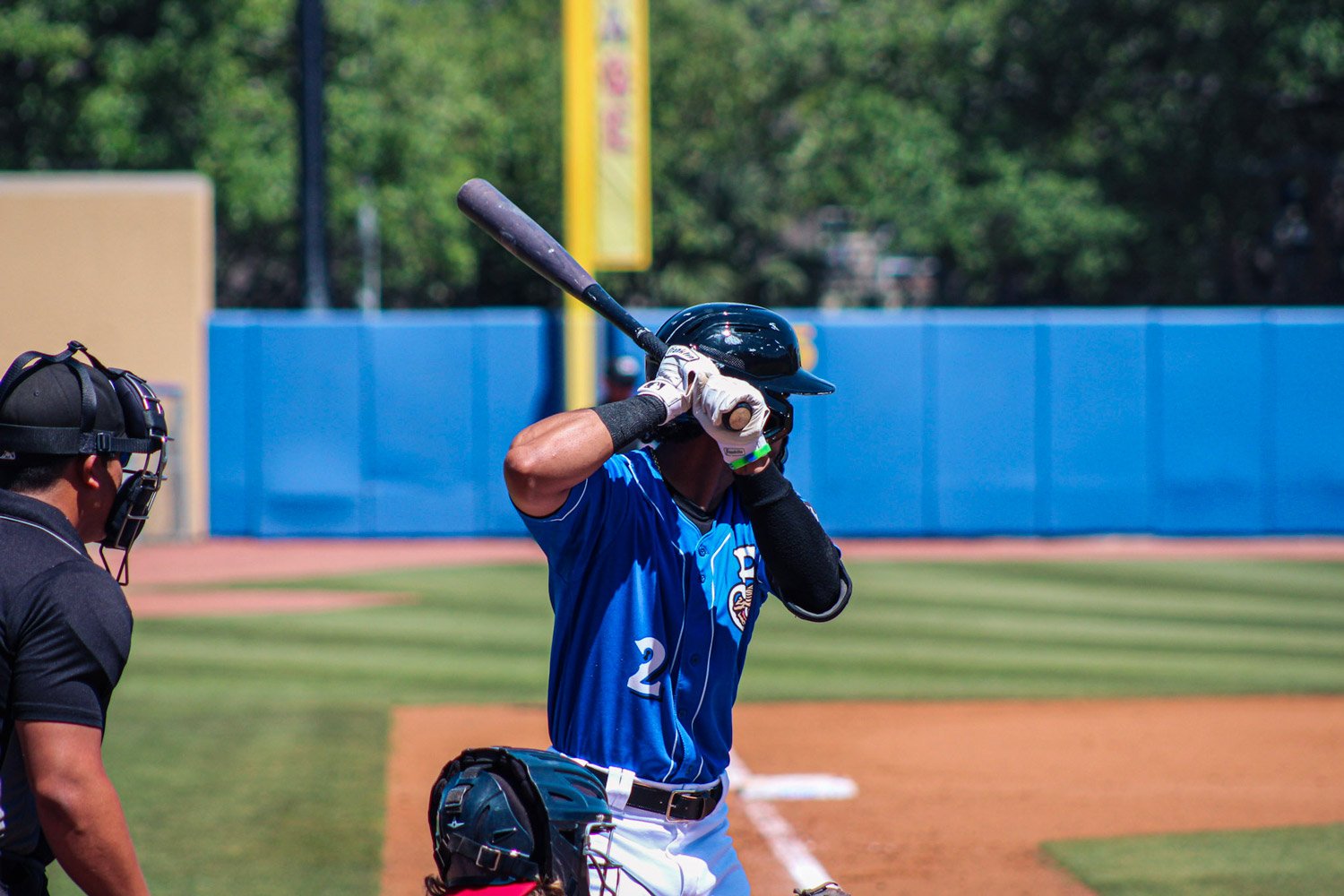 Image courtesy of Biloxi Shuckers
Game Balls:
Well finish by recognizing INF Luis Urías who showed signs of life at the dish - much needed (for me, let's be honest) given his sluggish start to his re-assignment. 2-for-4, 1 R, 2 RBI, 1 K. 
Transactions:
INF Abraham Toro was recalled by the Milwaukee Brewers from the Nashville Sounds

OF Eduqarqui Fernandez was activated off the 7-Day IL by the Wisconsin Timber Rattlers

INF Eduardo Garcia was activated off the 7-Day IL by the Wisconsin Timber Rattlers
---
Final:  Nashville  5, Norfolk (Orioles) 3 - game called due to rain after 6 2/3 innings
Box Score / Game Log 

Game Notes 

Via the Sounds' site, game details, please visit and review: 

Sounds Take Rain-Shortened Win Over Tides

Three Quick Strikes:
1) Not to be lost in recognizing Urías work at the plate above is the fine work of 1B Keston Hiura at the dish. He hit an opposite field long ball early for the Sounds first hit of the game. He smacked a line drive single into center field as well. Hard contact abound. This was all quite nice to see after yesterday's silly quick ejection.
2) The game of baseball is so often a result of maximizing on opportunities when they present themselves. The Sounds managed a 3-for-6 output with RISP. The Tides were a fairly woeful 2-for-10. That 50% to 20% execution was meaningful to the end result. This is mostly a credit to RHP Caleb Boushley's ability to execute pitches in key spots. His quality start meant all the marbles as the late bullpen work of RHP Peter Strzelecki and LHP Alex Claudio felt quite inauspicious before the clouds really opened and a deluge commenced.
3) Speaking of Claudio, the veteran lefty really needs to re-group after stumbling through a very rough July. Given his tenured work as a reliever, he gets the benefit of the doubt here - especially after pitching so well for the Sounds through June. But, there is definitely work to be done. After tonight's outing, we see the following collective output: 8 G, 5 2/3 IP, 12 H, 2 BB, 3 K, 6 ER. That's a 9.53 ERA with a 2.57 WHIP. Batters are hitting him to the tune of 0.429 collectively in mid-summer. Let's get back to what was working before, shall we?
---
Final:  Biloxi  5, Birmingham (White Sox) 4
Box Score / Game Log 

Game Notes  

Via the Shuckers' site, game details, please visit and review:

Zamora Single Gives Biloxi a 5-4 Walk-Off Win over Birmingham

With tonight's walk-off victory (the 5th walk-off win for the Shuckers in 2023), the Shuckers moved to 13-10 in the second half just 1.0 GB of first place Pensacola. It was a thrilling victory after a very disappointing top half of the ninth where, I would argue, RHP Ryan Brady was robbed of his first save on a blown call on what would have been a game-ending K (See more HERE ). Credit is due to the team, however, as they didn't let the tying result phase them. 

RHP Christian Mejias was actually cruising through 4 IP but ran into a little bit of trouble in his fifth and final frame. He still managed to escape with the 3-2 Shuckers lead. Kudos to him for doing so and kudos to him for ending the remaining threat (men on the corners with two down) by striking out his final batter. His final line reads: 5 IP, 4 H, 3 BB, 2 ER, 5 K, 1 HR. Mejias has been up-and-down as a starter for manager Mike Guerrero and his staff but he's had many outings just like this as well where he's given his teammates everything they need for a meaningful chance at victory.

Three Quick Strikes:
1) It was the INF Zavier Warren and INF Isaac Collins show early. Collins was getting on base. Warren was knocking across the runs. The two young men accounted for all three of the early runs. Let's take a look at this easy swing on an off-speed pitch tailing inside but sitting belt high. Golf shot liner here: 
2) CF Jackson Chourio is so much more than a lethal weapon at the dish. He's taken last year's gold glove winning defense to new heights in 2023. Just watch the athletic tools on display - the balance, the agility, and the speed - to make this ridiculously difficult catch in the deep gap of far away left center field:
That is a ridiculously difficult play on many levels. He is such a special special talent, folks. Let's enjoy the ride.
3) I alluded to the blown called strike three robbing RHP Ryan Brady of his first Double-A save above. However, when he was pulled for RHP Cam Robinson the Shuckers still led 4-2. As has been so often the case in 2023, however, things tend to not come easy for this talented Shuckers squad. INF Freddy Zamora botched a weakly hit grounder (his 14th error of 2023) - charging and to his right but extremely makable - and RHP Cam Robinson then gave up a two-run chopper up the middle infield and into the CF grass under the glove of diving 2B Isaac Collins. It was suddenly a 4-4 ball game. It's a testament to Robinson he shut things down from there. It's a testament to the team they walked it off in the next half inning. But, those gaffes were also a testament to how how hard it can be for the Shuckers to cross the finish line. We certainly won't complain about winning - ever. But, sheeesh, it sure would be nice if they made it easier on us fans on a more consistent basis?.
---
Final:  Wisconsin 8, Cedar Rapids (Twins) 7
Box Score / Game Log 

Game Notes 

Via the T-Rats' site, game details, please visit and review:

Wisconsin Erases 7-0 Deficit to Beat Cedar Rapids 8-7

Full Game Highlights:
Post-Game Podcast:
 T-Rats Talks:
1) He plays chess, he speaks four languages, he has the best laugh and the best smile on the T-Rats and he's on an absolute tear at the dish. Read up on enigmatic and enthralling 1B Ernesto Martinez Jr. HERE

2) Meet new T-Rats pitching coach (2023) Josh Spence who played professionally for 12 different teams in 11 different leagues (!!) HERE


We had seen a much improved RHP Cameron Wagoner in June. We saw his best outing of his 2023 season in his last start at Dayton (5 IP, 5 H, 1 BB, 2 ER, 8 K). Today, sadly, was a step in the wrong direction. Where we go from here, I don't know, but it's definitely back to the drawing board for the young man. After an opening strikeout, Wagoner struggled with control. Ultimately, he only lasted a mere 2/3 IP - 2 H, 3 BB, 2 K, 5 ER, 1 2B, 1 HR. He struggled through 37 pitches but it wasn't a total loss with the two punch outs. If RHP Miguel Guerrero doesn't give up a two-run shot himself in immediate relief, Wagoner only sees four cross the dish and it's perhaps tossed aside as a classic 'He just didn't have his accuracy.' outing. This should take nothing away from Guerrero's total effort which was really really good - 4 1/3 IP, 3 H, 0 BB, 1 ER, 5 K, 1 HR. It is really nice to see Guerrero find some High-A success after last year's struggles and re-assignment to Carolina. He's earned this opportunity in every sense of the word. Keep trucking young man.
When all was said and done, the T-Rats gained a game back from the first place Kernels. They are now 13-13 in the second half and just 4.0 GB.

Three Quick Strikes:
1) The game-winning knock was a failed double play chopper off the bat of OF Hendry Mendez that turned into a force out at 2B. Hindsight is obviously 20/20. However, where do you go with this chopper? Seeing OF Je'Von Ward isn't even half way up the 3B line, I personally take the sure fire out at home plate - I trust my accuracy and my throw and the catcher's ability to apply the tag. The obvious thinking is a double play ends the inning. Baseball is a game of chess and the results state: this was a poor defensive move.
2) RHP Shane Smith is fast becoming one of the more surprising and intriguing stories in the entirety of the Brewers Minor League bullpen picture this 2023 season. When he began his season with Low-A Carolina, we saw a pitcher primarily relying on his 95-96 mph heater. He challenged hitters on a nightly basis with a "Here it is. Come hit this." mind set. In Wisconsin, we are seeing an arm who uses that same four-seamer as a pitch that is simply part of his mix. His hammer curve and his slider have taken front and center. His punch out to end today's tilt was a courageous and nasty 3-2 slider that left the zone in a hurry and absolutely fooled the Kernels hitter. Smith has now pitched in six games for manager Joe Ayrault and his Timber Rattlers staff. He's allowed one single run. His total High-A line reads: 11 IP, 3 H, 3 BB, 13 K, 1 ER. That's a 0.82 ERA with a 0.55 WHIP. It is absolutely noteworthy when a player is promoted and he produces better and more dominant results. Smith remains a pitcher to keep your eyes on. 
3) INF Eduardo Garcia made a triumphant return to the T-Rats line-up. Having last played on July 6th at home versus Beloit, it was a real boon to the team and the offense. Return outings can often show the rust, but, Garcia finished with a 2-for-5, 1 R, 1 RBI, 1 HR (his fourth of 2023) line in his first game back while giving 3B Ben Metzinger a much deserved rest at the hot corner. The long ball was a no doubter off the top of the batter's eye. Hopefully, Garcia can pick up some of the good mojo we've been seeing from 1B Ernesto Martinez Jr. (2-for-3, 1 BB) for weeks. 
---
Final:  Carolina 5, Columbia (Royals) 4
Box Score / Game Log 

Game Notes 

Via the Mudcats' site, game details, please visit and review:

Castillo Homers as Mudcats Defeat Columbia 5-4
The majority of the winning damage came on OF Luis Castillo's mammoth shot over the right field wall - his first long ball of 2023.
RHP Alexander Valecillo gave his team a really nice outing - a solid if unspectacular 4 IP, 3 H, 1 BB, 1 ER, 2 K. He was pulled after 50 pitches so clearly the staff had a relief game plan in mind. The Mudcats have now won the first two games at Columbia and remain in first place at 15-10 in the second half now 2.0 games ahead of second place Salem.

Three Quick Strikes:
1) There's no doubt that RHP Quinton Low has electric stuff when he's dialed in. But, with this electricity comes a regular bouts where he can't find the strike zone. This issue has now reared its head on enough occasions to merit some concerns as his season progresses - 18 BB over his past six outings spannig 15 1/3 IP. Tonight, he came to the hill with just a single runner aboard in the fifth frame and the Mudcats holding a comfortable 5-1 lead. Low proceeded to throw six consecutive balls and not a single one of these was particularly close. He then threw two wild pitches and he also threw several other balls low and in the dirt. He escaped the frame by inducing a double play ball but the inning as a hole was not not pretty. He was much cleaner in the second inning of work but Low has to work out these accuracy kinks as he attempts to move up in he system. Low ended his outing after 3 IP, 2 H, 5 BB, 2 WP, 2 ER, 3 K. He has to clean this up.
2)  If I were Low, I'd look to my Mudcats stablemate in RHP Yerlin Rodriguez to analyze ideas of how to harness delivery mechanics. Rodriguez is sharper in nearly every aspect of his delivery and release point at present but has also been prone to periods of wildness. Both pitchers have been brilliant at times in 2023 with episodes of struggle sprinkled in. Yet, it certainly seems like Rodriguez is poised for a real breakout of magnanimous proportions and I observe this coming from the way he harnesses and executes his pitch-to-pitch in his current form. It's a truly interesting juxtaposition and I was afforded an ability to see it in immediate succession from the 7th to 8th innings. Rodriguez has really nasty stuff on the hill (as does Low - to a lesser extent at present), but my amateur eyes would opine Rodriguez has a better overall feel of his innate stuff. 
3) I told you last night and I'll remind you again tonight: OF Jace Avina is dialed in at the dish right now. He's just seeing the ball better and making very solid line drive contact. You love to see it! Tonight's 2B and 3B were both ripped to the wall - to left center and deep right center field, respectively. With the two knocks and the 2-for-4 night, Avina saw his BA elevate to 0.203 on the season. Let's go! We don't have July's compiled statistics up-to-date at time of publish, but I do believe his July OPS will now be over 1.000 and his July BA will be close to 0.315. That's just a phenomenal bounce back month of baseball for the young outfielder.
---
RHP Brandon Woodruff takes the mound tomorrow for his second rehab start with the T-Rats. Let's hope he brings his 'A' stuff to shut these pesky Kernels down. The Sounds will play a rare Thursday mid-day game at Norfolk - so, with the DSL Brewers Uno playing two games (completing a July 17th game as well) there will be a rare four-game matinee. Later in the evening, we'll have the ACL Crew to pair with the Mudcats, T-Rats, and Shuckers. It's a full day of Brewers Minor League baseball.

As always, thanks for reading and thanks for supporting this extremely underrated organization.

Organizational Scoreboard including starting pitcher info, game times, MiLB TV links, and box scores

Current Milwaukee Brewers Organization Batting Stats and Depth

Current Milwaukee Brewers Organization Pitching Stats and Depth
Think you could write a story like this? Brewer Fanatic wants you to develop your voice, find an audience, and we'll pay you to do it. Just fill out this form.
MORE FROM BREWER FANATIC
— Latest Brewers coverage from our writers
— Recent Brewers discussion in our forums
— Follow Brewer Fanatic via Twitter, Facebook or email