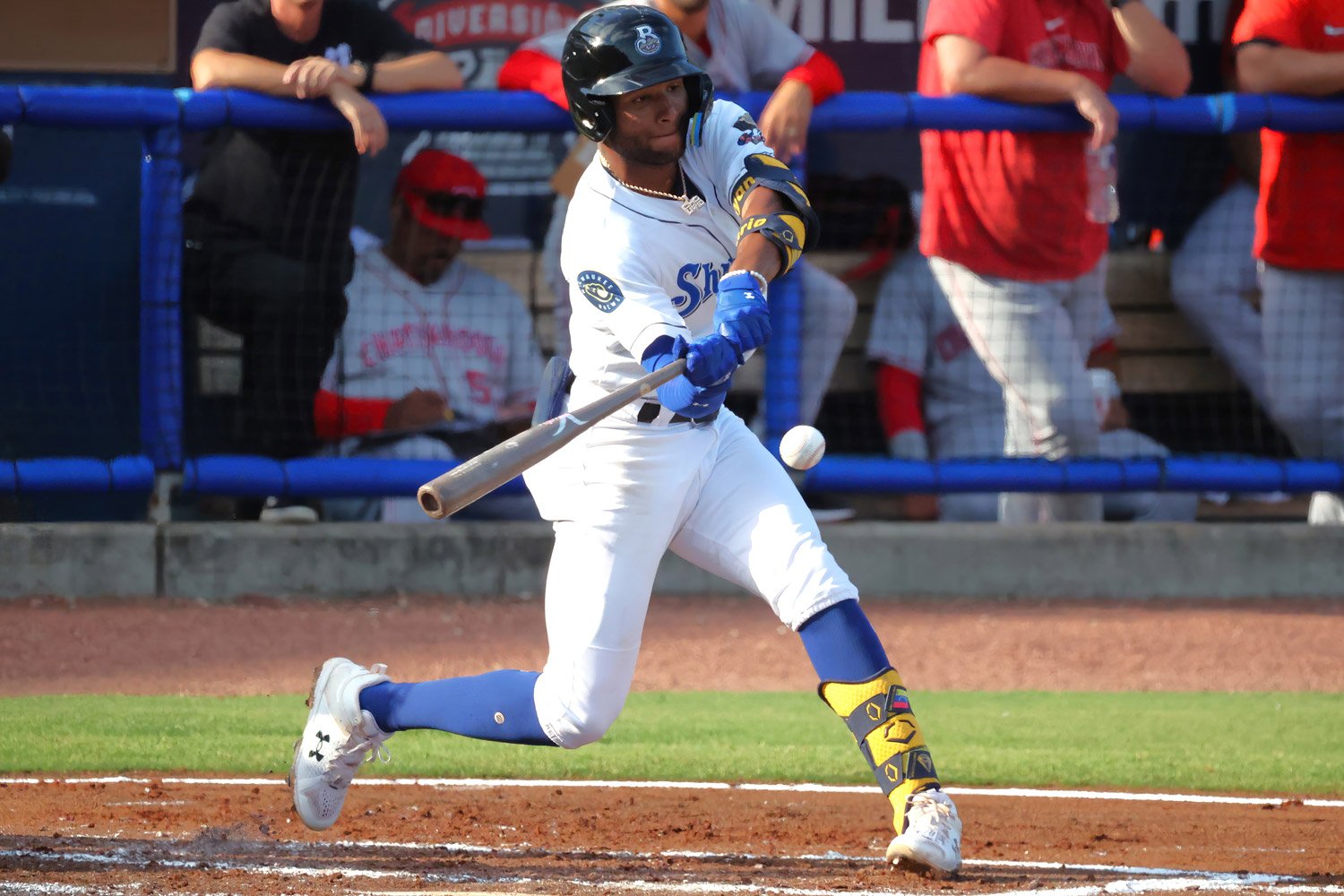 Image courtesy of Biloxi Shuckers
Transactions:
Game Action:

Nashville Pre-Game Media Notes
Final: Columbus 6, Nashville 2
Box Score / Game Log

Via the Sounds' website, game details, and we encourage readers to review the affiliate write-up as part of their Link Report routine: Sounds Fall 6-2 to Clippers

Unfortunately, RHP Justin Jarvis' AAA debut was marred by the 3rd inning meltdown of Guardians' #2 prospect OF George Valera at the plate. After the brawl which ensued, Jarvis (3 1/3 IP, 5 R (4 ER), 5 H, 6 BB, 3 Ks, 1 WP) was unable to settle back in and a 2-0 deficit quickly became a 5-0 mountain that was too much for the Sounds to overcome.
Sounds' Extras:
Friday's outlook: LHP Robert Gasser (3.94 ERA, 1.23 WHIP, 10.7 K/9 in 80 IP) is the scheduled starter, with the Sounds needing a victory to even the series 2-2.
Biloxi Pre-Game Media Notes
Final: Biloxi 10, Pensacola 4
Box Score / Game Log

Via the Shuckers' website, game details: Late Runs, Home Runs Power Shuckers to 10-4 Win over Blue Wahoos

With starting RHP Tobias Myers (6 IP, 4 R (2 ER), 5 H, 2 BB, 9 Ks) pitching on four days' rest, the Shuckers fell behind 3-0 by the 2nd inning, but a late offensive explosion gave them the game and a 2-1 series lead.

Biloxi's bats kept coming, with center fielder Jackson Chourio (2-for-5, HR, double, 2 RBIs) leading the charge with a 6th inning RBI double and a game-tying solo shot in the 8th inning, before red-hot SS Freddy Zamora doubled in two runs to give the Shuckers their first lead. 
 You'll see plenty more video highlights at the Shuckers Twitter feed.
Shuckers' Extras:
Friday's outlook: Expected starting RHP Christian Mejias needs to start putting up some zeros to lower his 6.31 ERA (in 67 IP).
Wisconsin Pre-Game Media Notes
Final: Beloit 8, Wisconsin 6 (in 12 innings)
Box Score / Game Log

Via the Rattlers' website, game details: Rattlers Drop a Heartbreaker to Beloit

With Eric Brown Jr. out injured for eight weeks due to a non-displaced hairline fracture on his left scapula (per Curt Hogg), SS Robert Moore (3-for-5, walk, 2 RBIs, SB) is being asked to do more than ever for the Timber Rattlers.

On this night, that meant extending his on-base streak to 24 games, knocking in the game-tying run with an 11th inning single, but also committing the error with two outs in the top of the 9th inning which essentially sent the game to extra innings.

You'll find lots of highlights and lowlights from the video highlights compiled by the Wisconsin media team, along with a 17-minute post-game discussion.
Timber Rattlers' Extras:
Friday's outlook: RHP Edwin Jimenez has found rough seas in his last three starts (14 IP, 13 ER), so will look for a return to his previous form and lead Wisconsin to a 3-1 series advantage.
Carolina Pre-Game Media Notes
Final: Carolina 6, Fayetteville 3
Box Score / Game Log

Via the Mudcats' website, game details: Figueroa's Strong Start Leads Mudcats to 6-3 Victory

Similar to the Rattlers, Carolina grabbed an early 4-0 lead, but they thankfully managed to hold on despite the Woodpeckers clawing to within 5-3 by the 8th inning.

RHP Jeferson Figueroa (4 IP, 0 R, 3 H, 2 BB, 1 HBP, 3 Ks, 1 WP) was thrust into the game as a spot starter (we hope that originally-scheduled starter RHP Alexander Vallecillo is okay) and turned in a terrific four scoreless innings. 
Mudcats' Extras:
Friday's outlook: Either Vallecillo or RHP Quinton Low will get the chance to lead the Mudcats to a 3-1 series lead.
Dominican Summer League Action

Final:  DSL Brewers #2 Squad 2, DSL Guardians Red 1
Box Score / Game Log

Our Dos squad only produced three hits, but that's all the Guardians managed as well, with neither club delivering an extra-base hit in a combined 54 at-bats.

Down 1-0 in the top of the 6th inning, 3B Demetrio Nadal (2-for-3, SB) started the comeback with a single, stole second (his 10th on the year in 10 attempts) and scored on a wild pitch.

Nadal's efforts apparently unnerved the Guardians' relief pitcher enough that he walked the next two batters and threw a ball away to allow the Brewers take a 2-1 lead which they held onto thereafter.
However, the real story is the pitching:
SS Roderick Flores notched the team's only other hit, while each of 2B Filippo Di Turi and center fielder Antony Gomez walked twice, although both Flores and Gomez were caught stealing.
Final: DSL Royals Gold 1, DSL Brewers #1 Squad 0
Box Score / Game Log

Starting 17-year old RHP Eric Prado (5 IP, 0 R, 1 H, 1 BB, 2 Ks, 1 WP) is five games into his baseball career and has not disappointed in any of them. His season ERA dropped to 0.98, with 15 Ks in 18 1/3 IP.

17-year old Enniel Cortez (2 IP, 0 R, 0 H, 1 BB, 3 Ks) is also delivering exceptional results, with two scoreless innings to drop his season ERA to 2.18, with 25 Ks in 20 2/3 IP.

Unfortunately, their teammates were unable to score, stranding seven runners in the game (vs. four left-on-base for the Royals). The most egregious missed opportunity was in the bottom of the 6th inning, when a leadoff double and walk led to nothing.

RHP Jesael Cabrera took the loss after two singles, a wild pitch and sacrifice fly brought the game's only run home in the top of the 6th inning.

Center fielder Yophery Rodriguez led off for the team, doubling, walking and stealing a base while lifting his season OPS to .947. Three other players singled, but the team only managed to produce four hits.
We hope that you enjoy the Minor League Link Report. Good luck in Friday's 7-game MILB slate!

Organizational Scoreboard including starting pitcher info, game times, MiLB TV links, and box scores
Current Milwaukee Brewers Organization Batting Stats and Depth
Current Milwaukee Brewers Organization Pitching Stats and Depth
Think you could write a story like this? Brewer Fanatic wants you to develop your voice, find an audience, and we'll pay you to do it. Just fill out this form.
MORE FROM BREWER FANATIC
— Latest Brewers coverage from our writers
— Recent Brewers discussion in our forums
— Follow Brewer Fanatic via Twitter, Facebook or email
1