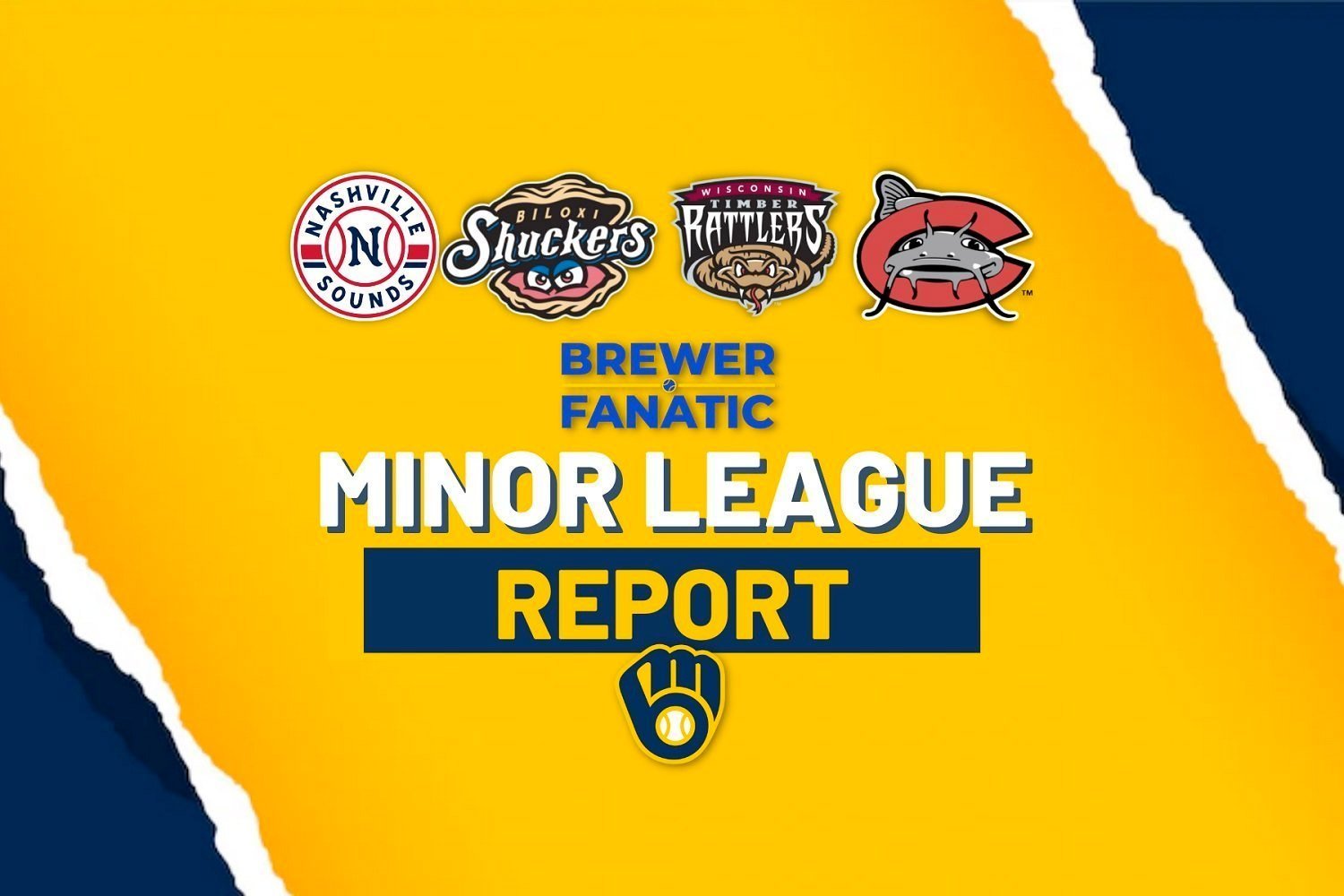 Image courtesy of BrewerFanatic
Transactions: None

***

Nashville Pre-Game Media Notes
Final: Nashville 6, Columbus (Guardians) 3
Box Score / Game Log

Via the Sounds' site, game details, and we encourage readers to review each of the affiliate write-ups as part of their Link Report routine:

Almonte Powers Sounds Past Clippers - Nashville Win Streak Reaches Seven with Fourth Straight in Columbus

Lather. Rinse. Repeat.

If the Sounds aren't on autopilot (In the best of ways), then it's pretty close. Power (Abraham Almonte HR #11, Jon Singleton HR #12), accompanied by speed (Pablo Reyes SB #10), joined by clean defense, and that's just on the position player side of things. Mix in another strong start (hello, wily Josh Lindblom) and stellar relief work, which is a given with this squad, and the proof is in the very tasty pudding.

For someone who comments almost weekly on his pre-game interview show with Voice of the Sounds Jeff Hem about his lean roster, we currently count 17 (!) apparently healthy and active pitchers on Rick Sweet's squad. Almost surely at least one of the 40-man roster relievers (Trevor Kelley, Peter Strzelecki, Luke Barker) will accompany the Brewers on their upcoming road trip to Minnesota and San Francisco as a taxi squad member. But yeah Rick, on the mound, you're in good shape.

Reyes, playing left field, walked three times here. 

Catcher Mario Feliciano played for the first time since July 2nd, 0-for-3 with a walk, but the fact that he was behind the plate pretty much indicates no concerning issue. Mini-trivia: How many catchers are currently on the 40-man roster? Four? Nope, it's five - Narvaez, Caratini, Severino, Feliciano, and don't forget Alex Jackson on the MLB IL. Jackson has a left middle finger sprain that has lingered for a full month now.

Since we don't have video for this one, catch up down the foul line with starter Dylan File, and don't forget the most recent batch of Nashville pre-game audio. (We've asked if Biloxi's pre-games could be shared similarly, but it doesn't appear that's in the works for 2022 - next year we hope!)
 
***
Biloxi Pre-Game Media Notes via the Shuckers' Virtual Press Box

Final: Biloxi 10, Montgomery (Rays) 4
Box Score / Game Log 

Via the Shuckers' site, game details, please review: 

Biloxi Blasts Their Way To 10-4 Win Over Montgomery - Reetz Launches League-Leading 21st and 22nd Homers

You just read the details, now watch multiple highlights, culled together by one of the two Biloxi sports outlets we often get reports from:
Oh Jakson Reetz, your age 26 season continues to amaze. Reetz' previous career home run high was 13 at High-A in 2019. I do wish the MiLB Player Page game log included a running account of OPS by date, as it does for OBP and SLG, it would make my point here clearer -- Reetz has been remarkably consistent even on a day-by-day basis. But here we go on a broader and yet still gorgeous scale:
April OPS:  1.041
May OPS:   1.066
June OPS:   1.017
July OPS:    1.156
vs. LHP:      1.176
vs. RHP:      1.015
Day night, home, away, it doesn't matter. Do the Brewers want to add Reetz to their 40-man roster before he exits in minor league free agency this fall, knowing they'd have three optionable years? Did he sign one of those two-year minor league deals last December? Is he playing his way into being an important part of an upcoming deadline deal? Whatever the case, thank you Jakson.

Felix Valerio has been caught stealing seven times, but he's also been successful on 21 attempts. So, on the cusp of productive, but seven is seven...

Wouldn't have thought LHP Brandon Knarr was at 91 pitches with that pretty line, but that explains the pull after five frames.

As you just watched, Thomas Dillard is the most barrel-chested of all the classic barrel-chested Brewers players, majors or minors, in team history. Have we ever seen a switch-hitter with this physical profile? To top off being eminently fun to watch, Dillard has been increasingly productive. You rock it, Thomas, upper-body, thighs, etc. We should add he's avoided the injured list his entire career.

It pains me to type this, but Joey Wiemer is broken, 3-for-42, all singles, with 17 K's and three walks. Would love to know the true status of the hand and/or thumb, everything has cratered at the plate since that missed week.
***
Wisconsin Pre-Game Media Notes via their all-encompassing Virtual Press Box
Final: Wisconsin 11, South Bend (Cubs) 3
Box Score / Game Log
Via the Timber Rattlers' site, game details, please review:
Wisconsin Bounces Back with 11-3 Win at South Bend - Smith strikes out Nine and Peters drives in three for Rattlers

Now that's how you quickly recover from a walk-off grand slam loss!

So much goodness here - the Canadian duo of Tyler Black and Tristan Peters were on base six times combined, though in very different ways, as the box score attests.

Double-digit steal totals now for Joe Gray (13-for-13!), Black (12-for-18), and Peters (13-for-19). All successful on this night.

LHP Russell Smith's last 19.2 IP - one walk, 25 strikeouts. Yee-hah!

I realize his use has been in primarily lower-leverage spots, but RH reliever Tyler Gillies has tossed five shutout innings over his last three outings, and the F* Cancer comeback continues, yes, Tyler, keep pushing.
***
Final: Kannapolis (White Sox) 5, Carolina 0
Box Score / Game Log

Via the Mudcats' site, details, please review:

Carolina Totals Eight Hits in 5-0 Loss in Kannapolis - The Mudcats lost their third straight while suffering their league high eighth shutout loss

When the Mudcats bats are quiet, they are really quiet. So sure, eight hits isn't awful, but they were all singles, the team was 0-for-7 with RISP, and stranded 11 overall.

How good is Jackson Chourio? When you single and walk on a 1-for-3 night, and your OPS drops a point to .962, well, you've been solid.

We'll give a shoutout to LH reliever Jakob Brustoski, who stranded two runners for RHP Fernando Olguin, who pitched well himself.
That Cannonballers logo is glorious by the way.
***

Up above, you watched Dylan File discussing the Arizona heat. Dry heat or not - it was 110 degrees at first pitch for both games in the desert Friday. Both games went nine innings!
Final: ACL Brewers Gold 5, ACL Reds 3
Box Score / Game Log

Twelve organizations field only one team in Arizona. Only the Giants and Diamondbacks, like the Brewers, field two. There is something to be said about having to spread the talent over two squads, so kudos to the Crew kids whenever they knock off one of these solo teams.

The Golden Boys moved to 13-11 with this one, the first-place tied (w/Rangers) Reds falling to 17-7.

18-year-old middle infielder Jadher Areinamo (DH'ing here) was overmatched in a brief seven-game emergency stint in Wisconsin earlier this spring, but the talent he's shown in Arizona provides a hint as to why the organization trusted him with filling in for a bit. Two doubles and a single here, hitting .337 in Arizona now.

Areinamo was part of the higher-profile group within the January 2021 international signing class that included Jackson Chourio (you've heard of him), Gregory Barrios (nice game here), Hendry Mendez, Luis Castillo and Daniel Guilarte, all performing well to very well in 2022. That signing class could prove to be looked back on very fondly down the road, we'll see.

Free Ryan Middendorf. Like seriously, place the recent indy signing in the Biloxi bullpen already. Or Milwaukee, even...
***
Final: ACL Brewers Blue 9, ACL Cubs 3
Box Score / Game Log

Do they "fly the L" when the Cubs lose at their training complex? Because that would be awesome. Nice win for the 8-16 Blue Man Group.

Garrett Mitchell was 0-for-4 with a walk and three K's, leading off as the designated hitter. He grounded out to second base in the lone plate appearance where the ball was in play.

Career outing for 2nd-year RHP Yujanyer Herrera, who struggled when placed in Maryvale to begin his career in 2021. That'd be an interesting question for Tom Flanagan and the minor league staffs - a real analysis of what goes into the island vs. stateside placements, for instance would Herrera, a Venezuelan native, have benefited with a Dominican Summer League start to his career.

For all the talk of successful Latin signings as of late, LH-swinging corner outfielder Luis Medina, who was MLB Pipeline's 13th overall ranked player for the July 2019 signing period, has not been on the good side of the fence. The $1.3 million signing added a low-pressure late home run to salvage a 1-for-5 evening. Medina now sits at a .560 OPS through his first 199 pro at-bats.

Five-for-five in stolen base efforts here, including three by CF Reidy Mercado.
The two Maryvale teams face each other Saturday morning. pre-game ritual includes cartoons on TV for the youngsters.
***
Final: DSL Brewers #2 Squad 6, DSL Mets #1 Squad 2
Box Score / Game Log

Both teams now 13-11 in a completely inconsequential factoid.

19-year-old rookie Dominican RHP Felipe De Los Santos allowed nothing but three singles in his five innings, striking out seven.

Fellow countryman RHP Darling Solano, 18, did not allow an earned run in four-innings of piggy-back action, walking one and fanning seven. That's how you draw up a tandem for the day, folks,

18-year-old infielder Erick Reyes, in his 2nd season, pulled a line shot to left for his first professional home run. Doesn't matter who you are, that must have been a special moment for the Dominican native, who played third base Friday.

2022 has been a struggle for 2nd-year right fielder Jose Gonzalez compared to his 2021 figures, but he reached three times here and stole a base, thus Jose nets a deserved mention.
***
Postponed: DSL Brewers #1 Squad at DSL Tigers #2 Squad, Rain

It was 85 and sunny for the other contest. The island is larger than we think. Oh, those pop-up showers. Or, somebody left the sprinklers on the night before...

Both DSL clubs are in action Saturday morning.
***
The big-league Brewers have conveniently scheduled their Saturday late-afternoon game to allow everyone reading this to immediately turn to the men on the farm after the final pitch. Each of the four full-season clubs enjoys an early evening start, still all in road games.

Organizational Scoreboard including starting pitcher info, game times, MiLB TV links, and box scores

Arizona Complex League Scoreboard

Dominican Summer League Scoreboard

Standings and sortable stat pages

Current Milwaukee Brewers Organization Batting Stats and Depth

Current Milwaukee Brewers Organization Pitching Stats and Depth
Think you could write a story like this? Brewer Fanatic wants you to develop your voice, find an audience, and we'll pay you to do it. Just fill out this form.
MORE FROM BREWER FANATIC
— Latest Brewers coverage from our writers
— Recent Brewers discussion in our forums
— Follow Brewer Fanatic via Twitter, Facebook or email
2