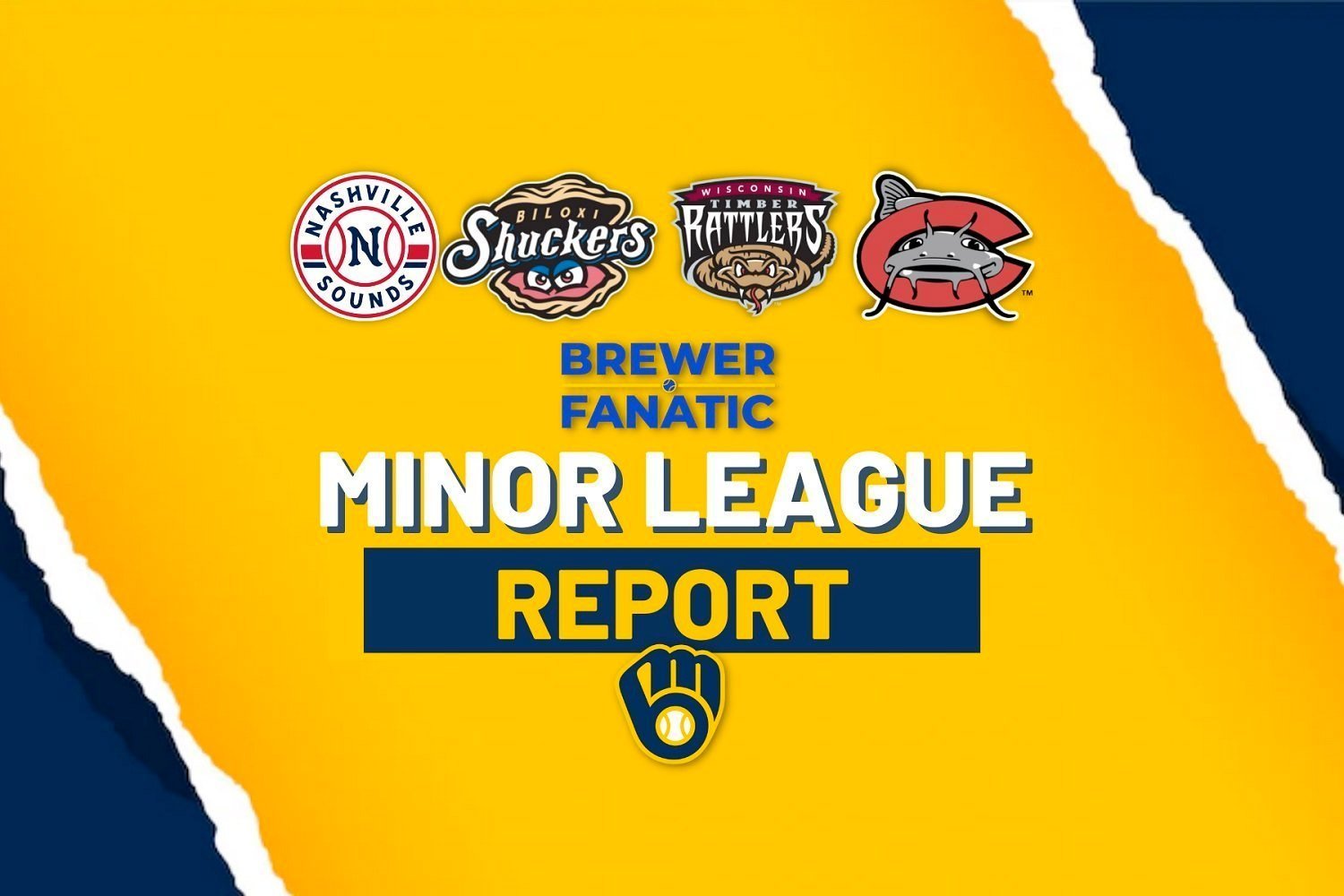 Image courtesy of Brewer Fanatic
Game Balls:
INF Mike Boeve gets the nod for his sudden demonstration of long ball power - 2 HR in his past two contests for the ACL Crew.
1B Keston Hiura gets the nod for his absolutely clutch two-out bases clearing double that proved the difference in the Sounds 6-4 victory.
CF Luis Lara gets the nod for his clutch 6th inning hit - stretching it into a double and scoring the winning run. Winning players make winning plays and Lara is very much a winner.
RHP Cam Robinson gets the nod for his cool, calm, and collected work in the crucial 9th and 10th frames of the Shuckers game 1 victory at Pensacola
DH Wes Clarke gets the final nod for his clutch and insurance-adding oppo taco in the 10th and final frame giving Cam that extra bit of cushion to adroitly work around the Wahoos' free runner. More below...
Transactions:
INF Luis Urias was traded to the Boston Red Sox for RHP Bradley Blalock 
 
Nashville Sounds (and Brewers) C Alex Jackson was traded to the Tampa Bay Rays for RHP Evan McKendry 

LHP Eric Lauer was assigned to the Nashville Sounds from the ACL Brewers
LHP Bennett Sousa was sent on a rehab assignment to the Nashville Sounds by the Milwaukee Brewers (had been with the ACL Brewers)
3B Brian Anderson was sent on a rehab assignment to the Nashville Sounds by the Milwaukee Brewers
LHP Adam Seminaris was sent on a rehab assignment to the ACL Brewers by the Biloxi Shuckers
RHP Evan McKendry (C Alex Jackson trade) was assigned to the Nashville Sounds
RHP Bradley Blalock (INF Luis Urias trade) was assigned to the Carolina Mudcats
LHP Brian Fitzpatrick was activated off the 60-Day IL by the Carolina Mudcats
1B Jesus Parra was released by the Carolina Mudcats 

Highlights from the Week that Was:
It was the best work on the hill I've seen from RHP Will Childers. C Jose Sibrian expertly leaned into Childers' advanced array of off-speed pitches. I'm chomping at the bit to see more of this:
Oh, hey, it's another young Brewers organizational infielder little discussed (see more below) but extremely worthy of recognition:
And, lastly, how absolutely awesome was it to see one of our first half darlings in RHP Edwin Jimenez rebound after a recent rough patch to win the Midwest League's Pitcher of the Week? I said it in the game thread that fine July day but here's your look at his nasty off-speed offerings. That curveball was in rare form for the near no-hitter:
---
Final:  Nashville  6, Durham (Rays) 4
Box Score / Game Log 

Game Notes 

Via the Sounds' site, game details, please visit and review: 

Six Run Sixth Takes Sounds Past Bulls

RHP Brandon Woodruff took the start as he continued his rehab work to Nashville. He was cruising until the fourth inning when a series of fairly weak seeing eye pokes on balls outside the zone found their ways to the outfield grass. Woodruff was sitting 95-96 mph on his heater and working in his off-speed arsenal quite adeptly. All three runs he surrendered came in the fateful fourth inning. All in all, however, we'll consider this outing a big success. He looked healthy. He left healthy. He managed to hurl 72 pitches 4 2/3 IP, 3 H, 2 BB, 4 K, 3 ER.  The Sounds moved to 15-12 in the second half - just 1/2 GB of the three-way tied Iowa Cubs, St. Paul Saints, and Indianapolis Indians in the International League West. Just 2.0 GB the second half greater League leaders Buffalo and Lehigh Valley who share 17-10 records after Lehigh's 10-1 thrashing tonight.

Three Quick Strikes:
1) LHP Eric Lauer also saw his first work with the Sounds tonight since way back on June 11th. He came aboard to start the sixth inning after LHP Alex Claudio successfully relieved RHP Brandon Woodruff inducing a groundout to rehabbing INF Brian Anderson at 3B. Lauer's first pitch was a 93 mph heater middle in. His second pitch was a 94 mph heater inside. He then struck out this first batter on a gorgeous 76 mph curve on the outer stripe. This was exactly what we hoped to see. His sole mistake pitch in his brief return outing, I would opine, was the lead-off change-up to start the 7th inning - entirely too much of the heart of the plate. A hanger in every sense. He got away with a deep double to the LF wall on the pitch, but at the MLB level that is likely a long ball. After a weak liner RBI knock to CF, Lauer used his expert move to 1B to pick off the runner while he lay hapless on the basepaths pleading for a balk. All in all, it was a successful re-introduction to Triple-A ball.
2) Who else to get the sixth inning rally caps fit tight other than under recognized and under appreciated, INF Patrick Dorrian and C Brian Navarreto? Their back-to-back doubles really got the run scoring action going in the crucial sixth inning rally. I've been touting these young men for over a year as they've each demonstrated time and again they have a penchant for big knocks. What's more? They're both impactful defensively. Two more Minor League veterans on the Sounds roster that greatly aid in fostering a winning culture in the clubhouse. This being said, the true game winning hit was this gorgeous looping liner double to the LF wall by 1B Keston Hiura. The count reads 2-2 here but it started 0-2:
3) The bat may have cooled off considerably at the MLB level before 3B Brian Anderson was sent to the 10-Day IL, but make no mistake about it: his incredible defense and cannon of an arm at the hot corner was on full display in his first Sounds rehab outing. He makes the difficult look absurdly routine. I do not take his defensive work for granted:
I would opine this wasn't even his best casual play of the game - his charging defensive gem to end the game was an incredible piece of work likely more difficult than the above. He did manage a 1-for-4, 1 BB, 1 K night at the dish as well - the lone strikeout coming with the bases juiced and one down. Another skilled baseball player waiting in the wings ready to bolster the Brewers roster for a playoffs run.
---
Final:  Biloxi  9, Pensacola (Marlins) 6
Box Score / Game Log 

Via the Shuckers' site, game details, please visit and review:

Collins, Clarke's Clutch Hits Extend Shuckers' Win Streak to Seven

It was the start of a fresh road series at first half Southern League champs, Pensacola, for the first place Shuckers and, well, let's get right to it: they fought and earned their way to their seventh consecutive victory. What a great Double-A ball game. Workhorse RHP Christian Mejias was given the unenviable task of facing off versus newly christened Marlins Ace, RHP Eury Pérez. Mejias gave a classic 2023 Mejias outing for manager Mike Guerrero and his Shuckers teammates: 4 2/3 IP, 6 H, 2 BB, 4 K, 5 ER, 1 HR. Mejias may not light it up consistently (though he is certainly capable of a dominant outing) but he almost always gives his squad 5 IP. Thankfully, tonight at least, his teammates were up to the task of pulling out the victory. The Shuckers have now won seven straight games and sit atop of the second half Southern League South division leader board at 18-10.

Three Quick Strikes:
1) C Brent Diaz may have been a forgotten 'Development List' man throughout the majority of the 2023 season (well, let's be real: he has 20 AB's after tonights tilt 😁) but tonight, as he seemingly always does, he absolutely rose to the occasion. This is a young man who nearly always makes a mark when I watch him play - he's athletic, he has a natural swing, and he plays the part behind the dish. In other words, he's just a very good baseball player when healthy and when afforded an opportunity. It was a pleasure to see him back on the diamond and producing meaningful results. This, his first of two 2B's, was off of phenom RHP Eury Pérez: 
2) It wasn't the eye-popping XBH-filled outing of much of July, but I still greatly appreciated CF Jackson Chourio's approach at the dish. His first inning walk off Pérez was exactly the kind of growth he's demonstrated for over a month - patient pitch recognition. Chourio managed a 1-for-4 night with 1 RBI, 1 BB, and 2 K. He scored the go-ahead run in the 10th frame playing the part of 'Manfred's Man' on INF Isaac Collins line drive single to RF. He also caught a deep fly to very deep CF in the ninth inning off the always-threatening bat of the Wahoos' Griffin Conine and quickly threw a dart to 2B to help keep INF Jacob Berry tied to the bag. It's the little things that win many a baseball game and tonight Chourio contributed in those little but extremely important ways.
3) Special mention is deserved for the shutdown and poised late innings we witnessed from RHP Zach Venarro and RHP Cam Robinson. They haven't always been pretty in 2023 but tonight it truly felt like they were in control of their stuff. It was a sight for sore eyes for this Brewer Fanatic. All told, the two covered 3 IP, 2 H, 1 BB, 1 K, 0 R. Limiting those base runners - even when they were inherited, in Robinson's 10th inning case - was and is a crucial part of these talented young hurlers' success. Let's hope they can keep this good mojo going in this series and in the remaining weeks ahead.
Lastly, please enjoy this oppo taco from DH Wes Clarke - this was the very first long ball extremely talented and dominant Double-A LHP Jefry Yan has allowed over 38 IP for the Wahoos in 2023:
---
Final:  South Bend (Cubs) 9, Wisconsin 2
Box Score / Game Log 

Game Notes 

Via the T-Rats' site, game details, please visit and review:

Wisconsin Falls Flat in Series Opener at South Bend

That headline says it all. The T-Rats have played a lot of good baseball games of late - tonight was not one of them. LHP Nathan Peterson was getting hit hard, long, and often in the early going at South Bend. His off-speed arsenal was doing just fine. It was his 89-91 mph heater, finding all too much of dead center, that was the main culprit. Two two-run jacks over the left field wall. Another deep blast off the top of the left field wall should have been ruled a three-run homer but, regardless, it was scored a two-run double. The T-Rats were down 6-0 before the end of the third inning. This game had the feel of a classic first half T-Rats blow out, unfortunately. It didn't get all that much better as the game progressed though the T-Rats bullpen managed to keep things relatively calm. The T-Rats fell to 16-15 in their second half tied with the Peoria Chiefs for second place.

Three Quick Strikes: (we're going to keep these short as this one was mostly a snoozer for us T-Rats fans)
1) Ongoing kudos to 2B Jose Acosta as he continually finds ways to impact games with his increased PT at 2B. Tonight, he hit his fourth long ball of his 2023 campaign - a two run shot in the 6th inning well after the game was out of hand. He also made a nice diving stop and toss at 2B in the early going when it was still a manageable deficit. He continues finding ways into my Minor League Link reports.
2) This is only the fourth time in the last 22 games, 1B Ernesto Martinez Jr. hasn't gotten a hit. The T-Rats are going to need his bat to keep at that pace if they want to make their mark against the sudden infusion of 2023 draft talent that has come aboard this already talented Cubs roster. Here's hoping he stays hot and keeps making hard contact over the next five games.
3) 8 IP, 14 H, 5 BB is not a winning output by the Timber Rattlers pitching staff. What's more? They're on deck waiting to see what version of RHP Cameron Wagoner they're getting tomorrow after he lasted a mere 2/3 IP his last time on the hill as a starter. They're going to need this pitching ship to steady itself if they hope to make this is a series and keep their second half pace going.
---
Game #1 Final:  Carolina 4, Fayetteville (Astros) 3 *completion of a July 9th game*
Box Score / Game Log 
Game #2 Final: Fayetteville (Astros) 8, Carolina 1
Box Score / Game Log 

Via the Mudcats' site, game details, please visit and review:

The Mudcats Took Game 1 of the De Facto Doubleheader 4-3 but Dropped Game 2

Three Quick Strikes:
1) Game one came down to the impactful work of CF Luis Lara. He led off the bottom half of the sixth with a rip to RF. The moment he left the box and saw the Woodpecker's RF approach he was going for two bags. He succeeded in stretching the knock to a double and this proved crucial when OF Luis Castillo muscled a grounder into CF for the game winning RBI. I said it in the game thread, and I'll say it again here: we are truly lucky to have a player of Lara's caliber for our baseball entertainment. He plays with such passion, fire, and skill. This young man has a very bright baseball future.
2) Very talented RHP Jesus Rivero got the starting nod for game two. It was his first nod as a starting pitcher for the Mudcats and manager Victor Estevez. Unfortunately, Rivero showed his warts over his 3 1/3 IP - loss of control and, hence, too many free base runners. 4 BB, 1 WP, 1 Balk, and 1 HBP are not a recipe for a calm day of work on the pitching mound. He flashed those dominant moments we've seen many a time in his early Mudcats tenure - 5 K, for example - but, it was a regression after his extremely dominant 7K relief outing just this past week in Columbia. Like RHP Quinton Low (who I always seem to discuss when I talk about Rivero), we bide our time with Rivero because the raw stuff is so good. Hopefully, he can start stacking outings no matter the inning or the situation.
3) RHP Chase Costello has quietly become a steady force in the Mudcats bullpen. I enjoy Costello's delivery (and results) quite a bit - he has a brief hiccup or slight pause within his delivery. As a viewer, I feel my timing is a tad off when I watch this so I imagine it's a potentially challenging read for hitters. After scuffling a bit to close out his June, Costello has now only allowed a single earned run over his last six relief outings spanning 16 1/3 IP. That's extremely solid work. Over those same innings we see 8 H, 4 BB, 1 HB, 12 K, 4 W, 0.145 BAA, and a 0.75 WHIP. Stellar work from Costello and a real boon for the remainder of his season.
---
ACL D-Backs Red 6, ACL Brewers 1
Box Score  / Game Log

The Crew may have only mustered three hits in this one and managed a mere 1-for-5 with RISP but there were several ongoing storylines to track as rehab arms and new draftees now adorn the roster. Let's take note of the things I notice when I glean the box and various other data within the new and improved Gamecast format in the lower levels:
LHP Adam Seminaris allowed 3 H in his sole inning of work but he was saved by an opportune strike him out, throw him out bit of work between he and C Satchell Norman. This allowed him to work around two singles to RF after a ground ball force out at 3B ended the frame.
RHP Ryne Moore has now scuffled in consecutive outings. Tonight's 2 IP, 6 H, 1 BB, 1 K, 3 ER performance means he now has 6 ER over his past 5 IP with only 1 K to show for it against 3 BB and 12 H. That is not how he is looking to rebound after last season's lost time. 
INF Mike Boeve now has two HR in his last two games. Maybe he has more gap power than he was given credit for coming into the draft. Isn't that fun to dream about?
INF Juan Baez remains a significant ACL offensive threat (1 2B on the evening - 12 total in his summer campaign), but he continues to struggle defensively I'm very sad to say. A throwing error and a fielding error on the evening while manning shortstop saw his short season total rise to 15 errors. I've seen enough errors in the ACL Crew's summer box score from Baez to have low-level concerns this is an actual issue.
INF Dylan O'Rae was hitless but he once again got on base (1 BB) and swiped a bag (1 SB - 25 SB on the season). I continue to look forward to his possible promotion to Low-A Carolina.
3B Brock Wilken stole a base?!? Yes, 3B Brock Wilken stole a base.
The Crew fall to 21-20 and have now lost two straight games to fall 1 1/2 GB of the ACL Central first place Reds.
---
DSL Brewers #2 4, DSL Red Sox Red 1 - (Game called due to lightning after the top of the 5th inning)
Box Score / Game Log

*Note: The MiLB Box Scores have been updated in a very interesting way - there are several interesting new tabs in within the Game Log/Summary section. Go ahead and take a look!

The DSL Brewers Uno were postponed entirely, but the DSL Crew Dos were able to steal a win after just 4 1/2 innings played. Their attempt to play a second on the day was called as well. The four runs were scored via a wild pitch, an error, and a walk - this bolstered their 0-for-6 with RISP efforts on the shortened day. Not all that thrilling but enough to steal a victory in half a game. This being said, the continued thing popping out in the DSL Brewers Dos box scores is repeat performances of one INF Demetrio Nadal. From my own comments in today's Minor League Game Thread:
Quote

Demetrio Nadal is what they call 'on One' in 2023. DSL Cerveceros Dos Game 2 is currently delayed but he was 1-for-1 with a 2B and a BB. He's an extremely under-discussed 19-year-old in the Brewers system. He took last year's 29 K: 22 BB script and flipped it (so far) to 15 BB : 8 K. He is hitting 0.382 with a 1.133 OPS in 98 PA's through the 5th inning today. He has 24 SB to 4 CS. In 12 games as a 3B he has a 1.000 fielding %. 

It's time to start noticing.

And, this has been my public service announcement for the Brewers fandom community.
Not to be lost in celebrating Nadal, is the outing from 17-year-old Venezuelan RHP Luis Guevara - 5 IP, 2 H, 2 BB, 3 K, 1 ER. In a season of ups and downs for this young man, this outing was definitely one of the 'ups'. The Brewers Dos moved to 16-23 on their season as they continue their climb back to 0.500.
 
---
It's an all evening five-game slate tomorrow as the DSL Cerveceros squads get the day off. As of the time of publish, we see RHP Cameron Wagoner will indeed start for Wisconsin in South Bend and RHP Max Lazar will try and help the Shuckers win their eighth straight game. What a run they are on! We'll have to stay tuned to the other pitching assignments as the day unfolds. 
Until then, and as always, thanks for reading and thanks for supporting Brewers Minor League baseball.

Organizational Scoreboard including starting pitcher info, game times, MiLB TV links, and box scores

Current Milwaukee Brewers Organization Batting Stats and Depth

Current Milwaukee Brewers Organization Pitching Stats and Depth
Think you could write a story like this? Brewer Fanatic wants you to develop your voice, find an audience, and we'll pay you to do it. Just fill out this form.
MORE FROM BREWER FANATIC
— Latest Brewers coverage from our writers
— Recent Brewers discussion in our forums
— Follow Brewer Fanatic via Twitter, Facebook or email