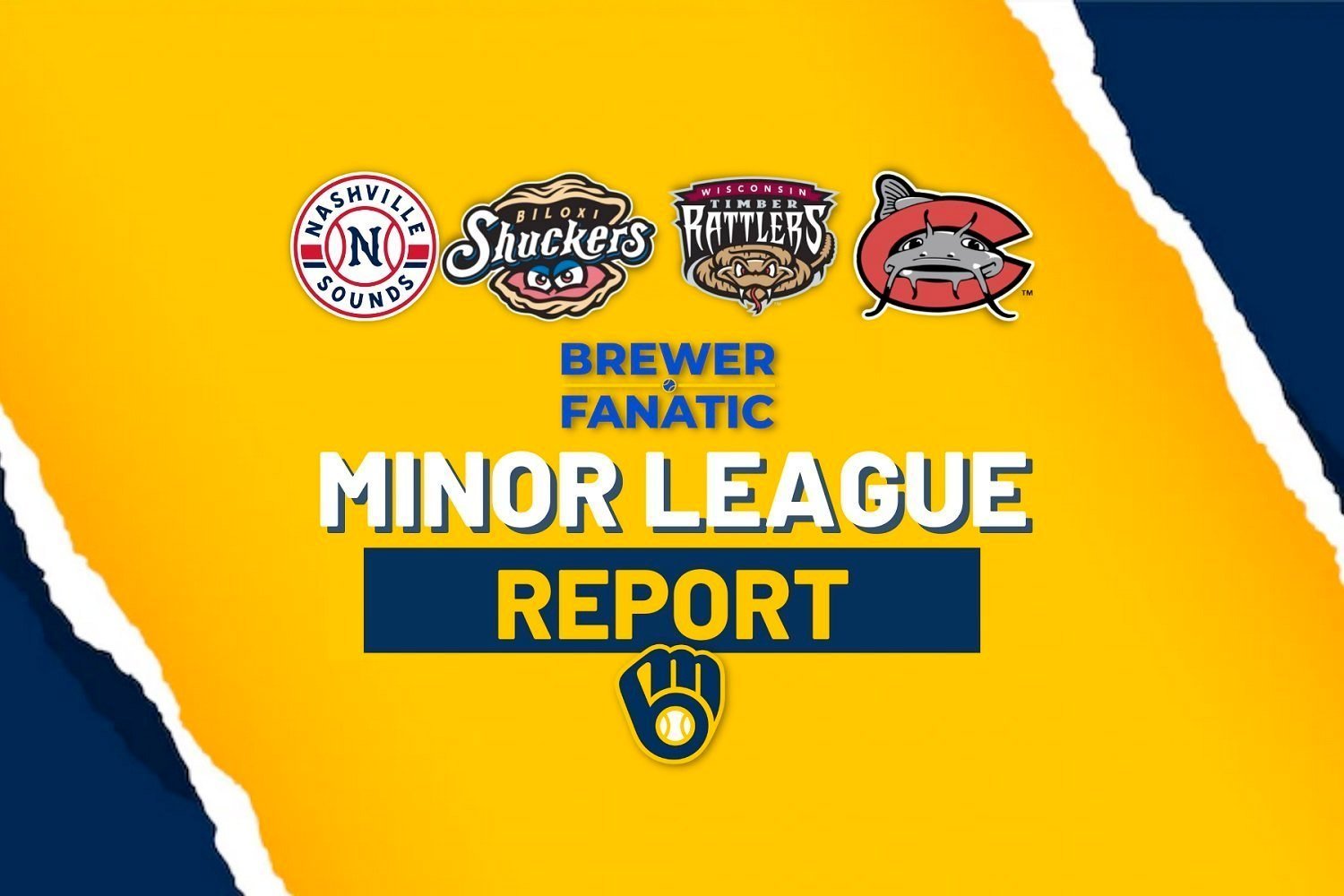 Image courtesy of BrewerFanatic
Transactions:
OF Esteury Ruiz, acquired in the Josh Hader deal with San Diego, assigned to AAA Nashville 
LHP Robert Gasser, acquired in the Josh Hader deal with San Diego, assigned to AA Biloxi
UT Mark Mathias traded from the Nashville roster to Texas in the Matt Bush trade
LHP Antoine Kelly traded from the Wisconsin roster to Texas in the Matt Bush trade
INF

 

Jadher Areinamo

 

promoted to Low-A Carolina from ACL Brewers Gold
OF

 

Luis Castillo

 

promoted 

to Low-A Carolina from ACL Brewers Gold
My fellow Minor League cohort @Joseph Zarr penned a detailed feature article on Ruiz and Gasser during the overnight. Find it here.

Regarding the two additions to the Mudcats roster, Areinamo, 18 years old and a RH bat out of Venezuela, briefly provided the Timber Rattlers some infield depth to begin his 2022 season. In 34 games in Maryvale, Areinamo has posted a .323/.416/.472 line (.888 OPS), walking as many times as he's struck out (19).

Castillo, like Areinamo, is just 18 years old, and is a Dominican native and a LH bat. Castillo put up pedestrian numbers in 43 games in 2021 in the Dominican Rookie League but got off to a torrid start in June in his first stateside action. He cooled in July but still nets the promotion with a .297/.387/.483 line (.870 OPS).

Some recent moves from the Arizona Complex League:
RHP

 

Nick Merkel

 

(Undrafted free agent, Central Methodist University in Missouri) assigned to ACL Brewers Blue
RHP

 

Ryan Brady

 

(Undrafted free agent, Brigham Young University) assigned to ACL Brewers Blue
RHP

 

Delson Guzman

 

activated from ACL Brewers Gold's 7-day injured list (he made his season debut on July 30th)
C

 

Nader Garcia

 

assigned to ACL Brewers Blue from ACL Brewers Gold (probably because C Darlin Lora hasn't played since leaving a game early on July 23rd)
Speaking of transaction news, I wish to put more eyes on my apology post from Monday (that of course went online literally just as the Josh Hader news broke).

Going forward, our daily Minor League Report will only list formal official transactions in this opening section.

As for RHP Justin Jarvis, who surely will be bumped up eventually but not as of today, very sorry for what was an unacceptable error. However, Justin did receive an outstanding consolation prize - 
Before we move on to the rookie league games of Monday, here's an update on 18-year-old Carolina OF Hendry Mendez via @ARobsBrewCrew on our Minor League Forum:

Just spoke with Hendry Mendez who said he is feeling better today and resting.  His hope is to return to the field in a matter of weeks, if not sooner. The member of the Mudcats coaching staff that I spoke with is much more cautious, however, telling me that the organization expects him to return this season, timeline uncertain. Whatever the case may be, I'm sure it's safe to say that we are all just happy that his mind is on returning to the field already.

Good news indeed. One more post to the video for those who haven't seen it yet, follow the link in this tweet:
---
Final: ACL Cubs 14, ACL Brewers Gold 0, seven innings as scheduled
Box Score / Game Log

The Cubs were the home team, so all the damage was done within just six trips to the plate. Brewer pitchers walked fourteen. RHP Henrison Mota had been able to keep his ERA in check prior to today's start despite walking more than one batter per inning, but the wildness caused a blow-up 2nd inning here.

Catcher Blayberg Diaz had three passed balls, though that caused only one run to be unearned. We don't note passed ball totals often, but it's eleven now for Diaz in 21 games. Diaz has thrown out over 42% of baserunners (16-of-38), and inexperienced arms at this level cause wild pitch and passed ball counts to be deathly unfair to the catchers trying to corral raw stuff, so Diaz, who has a bit of pop at the plate, should remain on the radar.

Both Gold hits (yeah, just two) were singles.

Let's move on.
 
---

Final: ACL Brewers Blue 11, ACL Guardians 7
Box Score / Game Log

A couple of relievers were roughed up a bit, but it was a very solid six-inning start for soon-to-be-19-year-old RHP Yujanyer Herrera, who now sports a 35-to-7 K-to-BB rate in 33.2 innings this summer. Guarantee you that praise from Brewers coaches in that regard greatly outweighs any concern they have about Herrera's current 5.61 ERA.

There's still much work to do, but the biggest bonus baby in the 2019 international class, OF Luis Medina ($1.3 million), is showing signs of improvement. His third home run of the season was part of a three-hit day.

As @damuelle pointed out Monday evening --

We may need to promote 19-year old OF Jace Avina for his own safety. He's been hit-by-pitch twice tonight, bringing his season total to 15 HBPs in 139 plate appearances at ACL Blue.

Avina also did what he's done all season on his way to a powerfully unique 1.045 OPS, he hit two doubles (so, on base four times in this one), meaning 18 of his 32 base hits have gone for extra bases. Avina also struck out the one time he was retired, and his K rate is a startling 43.7% for such a productive beast of a RH bat. The center fielder really is fascinating.

Shortstop Daniel Guilarte made a throw to first base to end the 2nd inning, but was then replaced in the 3rd. Highly unlikely this was a rookie-level trade deadline "hug watch", hoping my namesake (Goulart, hey close enough) is OK.
 
---

Final: DSL Texas Red 4, DSL Brewers #1 Squad 1, seven innings
Box Score / Game Log

The box score notes "completed early", so the decision to wrap up may have been made mid-game.

I jinxed a potential no-hitter with a tweet (of course) and here's what I typed on our forum pre-jinx (check it out).

Naturally, southpaw Osbriel Mogollon gave up back-to-back doubles and was charged with three runs in a four-run Rangers 6th, but the young man in his true 18-year-old season (April birthday) has been a bright light all season.

17-year-old shortstop Jhonny Severino, the Crew's $1.23 million January signing, homered out of the leadoff spot for Team Uno's (record 15-25) lone run. Severino's up to a .753 OPS in a growing rookie sample (143 at-bats), but with 46 K's (32.1 %) vs. just 13 walks. So young, let's remember, so young...
 
---

Final: DSL Texas Blue 5, DSL Brewers #2 Squad 3
Box Score / Game Log

Rangers' kids complete the organizational sweep over the Brewers.

The Double Mint men scored a first inning run on Yeison Perez' ground ball out, but not again until the two-run 8th when Perez knocked in two with a ground ball single to center. The DSL All-Star maintains a 1.074 OPS through 102 AB's based primarily on his insane .676 SLG, though it was small ball that garnered all his RBI here.

Solid five-inning start for 18-year-old RHP Daurys Mora.

Shortstop Juan Baez being swapped out in the 5th seems completely random; we drive ourselves crazy trying to justify mid-game exits. It'll come up again here only if we notice Baez sits out for an extended stretch coming up.
 
---
The four full-season affiliates return to action Tuesday, with everyone hitting the road but Carolina. While we understand many will be tuned in to see the differently-rostered big-league Brewers in Pittsburgh, MiLB TV is listing the Mudcats' game as its "Free Game of the Day". Please at minimum remember to sample the game to check out the youthful squad and also catch Voice of the Mudcats Greg Young, Jr., who is outstanding.

The rookie clubs all play again, and in fact, the DSL Brewers #1 Team completes a previously suspended lightning game as they put two on the books today.

Hoping everyone enjoys a tremendous Trade Deadline Day - how many Brewers farmhands will be packing bags today? How many newcomers will be joining the organization? Stay tuned!

Organizational Scoreboard including starting pitcher info, game times, MiLB TV links, and box scores

Arizona Complex League Scoreboard

Dominican Summer League Scoreboard

Standings and sortable stat pages

Current Milwaukee Brewers Organization Batting Stats and Depth

Current Milwaukee Brewers Organization Pitching Stats and Depth
Think you could write a story like this? Brewer Fanatic wants you to develop your voice, find an audience, and we'll pay you to do it. Just fill out this form.
MORE FROM BREWER FANATIC
— Latest Brewers coverage from our writers
— Recent Brewers discussion in our forums
— Follow Brewer Fanatic via Twitter, Facebook or email
2