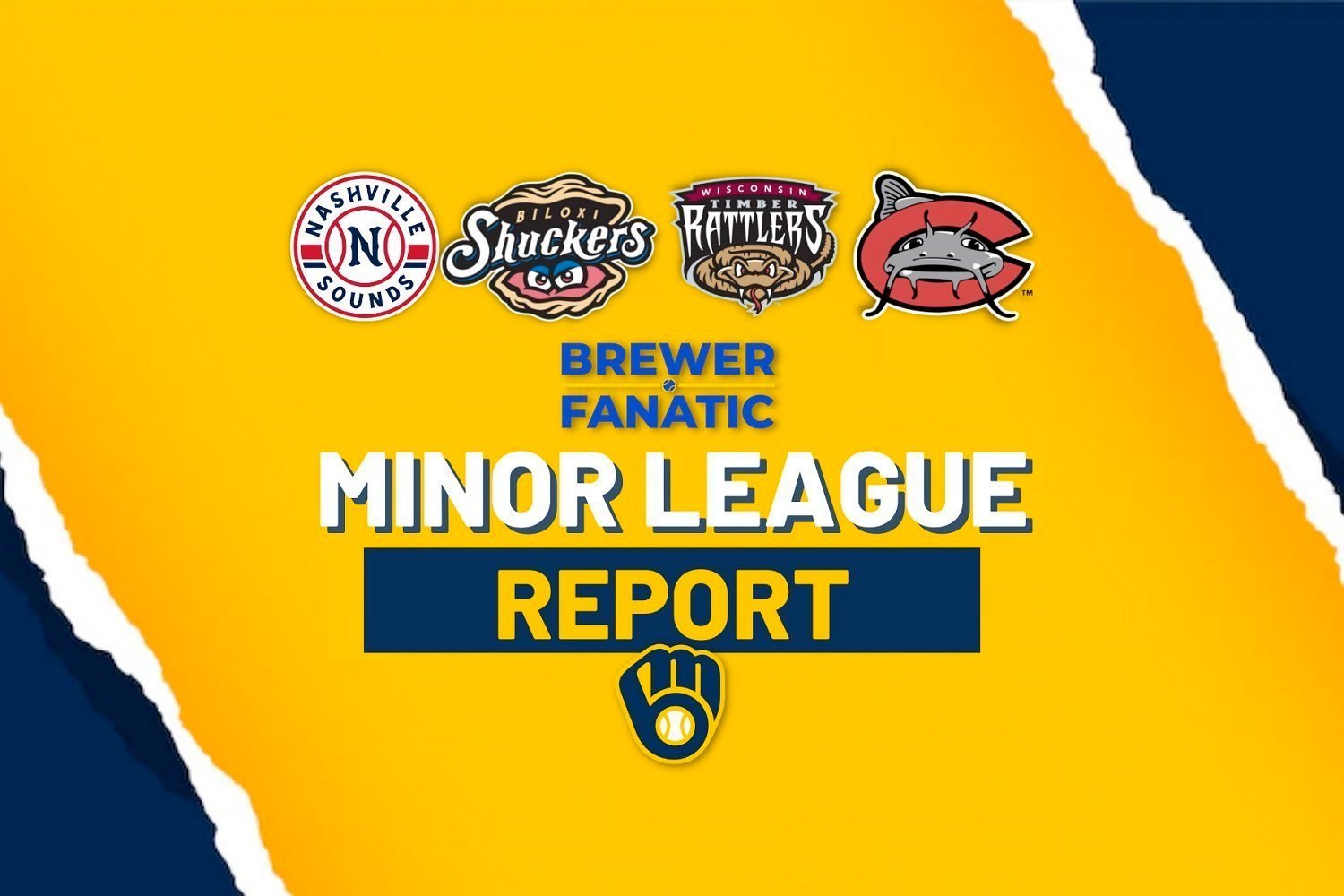 Image courtesy of Image courtesy of Brewer Fanatic
Transactions:
C Juan Rosa was assigned to the DSL Brewers 1
C Estefano Lozano was assigned to the DSL Brewers 2
LHP Karlos Morales was promoted to the Wisconsin Timber Rattlers from the Carolina Mudcats
RHP's Aidan Maldonado (2022 14th Rd pick) and Jacob Misiorowski (2022 2nd Rd pick) were assigned to the ACL Brewers Gold
LHP's Brian Fitzpatrick (2022 10th Rd pick) and Nate Peterson (2022 8th Rd pick) and RHP Will Rudy (2022 5th Rd pick) were all assigned to the ACL Brewers Blue
RHP Jhoan Cruz was transferred to the full season IL from the 60-Day IL by the Carolina Mudcats
---
Nashville Pre-Game Media Notes   
Game 1 Final: Gwinnett (Braves) 3, Nashville 2
Box Score / Game Log                            
Game 2 Final: Nashville 5, Gwinnett 1
Box Score / Game Log                       

Via the Sounds' site, game details, please visit and review:

Sounds Club Three Homers in Game Two of Doubleheader Split -  Brice Turang, Pablo Reyes and Pedro Severino hit home runs for Nashville
The Sounds have played 21 1-run contests versus Gwinnett since they began playing them last year. They are 13-8, now, in these contests overall including Tuesday's game 1 one-run loss. Coupled with that loss, the Sounds are now 4-3 this season in these ridiculously close affairs. Getting a free runner aboard in the seventh inning feels all too 2022 for my liking but, hey, maybe if the Sounds had pulled it out I'd think differently. ? RHP Hobie Baker took the loss while both runs were unearned. A tough pill to swallow for the late-inning out-getter. Thankfully, we did see a vintage AAAA Josh Lindbolm performance tonight - much needed after a period of up-and-down play. Where has this type of outing been for the savvy vet? 5 IP, 1 ER, 2 H, 2 BB, 9 K. My word, that's a vintage performance.
Three Quick Strikes:
1) In another rehab start for RHP Adrian Houser he coasted through the first five outs. Then he rubbed against a strange and suddenly very tight strike zone leading to a full count walk (personally, I felt he had struck the batter out twice) followed by a four-pitch walk. All told, I think you'd have to say Houser and the Brewers are quite happy with his second rehab start: 3 IP (a planned three innings), 0 H, 3 BB, 4 K, 1 R. 
2) RHP Peter Strzelecki remains definitively one of my favorite relievers in the stacked Nashville bullpen. I don't quite understand why he didn't stick with the club up North, but, frankly it's my gain as Strzelecki continues to stack successes for Nashville. Tonight was certainly no different as he mowed them down in his single inning pitched: 0 H, 0 BB, 3 K. I continue to love the size, strength, velocity, and movement. This is a MLB pitcher. In my humble opinion, it's simply a matter of time before he becomes a mainstay.
3) I could talk about OF Esteury Ruiz's incredible drag bunt skills - folks, he's truly a wonderful bunter...I'm nostalgic for the lost art - but, instead, I'm going to go back to the lecture circuit and remind people how utterly wonderful INF Brice Turang has been in 2022. Firstly, pay no attention to the throwing error tonight - my take is the throw was possibly off, sure, but so was Weston Wilson's approach to second base. Wilson has to get to that bag with more urgency as Turang was fielding a ball running toward third and his only play was back across his body to second base. We know Turang struggled in June. However, whereas Wiemer has struggled and pretty much stayed struggling (hats off to the double tonight are due!), Turang has come back in July and August with a fury easily outpacing his already solid April and May. He hit his second long ball in two nights with the same smooth and easy swing he has fine-tuned in 2022. The power stroke is truly just forming. He is 22 years old. 
---
Final: Rocket City (Angels) 3,  Biloxi 1 
Box Score / Game Log                          
Via the Shuckers' site, game details, please visit and review:
Shuckers Held to Trio of Hits in 3-1 Defeat - Dillard Sets Franchise Record with 68th Walk
With two one-run games - a win for each ball club to start the home series - the Shuckers were looking to take a 2-1 series lead with newly acquired prospect, and potential Ace, LHP Robert Gasser taking the mound. Gasser features a nasty whip slider, a splitter, a high-spin heater, and a change-up in his current arsenal. Coming off an extremely effective outing his first time out, the Shuckers were hoping to ride his arm while getting some runs across tonight. Unfortunately, that didn't happen as their sole tying run was plated in the bottom-half of the first inning. The Shuckers had other chances but simply couldn't get the key hit. It is worth noting, my self-proclaimed 2022 MIP Brewers Minor League candidate, INF Cam Devanney, knocked in the game-tying run with a rope double to the left field warning track. This moved Devanney into a Southern League tie for the fifth most two-baggers in the League - 23 total on his season. 
Three Quick Strikes:
1) Trusting the process regardless of the results is a real thing. This bodes very very true right now for one Felix Valerio. This is now two consecutive nights where he has absolutely roped multiple balls and they were simply right at people in the outfield. I continue to have faith in this young man's bat regardless of what his numbers say - I've seen Valerio play enough to confidently proclaim I know he can hit the heck out of a baseball. The results will come in time. Tonight he finishes 0-for4 but they were four well-hit barreled balls that went to the wrong areas of the field.
2) LHP Robert Gasser definitely lacked his best stuff early tossing 32 pitches across the dish in inning number one. However, he merely allowed a single run and struck out two while ending the frame with a weakly hit dribbler to Valerio. He shut things down thereafter only allowing a single base runner through his four total innings of work. All told he just crested 60 pitches and was pulled for none other than struggling RHP and 2021 Minor League FA signee Arnaldo Hernandez. I don't know if this was planned or needed given the low pitch count, but, unfortunately, it didn't work out in favor of the Shuckers.
3) Speaking of Hernandez, the struggles for the righty are very very real. Tonight he pitched a mere 2/3 inning before he was pulled. His line reads: 2/3 IP, 3 H, 1 BB, 1 K, 1 HR, 2 ER. This isn't the first outing like this for Hernandez since his IL return back on July 4th. The full picture needs to be articulated here: Hernandez was coming off two clean outings and lowering his ERA to 5.47 at the time he went on the IL on June 17th. There was some progress there. The numbers weren't exactly pretty but he was having impact semi-regularly when I tuned in for Shuckers baseball. Since his return, his WHIP has elevated by 0.29 to 2.00 and his ERA has ballooned to 7.46. In three outings in August, hitters have hit to the tune of 0.538 and he owns a 3.86 WHIP. I don't know what's going on for the young man, but, clearly something isn't working. I wish him the best of success in turning this around but, as of right now, it doesn't look pretty.
---
Wisconsin Pre-Game Media Notes      
Final: Wisconsin 5, South Bend (Cubs) 2 
Box Score/Game Log                             
Via the Timber Rattlers' site, game details, please visit and review:
Rodríguez Shines in Rattlers Wins - Right-Hander Allows One Run over Six Innings as Rattlers Beat Cubs
Tasty Home Series Media Nuggets:
Full-Game You Tube Highlights:
We've been saying it quite often since the calendar flipped to August, but it's worth reminding anyone following the Timber Rattlers: 
Zavier Warren is capable of output like this even if his early-season numbers didn't suggest as much. He's been filling in admirably at first base to boot - he can man both corners admirably and with skill. He was hoping to keep his current hot streak to the test once again in support of new teammate, RHP Carlos F. Rodriguez - making his first home start in the Midwest League. Rodriguez mixed in his sneaky low 90's heat (continuing to sneak up on batters) with a variety of breaking balls and off-speed offerings keeping batters off balance. All told, Rodriguez has now pitched a combined 10 IP in High-A allowing a single earned run while striking out 11. A much needed calming force for the T-Rats pitching staff. 
Three Quick Strikes:
1) Is recent 2022 draftee, INF/3B Paul Metzinger simply in a rough patch defensively thrust into High-A action or is he somewhat defensively challenged? I innately lean toward the former for a 2022 7th round draft pick but having watched his early games here I do casually wonder. We saw a bobble and failure to get the ball out in what eventually became a 3-run game-deciding inning in game 1 of this series and tonight he tripped on his own feet charging a third inning bunt single rendering him incapable of getting the bare-handed throw out of his hand. He did manage to make a fast play to get the dangerous CF Crow-Armstrong so we give credit where it is due but I found myself again wondering if he has the arm to play the hot corner. He seems to have a finesse toss from a position that often requires a cannon - having watched far too many Minor League games in 2022 I have not seen a softer toss to first base from the hot corner in all the Brewers system. Time will tell, obviously, but it has certainly drawn my attention early.
2) RHP James Meeker does not flinch - even after a called pitch clock violation by the infield umpire. This gave an auto-ball to start a count with the bases juiced and the leading run at the plate in a tense bottom of the ninth inning. With the bases still juiced and only one down and the top of the Cubs order at the dish, Meeker proceeded to deftly strike out two consecutive batters. A special kudos is also in order for C Jeferson Quero saving what seemed a surefire wild pitch on a tailing inside heater. Both young men make the extremely difficult look entirely too easy. How about the second consecutive full-count with the bases juiced and the game on the line:
3) Has Darrien Miller suddenly found a niche as a lead-off hitter?!? I would certainly say the early results hint at a resounding 'Yes'. Prospects can always surprise you and every one of these young men is capable of great things. But, I have to admit: I really did not even consider Miller at lead-off. A tip of the proverbial cap to manager Joe Ayrault for plugging in a crafty player in a position of need for his batting order.  Let's hope Miller keeps on taking those free passes and can take this and run with it.
---
Carolina Pre-Game Notes    

Game 1 Final:  Carolina 4, Delmarva (Orioles)  0
Box Score / Game Log                                      
Game 2 Final:  Delmarva 6, Carolina 4
Box Score / Game Log                                     
Via the Mudcats' site, game details, please visit and review:
Game 1: Mudcats Complete Suspended Game with 4-0 Shutout Win - The 4-0 Shutout was Carolina's First Shutout Victory on the Road this Season
Game 2: Win Streak Ends at Five as Carolina Falls 6-4 - Hendry Mendez went 1-for-4 in his Return to the Starting Lineup
The Mudcats picked up in the fifth inning to complete yesterday's rain-shortened affair. Shortly thereafter, they followed  with an abbreviated seven-inning game to complete the double-header. LHP Pablo Garabitos took the hill in game 1 hoping to build off RHP Stiven Cruz's excellent start the day before. After a clean bottom of the fifth, he loaded the bases in the sixth but managed to escape the jam on a ground out to Robert Moore at second base. All told, Garabitos managed to go five complete and scoreless innings grabbing his third victory of his season and improving the Mudcats record to four games above 0.500.  In Game 2, the Mudcats came back to tie the game at 4-4 in the 5th inning but couldn't hang on as lefty, Leoni De La Cruz surrendered two runs in the bottom of the sixth. Ultimately, as the headline above reads, the young men saw their five game winning streak end.
Three Quick Strikes:
1) It's early in his Minor League career, but Eric Brown Jr. certainly seems to have that 'it' you look for in highly drafted prospects. He is calm and collected at the plate - rarely chasing a pitch. He has a clear confidence and swagger imparting confidence to his teammates. He has a nice athletic build and a bit of power in the offensive toolkit to boot. He also clearly runs the bases with well-timed take-offs. He was the clear offensive MVP of the second half of game 1 as he finished with two walks and two steals. I'm going to get out ahead of the crowd and label this young man a 'fast riser'.
2) Sometimes simply seeing a player return is all you need to claim a victory. When it was announced OF Hendry Mendez would take the lead-off and DH slot in the game 2 line-up, I was extremely thrilled. In his first action since his scary spill into the right field wall in foul territory on July 31s, the young Mendez finished with a 1-for-4 evening with 2 RBI. A sigh of relief was exhaled across the Brewers organization.
3) If I could use only two words to describe the 2022 season of RHP Edwin Jimenez they would be: talented and inconsistent. Tonight, Jimenez lacked control and or savvy on the mound and lasted only 4 1/3 innings while allowing 9 H, 1 BB, and 4 ER while striking out three. Like many young pitchers exploring the fine-tuning of their craft, Jimenez struggles to stack successes. Just as I've seen him surprise like his previous 10 K outing, I've seen him struggle like tonight. I continue to hope he can stack outing by season's end.
 
---
ACL Reds 6, ACL Brewers Gold 5
Box Score / Game Log              
Cameron Wagoner - 11th round pick 2022 - started and pitched the opening two innings scoreless with 1 K. Other highlights are the ongoing stellar output of Dutch outfielder and Brewers 2021 16th round draft pick, Kaylan Nicasia - 2-for-3 with 2 RBI, 1 R, 1 BB, 1 2B tonight - and 12th round pick, 3B Luke Adams, going 2-for-4 in the clean-up slot with a run scored and his first double. Unfortunately, RHP Gerson Caladzilla struggled in his three innings of work allowing 9 H, 2 BB, and 5 ER. 
ACL Cubs 4, ACL Brewers Blue 2 
Box Score / Game Log            
RHP Logan Henderson has returned, dear fans. He opened this contest pitching the opening inning: 0 H, 0 BB, 3 K, 1 HBP and he worked around a throwing error to place runners on second and third base after the HBP. This is a much-needed success! Let's go, Logan, we're all rooting for you! INF's Jheremy Vargas and Quinton Low each hit solo shots to give the Brewers Blue their sole runs. Vargas added two walks and his former Mudcats running mate, Oswel Leones, grabbed three free passes as well - both young men by every measure are playing quite well in Arizona. The loss in this one will go to 19-year-old RHP Jared Albir who gave up 4 R, 2 ER, 5 H, 4 BB, and 4 K in 5 IP.
---
We thank @Mass Haas for the fine offerings you'll see throughout the DSL portion of this report:
DSL Brewers #1 4, DSL Tigers #2 0, seven Innings as scheduled
Box Score / Game Log   
It was a combined four-hitter with ten strikeouts and just one walk for the trio of RHP's: 16-year-old Ranwell Smith, who pitched the first inning only (hopefully planned), recently turned 17-year-old Bryan Rivera, and the sage 2nd-year pro, Dominican native Gregory Baez. Smith (who turns 17 in less than two weeks) and Rivera are among the Brewer signings out of Nicaragua. The four-inning scoreless stint for Rivera was the first time in six pro appearances (four starts) that he had not allowed a run, and among the three hurlers, Rivera's command peripherals (20 K, 8 BB, 20 IP) are the strongest.

The Pizzeria Uno Crew tallied three runs in the first on only two hits, thanks to the generosity of the Tigers battery - big mix of multiple walks, wild pitches, and passed balls, with an HBP tossed in. The inning should have been more productive, but with runners on 2nd and 3rd, the final two Crew batters in the frame struck out. A Luis Watter double and Jhonny Severino RBI single added a late insurance run.

This game marked a professional debut as 19-year-old catcher Juan Rosa was the designated hitter. He went 0-for-3 with two K's and a GIDP, but hey young man, you're now a professional baseball player for the rest of time enshrined on Baseball Reference and the like. Rosa slipped under our radar, signed on August 5th, and his native country is yet to be listed on his MiLB Player Page.

Let's make sure CF Luis Lara gets a little extra base running attention next extended spring. His 17-year-old legs are only 6-for-13 on the base paths.


Suspended: DSL Tigers #2 Squad 3, DSL Brewers #1 Squad 0, one out in the top of the 4th (Tigers batting)
Box Score / Game Log

This game is actually the make-up attempt of a July 1st game that never got underway, and the box score indicates this contest was cut short by rain.

Through their three trips to the plate, Crew batters are 0-for-9 with three walks.

If the league does schedule a makeup, it'll be Tuesday August 16th, the only game remaining between these two teams, though that game is at the Tigers complex. We'll see, as we're sure you'll all set your calendars to see if the Brewers can avoid the seven-inning no-hitter, which actually wouldn't qualify as a no-no under big-league guidelines.

DSL Texas Blue 6, DSL Brewers #2 5, seven innings as scheduled
Box Score / Game Log                
The Mighty Morphin' Power Rangers did all their damage in a six-run 4th against two RHP's - 20-year-old Dominican native Stanley Encarnacion was your starter, in his 4th season with the Crew and 3rd on the island (accounting for the lost 2020 campaign). Encarnacion, even after today's outing, maintains a strong 1.20 WHIP for 2022. It's been a big struggle for rookie Franddy De Los Santos however, another pitching on native turf, who allowed an inherited runner to score and then two more of his own doing..

Like in the DSL Brewers #1 Squad game, a pro debut was on the docket as 18-year-old Estefano Lozano, also listed as a catcher when not DH'ing as he was here, didn't get his first base hit, but he did draw a walk and then was plunked in his final plate appearance.

After scoring four times in the 5th on just two hits, Dos Cerveceritos Club painfully stranded two in each of the final two innings. The main blow during that four-run rally was a two-out, two-run double from catcher Eric Martinez out of the cleanup spot. The 18-year-old Venezuelan catcher is now 10-for-19 in August and has his OPS up to .841. The double was the first of those ten hits for extra bases, and Martinez has not walked during this recent stretch, but his batted balls are finding safety away from defenders.
 
---
We are back to our regularly scheduled eight games tomorrow - the DSL affiliates will play the morning and all others will play through the night. Recently promoted RHP Alexander Vallecillo will gladly look to lower his robust 135.00 ERA - earned after his lone abbreviated Low-A start. RHP Dylan File will look to build on the Sounds 2-1 series lead versus Gwinnett and their precarious 1 game division lead over the Clippers. LHP Brandon Knarr will look to find his best stuff after some up-and-down results of late. And, hopefully, we simply see some entertaining and fun baseball. As always, thanks for reading! I'll see you in the daily game threads.
Organizational Scoreboard including starting pitcher info, game times, MiLB TV links, and box scores

Standings and sortable stat pages

Current Milwaukee Brewers Organization Batting Stats and Depth

Current Milwaukee Brewers Organization Pitching Stats and Depth
Think you could write a story like this? Brewer Fanatic wants you to develop your voice, find an audience, and we'll pay you to do it. Just fill out this form.
MORE FROM BREWER FANATIC
— Latest Brewers coverage from our writers
— Recent Brewers discussion in our forums
— Follow Brewer Fanatic via Twitter, Facebook or email