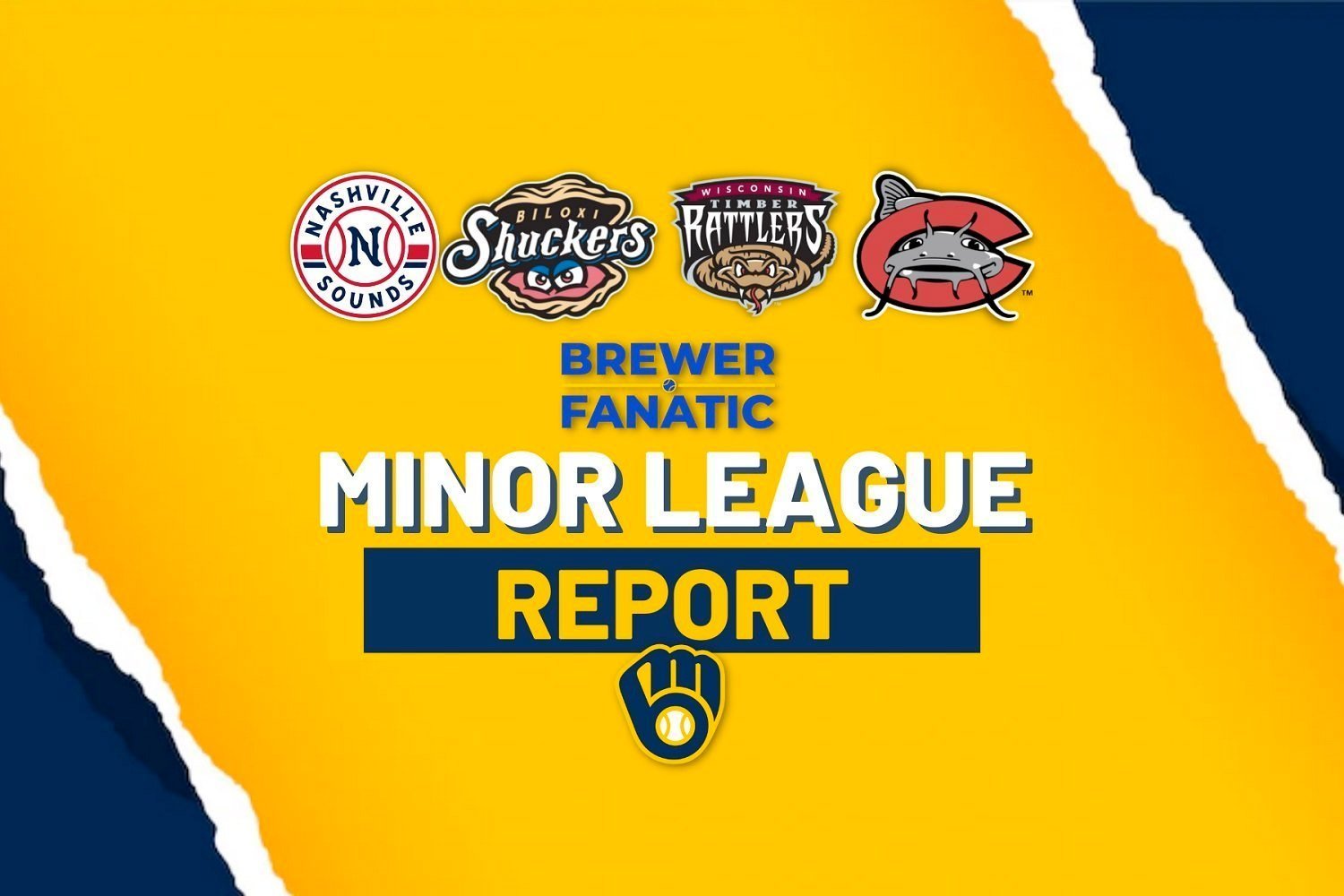 Image courtesy of BrewerFanatic
Not sure why some of the Twitter links here didn't fully embed, but they are all still reachable.
 
---

TRANSACTIONS: N/A
---

Final: Indianapolis (Pirates) 3, Nashville 2

Via the Sounds' site, we encourage readers to review each of the affiliate write-ups as part of your season-long Link Report routine:
Win Streak Snapped as Sounds Fall Short in Indianapolis - Nashville leaves tying run on third base to end game in 3-2 defeat
Box Score / Wrap

It's a bit of a non-descript game here. The Sounds bench was Payton Henry, Keston Hiura and Owen Miller.

Rowdy Tellez was 0-for-4, and it will be interesting to see if his rehab stint ends after Sunday's series finale. Rowdy is 2-for-14 (one K, two walks) at AAA.

Miller and Jahmai Jones (1-for-4, double, cleanup spot as the DH) are the only position player members of the 40-man roster currently in the minor leagues. Players like Patrick Dorrian (HR #19, no video out of Indianapolis) and Cam Devanney are interesting names for the 2024 MLB season contributor list. Otherwise, it's kind of a keep plugging along squad. The Sounds are 20-17 and just 2.5 games back of a 2nd half division title, so we should build up a modicum of excitement regardless. Tyler Black was 1-for-4, certainly the primary prospect to follow here.

Effective bullpen work from Ethan Small, Luis Contreras and Darrell Thompson to cover the final two frames. Starting RHP Janson Junk had another suitable AAA effort. This HR pitch hurt.

In what will be a recurring theme of "not quite" on the night, catcher Brian Navarreto popped up with the tying and go-ahead runs on 2nd and 3rd to end the game.
 
---

Final: Tennessee (Cubs) 4, Biloxi 2

Via the Shuckers' site:
Shuckers' Bullpen Tosses Five Shutout Innings, Smokies Win, 4-2 - Smokies use four early runs, shut down late Shuckers' comeback attempt

Pre-Game Media Notes 
Box Score / Wrap

Let's see, starter has a middling outing, bullpen tosses multiple (five) innings of shutout ball, and two runners are stranded as the tight game ends. That sounds familiar, as you glance up one section.

One thing about the eight-team Southern League is that your team has a 50% chance of making the postseason from the start. The Shuckers are 20-18 in the second half, and sit in the playoffs as of this AM, one game up on Montgomery. 

RHP TJ Shook's re-entry into the starting rotation seemingly allows RHP James Meeker to go back to the role where he has truly excelled, and with two scoreless relief innings despite allowing four baserunners, Meeker seems ready.

Wes Clarke, DH'ing here, was caught stealing for the first time in five attempts. The prior four steals are the only ones in Clarke's three-year pro career. Isaac Collins was also nabbed, now 22-for-29 in 2023 SB attempts..

Regarding our "not quite" message, Ethan Murray flied out to CF and Lamar Sparks was called out on strikes for the final two outs of the game as runners sat on 1st and 2nd base. Can't blame the game summaries for not identifying on these final at-bats, and we won't always do so here, just rolling with the punches on this report.

The debate about diving into first base (and remaining healthy, as Carlos did here) will rage on forever:
---

Final:  Dayton (Reds) 5, Wisconsin 3

Via the Timber Rattlers' site:
Dragons Drop Rattlers 5-3 - Late Wisconsin rally misfires as Dayton wins third straight game
Pre-Game Media Notes (Download Link) via the team's Virtual Press Box

Box Score / Wrap
 
As indicated in the summary, Manager Joe Ayrault utilized two pinch-runners in the bottom of the 9th. A bit surprised that 20-year-old infielder Jheremy Vargas was pulled for a runner in Jose Acosta. There was no evidence at all of Vargas nursing his legs after his bloop single, but the track records in the baserunning department made the move seem odd.

Regardless, for the final three outs with the tying runs on base, the trio of Doston-Moore-Boeve found the going rough, and the T-Rats' production crew doesn't hide those efforts from us in the game video above.

Four more hits for the dynamic duo of Brock Wilken and Mike Boeve, and my goodness, thanks for not choosing to be a tight end at Wake Forest, Brock, you are a mountain of a young man --
Can't be easy for RHP Bradley Blalock, this was only his 2nd appearance with Wisconsin, but unlike when a pitcher is moved within the Brewers system, and information is passed directly among pitching coaches, Blalock arrives and immediately has to advocate for himself among new mentors getting to know him. He allowed eight baserunners in four innings here (three earned runs).

Timber Rattlers now four games out in their own playoff chase.
 
---
Final: Carolina 6, Delmarva (Orioles) 3
Adams Hits Walk-Off Homer in 6-3 Carolina Victory - Luke Adams clinched Carolina's fourth straight series victory with a mammoth walk-off home run

Pre-Game Media Notes
Box Score / Wrap

Pretty remarkable that the Muddies roll on and have not been infused with 2023 draft talent as of yet. This group has got it going on.

Post-Game Interview: Manager Victor Estevez

Congrats on that first Carolina League base knock, Dylan O'Rae!
With runners on 1st and 3rd and no outs, Luke Adams could have brought home the winning run in any number of ways - sac fly, ground ball dribbler, etc. Instead, he gave Voice of the Mudcats Greg Adams Jr. another audio clip for the ages.
 
Luis Lara reached base four times to lift his Mudcat OBP to .385. At some point, 1B Jesus Chirinos will get another crack at High-A, 3-for-4 in this game.

RHP Logan Henderson padded his wonderful numbers with another zero-walk effort, fanning eight. Be sure to listen to the Estevez interview linked above for the commentary on Henderson from both Greg and the Manager.
 
---

Final: ACL Brewers 6, ACL Guardians 2

Box Score / Wrap

24-year-old LHP Adam Seminaris, the 3rd piece in the Hunter Renfroe trade, made his 2nd Maryvale rehab appearance and first in eleven days. He was originally sidelined after his May 17th Biloxi outing. Also on the rehab trail was 23-year-old Timber Rattlers RHP Jospeh Hernandez, himself a trade acquisition (from Seattle for RHP Justin Topa). This was also Maryvale rehab appearance #2, and Hernandez' most recent Wisconsin effort was back on May 25th.

Don't overlook the effort of 21-year-old RHP Anthony Perez sandwiched between the rehabbers. Perez entered for Seminaris with the bases loaded and only one out in the 2nd and proceeded to escape via two K's.

2023 newcomers RHP Morris Austin (10th round) and undrafted LHP K.C. Hunt tossed scoreless frames in their 2nd AZ appearances.

Enjoy the box score, particularly atop the lineup. Everyone contributed and even the sole player without a hit, 3B Ney Serrano, added a sacrifice fly.
 
---

Final: DSL Rangers Red 6, DSL Brewers #1 Squad 5

Box Score / Wrap
Walkoff loss for the 24-22 Team Uno, surrendering two runs on a two-out double. That close. Bummer.

Management insists in giving "veteran (by age only)" 22-year-old RHP Roman Perez the closer role, but his season has been poor in several ways. Perhaps he's a 100 MPH arm we just haven't been fully told about? A total of 29 walks and HBP's in just 19.1 IP. Add in 12 wild pitches. The K figure is just "OK", 21. Perez can't pitch around trouble outside of his own either, ten unearned runs allowed.

18-year-old RHP Esmir Suarez had the strongest mound effort here, adding to a fine rookie campaign.

Yophery Rodriguez, the top signing last January, has hit a three-game wall. His average is down to .266 (OPS still impressive at .892), but in those three games, he's 0-for-10 with eight K's. He'll be fine, it's a hiccup.

My personal fascination with part-time utilityman Tyler Rodriguez, meanwhile, continues. In 84 plate appearances, he has twice as many walks (18) as K's (9), and now sports an .826 OPS with a home run and double here.
 
---

Final: DSL Brewers #2 Squad 14, DSL Marlins 7

Box Score / Wrap
Team Dos just 19-28, but a nice win here. Trailing 7-6 after six innings, the boys scored five in the 7th and three in the 8th to win going away.

It's another box where all nine contributed, and five had multi-hit games. Five of the team's 14 hits went for extra bases, including three home runs and two doubles.

Fifteen men were stranded, yet the RISP average was .316 (6-for-19).

Feel free to click away for the mound results and any additional offensive figures you wish to glean from the box score.
 
---

It's the four full-season clubs on tap for Sunday, early games except for a 5:05 Central start in Biloxi. Have a great Sunday!

Organizational Scoreboard including starting pitcher info, game times, MiLB TV links, and box scores
Current Milwaukee Brewers Organization Batting Stats and Depth
Current Milwaukee Brewers Organization Pitching Stats and Depth
1