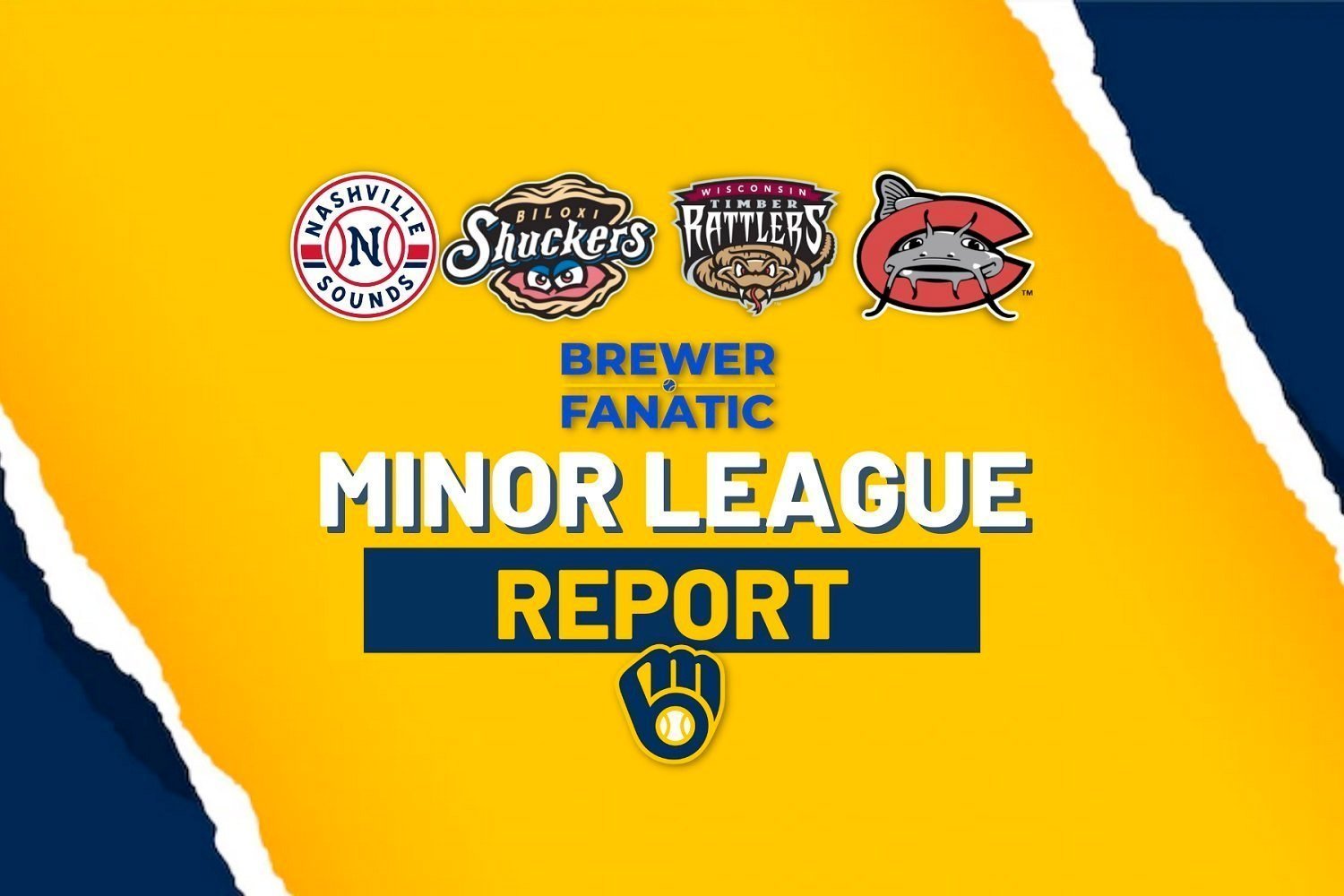 Image courtesy of BrewerFanatic
Sunday's Game Balls go to Jackson Chourio, Marcus Walden, Tristen Lutz, Corey Ray and Nick Bennett, with an honorable mention to Garrett Whitley.
Transactions:
Game Action:

Nashville Pre-Game Media Notes
Final: Gwinnett 5, Nashville 3
Box Score / Game Log

Via the Sounds' website, game details, and we encourage readers to review each of the affiliate write-ups as part of their Link Report routine: Sounds Sunk by Stripers After Late Letdown

Given their first-place standing, terrific performance all year and the advantage of playing at home, the Sounds appeared to have this game in hand up 3-0 entering the 8th inning, only to give up a shocking 5-spot and fall 5-3. The loss ensured a 3-3 series split with Gwinnett for the week.

Starting RHP Marcus Walden (5 IP, 0 R, 0 H, 3 BB, 8 Ks) had his best outing of the year, while SS Brice Turang (2-for-3, walk, RBI) knocked in the game's opening run on an RBI single in the 3rd inning.
The trouble started in RHP Justin Topa's (1 2/3 IP, 2 ER) second inning of work and continued with RHP Trevor Kelly (1/3 IP, 3 ER – season ERA balloons to 2.00) unable to put out the flames, with all the damage occurring with two outs – five runs on six consecutive singles.
Three Quick Strikes:
Next week's outlook: Nashville (66-44) hits the road to take on 60-51 Jacksonville (Marlins' AAA affiliate). Rehabbing RHP Adrian Houser is expected to start Game One of the series.
Biloxi Pre-Game Media Notes
Final: Biloxi 7, Rocket City 5
Box Score / Game Log

Via the Shuckers' website, game details: Biloxi Rallies To Claim Series Finale

LHP Nick Bennett (6 IP, 3 R, 6 H, 1 BB, 4 Ks) faced just 17 batters while sailing through a scoreless initial five innings, before the wheels suddenly jammed as the Trash Pandas went back-to-back-to-back with three consecutive homers to lead off the top of the 6th inning.

Of course, to Bennett's credit, he recovered to finish the inning with no further damage and his team only down 3-2.

That initial Shucker lead came courtesy of a 1st inning OF Corey Ray (2-for-3, HR, HBP, RBI) leadoff homer, then OF Garrett Whitley (2-for-4, double, 2 RBIs) singling and scoring on a DH/OF Tristen Lutz (2-for-3, double, walk, 3 RBIs) single in the 4th inning.
Unlike the aforementioned Sounds' game, Biloxi's offense was able to immediately get back into gear, with Ray and SS Andruw Monsterio (1-for-4, RBI) singling and both scoring on a Whitley double to re-claim the lead 4-3 in the bottom of the 6th inning.

After RHP Robbie Hitt allowed a run to tie it up again, 2B Yeison Coca (1-for-3, walk) walked and scored on a groundout to grab a 5-4 advantage, then Lutz doubled in two more runs to provide a 7-4 cushion in the bottom of the 7th inning.
By winning both weekend games, Biloxi was able to grab a 3-3 series tie for the week.
Three Quick Strikes:
Next week's outlook: Biloxi (54-52) goes on the road to face 53-48 Montgomery (Rays' AA affiliate). RHP TJ Shook (3.86 ERA, 1.33 WHIP, 10.0 K/9 in 98 High-A/AA innings) is scheduled to get the first crack at the Biscuits.
Wisconsin Pre-Game Media Notes
Final: Wisconsin 5, South Bend 3
Box Score / Game Log

Via the Timber Rattlers' website, details: Brewers' Chourio homers on four-hit day

Don't miss the terrific video highlights put together by the Rattlers' media team: 
Wisconsin's offense came through early to give their tired staff much-needed support, as a leadoff C Darrien Miller walk was followed by OF Jackson Chourio annihilating a 3-0 pitch for his 4th homer as a Timber Rattler (and his 16th of the year) for a 2-0 lead. Chourio was something of a one-man wrecking crew, going 4-for-4 in the game with 2 RBIs.
Tied 2-2 in the 3rd inning, Miller and Chourio again led the charge, walking and singling with one out, then scoring on RBI singles by C Jeferson Quero (2-for-4, RBI) and SS Eduardo Garcia (2-for-4, RBI). A wild pitch added another run for a 5-2 advantage.
Facing the Cubs for the second time in six days, RHP Israel Puello (3 1/3 IP, 3 R, 2 H, 6 BB, 2 Ks) again struggled, walking batters each and every inning, including the last three hitters he faced. Thankfully, RHP Christian Tripp (1 2/3 IP, 0 R, 0 H, 2 BB, 2 Ks) managed to strand two of three inherited runners to limit the damage and exit the frame up 5-3.

From there, it wasn't easy, but RHPs Taylor Floyd (2 IP, 0 R, 3 H, 1 BB, 1 K) and James Meeker (2 IP, 0 R, 2 H, 0 BB, 1 HBP, 1 K) managed to battle through traffic to pitch four shutout innings, giving Meeker his 11th save of the year.

South Bend actually has men on 2nd and 3rd base with one out in the top of the 9th inning before Meeker delivered a full-count strikeout and then induced a line out to left field to end the win, giving the Timber Rattlers a hard-earned 4-2 series victory.
Three Quick Strikes:
Next week's outlook: Wisconsin (58-49) travels to battle 63-45 Cedar Rapids (Twins' High-A affiliate) this week. RHP Justin Jarvis (3.74 ERA, 1.25 WHIP, 10.0 K/9 in 110 2/2 innings) is expected to start the opener.
Carolina Pre-Game Notes (not available)
Final: Delmarva 3, Carolina 2
Box Score / Game Log

Via the Mudcats' website, game details: Carolina Wastes Early Lead in Series Splitting Loss

Starting RHP Fernando Olguin (5 IP, 2 R, 10 H, 1 BB, 5 Ks) had kept a zero on the board in spite of giving up a hit in each of the first five innings, before his fortune ran out in the bottom of the 6th inning.

By contrast, both initial Carolina runs (2nd and 5th inning) were produced without the benefit of a hit, as they were actually outhit 13-5 in the contest. Of course, the Mudcats did walk six times and get hit by a pitch, but they'll rue their 0-for-7 output with runners in scoring position.

That fateful 6th inning went single, triple, single before RHP Miguel Guerrero (2 IP, 1 R, 3 H, 1 BB, 2 Ks) entered in relief. Three Shorebird singles off Guerrero in the 7th inning gave them the only lead they would ever need in claiming a come-from-behind win to knot the series 3-3.
Three Quick Strikes:
Next week's outlook: Carolina (55-53) returns home to face 47-60 Fayetteville (Astros' Low-A affiliate). Expect RHP Jeferson Figueroa to start the series opener, still looking for his first organizational win.
We hope that you enjoy the Minor League Link Report. Good luck on Monday DSL/ACL squads! Get some rest on your travel day, full season squads.
Organizational Scoreboard including starting pitcher info, game times, MiLB TV links, and box scores
Standings and sortable stat pages
Current Milwaukee Brewers Organization Batting Stats and Depth
Current Milwaukee Brewers Organization Pitching Stats and Depth
Think you could write a story like this? Brewer Fanatic wants you to develop your voice, find an audience, and we'll pay you to do it. Just fill out this form.
MORE FROM BREWER FANATIC
— Latest Brewers coverage from our writers
— Recent Brewers discussion in our forums
— Follow Brewer Fanatic via Twitter, Facebook or email
1