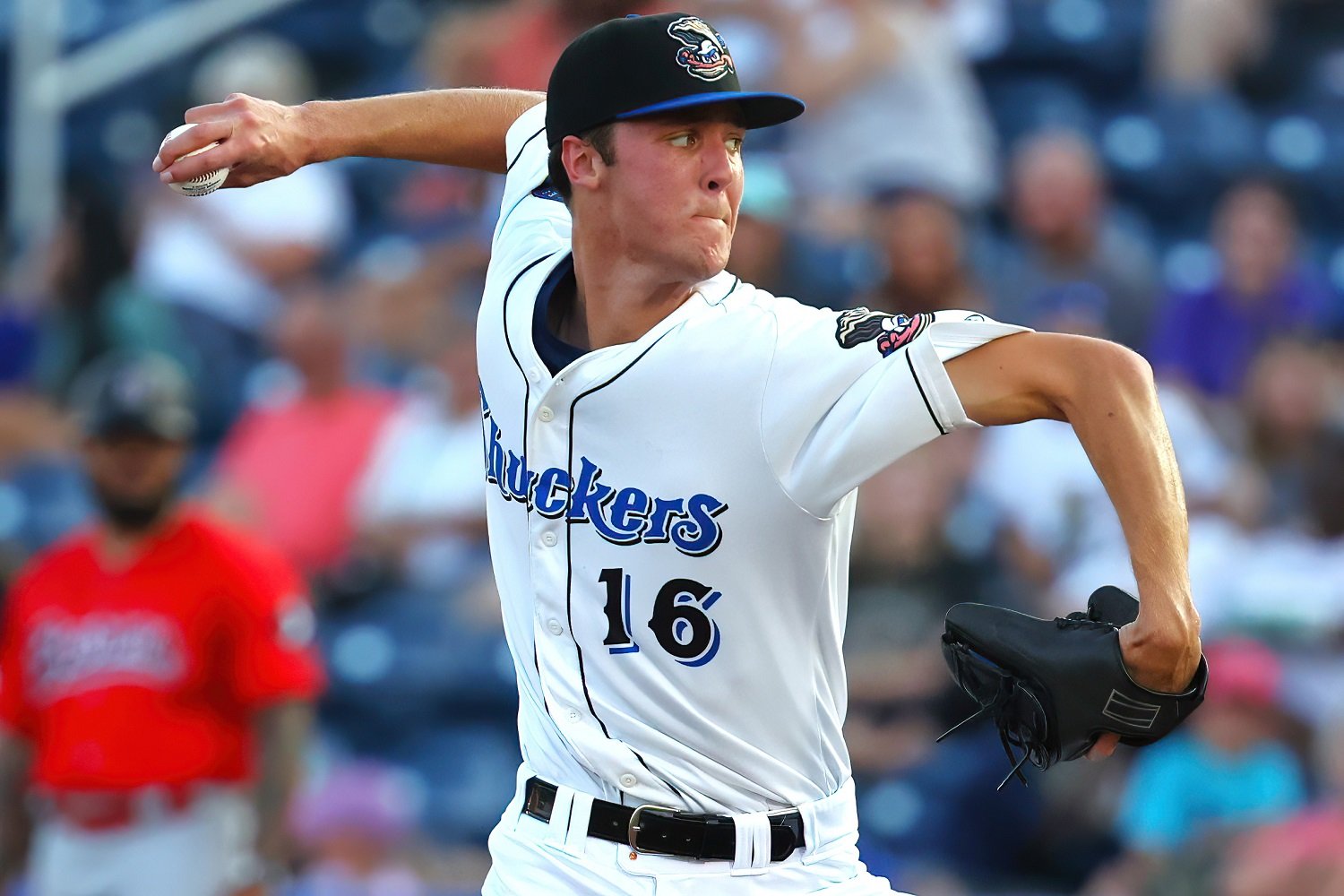 Image courtesy of Mike Krebs, Biloxi Shuckers
Game Balls
1) Jacob Misiorowski will lead this off with an incredibly dominant (if occasionally erratic) display at Mississippi. In six scoreless innings, he gave up one hit, walked three, and hit two batters. He also had 12 strikeouts. He carried a no-hitter into his sixth and final frame and outfielder Carlos D. Rodriguez nearly made an incredible diving catch on a tailing liner to keep the 'No No' intact.
2) Right-hander Nick Merkel gets the nod for rising up after a couple rough outings of late. His off-seed arsenal was getting many swings and whiffs. It was a pleasure to witness. He went two no-hit, no-run innings. He had one walk and struck out four batters. More of this, please, Mr. Merkel!
3) Utilityman Demetrio Nadal of the DSL Brewers #2 squad continued his run of excellence this summer. (See his line below in the DSL section.) Suffice to say, he continues to impress and is repeatedly stating his case that he is ready for stateside play.
4) Outfielder Carlos D. Rodriguez gets the nod for setting a Shuckers record with his sixth consecutive multi-hit game. Quite the feat.  
5) Infielder Patrick Dorrian gets the nod for his ongoing scorching work at the dish (3-for-5, 1 K, 1 RBI). He was also a party in two double plays and made a sliding web gem grab down the first base foul line. 
Transactions
Milwaukee Brewers outfielder Jesse Winker was sent on a rehab assignment to the Wisconsin Timber Rattlers. 
Nashville Sounds right-hander Trevor Megill was recalled by the Milwaukee Brewers.
Righty Pedro Fernandez was activated off the 'Temporarily Inactive List' by the Nashville Sounds, and the Brewers released him.
Catcher Brent Diaz was assigned to the Nashville Sounds from the Biloxi Shuckers.
Highlights from the System at Large
The DSL Brewers are a collection of talent and hype largely driven by the size of the signing bonus given those of us stateside have little more to go on. Make no mistake, however, infielder Pedro Ibarguen has been solid and steady all summer. For those with a Baseball America subscription, we were forewarned this was possibly a sleeper prospect to keep an eye on. 
Not a lot needs to be said concerning infielder Cooper Pratt. Needless to say, he has fared very well in the ACL all things considered.
Lastly, he has fallen by the wayside given the deep talent pool of outfield depth across the system, but 2022 undrafted free agent outfielder Reece Walling has been garnering notice within our ongoing Minor League Game Threads for the past couple weeks. It's nice to see our observations were validated with a little bump from the Brewers Player Development Twitter folks: 
---
Final: Charlotte (White Sox)  7, Nashville 4
Box Score / Game Log 
Game Notes 
Via the Sounds' site, game details, please visit and review: 
Sounds Have Tough Night Against Knights

Southpaw Eric Lauer was stretched to 67 pitches in Tuesday's game against the last-place Charlotte Knights. @damuellesaid it best in our running Game Thread:
Quote

It appears we're intent on stretching out Eric Lauer: 67 pitches today after throwing 52 five days ago. He touched 94mph 4x in the first inning, 2x in the second inning, 1x in the third inning. The line: 3 1/3 IP, 4 R, 6 H, 2 BB, 6 Ks.
It's hard to disagree with any of that. After trailing 4-2 in the third frame, the Sounds stranded the juiced bases when catcher Brian Navarreto hit into an inning-ending double play. I broke down Lauer's entire outing HERE, but all in all, I would say he would want two hanging, outer-half sliders back to two lefty bats. Beyond that, the outing was fine. It had its moments, and it was an affair of paper cut liners.

Three Quick Strikes
1) Rowdy Tellez is heating up in Nashville, and he's making the kind of contact we've all been waiting for. He hit a 109 mph single in his first at-bat. He also scorched a likely home run that was ruled a double by the umpiring crew. 
We all know the Brewers could use a hot power bat in the middle of their batting order. Let's hope Tellez can keep it going to help bolster first base and DH spots for Milwaukee!
2) In his first plate appearance, Tyler Black walked and then stole second base on the next pitch (a 92 mph inside fastball). That was his 49th stolen base of 2023, and it led to a run. He also ripped a ground-rule double to left field in the second frame that would have scored outfielder Jahmei Jones from first base had it not bounced behind the bullpen chairs. It was an improved and hopeful 1-for-4 performance. We'll look for more of this as the series and season progresses.
3) Another scoreless outing from righty-hander Thyago Vieira. No hits. No walks. One punch out. He did plunk a batter. If you toss out the ugly month of June, Vieira has been one of the best high-leverage relievers in the Nashville bullpen. Sadly, we can't toss out June and, lately, Vieira has put too many base runners on the base paths. However, he can build on an outing like this. The veteran flamethrower almost always seems to precariously teeter on the brink of a meltdown or a dominant shutdown inning. If nothing else comes of his work in 2023 beyond the Sounds, we can all agree he is entertaining to watch.
Final:  Biloxi 3, Mississippi (Braves) 0
Box Score / Game Log 
Game Notes 
Via the Shuckers' site, game details, please visit and review:
Misiorowski Dominates, Ties Strikeout Record in Shutout Win of M-Braves

Jacob Misiorowski took the mound to showcase his current 'Three True Outcomes' package of goods: strikeout, hit batters, or walks. I'm being cheeky, but it's kind of like that right now. Kind of. There is no denying Misiorowski has an extremely electric set of tools and pitches, and tonight made it clear that he may even be fast-adjusting to Double-A. Misiorowski showed out in all facets. He set career-highs in strikeouts and innings pitched and handed over a near no-hitter to the bullpen in the seventh frame. He also garnered notoriety across all of MLB. 
Three Quick Strikes
1) This was Jackson Chourio's first game back since he took a brief respite, and here's my brief report. He was over-aggressive, well ahead of pitches, and lacked patience at the plate. We can take it with a grain of salt, that is indeed what I saw. He went 0-for-4 with an RBI groundout. His OPS is now sitting at .803 on the season.
2) How about a big round of applause to the shutdown relief work between lefty Luis Amaya and right-hander Cam Robinson. Both men came into he game and looked fantastic. Amaya deftly handled two innings of no-hit, no-walk ball. He had four strikeouts. Robinson should have been given a clean inning of work, but the scorers somehow gave a hit (a double, at that) on a fly ball that should have been caught. Sometimes I wonder aloud to the baseball gods. Regardless, Robinson tossed a scoreless inning and had one strikeout. He picked up his ninth Save in Biloxi. More important, he was poised - calm and collected - after the fielding gaffe that left a runner at second base. A sight for sore eyes!
3) If there was an 'Honorable Mention' section in the above 'Game Balls', it would certainly have gone to shortstop Ethan Murray. He went 3-for-3 with a walk. He also stole his 10th base and corralled several shallow pop flies in the left field grass. Murray has come a long, long way from his early 2022 season in High-A Wisconsin and has validated his promotion to Double-A all along the way. He's an extremely solid under-the-radar prospect who fills that utility infielder role with aplomb.
Final:  Cedar Rapids (Twins) 4, Wisconsin 1
Box Score / Game Log 
Game Notes 
Via the T-Rats' site, game details, please visit and review:
Rattlers Suffer 4-1 Loss in Cedar Rapids

Lefty Nate Peterson had a decent Game 1, road outing. He certainly didn't get all that much help from the T-Rats bats. We have seen an early propensity (in High-A) to give up long balls to right-handed bats on the road (4 HR in 7 2/3 IP at away stadiums). That number will have to be addressed moving ahead. One can't help but wonder what may have been for Peterson's outing had the T-Rats bats capitalized in two, key situations in the early going. They left the bases loaded with two outs in the third inning, and Luis Lara was stranded on third with only one out in the fifth inning. Both were costly. Regardless, Peterson finished his night after five innings. He was charged with three runs on six hits (2 homers). He had one walk and three strikeouts. The solo shots sting, but they certainly weren't fatal. The Minnesota native deserved better against the Twins affiliate.

Three Quick Strikes:
1) It was a vintage 2023 display for Luis Lara's High-A debut. Lara got on base via a single and a walk, and he swiped two bags. He also took another base when a throw to second bounced off of his helmet. Naturally, he played solid, ranging defense in the center field grass. He was more than ready to meet the moment. He remains a prospect steadily on the rise at just 18 years of age.
2) With the natural lead-off work of Lara, infielder Robert Moore was slotted into the ninth spot in the batting order. It could be an interesting tactic but Moore's going to need to demonstrate a better knack at the dish than going 0-for-3 with a strikeout on a pitch high and out of the zone. Moore has filled in admirably at shortstop since Eric Brown, Jr.'s injury and unfortunate absence, but you'd be hard-pressed to consider his season as a whole anything but up-and-down with more down than up.
3) Outfielder Hendry Mendez tallied a single, an RBI, and a walk on the evening. More important, for my sake, he finally returned to the Mendoza line sitting at a ripe 0.200 batting average with a fairly woeful .551 OPS. It's been a frustrating season for Mendez, who is mired by yet another prolonged injury absence. He looks as though he has added lower body mass (as I've stated before) but those days of dreaming about a possible lead-off bat with pop have fallen to the wayside. "Will he ever stay healthy long enough to build momentum for his young career?" is the new question. It's easy to forget Mendez was considered a possible breakout candidate before he ran head first into the right field wall last season in Low-A Carolina. This is still his age-19 season. Patience is the virtue here. Miles to go.
Final:  Kannapolis (White Sox) 16, Carolina 3
Box Score / Game Log 
Game Notes 
Via the Mudcats' site, game details, please visit and review:
Mudcats Drop Series Opener 16-3 in Kannapolis

Some nights go like this. 2021 International free agent signee right-hander Alexander Vallecillo took the hill for his 10th start of the 2023 Mudcats season. Coming off a start in which he gave up one run on one hit over five innings against Delmarva, he started Tuesday's work with a free pass after jumping to an 0-2 count. It was an unfortunate portent of the inning to come. When all was said and done, after the first frame, it was an ugly 33-pitch bit of work. He gave up six runs on three hits in the inning. He walked four and struck out just one batter. That's going to hurt his season stat line which had just recently started looking very respectable.
It didn't really get any better as his outing continued. All told, he gave up nine runs on six hits (1 homer) and five walks over three innings> He had three strikeouts. He came into this tilt with a solid 3.83 ERA and 1.16 WHIP. Suffice to say, those numbers went up. The Mudcats fell to 27-16 in the second half. Down East (inconsequential) gained a game and are now four games back. Lynchburg lost so they remained five back. Fredericksburg also gained a game but remain 6.5 out.
Three Quick Strikes
1) This was our first live look at right-hander Gerson Calzadilla, and it went about as well as Vallecillo's. Even the outs he recorded were hit hard. It was an inauspicious debut for the young hurler who had previously faired extremely well with the ACL Crew. All told, Calzadilla was charged with four runs on six hits and two walks over two innings. 
2) Dylan O'Rae provided a tremendous highlight. He sprinted deep into the left-center field gap and laid out, fully extended, to make the diving catch. If you can find video of this catch, please leave it in the comments below. 
Infielder Luke Adams is indeed swinging a 'hot bat' as they allude to above. However, I'd hardly consider that bloop knock a testament to a scorching run at the dish. O'Rae's diving catch was a web gem. It was an off night all around... the Mudcats media team apparently included 😂.
3) The final line won't reflect an outing to remember, but there were flashes throughout of the fantastic catcher Jose Sibrian has been for this Mudcats ball club for the duration of his Low-A season. An 0-for-4 night at the dish deserves mention? No. But, defensively, despite the throwing error, Sibrian also threw out a runner at second base in a bang-bang play. The pitch was in the dirt before the spry scoop, pop, and toss. He made several nonchalant scoops of wild pitches throughout the first half. His pitchers were struggling. The zone was restricted. Sibrian kept balling out.
ACL White Sox 5, ACL Brewers 0
Box Score  / Game Log
There's not all that much to chat about after this one. However, as always, there are things to glean from the box score and finer details of the Game Log. Without further ado, here are my cliff notes:
They bumped shorstop Cooper Pratt to the lead-off spot in this game. He went 1-for-4. I will be curious to see if he takes this role more often with O'Rae now in Low-A Carolina.

A Johan Barrios sighting in the Box Score! He went 3-for-3. What a soft-spoken ACL season this one-time highly-touted prospect has had.

0-for-2 with runners in scoring position and five runners left on base isn't all that much to work with.

Catcher Satchell Norman now has nine passed balls during his ACL season. His defense continues to be my primary 'concern'.
Ryne Moore continues to see too many runners on the base paths. In this game, he was charged with three unearned runs over three innings. He gave up six hits and walked two batters. That is not a recipe for success most nights.
Undrafted free agent right-hander Isaiah Jackson debuted with a scoreless inning of relief. He gave up a hit and walked a batter, but he also struck one batter out.  A sound debut effort.
The ACL Brewers fell to an overall record of 30-22 and remain four games ahead the ACL Reds. 
DSL Dodgers Bautista 13, DSL Brewers #1 2
*Continuation of a Lightning Suspended (top of the 4th) Game in which the ACL Crew led 2-1*
 Box Score  / Game Log

It's quite obvious to see by today's final score, the ACL Cerveceros Uno continued their run of ineffective play of late. With a second game of a possible double-header cancelled, we can still see that since the original start of this contest the Dodgers Bautista have played to a  6-2 record whereas the ACL Crew Uno have now fallen to 1-6 over that same timeframe. In the end, the young Brew Crew were outhit 10-to-4; they threw 4 WP to the Dodgers none; they hit two batters; and they walked 15 to the Dodgers 10. By every measure, this was an ugly affair symbolized by the lopsided score. So, what can we glean from this loss?
The Crew Uno fall back to 0.500 at 24-24. They are now tied with the DSL Guardians in third place in the DSL North division a whopping 14.5 games behind these same DSL Dodgers Bautista. Things don't get any easier tomorrow when these young men play the second place DSL Dodgers Mega (35-14).
---
DSL Brewers #2 6, DSL Braves 3
Box Score  / Game Log

I defer to our very own @sveumrulesfor the initial synopsis of this fine result for the DSL Cerveceros Dos from today's Game Thread:
Quote

DSL2 prevails 6-3 over the Braves.

Demetrio Nadal (1-1, BBx2, HBPx2, SBx2) filling up the box score while Pedro Ibarguen also went 1-4 with a double and stolen base. Christopher Vaszquez homered for the fifth time bringing his line to 203/370/531 on the season with 34 K | 10 BB and 7 HBP in only 81 PAs so far. Vivan Los Tres Resultados Verdades!

Luis Guevara had a nice start at 5 IP | 1 R | 5 H | 0 BB | 4 K while Lenin Mendez followed up in relief with 3.2 IP | 1 ER | 4 H | 1 BB | 7 K.
Nadal now has 29 SB in his 2023 summer campaign - he is really piquing our interests in advance of a likely 2024 trip stateside to the ACL.  Ibarguen swiped his 7th base of 2023 - this is more a novelty as he's also been caught stealing six times. Not to be lost in these highlights is C Frieder Rojas' 2-for-3, 1 BB outing. The DSL Cerveceros Dos moved back to nine games under 0.500 at 20-29.
The DSL Crew squads will attempt to play a game apiece tomorrow morning while all four affiliates will play the evening hours. At the time of publish we know we'll see the improving RHP Cameron Wagoner for Game 2 in Cedar Rapids and the talented RHP Carlos F. Rodriguez for Game 2 in Mississippi. Hopefully, we can get two Biloxi pitching gems back-to-back. Elsewhere, we are in limbo in the land of 'TBD'. Hopefully, we see some more 'W's. Tonight was sparse. 

As always, thanks for reading and thanks for supporting Brewers Minor League baseball.
Organizational Scoreboard including starting pitcher info, game times, MiLB TV links, and box scores
Current Milwaukee Brewers Organization Batting Stats and Depth
Current Milwaukee Brewers Organization Pitching Stats and Depth
1