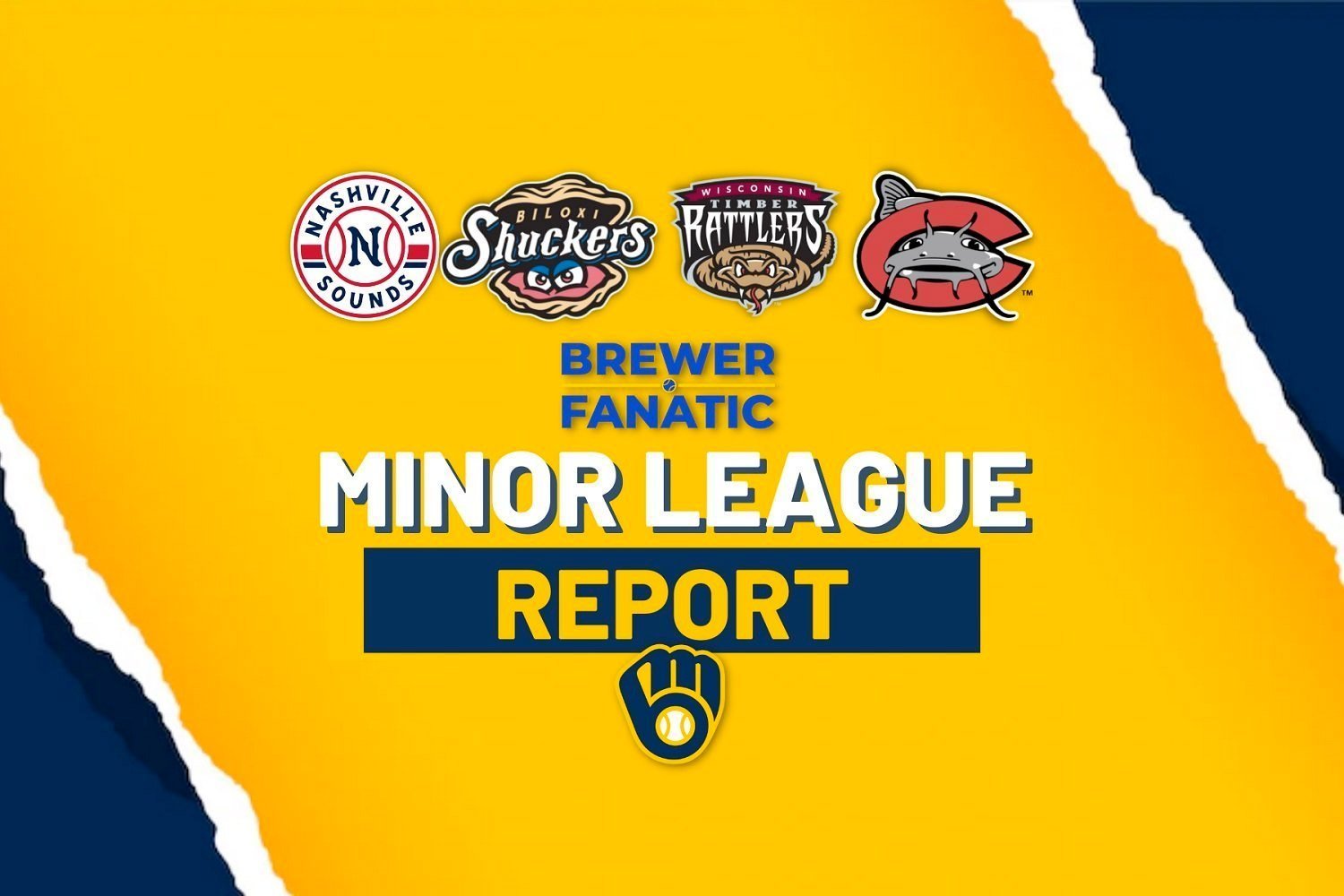 Image courtesy of BrewerFanatic
TRANSACTION:
1B/DH

 

Rowdy Tellez' 

AAA Nashville rehab assignment ended, activated by MLB Brewers

INF Abraham Toro optioned to AAA Nashville from MLB Brewers
---
Final: Charlotte (White Sox) 5, Nashville 1
Via the Sounds' site, we encourage readers to review each of the affiliate write-ups as part of your season-long Link Report routine:
Sounds Drop Saturday Night Contest to Charlotte - Right-hander Junk hit with loss in 5-1 defeat despite 7.0 quality innings
The game summary via Nashville's staff took the proper tact, highlighting RHP Janson Junk's starting effort. Relievers Clayton Andrews and Luis Contreras did not keep the score within reach.
Keston Hiura, Skye Bolt and Payton Henry were spectators. For those participating, stat-padding was negligent, Jahmai Jones reached twice (HPB, BB). Cam Devanney's double and run scored courtesy of Brian Navarreto's base knock gave the sellout crowd a brief moment in the 9th.
With Victor Caratini on the verge of MLB free agency, will the Brewers entice either Payton Henry or Navarreto to re-up on an enhanced 2024 minor league deal? Navarreto already had done that last winter. They may wish to add one backstop to the 40-man roster and not carry just William Contreras entering the offseason. Navarreto's defense, as we've long known, is sublime:
---
Final: Mississippi (Braves) 3, Biloxi 1
Via the Shuckers' site:
Shuckers Fall to M-Braves, 3-1, in Pitcher's Duel - M-Braves score three early runs, hold off Shuckers rally in the ninth
Could almost have copied-and-pasted from the Sounds report above. Felix Valerio grounded out with the tying run on base to end the game, so the 9th inning drama was a bit more palpable than in Nashville, but once again, the only run scored by the good guys came in the too-late final frame.
RHP Christian Mejias is still filling a rotation spot because he's seemingly healthy and well, there are innings to fill. At least RHP James Meeker is back in his most-effective relief role, and he saved more damage to Mejias' line with two bases-loaded strikeouts upon entering in the 5th.
When weather is the most interesting aspect of a game:
Going to be fascinating to see how RH starter Jacob Misiorowski fares against the same opponent within six days when he's on the rubber on Sunday.
---
Final:  Cedar Rapids 6, Wisconsin 5
Via the Timber Rattlers' site:
Wisconsin Rallies to Tie Only to Fall in Ninth Inning at Cedar Rapids - Kernels walkoff victory gives them third straight win over Rattlers
Pre-Game Media Notes (Download Link) via the team's Virtual Press Box
Let's get this note from the game summary out of the way:
Jesse Winker concluded his final rehab appearance with the Timber Rattlers by going 1-for-3 on Saturday night. He was 5-for-13 in the four games at Cedar Rapids.
OK, enough of that, on to Nashville for Winker.
Unlike their predecessors in this report, the Wisconsin 9th inning rally was fruitful, extending the game.
Brock Wilken (two singles, RBI) and Mike Boeve (double, one of four for the T-Rats) continue to assimilate nicely.
Newcomer RHP Bradley Blalock's three Wisconsin starts have been perfectly middling, as his game log indicates.
---
Final: Kannapolis (White Sox) 3, Carolina 0
Carolina Offense Shutdown in 3-0 Loss - The first-place Mudcats saw their second half lead drop to 3.0 games following the shutout loss
"The loss, combined with a Lynchburg Hillcats victory in Fayetteville, cut Carolina's lead in the Carolina League North second half standings to 3.0 with 22 games remaining this season."
Hmmm, that's a little too close for comfort, the memories of 2022 collapses and to a lesser extent, 2023's first half, rings a bit too clear. Mettle about to be tested.
RHP Logan Henderson is fascinating to so many of us because he looks so unlike most of the arms in baseball, with his lower half carrying him. It works, and until it doesn't, who are we to dismiss.
---
Final: ACL Brewers 8, ACL Guardians 4
Playoff berth clinched!
Via my co-worker @damuelle:
Good team effort in the 8-4 victory over ACL Guardians. Six different players with an RBI. Cooper Pratt reached base four times. Eric Brown Jr. homered for the 2nd straight game.
The pitching did enough, though nobody stood out in particular. Brailin Rodriguez threw 2 scoreless innings for the win, Blake Whiting K'd 2 of 3 batters faced in the 9th inning.
Anthony Perez gets a special shout-out for coming in and getting Jaison Chourio (yes, as we've discussed previously, Jackson's very talented younger brother) to pop out with the bases loaded and the game 7-4 in the 8th inning.
Arizona Complex League Standings
We'll have to wait to see how exactly things shake out for the postseason (three division winners plus one wild card to face off in one-game battles?). One more regular season game remains, on Monday.
Waiting, because MiLB does not include the rookie complex leagues in their Playoff Procedures Breakdown.
---
Final: DSL Pirates Gold 4, DSL Brewers #1 Squad 1, seven innings as scheduled
Via loyal poster @sveumrules:
Yophery Rodriguez and Pedro Tovar with the lone hits while Gery Holguin walked twice and Brian Sanchez walked and got plunked.
Lots of scoreless pitching lines including Esmir Suarez (3 IP | 1 H | 2 BB | 2 K), Yonawil Florimon (1.2 IP | 1 BB | 2 K), Argenis Aparicio (1 IP | 1 K) and Roman Perez (1 IP | 2 K).
---
Final: DSL Mets Blue 5, DSL Brewers #2 Squad 3
Again, via loyal poster @sveumrules:
Demetrio Nadal (2-3, BBx2, SB but also CSx2), Roderick Flores (2-4, 2B, SB), Luis Lameda (0-3, BBx2), and Danny Puerta (0-2, BBx2) were all on multiple times while Christopher Vasquez had a big two RBI single.
Justin Caceres gets pitcher of the game with two scoreless innings and 1 H | 2 BB | 2 K with Pedro Quintana working around 1 H | 2 BB to throw a scoreless frame of his own.
Each DSL Team has two games remaining, one each on Monday and Tuesday.
---
We'll get Jacob Misiorowski Biloxi updates in the midst of the Brewers' big-league game today. All four full-season affiliates are in action, and if you're seeking an evening escape, Eric Lauer and the Sounds start that game at 6:05 Central. Have a fine Sunday, everyone.
Organizational Scoreboard including starting pitcher info, game times, MiLB TV links, and box scores
Current Milwaukee Brewers Organization Batting Stats and Depth
Current Milwaukee Brewers Organization Pitching Stats and Depth