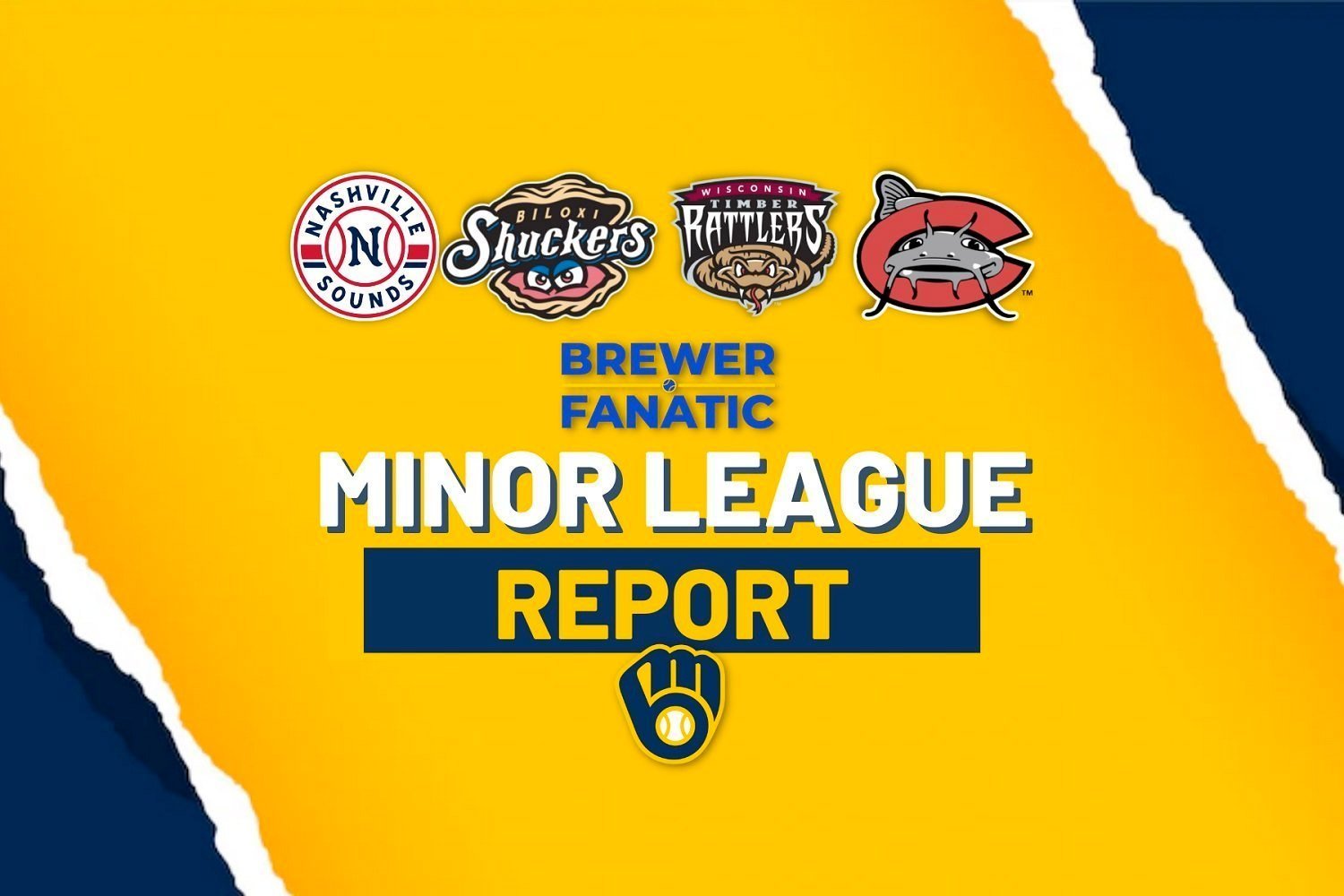 Image courtesy of Brewer Fanatic
Transactions:
OF's Sal Frelick, Garrett Mitchell, and Joey Wiemer were all promoted to the Nashville Sounds from the Biloxi Shuckers
In a corresponding move, OF Garrett Whitley was assigned to the Biloxi Shuckers from the Nashville Sounds
RHP Ryan Middendorf was assigned to the Wisconsin Timber Rattlers from the Carolina Mudcats
C Reidy Mercado was assigned to the Wisconsin Timber Rattlers from the ACL Brewers Blue
OF Noah Campbell was placed on BIloxi's 7-Day IL (ruh roh)

RHP JC Mejia was sent on a rehab assignment to the Biloxi Shuckers
And, here's a bevy of draft pick and UDFA assignments down in the ACL - thank you @damuelle for posting these in our ongoing Minor League Transaction Thread:
SS Eric Brown Jr. (1st round pick) assigned to ACL Brewers Gold
 SS Robert Moore (2nd round compensatory pick) assigned to ACL Brewers Blue
C Matthew Wood (4th round pick) assigned to ACL Brewers Blue
3B Ben Metzinger (7th round pick) assigned to ACL Brewers Blue
C Tayden Hall (7th round pick) assigned to ACL Brewers Blue
C Satchell Norman (15th round pick) assigned to ACL Brewers Gold
1B Reece Walling (UDFA signing) assigned to ACL Brewers Gold
---
Nashville Pre-Game Media Notes   
Final:  Nashville 8, Norfolk (Orioles) 3
Box Score / Game Log                

Via the Sounds' site, game details, please visit and review:
Sounds Slug Past Tides in Series Opener - Nashville Launches Three Home Runs, Improves to 60-39
Sal Frelick arrived in Nashville, took the lead-off spot in the line-up and continued doing the exact same things he'd been doing in Biloxi: hitting the baseball. Facing a tough lefty, DL Hall - notoriously tough on lefty bats and with multiple double digit strikeout games in 2022 - he started his evening off with consecutive hits knocking a lead-off double in the first and an RBI single in the second. All told, the young up-and-coming outfield prospect looked entirely unfazed by the promotion. He looked confident. He looked, quite simply, like he belonged.
Three Quick Strikes:
On the other end of the promotional spectrum, OF's Garrett Mitchell and Joey Wiemer, batting sixth and seventh respectively, both looked a wee amped. They both finished their evenings with identical batting lines: 0-for-5 with 3 K's apiece. Not the night they were looking for, but there's plenty of season left to right the ship and reclaim former glory.
Keston Hiura is a really good Triple-A player. He seems to impact near every game he suits up for Nashville. We've gone back-and-forth on the Brewer Fanatic website as to the merits of his 'demotion', but all I can say as a minor league connoisseur, he quite simply shows up and shows out. After tonight's 1-for-3, 2 RBI, 1 R, 2 BB, 1 HR, 0 K performance, he's hit to the tune of 6 HR and 18 RBI in just 13 games with the Sounds. That's a small sample size, for sure, but, it's also ridiculously efficient production. Hat's off to Hiura for his ability to take his season in stride and continue to show up and produce.  
My favorite line of this evening (other than RHP Caleb Boushley's 11th win) goes to C Mario Feliciano . If he can put together more night's like this, we're cooking with gas: 1-for-2, 3 R, 3 BB, 1 RBI, 1 K, 1 HR, 1 SB. Let's hope for more of this in the games ahead. Mario is playing with confidence and purpose of late. It legitimately feels like a breakout might be on the late-season horizon.
---
POSTPONED

Via the Shuckers' site, game details, please visit and review:
Series Opener Against M-Braves Postponed - Game Will Be Made Up As Part of a Doubleheader on Wednesday
---
Wisconsin Pre-Game Media Notes            
Final: Wisconsin 8, Quad Cities (Royals) 0
Box Score/Game Log          
Via the Timber Rattlers' site, game details, please visit and review:
Rattlers Start Road Trip with 8-0 Win over River Bandits - Warren has Three Hits and Three RBI's; Bullock Tosses Six Scoreless
RHP Justin Bullock delivered just what the Timber Rattlers' team doctor ordered. Well, opening a road series in Quad Cities may be just what all the T-Rats needed. (The Rattlers now own the season series edge 16-3.) Regardless, the young hurler threw 6 IP, 2 H, 1 BB, 4 K, 0 R ball. This was quite possibly his best performance of his season. We hope to see more outings like this one as he looks to regain the form meriting promoted status in early 2022.
Three Quick Strikes:
With the injury to INF/OF Tyler Black and the promotion the OF Tristan Peters, many a T-Rats faithful most likely assumed their best and only hope resided in OF Jackson Chourio. And, for good measure given Chourio's 2022 season and his future prospectus. However, it's worth noting, many a talented Rattler have simply not been having the seasons their talents are worthy of. Enter 3B Zavier Warren . Zavier entered this season inside most arbitrary prospect rankings' Top 20's. And, though his approach has been consistent and he's been available, the results have simply lagged. Tonight, however, was a mini-breakout: 3-for-5, 2 3B, 1 R, 3 RBI, 1 K.
Let's recognize the fine bullpen work of RHP Hobie Baker and newly promoted (and still un-scored upon since his ACL promotions)  RHP Ryan Middendorf . Combined, the duo pitched to a tune of 3 IP, 0 H, 0 BB, 0 ER, 5 K. We can work with that. Oh, yes, we can work with that. 
Let's also mention the fine output from one INF Ethan Murray . All told, Murray hit 2-for-3, 1 BB, 3 RBI, 2 R, 2 2B, and 1 K batting in the fifth spot protecting clean-up hitter, Ashton McGee . This is as good a night as we can ask for from Murray and if the Timber Rattlers are going to make a late season charge, they'll need more nights like this. Keep it going, young man!
---
Carolina Pre-Game Notes  

Final:  Kannapolis (White Sox) 3, Carolina 1
Box Score / Game Log                         
Via the Mudcats' site, game details, please visit and review:
Mudcats Drop Series Opener 3-1 - Jeferson Figueroa Totaled Seven Strikeouts over Six Innings While Taking the Tough Luck Loss
He faced some men on the base paths, but, all in all Jeferson Figueroa had a heck of an evening. He kept his team within striking distance all six innings pitched:
Unfortunately, the bats couldn't get going in a meaningful way. The Mudcats had a mere four opportunities with RISP - 1-for-4 on the evening - and, they were outhit 10-to-5. As the Mudcats' headline reads: Figueroa took the tough luck loss. Unfortunately, he moved to 0-7 on the season.
Three Quick Strikes:
Just promoted from the ACL yesterday, INF Jadher Areinamo hit the ground running in the lead-off spot for the Mudcats. He finished his evening 2-for-3 with 1 R, 1 BB, and 1 K. That's a fine debut in Low-A. In 2022, Areinamo has repeatedly shown a knack for plate discipline - a very good BB:K ratio and, in general, fine results when he makes contact. This could sneakily be one of the better Brewers prospects who somehow continues to fly under the radar. His early 2022 High-A exposure seems to have given him the perfect taste of affiliated ball. We'll have to continue to keep our eyes on this young infielder.
This is the sixth straight loss to Kannapolis for the young Mudcats. Previous to this home loss the series was tied at 6-6 with each team possessing a 5-1 record at home. However, this is a vastly different Mudcats team from the pre-trade deadline series squads. Let us simply hope they can reclaim some home field advantage and give us similar results.
This was RHP Miguel Guerrero 's first real rough patch since he was re-assigned from the Wisconsin Timber Rattlers. This was one of those evening's where he simply didn't have it: 2 IP, 4 H, 2 BB, 1 ER, 2 K. It's a testament to his resolve, however, that he managed to limit the damage. His eighth inning could very easily have gotten away but he limited the damage to one run. 
---
ACL Brewers Gold 7, ACL Guardians 6
Box Score/Game Log
2022 first round pick Eric Brown Jr. got his first ACL and organizational action tonight batting lead-off and playing shortstop. He finished his evening 0-for-3 with 1 K and he turned a double play. INF Gregory Barrios, playing second base tonight, finished 3-for-4 with 2 R, 2 RBI, and hit his 2nd triple of his season. The victory will be credited to 19-year-old RHP Yorman Galindez whose line reads 5 IP, 4 H, 2 BB, 7 K, 1 HR, 2 ER, After 21-year-old RHP Raul Mendoza walked a batter and hit a batter, he surrendered a 3-run home run allowing the Guardians a chance at victory in the ninth inning. However, RHP Trevor Tietz would have none of it - he struck the final batter out on three pitches. The Brewers Gold move to 21-18 on the season.
ACL Brewers Blue 4, ACL Athletics 3
Box Score/Game Log
ACL Brewers darling, OF Jace Avina, hit his 10th home run tonight. He finished his evening 2-for-4 with the 1 HR, 1 R, 1 RBI, and 1 K. 2022 Brewers draft picks INF Robert Moore, C/INF/OF Tayden Hall, C Matthew Wood, and INF Ben Metzinger all suited up for the Blue. Metzinger hit a triple for his only knock while Hall went 2-for-3 with a double and a run scored. Moore and Wood both went hitless. 19-year-old Alexander Perez's 2-for-4 line deserves mention as he knocked in a run and a rbi.  19-year-old RHP Arielbi Gonzalez took the game through six complete innings: 2 H, 0BB, 0 ER, 6 K. That's a heck of a pitching performance. And, it wouldn't be a complete mini-recap if I didn't give mention to the continued fine work of two-way baseball savant, Quinton Low. He continued his scoreless streak by pitching a clean 9th inning: 0 H, 0 BB, 0 ER, 2 K. 
---
Game 1: DSL Brewers #1 16, DSL Tigers #1 12

Via @damuellein our daily Game Thread:
Quote

DSL-1 held on to win that rain-resumed game 16-12 over the Tigers. They led 6-0, trailed 12-6 and ultimate won 16-12 on the strength of a punt return, um…well it was really the pitching of 18-year old RHP Jhofez Mejias (4 2/3 shutout innings, 1 hit, no walks, 5 Ks).
Hits abound in Game 1 as every Brewers 1 batter reached base at least once. Lots going on in that Box Score with a score like that. Of note in this one are the lines of CF Luis Watter (3-for-4 day in the lead off spot, 1 2B, 2 R, 2 RB, 1 BB) and C Edgardo Ordonez (2-for-3, 3 RBI, 3 R, 2 BB, 1 K - 0.303 BA and 0.902 OPS in 75 AB's on the season). Ultimately, the team at large went 10-for-17 with RISP.
Game 2: DSL Tigers #1 4, DSL Brewers #1 0
Box Score/Game Log
2 Errors, 1 H, 0 R. That's a rough one for the DSL Brewers 1. There isn't all that much to get into here and the game went a shortened five innings. If you want to dive further, be my guest: take a peak at the Box Score. Honestly, this one reads a bit like a sleeper.
---
DSL Texas Blue 4, DSL Brewers #2 1
Box Score/Game Log
Much like the second Brewers #1 game, there isn't all that much to glen from a three-hit low-scoring affair. What we can say is INF Yeison Perez continues to do good things: 1-for-3, 1 2B, 1 R, 2 K. And, on the pitching side of things, 18-year-old 6'3" LHP Anfernny Reyes showed out once again: 3 1/3 IP, 6 H, 1 BB, 8 K, 0 R. 
---
A reminder to all you readers, the ACL League has their standard Wednesday day off. Additionally, though the DSL is active and hitting the diamond, the DSL Brewers 1 and 2 are both on the shelf until Thursday. So, tomorrow, we will focus on on the full-season affiliates. We'll see a double-header in Biloxi with tonight's postponement, we'll see RHP Jason Alexander on the mound again for Nashville, LHP Nick Bennett will look to build off of recent fantastic starts, RHP Israel Puello will look to keep things going in Kannapolis while bouncing back from two rough starts of late. We will learn of Carolina's starting pitcher some time tomorrow. Thanks for checking in!
Organizational Scoreboard including starting pitcher info, game times, MiLB TV links, and box scores

Standings and sortable stat pages

Current Milwaukee Brewers Organization Batting Stats and Depth

Current Milwaukee Brewers Organization Pitching Stats and Depth
Think you could write a story like this? Brewer Fanatic wants you to develop your voice, find an audience, and we'll pay you to do it. Just fill out this form.
MORE FROM BREWER FANATIC
— Latest Brewers coverage from our writers
— Recent Brewers discussion in our forums
— Follow Brewer Fanatic via Twitter, Facebook or email