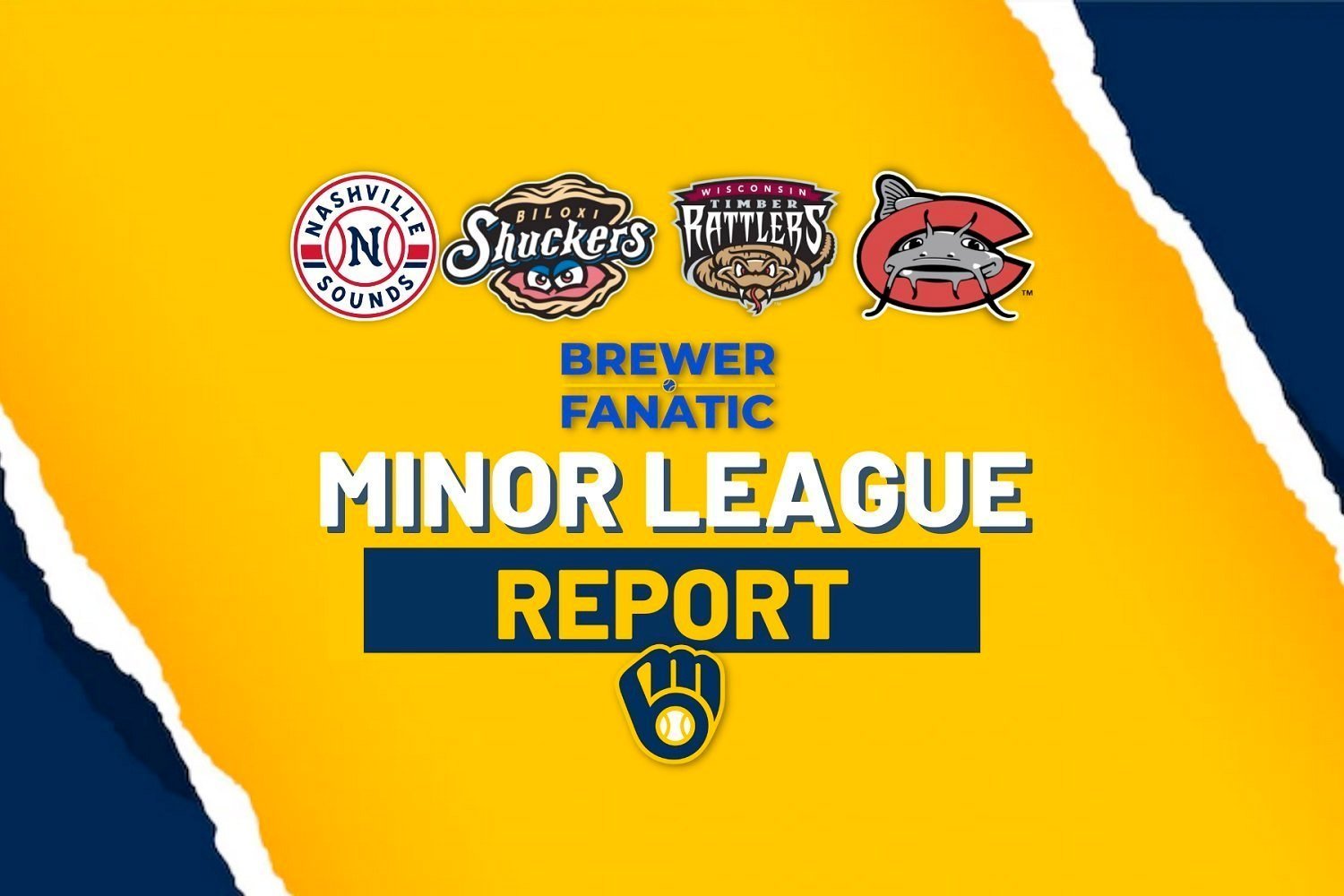 Image courtesy of BrewerFanatic
TRANSACTIONS:
DH Jesse Winker's rehab assignment moved to AAA Nashville 
LHP

 

Adam Seminaris

 

activated from AA Biloxi's 60-day injured list
OF

 

Je'Von Ward

 

released by High-A Wisconsin
Ward is just 23 years old (24 in October), despite this being his 7th season in the system (the 2020 lost pandemic year counts against service time, thus Ward was set to become a minor league free agent this fall). Drafted in the 12th round out of a California high school in 2017 at age 17, Ward was consistently playing against those nearly three years older in the 2017-2019 seasons in Maryvale, Helena and Wisconsin, respectively. This April 2019 article provides nice early career background. In November 2022, Ward discussed in this MLB.com feature how much his Arizona Fall League assignment meant to him after missing the regular season due to Tommy John surgery. Je'Von was also the subject of our BrewerFanatic interview series last winter (Part I and Part II).
SS

 

Eric Brown Jr. activated from High-A Wisconsin's 7-day injured list
RHP

 

Brannon Jordan

 

activated from High-A Wisconsin's 7-day injured list 
OF

 

Eduarqui Fernandez activated from High-A Wisconsin's 7-day injured list
OF

 

Diego Larez

 

released by ACL Brewers
Larez, 20 years old out of Venezuela, did not play in 2023, spending the year on the injured list. He appeared in 79 games over the past two seasons in the Dominican and Maryvale, posting a .213/.375/.357 line, with his OBP fueling a .732 OPS. His K rate was 23.3%.
We wish both Ward and Larez well in their life and baseball journeys. We imagine Ward in particular will be able to pursue opportunities on the field should he wish.
---
Final: Nashville 12, Gwinnett (Braves) 5
Via the Sounds' site, we encourage readers to review each of the affiliate write-ups as part of your season-long Link Report routine:
Sounds Slug Their Way Past Stripers - Owen Miller a perfect 4-for-4 as Nashville romps Gwinnett to begin road trip
As is always the case, so many nuggets within the meat of that summary along with the post-breakdown notes.
He's not grabbing headlines in his middle relief role, but we can at least acknowledge that 40-man roster LHP Ethan Small has been quite effective in 2023 with a 1.20 WHIP over 40 innings of work.
Yes, Tyler Black homered (off old friend infielder Daniel Robertson). He also drew two walks.
Hard to fathom that all of Mike Brosseau, Luis Urias and Owen Miller are out of the Crew's infield mix here in August. Notably, of course, Miller remains in the organization and firmly on the 40-man roster.
Miller, Patrick Dorrian, Keston Hiura, and Abraham Toro also all went deep, but with a road game and no Gwinnett video grabbed, take the box score's word for it.
---
Final: Pensacola (Marlins) 10, Biloxi 3
Via the Shuckers' site:
Shuckers Fall in Series Opener Against Blue Wahoos - Felix Valerio becomes ninth Shucker of the year with multi-double game
Jackson Chourio singled in five trips, did not strike out.
In fact, the Shuckers only fanned twice but stranded ten within a 3-for-17 RISP effort.
The three runs RH reliever James Meeker allowed in the 6th were unearned, but it still wasn't a good frame, as Meeker very uncharacteristically walked the first two men he faced.
Despite the five doubles among the ten Shuckers hits, between the middling pitching lines (including starting RHP Carlos Rodriguez) and the four errors, this was a downer for the listed 1,227 in attendance, with Biloxi down 7-0 entering the bottom of the 6th.
Felix Valerio has walked once since June ended (95 at-bats). It's been a tough 2023, but we'll acknowledge him here:
---
Final:  Wisconsin 4, Quad Cities (Royals) 3
Via the Timber Rattlers' site:
Wood Knocks Back on Bandits - Catcher's two-out, two-run double is the hit the Rattlers needed
Pre-Game Media Notes (Download Link) via the team's Virtual Press Box
Only five hits for the Timber Rattlers, but timeliness and at the plate and solid pitching proved a good combination.
He only faced one batter, but RHP Miguel Guerrero stranding two of RHP Brannon Jordan's baserunners with a strikeout in the 7th was huge. Good to see Jordan return after just over a month on the IL.

That's a pretty sweet Wisconsin top of the lineup when you combine a returning Eric Brown Jr. with the newbies in Brock Wilken and Mike Boeve, along with promoted Luis Lara.

I'm typing just as I recovered from a brief power outage, so let's just get right to the game highlights:
Matinee on Wednesday, so no Postgame Podcast Tuesday night.
---
Final: Columbia (Royals) 8, Carolina 5
Early Deficit Too Much in 8-5 Loss to Fireflies - Jadher Areinamo and Dylan O'Rae both had two doubles in first-place Carolina's series opening loss to Columbia

Pregame Media Notes
Enough losing, Mudcats.
3-7 in their last ten and now dropping a third consecutive game, Carolina is fortunate to maintain a two-game lead in the standings, as the game summary notes.
Just a 2nd straight disaster start from 21-year-old RHP Alexander Vallecillo. Stinks when your win probability is 5.3% after the top of the first, and even that seems generous. Fans hadn't even found their seats yet. Vallecillo allowed nine runs in three innings in his prior effort. Talk about blowing up reasonable seasonal numbers prior. Keep your head up, young man.
Don't overlook this note:
"Gerson Calzadilla pitched through four innings in his relief outing before leaving with an apparent injury while in a 1-0 count against Werner in the fifth."
This was only Calzadilla's 2nd Mudcat appearance since his callup from Maryvale.
Quite the effort from those not named Vallecillo on this night to make the final tally and box score presentable. Please peruse said box for the offensive lines.
Catch multiple videos from the Mudcats' home game here.
---
The Dominican Summer League seasons are over for the two Brewers clubs, with inclement weather wiping out Tuesday's finales.
Here's your final statistics for each team (you'll see the DSL links to click on when you reach this page, click on the DSL Brewers 1 link and both teams' numbers will be visible).
---
As we await a Brewers-Rockies playoff battle in Arizona's Rookie League Thursday evening, Wednesday's slate includes the early start T-Rats' game competing for your attention with the big-league club. Have a nice day, thanks again for visiting.
Organizational Scoreboard including starting pitcher info, game times, MiLB TV links, and box scores
Current Milwaukee Brewers Organization Batting Stats and Depth
Current Milwaukee Brewers Organization Pitching Stats and Depth
Think you could write a story like this? Brewer Fanatic wants you to develop your voice, find an audience, and we'll pay you to do it. Just fill out this form.
MORE FROM BREWER FANATIC
— Latest Brewers coverage from our writers
— Recent Brewers discussion in our forums
— Follow Brewer Fanatic via Twitter, Facebook or email
2