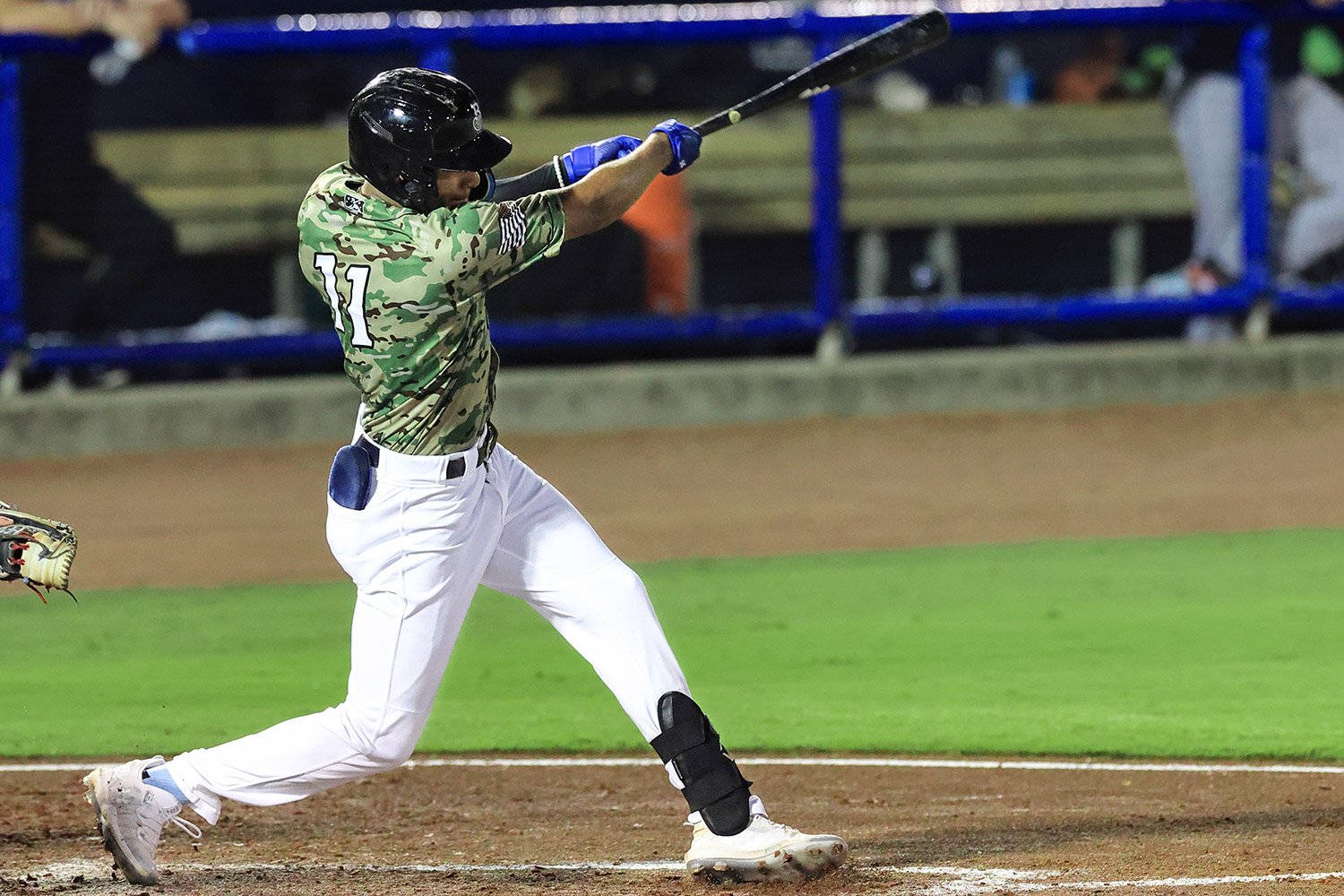 Image courtesy of Biloxi Shuckers/Carlos Hurtado - Jackson Chourio Pictured
Transactions:
The release of dependable reliever Jordan (3.94 ERA with 123 Ks in 102 2/3 IP across three minor league seasons, including a 3.21 ERA with 39 Ks in 33 2/3 IP at High-A this year) was a surprise to commenters in our transaction thread. Timber Rattlers podcasters Chris Mehring and Kyle Lobner also had only good things to say about Mr. Jordan. We wish the 25-year old, 2021 ninth round draft pick out of the University of South Carolina nothing but success in his future endeavors.
Game Action:
Final: Nashville 3, Gwinnett 1
Box Score / Game Log
Via the Sounds' website, game details, and we encourage readers to review the affiliate write-up as part of their Link Report routine: Sounds Hold Gwinnett to One Hit in Win
Starting 25-year old RHP Evan McKendry (6 IP, 1 R, 1 H, 2 BB, 6 Ks) was dominant in earning his 10th win of the season, outduelling solid Darius Vines (7 IP, 2 R, 4 H, 0 BB, 5 Ks) in this tight contest.
1B Jesse Winker (on rehab from MLB – 3-for-4, double, RBI) and SS Cam Devanney (2-for-3, RBI) had solid games to lead the offense. Winker collected Nashville's first hit (4th inning single), then brought home Devanney for the game's first run via an RBI double in the top of the 6th inning.
Sounds' Extras:
The bullpen of LHP Clayton Andrews, RHPs JB Bukauskas and Thyago Vieira were lock-down, retiring 9 of 10 batters faced while not allowing any runs or hits. Vieira's fastball topped out at 100.1 mph on the game's final pitch: a swinging strikeout.

I believe that Winker's minor league rehab assignment (maximum 20 days) can last up to and including Sunday, September 3, by which point a decision must be made to add him to the MLB roster or otherwise.

The Sounds other hits were singles off the bats of 3B Tyler Black (1-for-4, RBI) and DH Keston Hiura (1-for-4), extending their on-base streaks to 15 games and 19 games, respectively.
Thursday's outlook: RHP Colin Rea makes his second start since being optioned to the minors, trying to lead Nashville to a 3-0 series lead and himself back to the Brewers' roster.
Biloxi Pre-Game Media Notes
Final: Pensacola 11, Biloxi 2
Box Score / Game Log
Via the Shuckers' website, game details: Jackson Chourio Breaks Shuckers' Single-Season RBI Record in Loss
19-year old center fielder Jackson Chourio (2-for-4, HR, double, 2 RBIs) captured the headline by giving Biloxi a 2-1 lead in the 3rd inning and simultaneously breaking Biloxi's team RBI record, but the team was thoroughly out-played thereafter in falling behind 2-0 in this week's series. 
Starting RHP Tobias Myers (4 1/3 IP, 7 R, 9 H, 0 BB, 5 Ks) retired the first six batters he faced, including five by strikeout, before conceding solo homers in the 3rd and 4th innings in advance of the six-run 5th inning disaster.
Shuckers' Extras:
The 25-year old Myers continues to get long looks as a starter (starting 44 of 46 games played in 2022-23), though I'd think that his strikeout rate (10.9 K/9) and velocity (93-96 mph) could serve him well as a bullpen arm. Time will tell.

Biloxi's only other hits were singles from 3B Zavier Warren and SS Ethan Murray.
RHPs Ryan Brady and Jason Lopez (position player pitching the 9th inning) each delivered one scoreless inning, while RHPs Ryan Middendorf and Zach Vennaro combined to concede 4 runs (3 earned) on 6 hits in 2 2/3 IP.
2B Freddy Zamora collected his 20th error of the year, while C Jeferson Quero conceded his 9th passed ball. At least Quero threw out the Blue Wahoos' only attempted basestealer when the game was still 1-0 in the 3rd inning.
Thursday's outlook: 25-year old RHP TJ Shook is scheduled to start Game 3 of the series, looking to replicate his last outing (5 IP, 1 R (0 ER), 3 H, 1 BB, 7 Ks).
Wisconsin Pre-Game Media Notes
Final: Wisconsin 10, Quad Cities 6
Box Score / Game Log
Via the Rattlers' website, game details: Rattlers Rally Past River Bandits with Five-Run Eighth
As with nearly all home games, we're grateful to the Wisconsin media team for extensive video highlights. As they articulated well on the podcast, this was essentially two games in one:
Scoreless through 4 ½ innings

High-scoring, back-and-forth affair over the remaining 4 ½ innings, with Wisconsin prevailing to take a 2-0 series lead.
RHP Cameron Wagoner (5 IP, 1 R, 2 H, 4 BB, 5 Ks) was positioned for a win, exiting up 2-1 after a solid outing. He's really turned his season around with solid results in five of his last six games.
SS Robert Moore (2-for-5, HR, double, 3 RBIs) opened the scoring with his 2-run blast in the 5th inning, doubled in 2B Jheremy Vargas (2-for-4, double, 2 RBIs) to tie the game 6-6 during the Timber Rattlers' 8th inning rally and scored the winning run on a double by 3B Mike Boeve (2-for-5, 2 doubles, 2 RBIs).
Timber Rattlers' Extras:
Center fielder Joe Gray Jr. (2-for-2, double, 3 walks, SB) was another solid offensive performer, reaching base in all five opportunities.
Vargas was a late replacement for INF Eric Brown Jr., who recently returned from injury. They noted the absences of both Manager Joe Ayrault (away since Saturday for personal reasons) and Brown on the podcast, but didn't dive into details.

Boeve's game-winning RBI double in the bottom of the 8th inning came just a few plays after committing a costly 2-run error (his first error in 16 minor league games played) on a bunt in the top of the inning. Sweet redemption.

It wasn't the best of days for either of right-handed relievers Sam Gardner (1 IP, 2 ER) or Stiven Cruz (2 IP, 3 ER), but RHP Tanner Shears delivered a scoreless 9th inning to lower his season ERA to 1.41 with 67 strikeouts in just 44 2/3 IP.
Thursday's outlook: RHP Alexander Cornielle (5.45 ERA, 1.35 WHIP, 8.5 K/9 in 71 IP) gets another chance to earn his first Win of 2023.
Carolina Pre-Game Media Notes (link not working at press time)
Final: Carolina 7, Columbia 6 (in 10 innings)
Box Score / Game Log
Via the Mudcats' website, game details: Chirinos Hits Clutch Homer in Extra-Innings Victory
Boy did the recently-struggling Mudcats need this victory, snapping a 3-game losing skid to remain two games ahead of Lynchburg in their hunt for a playoff spot. A busy 1st inning saw Carolina fall behind 2-0 before scoring five runs on four hits and two walks, including a 2-run double from left fielder Jace Avina (1-for-4, double, walk, 2 RBIs).
From there, however, the Mudcats squandered numerous chances before handing the ball to RHP Yerlin Rodriguez (1 IP, 2 R (1 ER), 3 H, 1 BB, 1 K) in the top of the 9th inning while leading just 5-4. After Rodriguez registered his first blown save of the year, 1B Jesus Chirinos' (3-for-3, HR, 2 walks, RBI) solo homer tied it in the bottom of the 9th inning before two wild pitches scored ghost runner Jadher Areinamo to hand Carolina a walk-off win in the bottom of the 10th inning. 
Mudcats' Extras:
After two uncharacteristic blow-up relief outings last week, 23-year old RHP Chase Costello (1 IP, 0 R, 0 H, 0 BB, 2 Ks; season ERA 3.26) perhaps needed the victory more than anyone, grabbing his eighth Win of the season with a scoreless 10th inning to strand the ghost runner.
Starting 20-year old RHP Jesus Rivero had an up-and-down game (4 IP, 3 R, 3 H, 3 BB, 5 Ks), but 23-year old LHP Brian Fitzpatrick was solid – 4 IP, 1 R, 4 H, 1 BB, 2 Ks; season ERA 1.84. Fitzpatrick's 57 pitches (42 strikes) are the most he's thrown in a game this year, as he's still ramping up to full strength following an injury.

Eight of nine Mudcat starters collected hits in the game. 19-year olds CF Dylan O'Rae and SS Daniel Guilarte batted first and second in the order, each collecting a single, walk and stolen base. That's O'Rae's 37th stolen base in 39 opportunities this year and Guilarte's 30th in 37 chances.
Thursday's outlook: RHP Yujanyer Herrera is the likely Thursday starter, with Carolina needing a win to grab a 2-1 series advantage.
We hope that you enjoy the Minor League Link Report. Follow the five minor league games on Thursday, including the ACL playoff semifinal at 8:00pm CST, while the Brewers take a rest day!
Organizational Scoreboard including starting pitcher info, game times, MiLB TV links, and box scores
Current Milwaukee Brewers Organization Batting Stats and Depth
Current Milwaukee Brewers Organization Pitching Stats and Depth
1