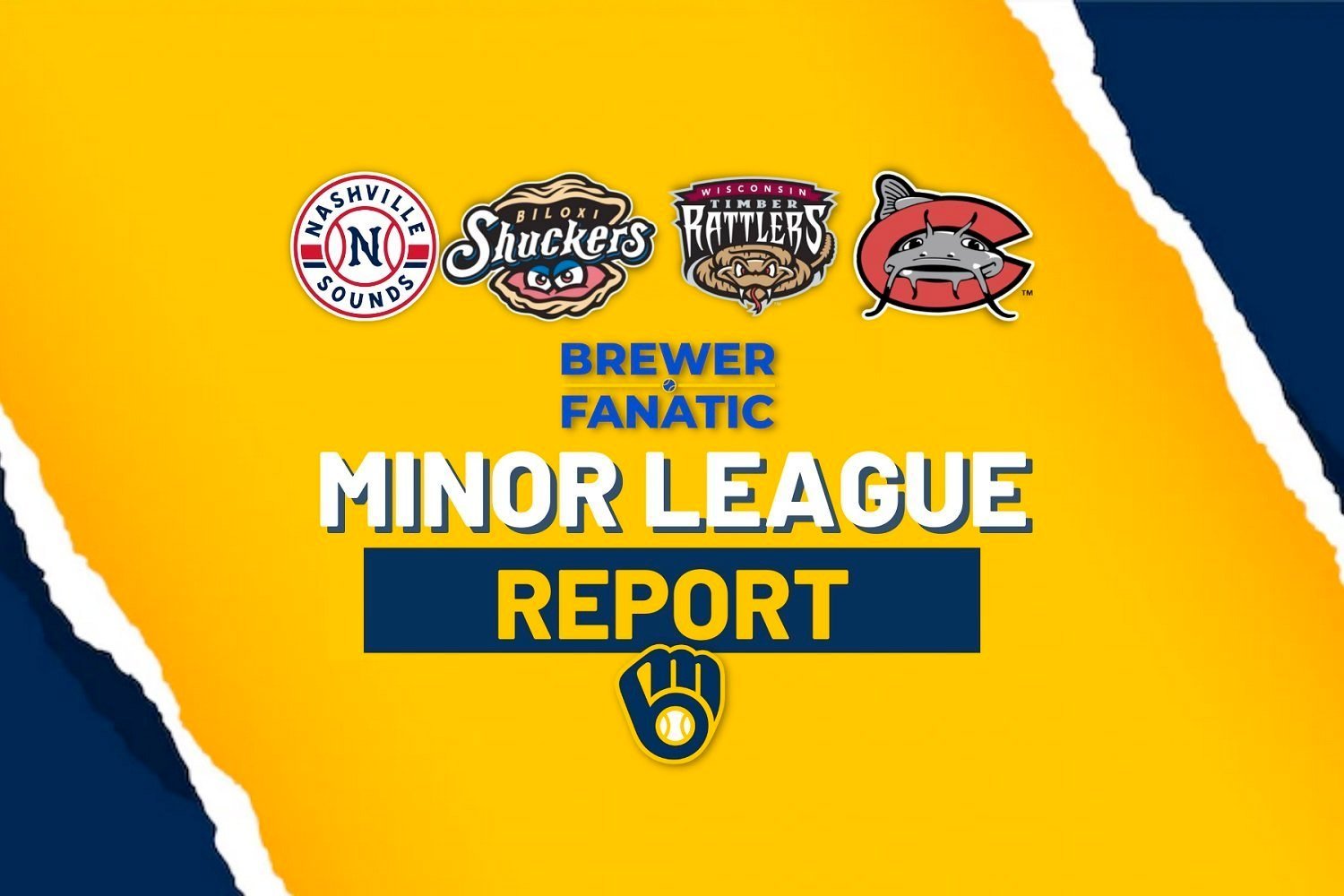 Image courtesy of Brewer Fanatic
Transactions: 
There was a bevy of promotions and movement. Congratulations to all these men earning a trip to higher levels of professional baseball!
Take a peek:
RHP's Miguel Guerrero, Brannon Jordan, and Jeison Pena were promoted to the Wisconsin Timber Rattlers from the Carolina Mudcats
INF Jace Peterson was sent on a rehab assignment by the Milwaukee Brewers to the Wisconsin Timber Rattlers
RHP Max Lazar and LHP Justin King were sent on rehab assignments by the Wisconsin Timber Rattlers to the ACL Brewers Blue
2B Zack Raabe was promoted to the Wisconsin Timber Rattlers from the Carolina Mudcats
RHP's Justin Jarvis, Robbie Baker, and Ryan Middendorf were all promoted to the Biloxi Shuckers from the Wisconsin Timber Rattlers
RHP Alexander Cornielle was promoted to the Wisconsin Timber Rattlers from the Carolina Mudcats
INF Erick Reyes was assigned to the DSL Brewers 1 from the DSL Brewers 2
RHP's Cam Robinson and Nash Walters were promoted to the Nashville Sounds from the Biloxi Shuckers
INF Ernesto Martinez was placed on the 7-Day IL by the Wisconsin Timber Rattlers
Firstly, in an evening with limited media options given a Nashville and Carolina road series and a Biloxi cancellation, here's a quick peek at diminutive young speedster, and Brewers 2022 3rd round pick, INF Dylan O'Rae:
---
Final: Nashville 10, Durham 7
Box Score / Game Log                                                 

Via the Sounds' site, game details, please visit and review:
Sounds Outlast Bulls Improve to 25 Games Over .500 - Nashville Wins Series Opener Against IL East Division Leader
Taking the hill in Durham for the opening game was ol' reliable RHP Marcus Walden who had allowed only a single earned run in his last 11 innings. All told, Walden completed four innings and gave up three runs - not supportive of the fine outing he had and was having as he suffered from several seeing-eye hits with two down in the same fourth inning that ended his night.
The fun started early for the Sounds as they pushed Rays super prospect and recently promoted, RHP Taj Bradley, to a 29-pitch first inning. I continue to be amazed by the vastly different style of baseball these new Sounds players afford manager Rick Sweet. Earlier in the season, it was loads of vets and plenty of power. These days, it's simply get a barrel on the ball and let the speed do the rest. Every opposing announcer speaks to it. And, it's plain to see and a joy to watch.
Let's get into some takeaways:
Three Quick Strikes:
1) I keep hearing it each and every series - and it is reflected back to us by manager Rick Sweet in his interviews with Jeff Hem (HERE) - since the promotions and since the Ruiz acquisition, there is a new show in town in Nashville: speed. This is possibly an entirely new brand of baseball coming to Mil...errr...American Family Park: contact and speed on the base paths. A case and point would be tonight's first inning. OF Sal Frelick opened with an extremely patient 10-pitch AB earning a free pass - he fought off numerous 97 mph fastballs before he let a high and inside breaking ball send him to first base. OF Esteury Ruiz came to the plate and on a first pitch heater laid down an absolute feather of a bunt single to the third base side of the mound. Suddenly there were two men aboard and nobody out and both threats to steal or score on any meaningful contact. After a Turang fielder's choice moved both runners ahead, both runners ultimately scored before the inning was over. A wild pitch. A well-smacked single to right center by Big Jon Singleton. And, just like that, it was 2-0. I could watch runs cross like this all day. 
2) RHP Trevor Rosenthal's second rehab outing did not go as planned. After breezing through his first two batters, it was clear he was struggling to locate and his fastball flattened out. He allowed two base runners with two down. And, he then completely misfired an 0-2 fastball right over the heart of the plate (Navarreto was clearly asking for high and outside) and the Bulls' Josh Lowe hit it just over the wall in deep left center field. Suddenly it was 6-5 Bulls with every one of their runs having crossed with two outs. Rosenthal walked the next batter on four pitches. Navaretto visited the mound. Then manager Rick Sweet and then head athletic trainer Jeff Paxon. And, just like that, Rosenthal was pulled with an apparent injury. Wooof. This is not what we were looking for! Let's hope it's nothing serious and simply a minor blip for the aging work horse. He was touching 96-97 mph with ease - the location and the plane of entry simply fell off the map.
3) Defense. Defense. Defense. Good teams make the unorthodox look routine. How about an absurd 2-6-9 double play?! My goodness it was beautiful. With a runner on third base and one down, lefty Josh Lowe struck out on a Hobie Harris ball in the dirt. Catcher Brian Navarreto faked the throw to first, looked back down the third base line and had drawn the runner toward home plate. He quickly sprinted toward third base and after a quick toss to the cover man, another throw home and a throw back to short stop Brice Turang covering the bag, Navarreto quickly pointed Turang to second base where outfielder Joey Wiemer was sprinting toward the bag like a gazelle from the right field grass! Much to the surprise of a sliding Josh Lowe, the ball arrived to the sprinting Wiemer who deftly and quickly applied the tag and completed the split second play. That was awesome. And, it was a key play in the ball game. These young men simply do so many things well on a baseball diamond. It's a privilege to watch on a nightly basis.
---
Biloxi vs. Chattanooga was postponed due to Rain. Here is your brief summary: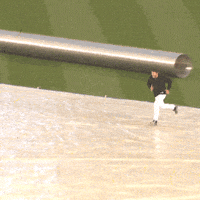 Stay tuned - the makeup game is scheduled for Thursday 8/25.
---
Wisconsin Pre-Game Media Notes                  
Final: Lansing (Athletics) 4, Wisconsin 3
Box Score/Game Log                                                 
Via the Timber Rattlers' site, game details, please visit and review:
Lansing Edges Rattlers 4-3 - Wisconsin Opens Home Stand with Close Loss
Brewers utility man extraordinaire, Jace Peterson, began his rehab assignment in Wisconsin and took the lead-off spot in the line-up and manned the hot corner in the infield. It was fitting the T-Rats faced the High-A alma mater of Peterson's teammate, Rowdy Tellez, for his first game back. Try to catch this Mr. Tellez!
Full-Game You Tube highlights:
And, now, let's take a quick look at what I saw on my second screen for Wisconsin's home series opener:
Three Quick Strikes:
1) This wasn't RHP Carlos Rodriguez's sharpest outing. This being said, it certainly wasn't a bad outing - he's truly a gamer and rarely puts his team in an insurmountable hole. Given baseball is an absolutely finicky and difficult game, his lone run surrendered during his 85-pitch 4 IP, 2 H, 1 BB, 5 K outing was an absolute flare to center field that fell just between the gloves of Ethan Murray and a charging Joe Gray Jr.. It's a testament to the young hurler he could work his way around a bases loaded jam and several high-pitch full counts to keep the contest extremely close. If football is a game of inches, so is pitching as Rodriguez demonstrated tonight. And, kudos to the very patient Lugnuts hitters - their approach was very disciplined tonight. 
2) Welcome back, super-utility man Wes Clarke! It was a sight for sore eyes to see Clarke knock the first two T-Rats runs aboard with a patient 0-2 single over second base and into center field. Having watched Clarke all of 2022, one of his truly redeeming traits is certainly patience at the plate. Never too high. Never too low. He took the 0-2 breaking ball and simply sent forth a sweet and easy swing and knocked it well and into center field for two runs. I am certain manager Joe Ayrault is relieved to have Clarke back in his thin lineup - a lineup starving for run production.
3) After catcher Darrien Miller took an inside pitch off his elbow guard, the bases were loaded with one out in the bottom of the eighth inning with the T-Rats trailing 4-2. Rattlers veteran Joe Gray Jr. came to the plate looking to get that much needed and long overdue big hit. He took a very patient approach and worked the count 3-1, walked out of the box, and then took a questionable low and outside pitch for strike two. It was 3-2. He fouled off the next pitch - a heater dead center - and then sent a flare to center that landed, miraculously, before the charging center fielder who tripped while the ball lightly dribbled under his glove. For some reason, Reidy Mercado slid into third base and missed the 'go ahead' signal from manager Joe Ayrault at third. The bases were still juiced. One down. T-Rats trailing 4-3. Had they missed their chance to tie the game or take the lead? Yes, they most certainly did. A strikeout by Eduardo Garcia on two consecutive sliders off the plate (a pitch he routinely swings at and misses) and then a weak fly out to right off the bat of Jose Acosta ended the threat. It's a struggle right now in High-A - there's no getting around it. The T-Rats are now eight games back of South Bend with only 17 to play. 
---
Carolina Pre-Game Media Notes                             

Final:  Kannapolis 8, Carolina 3  
Box Score / Game Log                                            
Via the Mudcats' site, game details, please visit and review:
Win Streak Ends at Six with 8-3 Loss -  Jose Sibrian Went 1-for-3 with a Late Two-Run Single in Carolina's Streak Snapping Loss
Early season Low-A call-up and feel good story, Mexican RHP Fernando Olguin, continued his August struggles on the mound for Carolina. Coming into tonight's contest, Olguin had managed to concede 7 ER on 19 H and 2 BB in just 12 IP in August. He did throw a clean two-innings in just his last outing versus Fayetteville so there was a semblance of hope those were first two starts were hiccups. However, tonight, it pretty much all unraveled in a 4 IP, 10 H, 2 HR, 7 ER outing. He did manage to toss in four punch outs so not all was lost. But, one might surmise, Olguin is in need of a period of rest. 
Three Quick Strikes:
1) Much of the hype in Carolina's new look squad has been centered upon the late-season appearances and surges of OF Jace Avina and INF Eric Brown Jr. However, if we take a step back, we probably should be talking about the continued excellence of INF, and switch-hitting, Robert Moore quite a bit more. After tonight's 2-for-3, 1BB, 1 RBI, 1 K performance at the dish, Moore is up to a 0.304 BA with an 0.820 OPS in his 64 AB's for Carolina. Obviously, this is a very small sample size, BUT, it is highly encouraging.
2) A very big welcome back is in order for hard-working reliever, RHP Trevor Tietz. After being sent down to the ACL Blue to fine-tune his craft, he was back on the hill for the Mudcats for the first time since May 29th. It's hard to complain about 3 IP, 2 H, 0 BB, and 6 K. That's just a fantastic first outing. Small successes like these are what makes following the Minor League season in entirety such a joy.
3) OF Hendry Mendez managed to extend his on-base streak to 11 games while C Jose Sibrian managed to extend his hitting streak to eight games. Mendez went 1-for-4, 1 R, 1 BB, 2 K while Sibrian, as the article above declares, hit a late two-run single to make the final score a wee more palatable. These are two young men the Mudcats will lean on to help with their late-season playoff push. Chasing a very good Fredericksburg team is going to demand their very best over the next few weeks.
---
ACL Brewers Gold 5, ACL Brewers Blue 4
Box Score / Game Log
The Gold and Blue played a tight contest that came down to the final seventh inning. And, who other than 3B Luke Adams to come through in the clutch? It's hard to fathom what this young man has done in his first professional action straight out of high school. With the game-tying 2 RBI double, Adams finished his brief time in the ACL on a high note: 2-for-4, 2 RBI, 2 R, 1 2B (his 3rd) and 1 K. Adams finished his ACL work with a 0.375 BA and 1.075 OPS in 32 AB's. Oh, I nearly forgot: he also swiped 3 bases on his day giving him 9 SB in just 11 games of action. That's just incredible stuff. As we look further into the box score, we see two-way stud Quinton Low showed out with a 2-for-3, 1 R, 1 2B (his 7th) 1 RBI, 1 BB day batting clean-up for the Brewers Blue while up-and-coming INF Daniel Guillarte managed a 2-for-4 day - 1 R and 1 2B (his 8th overall). Guillarate's counterpart for the Gold, Jose Caballero, also went 2-for-4. By every measure, both Guillarte and Caballero have pushed themselves into consideration for promotions down the line. Keep a watchful eye on these two.
On the pitching side of things, lefty Clayton Andrews pitched his second consecutive scoreless frame in just his second rehab outing since injury put him on the shelf in the summer of 2021. This is a great development for the young man. Rehabbers, RHP Max Lazar and LHP Justin King each pitched scoreless frames for the Brewers Blue as well - King finished his frame with 1 H, 1 BB, and 3 K. After pitching his 7th consecutive scoreless and hitless relief inning, RHP Cameron Wagoner (2022 11th Round draft pick, Eastern Michigan) struggled in his final and second IP on the day: 4 H, 1BB, 3 ER. Considering his consistent impact, we'll toss it up to 'fatigue' Though he was credited with a blown save, Wagoner did pick up the 'W' while 21-year-old RHP Raul Mendoza pitched a scoreless seventh picking up his 3rd save. The ACL Brewers Gold finish their season at 32-21 while the ACL Brewers Blue finished with a 19-34 record overall.
---
DSL Brewers #1 3, DSL Tigers #1 1
Box Score / Game Log
Ahhhh, yes, the DSL classic pitch to two batters and call the game with nobody out in the bottom of the fifth inning. It's hard to say what really happened here - did a weather front move in? We'll most likely never know. Either way, it will read as a shortened five-inning affair - there were recorded winners and losers. And, fortunately, for the Brewers Uno they'll end their season on a much-needed high note. 
For all the attention OF Luis Lara gets, and most-often rightfully so, it would appear to my eyes we are overlooking his running mate OF Duncan Garcia. He managed to knock his 4th HR of his DSL season and swiped his 19th base (to Lara's 7). He finished his day and his season on a 2-for-2, 2 R, 1 RBI, 1 SB, 1 HR afternoon. That's a great way to call it a summer. RHP Cristofher Carrasco picked up his first victory with 4 IP, 2 H, 1 BB, and 6 K. A fine outing that set the table for 17-year-old RHP Manuel Rodriguez's 3rd Save. The DSL Brewers #1 finish their season 22-37.
DSL Tigers #2 3, DSL Brewers #2 0
Box Score / Game Log
We see a parallel development in this contest as we did above: two batters in during the bottom of the fifth frame - both struck out by the Brewers Dos's RHP Jose Meneses - and, well, it appears the game was called. We're now committing our speculative powers to a possible torrential downpour ending both DSL Brewers contests early. It's the Carribean afterall! There doesn't appear there was a whole lot of action for the Numero Twos in this one. They were outhit 6-to-4. They were 0-for-3 with RISP. And, they committed two errors. Let's highlight Demetrio Nadal's 17th stolen base overall and a 17-for-20 SB mark on his season over 48 games. Considering the young man also held down a 29:22 K:BB ratio, we'll want to see what's in store for the young infielder in 2023. The DSL Brewers #2 finish their season 27-32.
---
We will return to our four game schedule tomorrow. And, lo and behold, we have a Timber Rattlers matinee game. RHP Stiven Cruz will look to continue building off his wonderful season in his second High-A start. We see RHP Josh Lindbolm looking to stack success in Durham, RHP Victor Castaneda is back on the hill in Biloxi (if weather allows), and we are 'TBD' for the Mudcats in Kannapolis.
As always, thanks for reading. And, please, keep supporting these young prospects as they chase their dreams.
Organizational Scoreboard including starting pitcher info, game times, MiLB TV links, and box scores

Standings and sortable stat pages

Current Milwaukee Brewers Organization Batting Stats and Depth

Current Milwaukee Brewers Organization Pitching Stats and Depth
Think you could write a story like this? Brewer Fanatic wants you to develop your voice, find an audience, and we'll pay you to do it. Just fill out this form.
MORE FROM BREWER FANATIC
— Latest Brewers coverage from our writers
— Recent Brewers discussion in our forums
— Follow Brewer Fanatic via Twitter, Facebook or email