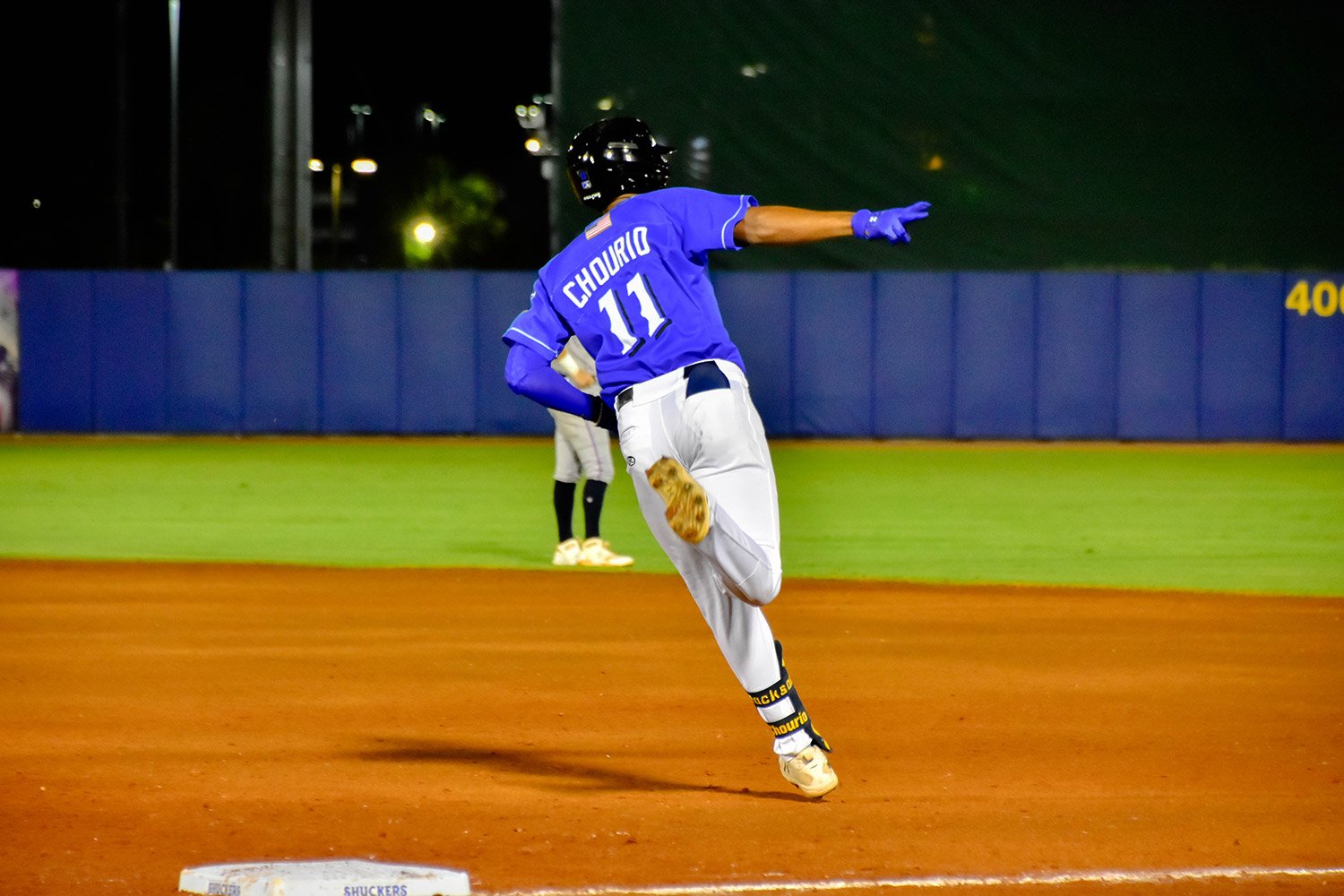 Image courtesy of Sierra Gatz & Biloxi Shuckers - Jackson Chourio Pictured
Transactions:
Game Action:
Nashville Pre-Game Media Notes
Final: Nashville 3, Gwinnett 2
Box Score / Game Log
Via the Sounds' website, game details, and we encourage readers to review the affiliate write-up as part of their Link Report routine: Devanney Delivers Critical Knock in Sounds Comeback Win
2B Jahmai Jones delivered the game-changing 2-run homer in the 6th inning and SS Cam Devanney the game-winning 9th inning single to backup a solid pitching effort from starting RHP Colin Rea and three relievers.
The victory was Nashville's fourth in a row, as they've crept to within just two games of a playoff spot in the highly competitive 20-team International League. In all, seven teams are within 2.5 games of each other atop the leaderboard, with the Sounds currently siting in fifth place.
Sounds' Extras:
Friday's outlook: 24-year old LHP Robert Gasser (3.81 ERA, 1.26 WHIP, 11.4 K/9 in 113 1/3 IP) gets an opportunity to clinch the series for Nashville and extend his lead stop the International League's strikeout leaderboard (143, well ahead of second place 125).
Biloxi Pre-Game Media Notes
Final: Pensacola 4, Biloxi 3
Box Score / Game Log
Via the Shuckers' website, game details: Shuckers Drop Tight Battle, 4-3, to Pensacola
Biloxi fell to its third straight defeat, this one a tough one-run loss, but the cold hard truth is that the team didn't quite do enough offensively (out-hit 7 to 5; left only three men on base vs. eight for Pensacola).
In positive news, as per the article link, C Wes Clarke (2-for-3, HR, walk, RBI) and right fielder Jackson Chourio brought Biloxi back into the game with solo homers. Clarke also led off the bottom of the 9th inning with a walk, which unfortunately went for naught in their close loss. 
Shuckers' Extras:
Friday's outlook: LHP Adam Seminaris returns from injury for his first AA action since May 17. He was a key piece of the Hunter Renfroe trade and the team will be glad to see him get back on track.
Wisconsin Pre-Game Media Notes
Final: Quad Cities 3, Wisconsin 2
Box Score / Game Log
Via the Rattlers' website, game details: Wisconsin Lets One Get Away Late
No write-up can capture the drama of this excruciating defeat like the video highlights compiled by Wisconsin's media team. Starting RHP Alexander Cornielle (5 IP, 0 R, 2 H, 2 BB, 7 Ks) deserved to earn that elusive first Win of 2023, but unfortunately it didn't work out as the River Bandits got to the Wisconsin bullpen in the 9th inning.
The two teams were a combined 2-for-19 with runners in scoring position before Quad Cities' two-run single to win the game while down to their final out. Both 9th inning runs were unearned following an error charged to RHP Shane Smith, who suffered his first blown save and loss with Wisconsin.
Timber Rattlers' Extras:
Friday's outlook: Rehabbing RHP Julio Teheran gets the start in Game 4 of this week's series, his first appearance since July 29th with the Brewers.
Carolina Pre-Game Media Notes
Final: Carolina 2, Columbia 1
Box Score / Game Log
Via the Mudcats' website, game details: Galindez Shines as Mudcats Edge Fireflies 2-1
Similar to Wednesday's game, the Mudcats grabbed an early lead, had the lion's share of opportunities, lost the advantage, then won anyway. The win keeps them in playoff position, though just two games ahead of Lynchburg with 15 games to play.
Credit goes to impressive outings for two 20-year old RHP pitchers: Yorman Galindez (5 IP, 0 R, 2 H, 1 BB, 4 Ks, 1 WP) made his first start in Low-A ball and Yujanyer Herrera (4 IP, 1 R, 2 H, 2 BB, 1 HBP, 4 Ks, 1 WP) earned the win for keeping the Fireflies largely at bay. 
Mudcats' Extras:
Friday's outlook: RHP Patricio Aquino (3.11 ERA, 1.22 WHIP, 8.8 K/9 in 75 1/3 IP) is scheduled to make his 18th start (19th appearance) as Carolina aims for a third straight victory.
Arizona Complex League Action
Final: ACL Brewers 3, ACL Rockies 2
Box Score / Game Log
David (31-25 Brewers, with a -8 run differential and a starting lineup of six players under age 20) once again vanquished Goliath (40-15 Rockies, with a +198 run differential and only one batter under age 20). The impressive win pushes the Crew into the ACL Best-of-3 Championship Series against ACL Diamondbacks Red, starting tonight!
A pair of 19-year olds batting 8th and 9th led the way for the Brewers, who were surprisingly the more threatening team in the early innings. Right fielder Reece Walling and 1B Yeison Perez (2-for-4, 2 HRs, 2 RBIs) connected on back-to-back homers for a 2-0 lead in the 5th inning, then Perez connected with another solo blast in the 7th inning to boost the advantage to 3-0.
18-year old 2B Juan Baez didn't score, but was a thorn in the side of the Rockies the entire night: 3-for-3, double, walk.
While the Rockies had a traditional starting pitcher who covered 4 1/3 innings and struck out 8 hitters, the Brewers went by pitching committee:
The win has to feel especially great for Manager Rafael Neda, who juggled an over-sized roster throughout the past three months, only to see all three experienced rehabbing players returned to higher level affiliates earlier in the week, while the Rockies' lineup featured two hitters who've spent most of 2023 in High-A ball.
We hope that you enjoy the Minor League Link Report. Follow the five minor league games on Friday, including Game One of the ACL Championship Series at 8:00pm CST.
Organizational Scoreboard including starting pitcher info, game times, MiLB TV links, and box scores
Current Milwaukee Brewers Organization Batting Stats and Depth
Current Milwaukee Brewers Organization Pitching Stats and Depth
Think you could write a story like this? Brewer Fanatic wants you to develop your voice, find an audience, and we'll pay you to do it. Just fill out this form.
MORE FROM BREWER FANATIC
— Latest Brewers coverage from our writers
— Recent Brewers discussion in our forums
— Follow Brewer Fanatic via Twitter, Facebook or email
2