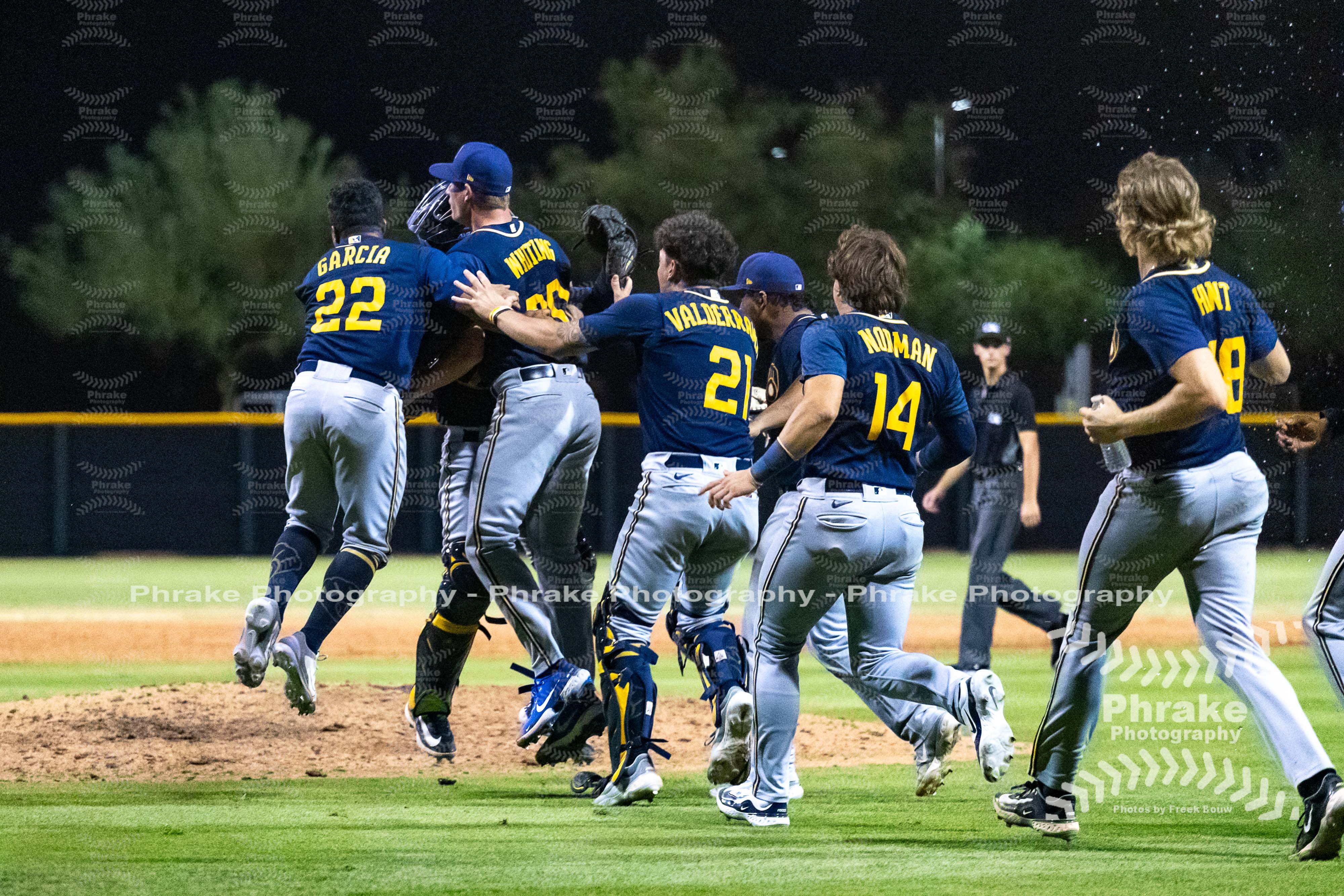 Image courtesy of Phrake Photography
For the week, Nashville (4-2) and Wisconsin (4-2) were series winners, Carolina managed a split (3-3) and Biloxi lost four of five games played.
Transactions:
Game Action:
Arizona Complex League Championship Final: ACL Brewers 5, ACL D-backs Red 4 (Brewers win series 2 games to 1)
Box Score / Game Log / Recap
With an early 5-0 lead cut to 5-3 by the 4th inning, the Brewers needed one pitcher to step up and deliver solid long relief. Into the breach stepped 21-year old RHP Brailin Rodriguez (2 2/3 IP, 1 R, 1 H, 1 BB, 3 Ks) and he was exceptional, rightfully earning the Win in this tightly-fought championship final.
Rodriguez faced the minimum number of hitters in the 5th and 6th innings to calm the tension, exiting with two outs in the bottom of the 7th inning and a runner on first base. It's no doubt that his departure would have felt like a reprieve to D-backs Red, who proceeded to nearly tie the game twice thereafter.
But how did we get there? Manager Rafael Neda went back to his starting nine from the Thursday and Friday playoff victories, with 19-year old C Edgardo Ordonez (1-for-3, walk, run) behind the plate. 20-year old RHP Felipe De Los Santos (3 1/3 IP, 3 R, 2 H, 2 BB, 2 Ks) got the start and held the D-backs Red team scoreless through 3 1/3 innings before things got hairy.
It was Ordonez who sparked the offense with a leadoff single in the top of the 2nd inning, followed by another base hit from left fielder Miguel Briceno (3-for-4, double, run), then a walk by right fielder Reece Walling (1-for-3, walk, run) to load the bases, thus prompting the first pitching change of the game. The Brewers then scored four runs over the next four hitters without the benefit of any RBI singles, RBI walks or RBI HBPs:
Ground balls to the pitcher from center fielder Luis Medina (1-for-4, double, RBI, run) and 1B Yeison Perez (1-for-4, double, run) yielded no outs and two runs – the first via an everybody's safe fielder's choice and the second on an error.
SS Cooper Pratt (1-for-4, HBP) grounded into a double play which also netted a run.
2B Juan Baez reached via the D-backs second error of the inning, pushing the lead to 4-0.
The Brewers tried to put the game out of reach in the 4th inning with a Perez leadoff double and Pratt single, followed by Baez knocking in a run via sacrifice fly for a 5-0 lead, but a fly out and baserunning snafu ended that half-inning.
When the D-backs finally got through against De Los Santos via two walks and an RBI double with one out in the bottom of the 4th inning, Manager Neda turned to RHP KC Hunt, who notched two strikeouts but they sandwiched an RBI single which cut the lead to 5-3.
An Ordonez walk and Briceno double in the top of the 5th inning looked promising for the Crew, but D-backs Red brought in LHP Carlos Rey (2 2/3 IP, 0 R, 0 H, 0 BB, 1 HBP, 5 Ks) to face left-handed hitters Walling (strikeout) and Medina (groundout). The D-backs' Rey and Brewers' Rodriguez matched each other pitch-for-pitch until their exits allowed for late drama to unfold.
Brewers' 10th round pick RHP Morris Austin came in for Rodriguez, but conceded a walk and RBI double to the next two batters which nearly tied the game 5-5. Instead, a Walling-Perez-Ordonez relay caught the trailing baserunner at home to end the inning and preserve the slim 5-4 advantage. Whew! RHP Craig Yoho (8th round pick) then pitched a scoreless 8th inning and handed over to undrafted signee RHP Blake Whiting to handle the 9th.
The D-backs' solid 19-year old catcher Adrian De Leon (2-for-4, double) greeted Whiting with a lead-off double to boost their win probability from 19.0% to 43.8%, before Whiting struck out consecutive pinch hitters. This set up the dramatic final play of the game, a line drive off the bat of Alexander Benua which shortstop Pratt corralled to secure the win, as captured on video by former Brewers' minor leaguer Jhonny Severino (thank you!) here: 
Congratulations to the ACL Brewers on their Championship! Hopefully we'll see a few of the players promoted for a taste of Low-A ball over the remaining two weeks.
---
Nashville Pre-Game Media Notes
Final: Gwinnett 7, Nashville 4
Box Score / Game Log
Via the Sounds' website, game details, and we encourage readers to review the affiliate write-up as part of their Link Report routine: Sounds Overcome by Late Deluge in Gwinnett
The Sounds led 2-0 in the 3rd inning and 4-3 in the 6th inning, but didn't do enough to grab this win:
Out-hit 11-to-6, with zero extra-base hits.
1-for-9 with runners in scoring position.
Costly 3rd inning error allowed in two unearned runs.
Grounded into three double plays, with another player thrown out at second base on a force out at second base on a fly ball hit to right field.
Left fielder Keston Hiura had a 2-RBI single in the 5th inning to momentarily give Nashville a 4-3 lead, but also grounded into two double plays and struck out.
Sounds' Extras:
Starting RHP Janson Junk (4 IP, 3 R (1 ER), 3 H, 3 BB, 2 Ks) was pulled after just 62 pitches (34 strikes), with RHP Caleb Boushley later entering for his first relief appearance since July 2021. If this was the game plan, it didn't work out (Boushley line: 2 1/3 IP, 4 R, 5 H, 0 BB, 1 K) and it could have extra-negative repercussions on Nashville's starter availability in light of Adrian Houser's MLB set-back. Hopefully there's nothing truly wrong health-wise with Houser or Junk.
1B Abraham Toro perhaps had the best at-bats on the team, but his two line drive singles didn't result in any runs or RBIs. 3B Tyler Black had an RBI walk and infield hit. Right fielder Jahmai Jones and SS Cam Devanney each singled and walked, with Jones stealing a base and Devanney having the costly 3rd inning error in the field. DH Jesse Winker walked three times and grounded out twice.
Nashville was already expecting two of its players to be promoted when Major League rosters expand on September 1, but they may lose three players if the Brewers' Houser goes on the injured list.
If the Brewers are looking to call-up a left-handed reliever, Ethan Small (2/3 IP, 0 R, 1 H, 0 BB, 1 K) hasn't conceded a run or even a walk in his last 8 1/3 innings, while Clayton Andrews got into trouble and then out of it in this game (single, double play, double, strikeout).
Next week's outlook: Nashville (68-56) travels to take on the Rays' tough Durham squad (70-56), with RHP Evan McKendry (3.95 ERA, 1.18 WHIP, 8.4 K/9 in 120 2/3 IP) scheduled to start the opening game of the series.
---
Biloxi Pre-Game Media Notes
Rained Out: Pensacola @ Biloxi
Via the Shuckers' website, rainout details: Shuckers-Blue Wahoos Canceled Due to Rain
This game actually commenced and starting RHP Carlos F. Rodriguez was facing the second batter in the top of the 1st inning when the game was delayed and then cancelled. This game will not be made up. With Montgomery winning elsewhere, Biloxi now sits 1.5 games behind Montgomery for a playoff spot, with 18 games to play.
Next week's outlook: The Shuckers (61-58) hit the road for two weeks, starting with a series at Cubs' affiliate Tennessee (68-51). I'd imagine that Rodriguez would get a do-over and start the first game.
---
Wisconsin Pre-Game Media Notes
Final: Wisconsin 9, Quad Cities 4
Box Score / Game Log
Via the Rattlers' website, game details: Wisconsin's Two-Out Bingo Beats Bandits
Similar to the Brewers' game, Wisconsin conceded four early runs, then stormed back with eight unanswered runs to grab the victory. In fact, it was quite a sight to see both ballgames at 9-4 for a few minutes. The excitement at Neuroscience Group Field at Fox Cities Stadium is captured extremely well by the Wisconsin media team's video highlights and also discussed in the Mehring-Lobner post-game podcast.
Out-hit 9-1 and trailing 4-0 halfway through the game, everything turned around with 1B Ben Metzinger's (2-for-4, double, RBI) two-out RBI double in the bottom of the 5th inning. From there, the next four batters reached base to give the Rattlers a 5-4 lead, before tacking on another three runs in the following inning.
Apart from the Metzinger double and center fielder Eduarqui Fernandez's (2-for-4, HR, 4 RBIs, SB) two-run homer to extend the lead to 8-4, the other nine Timber Rattler hits were singles, with all lineup spots collecting at least a hit or a walk – e.g. DH Brock Wilken (2 singles, RBI), right fielder Hendry Mendez (2 singles; also collected an outfield assist), 2B Robert Moore and SS Eric Brown Jr. (identical: single, walk, RBI, SB).
My God, did he crush this thing: 
Timber Rattlers' Extras:
Despite trailing 4-0 after pitching five innings, starting RHP Edwin Jimenez continued on to ultimately deliver a respectable line and earn the Win: 7 IP, 4 R, 9 H, 1 BB, 5 Ks.
Get on base by any means necessary, Mr. Brown. After grounding out his first two times up, Brown manufactured the game-tying run all by his lonesome: single, wild pitch on which he aggressively takes two bases (credited with SB) and scores when the throw to third base goes awry. He now has 31 stolen bases (vs. 3 CS) in 56 games played this year.
RHPs Nick Merkel and Tanner Shears delivered a scoreless relief inning each, with Shears lowering his season ERA to 1.38 in 45 2/3 IP.
Next week's outlook: Wisconsin (52-66) hits the road to face Marlins' affiliate Beloit (51-68), with LHP Nate Peterson most likely to start Game One of the series.
---
Carolina Pre-Game Media Notes
Final: Columbia 9, Carolina 0
Box Score / Game Log
Via the Mudcats' website, game details: First-Place Mudcats Fall 9-0 to Columbia
RHP Will Childers (4 1/3 IP, 8 R, 12 H, 0 BB, 1 K) ended up having to wear this one after giving up four straight two-out hits in the 1st inning, the last a two-run homer to give Columbia a 4-0 lead before the Mudcats stepped up to the plate.
We believe that the Mudcats are a far better team than they showed on Sunday, but they're going to need to step up and show it next week or risk missing out on the playoffs – out-hit 17-to-5 on this day, while going 0-for-9 with runners in scoring position despite having their core hitters starting. With Lynchburg's victory elsewhere, Carolina is only two games ahead of them for a playoff spot with 12 games to play.
Mudcats' Extras:
With the team still trailing 4-0 entering the 5th inning, Manager Victor Estevez must have hoped that Childers could eat some additional innings but instead conceded four hits to five batters faced in that partial frame (two singles, two home runs) and exited down 8-0.
Kudos to RH relievers Jose Chavez, Jeison Pena and Tyler Wehrle, who combined on 4 2/3 IP, 1 R, 5 H, 0 BB, 4 Ks. It's too bad that the game was already well out-of-hand and the offense struggled.
The Mudcats' top offensive performer was probably center fielder Dylan O'Rae: double, walk. 3B Jadher Areinamo singled twice, but also grounded into a double play. 
Next week's outlook: The Mudcats (62-53) stay home to face Rangers' affiliate Down East (65-52). No starter is presently scheduled, although RHP Alexander Vallecillo is the most-rested starter after a blow-up outing on Tuesday.
---
We hope that you enjoy the Minor League Link Report. Tomorrow's a full day off from all Brewers' Minor League Baseball, so you can focus your energies on Game One of the Brewers-Cubs series starting at 7:05pm CST at Wrigley Field.
Current Milwaukee Brewers Organization Batting Stats and Depth
Current Milwaukee Brewers Organization Pitching Stats and Depth
Think you could write a story like this? Brewer Fanatic wants you to develop your voice, find an audience, and we'll pay you to do it. Just fill out this form.
MORE FROM BREWER FANATIC
— Latest Brewers coverage from our writers
— Recent Brewers discussion in our forums
— Follow Brewer Fanatic via Twitter, Facebook or email
2

1