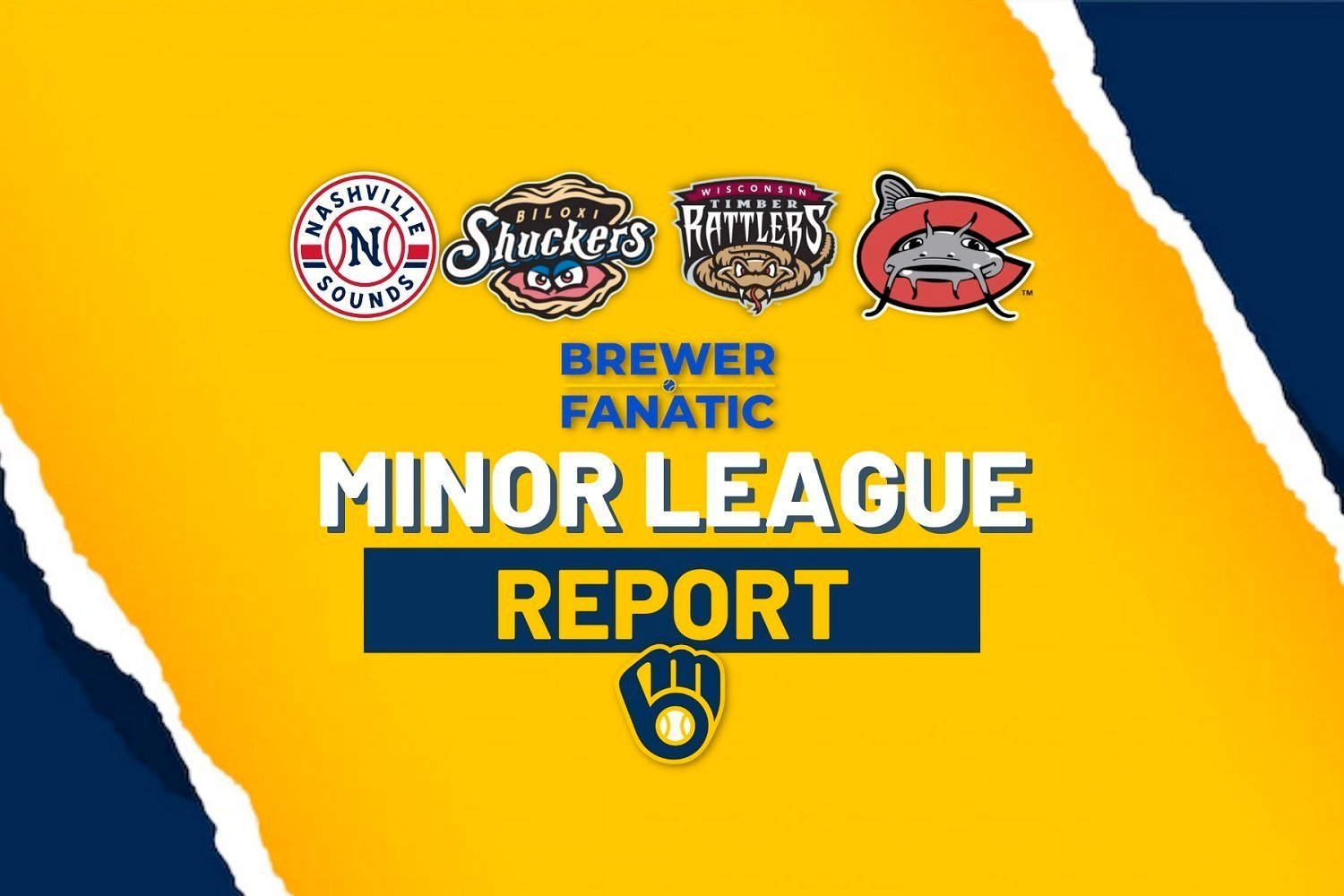 Image courtesy of Brewer Fanatic
Game Balls:
RHP Tobias Myers gave us that early-season Tobias Myers dominancing. It was a pleasure to witness - his off-speed was dipping and grabbing many a swing and miss. 6 IP, 4 H, 0 BB, 7 K, 0 R. Absolutely fantastic.
C Wes Clarke (more below) is a second half monster. I can't get enough of his moon shots (see below). 2-for-4, 2 R, 3 RBI, 1 2B, 1 Rocket Blast (HR). What an incredible surge and possibly career-altering run of play.
LHP Nate Peterson set the tone early and often in his 5 IP, 4 H, 1 BB, 2 K, 0 R game 1 road start. Fantastic stuff from Peterson. 
RHP Luis Contreras was a lone bright spot for the Sounds pitching staff. I continue to believe in his best stuff. 1 IP, 1 H, 3 K, 0 R. I hope he earns more chances for higher leverage scenarios as the season comes to its close.
OF Hendry Mendez gets the final nod here for his solo blast in a 2-for-4, 2 R, 1 RBI evening as a key part of the T-Rats 5-0 victory.
Transactions:
RHP Bradley Blalock was placed on the 7-Day IL by the Wisconsin Timber Rattlers (retroactive to 8/28)
RHP Jeison Pena was transferred to the Development List by the Carolina Mudcats
INF Juan Baez was assigned to the Carolina Mudcats from the ACL (Champion) Brewers
RHP Bayden Root was assigned to the Carolina Mudcats from the ACL (Champion) Brewers
RHP Blake Whiting was assigned to the Carolina Mudcats from the ACL (Champion) Brewers

LHP Bennett Sousa was

 

activated from Triple-A Nashville's 7-day injured list and was then claimed off waivers by the Detroit Tigers
---
Final:  Durham (Rays) 7, Nashville 3 
Box Score / Game Log 
 
Via the Sounds' site, game details, please visit and review:
Bulls Best Sounds in Series Opener
RHP Evan McKendry began his evening by earning outs via four consecutive strikeouts. He worked around two walks in the first inning but it was looking quite good and comfortable overall. Unfortunately, this did not last. Ultimately, he was done in by a two-run shot and a three-run shot in the fourth and fifth innings. He left his work with his team trailing 6-1 after 4 1/3 IP, 5 H, 4 BB, 6 K, 2 HR, 6 ER. The Sounds have now lost three straight after taking the first four games at Gwinnett. The road can be a challenging place to play. Durham has been a thorn in the Sounds side dating back to the Championship Semis in Las Vegas just last season.
Three Quick Strikes:
1) The Sounds inability to do more with the three bases loading walks with one down (Tyler Black fly out) in the first inning off of talented and effective LHP Jacob Lopez and his back door slider was a big missed opportunity. INF Owen Miller should have hit into an inning-ending double play but the Sounds were gifted a run when the Bulls 1B dropped the throw to his bag. OF Jahmai Jones lined out to RF to end the threat. The Sounds stranded two in the fourth frame. Their only real threat, then, came in the ninth inning when they plated two off of Hiura and Toro RBI singles to right field. OF Jahmai Jones again lined out to end the threat.
2) This game had a very weird feel throughout. The Bulls delayed the start because of possible weather but several tweets from their fans made it appear this was a very generous and possibly overly-cautious delay. Minor League rules state in such an event the game is reduced to seven innings. Correct me if I'm wrong, but a 9:25 EST start time isn't ideal for the athletes routines or schedules. Why not simply schedule a double-header? I digress, I guess, but it had me wondering. With the Sounds trailing 7-1 I formally submitted a protest to the League offices. 
3) I really wish rehabbing 1B Jesse Winker could bring his Triple-A approach and results to the Brewers. I really do. This is his second rehab stint with the Sounds and he continues to showcase AB's we have yet to consistently see at the MLB level. With two more free passes tonight, Winker has seven free trips in his six game ongoing stint. Cumulatively, across both rehab stints, Winker is batting 0.333 with a 1.090 OPS. 
---
Final:  Biloxi 9, Tennessee (Cubs) 0 - (weather shortened 6 inning contest)
Box Score / Game Log 

Game Notes
 
Via the Shuckers' site, game details, please visit and review:
Six First-Inning Runs Lead Shuckers to Rain-Shortened, 9-0, Win
RHP Tobias Myers was gifted a fancy six-spot cushion to begin his mound work and he did not disappoint. All too often you see hurlers gifted a big lead only to struggle hitting the zone or pitching to far too much contact. Myers was straight dealing. This outing was the closest I have seen to his opening day 11 K dazzler. Myers is at his best when he is getting late dip on his pitches and tonight that was coming in spades. His change-up was particularly effective playing off the movement of his overall tools:
The Shuckers 9-0 victory was quite large. They kept pace at 1.5 GB OF Tristan Peters and the Montgomery Biscuits.
Three Quick Strikes:
1) 1B/C/DH Wes Clarke's absurdly noisy second half has thrown his name very much into the Brewers prospect spotlight. Considering his constant availability and his more than adequate work at C and 1B, one is left wondering where all the prospect pundits will see him in their coveted Top 30 lists. Personally, I don't care. I simply appreciate what he brings. He is quite simply destroying baseballs on a consistent basis. Tonight was no different. His 104 mph 435' rocket blast over the second deck had what looked like a 30 degree plus launch angle. It was a mammoth blast. Take a look:
2) CF Jackson Chourio's first poke was a very very weak dribbler botched by the 2B. He reached via error. However, his second AB featured a very hard hit broken bat line drive to the warning track in LF. His third AB produced the result we were looking for. Hard contact to space: 
Watching Chourio turn on a fastball is a thing of beauty. Such a fast bat. So much power. 80 RBI's is nothing to scoff at. This is the very first time it has happened in Shuckers team history. It is only the 11th time it has happened in the Southern League since 2015. Yowza.
3) 2B Isaac Collins was back to doing Isaac Collins things: hard contact, speed on the basepaths, and scoring runs (58 on the season now). I consider Collins season a revelation. I don't know what the Rockies organization was thinking when they exposed him to the Minor League portion of the Rule 5 draft in December of 2022 but kudos to the Brewers personnel department for recognizing a very talented baseball player worthy of a serious opportunity and scooping him up. Collins has more than filled the void of another pedestrian season from INF Felix Valerio.
---
Final:  Wisconsin 5, Beloit (Marlins) 0 
Box Score / Game Log 

Game Notes 

Via the T-Rats' site, game details, please visit and review:
Wisconsin Wins Third Straight Game with 5-0 Shutout at Beloit
LHP Nate Peterson shook his road start woes in a big way in a very impactful game 1 winning start at Beloit. Peterson had some elevated counts he was working through but he never buckled - a single base on balls in his five complete innings pitched. In key spots he attacked the zone with fearlessness. His slider was particularly accurate and deadly as it needs to be for his greatest impact. It was the best he's looked since his promotion to High-A ball. Whats more, it helped earn his team a crucial game on the Peoria Chiefs - the T-Rats are now only 4.0 GB a second half Playoff berth. A fantastic night's work: 5 IP, 4 H, 1 BB, 2 K, 0 R.
Three Quick Strikes:
1) Since conceding 10 ER over 6 IP in three consecutive outings in early August, RHP Nick Merkel has been absolutely fantastic. It's a testament to his make-up and character he righted the ship. After tonights impactful 3 IP, 2 H, 1 BB, 3 K work, Merkel has now managed to pitch 9 1/3 IP, 5 H, 2 BB, 13 K, 0 ER over his past five outings. In a game made up of sample sizes, Merkel is pitching some of his best baseball over any stretch of his entire 2023 campaign. Merkel, much like talented RHP Cameron Wagoner and his breaking balls, is a pitcher who thrives when his off-speed is accurately hooking outside the strike zone. He's been doing that and then some of late picking up many a swing and miss. His continued effectiveness over his multi-inning relief outings will play a pivotal role should the T-Rats continue chipping away at the Chief's lead.
2) I continue to be very impressed with 3B Brock Wilken's arm and accuracy. He puts it on display quite consistently. It has every bit of anything you'd need for those long ranging throws the position so often demands. Accurate darts on the regular - he's especially adept at firing rockets charging or on the run. Though he grounded into a double play, he also managed to pull an off-speed pitch into LF for a double. All in all, I continue to love what I'm seeing in his first High-A action. Brewers fans should be very pleased with having this young man in the system.
3) What's that you say? INF Robert Moore stole two bases in a single game?!? Perhaps, all that work and diligence developing a new facet of his game is finally paying off late in the 2023 season. It's important to remember, Moore is on record stating he never was really asked to steal bases while playing college ball. This is a stretch for him in 2023. But, kudos to him: he's committed to it. In July and August we now see the fruits of these efforts: 13 SB to just 2 CS. I'd say he might be turning a new leaf.
---
Final:  Down East (Rangers) 6, Carolina 3
Box Score / Game Log 

Game Notes
 
Via the Mudcats' site, game details, please visit and review:
Early Lead Not Enough in 6-3 Loss to Down East
RHP Jesus Rivero had a no-hitter going into the fifth inning. There is an addendum here, however. He had also hit two batters and walked several entering the fifth and ultimately fateful frame. He contributed mightily to the precarious turn of events, unfortunately, when he led off the inning with a HBP. After a pop up for the first out, he then walked the bases loaded. This is how it has gone for the talented Rivero all season long: immense talent, flashes of brilliance, but often very erratic. He'll have to work diligently in his off-season to continue harnessing that vital release point. When all was said and done, he finished his evening after 4 1/3 IP, 0 H, 5 BB, 2 HBP, 5 K, 2 ER. Another intriguing outing with a fairly discernible open-ended question mark. 
Three Quick Strikes:
1) Back to the Mudcats pitching. Coming into tonight's game, since August 14th, the Mudcats were 5-7 with a collective 7.03 ERA. And, let me tell you, it continues to show like this. What was once a strength of the Mudcats squad at large has become a sudden hot mess. By my eyes and routine watching, it has been largely at the hands of the suddenly eggshell fragile bullpen. Tonight was unfortunately, more of the same. Clinging to a 2-0 lead with the bases juiced off the hands of RHP Jesus Rivero, RHP Tyler Wehrle induced a weak chopper to 3B. Newly promoted INF Juan Baez charged the ball and sailed the throw well wide of 1B - there really wasn't a play to be made and the smart play was to eat that ball. 2-2 ballgame. Wehrle then gave up a hard hit liner to right CF to the next batter. 3-2 Wood Ducks. Still trailing 3-2 in the 7th inning it was RHP Alexander Vallecillo's turn - if you recall struggling mightily of late with a combined ERA of 17 + over his last three outings (yikes). Vallecillo opened with a clean sixth frame - we tip our hats there. But, he loaded the bases in the 7th and then with two down gave up a 3-2 rocket off the LF wall. It was suddenly a 6-2 deficit. With the offense struggling, it seemed an insurmountable lead. This proved true.
2) My first prolonged live look at INF Juan Baez and it was a mixed bag: a crucial throwing error in the 5th was a turning point and he already has a reputation (for us ACL game log Fanatics) as a suspect defender. He did make a nice charging and running throw on a weak chopper in the 9th. Baez appears to have a very patient approach and an innate ability to identify pitches. He launched a fairly well hit double in the 6th inning low off the base of the left CF wall. This is obviously just one game. I continue to be concerned with the defense. Like we do with all these young prospects, we wait and hope for the best.
3) The polite thing to do here would be to talk about OF Jace Avina's ongoing torrid work at the plate - it's a very real thing.
But, I simply end up wanting to share how much I continue loving everything about Jadher Areinamo's game. The young man is just so smooth and smart in everything he does. I could go on-and-on. Tonight's play of note was a gorgeous turning relay throw to grab the lead runner in what later proved to be Vallecillo's troubled inning. Areinamo's throw was pin point perfect - directly in front of the base, smack dab in the base path, and ankle high. Had the throw not been there, that runner gets on base. He does little things like this on a routine basis. These little things stack up to one big thing: winning. I remain a huge fan. I enjoy watching fundamentally sound baseball players. Hopefully, the bat will continue to evolve. We've certainly seen signs in 2023.
---
We are back at it tomorrow as game 2's commence in all four series - the Mudcats, obviously, continue to be the only home ball club. At the time of publish we know we'll have the opportunity to watch LHP Brian Fitzpatrick, RHP Cameron Wagoner, and RHP TJ Shook. Lots of intrigue in each of these young men's ongoing seasons. Let's hope they can help lead their squads to victory. 
As always, thanks for reading and thanks for supporting Brewers Minor League baseball.
Think you could write a story like this? Brewer Fanatic wants you to develop your voice, find an audience, and we'll pay you to do it. Just fill out this form.
MORE FROM BREWER FANATIC
— Latest Brewers coverage from our writers
— Recent Brewers discussion in our forums
— Follow Brewer Fanatic via Twitter, Facebook or email