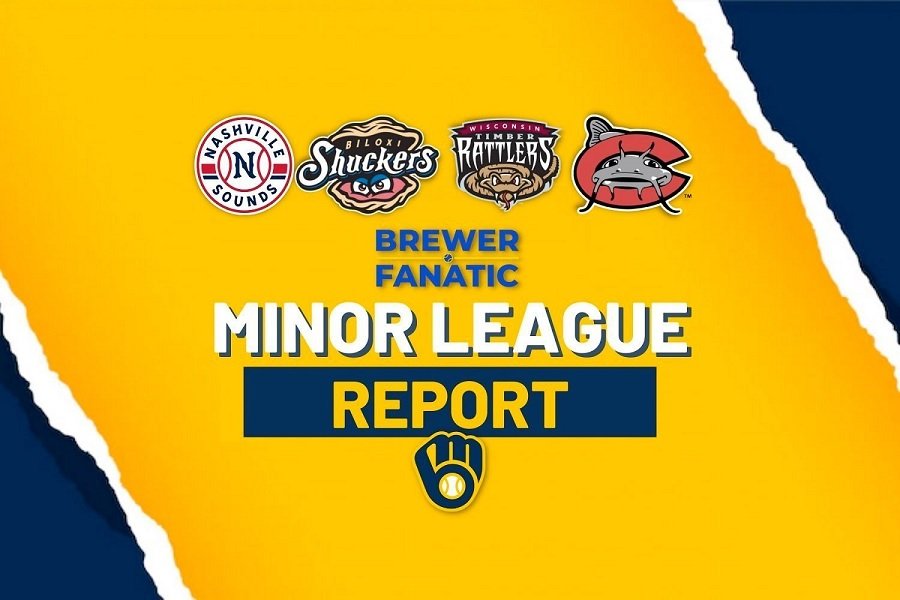 Image courtesy of Brewer Fanatic
Transactions: (Take your time. This is two voluminous days of activity)
OF Corey Ray was assigned to the Biloxi Shuckers from the Nashville Sounds

RHP Carlos F. Rodriguez was assigned to the Wisconsin Timber Rattlers from the Carolina Mudcats

LHP Leoni De La Cruz was assigned to the Carolina Mudcats from the ACL Brewers Blue
RHP Alexander Vallecillo was assigned to the Carolina Mudcats from the ACL Brewers Blue
C Pedro Severino was designated for assignment to the Nashville Sounds from the Milwaukee Brewers
RHP Dinelson Lamet was designated for assignment to the Nashville Sounds from the Milwaukee Brewers
RHP Peter Strzelecki was optioned back to the Nashville Sounds from the Milwaukee Brewers
INF/OF Keston Hiura was recalled to the Milwaukee Brewers from the Nashville Sounds
I think I have all of today's transactional bases covered. I apologize if I missed a move or two - it's been a head-spinning couple of days.
---
Nashville Pre-Game Media Notes: None posted as of Game Time
Final:  Nashville 8, Norfolk (Orioles) 2
Box Score / Game Log               

Via the Sounds' site, game details, please visit and review:
Sounds Stay Hot Against Tides - Nashville Makes it Back-to-Back Three Homer Nights in Norfolk
Nashville (and the Brewers organization and fans) got their first look at newly acquired outfielder Esteury Ruiz. RHP Jason Alexander took the hill for just his second start since being sent back down by the Brewers. Alexander is just so calm and collected - even when the home plate umpire was extremely inconsistent and missing clear strike calls, Alexander just stayed calm and poised and delivered until the sixth inning. There was just so much FUN in this game, folks. I'm going to get right into my 'Three Strikes', but, suffice it to say: we have a limited time to watch this Sounds collection of talent. Do so while you can: It is undeniably electric.
Three Quick Strikes:
1. My first 'Live' impressions of Ruiz are thus: extremely disciplined at the plate - not a single swing on a pitch outside the zone. He clearly is capable of waiting for his pitch. He will unleash a home run swing only when the situation demands. He exudes confidence. He is a very dangerous threat on the base paths.
Don't be fooled by two 'CS' marks - he was definitely caught by an eyelash during his first steal attempt (an incredible throw by the Tides catcher) but the umpires absolutely blew a successful steal in his second attempt. He slid under and ahead of the tag attempt. The umps, plain and simple, blew it. A minor theme during a dominant Sounds performance. There is a ton to like with Ruiz. Let's also remember: this is a 23-year-old fast rising uber-talented prospect. A fantastic first outing.
2. What about our other recently promoted super prospects? My goodness, folks, they were also what we might call 'electric'. The thing about each and every one of Sal Frelick, Garrett Mitchell, and Joey Wiemer  is: they are dangerous in every facet of baseball. Whether they are manning the outfield grass, in the batters box, or on the base paths every one of these young men can hurt the opponent.
Frelick led things off in incredible fashion last night. Tonight, Mitchell and Wiemer joined in the fun. Perhaps the most impressive play was Garrett Mitchell's calm and collected easy and smooth three-run home run stroke over the wall in right center - rumored to be 395 feet though not official. Maybe it was Wiemer's two easy stolen bases? All in all, we saw a collective 6-for-15 amongst the three with 3 R, 5 RBI and the 2 SB. And, here's the lone highlight: 
3. Lost in seemingly every prospect shuffle, for whatever inexplicable reason, is the ongoing tremendous age 22 season we are seeing from tantalizing and uber-talented Brice Turang . Turang is the epitome of a smooth and easy athlete. He makes everything he does look fascinatingly easy - just take his utterly ridiculous running scoop and toss for a key double play in the middle innings. Other than his XBH desert in June, he has been absolutely incredible in 2022. He hit his 7th home run tonight, adding to the riches of glorious fun I witnessed this fine August evening. 
---
Game 1: Biloxi 3, Mississippi (Braves) 2
Game 1: Box Score / Game Log     
Game 2: Biloxi 2, Mississippi 0    
Game 2: Box Score / Game Log
         
Via the Shuckers' site, game details, please visit and review:
Biloxi Takes Both Legs of Wednesday Night Doubleheader - Lutz and Dillard Both Homer
The Shuckers were the beneficiaries of two fantastic outings from LHP Nick Bennett in game 1 and then RHP TJ Shook in game 2. To boot, the bullpen was definitively up to the task as RHP Cam Robinson grabbed his second Double-A save with a scoreless two strikeout outing in game 1 and tight-rope walker, RHP Zach Vennarro, grabbed the nerve-racking save to close out game 2 completing two seven-inning affairs. The Braves are a vastly different ball club, I might add, minus the heavy impacts of one CF Michael Harris III who is now an everyday starter in Atlanta. The entire Southern League are the beneficiaries of his absence. Regardless, what else happened down in Mississippi? Let me give you a few ideas.
Three Quick Strikes:
1. We may have seen Wiemer, Frelick and Mitchell head north to Nashville but the same Shuckers who were hitting while those studs were in Biloxi continue to hit when they're gone. I'm looking at the ongoing production of INF Andruw Monasterio, OF Tristen Lutz, 1B Thomas Dillard, and INF Cam Devanney. All these young men had something meaningful to say tonight. And their output ultimately put across the deciding runs. Here's a few tastes: 
(Oh geez! Whose that trotting ahead of home run King, Tristen Lutz? None other than Devanney...)
And I share the final highlight encouraging you to turn the volume up. I heard this blast from the other room and, I swear, the sound you hear is 'It's Gone!'. This is crushed:
2. Let's talk about Shook getting comfortable. Let's talk about 9 K's in 4 IP. That's the stuff of shut-down dominance. Other than a weird pitch-clock full count walk leading to a brief bases loaded scare, Shook was pretty dang electric. From my vantage point, it seems like he's setting his baseline right now and finding his pace and comfortability. And, I personally believe there's more in the toolkit we haven't quite seen.
Tonight, he really focused on a three-pitch mix of a high heater, a sneaky back door slider, and an effective change-up. I think we're just scratching the surface. He's got the frame and the muscle and the arm action to get even better and more dominant. I, for one, am extremely excited to see where this all leads. The final line reads: 4 IP, 3 H, 2 BB, 0 R, 9 K. Whewwww. That's the proverbial stuff.
3. I mentioned Robinson above (and, for good measure, J.C. Mejia also had a scoreless 2 K frame in his first rehab start), but let's go back and talk about the continued run of consistency and impact we are seeing from LHP Nick Bennett . He's getting comfortable. The tweaks are working. And the results speak for themselves.
Including tonight, in his last five outings we are looking at: 5 GS, 29 IP, 7 ER, 34 K. 7 BB, 3 HR - WHIP and BAA are unadjusted after tonight (with slight elevation considering). In July, WHIP: 1.04 / BAA: 0.205. I don't know about you, but I'm really looking forward to three or four more starts in August with his name all over the line-up card.
---
Wisconsin Pre-Game Media Notes            
Final: Wisconsin 8, Quad Cities (Royals) 6
Box Score/Game Log                                
Via the Timber Rattlers' site, game details, please visit and review:
Eight is Enough for Wisconsin - Warren Drives in Five Runs as Rattlers Hold on for 8-6 Win at Quad Cities
I've been watching all the changes happening in and amongst the Timber Rattlers roster for some time. I've discussed the obvious: players who had the talent and weren't seeing the production perhaps needed some minor adjustment or, frankly, some luck and hopefully we would see the results. One of the highest on the ladder for such a suggestion was INF Zavier Warren . And, wow, let me tell you Warren has stepped up and then some.
Since the trade deadline passed two games ago, Zavier has hit two triples, a double, and two home runs. That's, ummmm, something. I'm sure we'll see the OPS elevation totals in the next 24 hours and it will be wondrous. Either way, he has stepped into the talent gap and reminded us: Zavi's got talent. For a player with such steady stuff; such availability; and a young man wise beyond his baseball years it's been awesome to see the results come to fruition these past couple games.
Three Quick Strikes:
1. If Warren is knocking in multi-run homers, who the heck is on base? You might surmise, Jackson Chourio . And, well, you'd be spot on. Chourio continued his High-A tear by going 4-for-6 with three runs crossed. It's hard to fathom going up a level and rising to the occasion like  Chourio has done, but, we're seeing it in real time. Tonight was filled with many a seeing-eye single. I guess when you've got it going, you've really got it going:
2. INF Antonio Piñero showed out, as did C Alex Hall , and they deserve mention but I'm going to focus in on the continual consistent production of INF Jose Acosta . Since his acquisition earlier this season, he's done nothing but play consistent ball. He appears to have taken the fifth spot in the batting order protecting improving Warren. Tonight, Acosta went 2-for-4 with a run, a rbi, a stolen base, and a caught stealing. It's a luxury having a solidifying force in the infield given the loss of Tyler Black and the struggles elsewhere in the infield. 
3. With the loss of RHP Kent Hasler months ago to the higher levels and with the recent promotion of RHP Cam Robinson to Double-A Biloxi, the closer role has been taken and really filled expertly by RHP James Meeker. Meeker was one of the more intriguing Brewers indy pick-ups in the 2021 off-season. After some hiccups early in 2022, he has absolutely settled in and played with confidence and poise. Tonight was no different as Meeker pitched a scoreless one-walk ninth inning and picked up his seventh save in nine opportunities.
---
Carolina Pre-Game Notes  

Final:  Carolina 5, Kannapolis (White Sox) 3
Box Score / Game Log                   
Via the Mudcats' site, game details, please visit and review:
Castillo Hits Late Go-Ahead Homer in 5-3 Victory 
RHP Stiven Cruz rebounded with aplomb. Cruz gave his teammates all the opportunity they needed to even the Mudcats season series with the Cannonballers at 7-7. When all was said and done, Cruz pitched to the tune of: 5 IP, 3 ER, 6 H, 1 BB, 1 HR, and 9 K. These are outings the young hurler can build on and these are the outings that continue to give the Brewers personnel staff sneak peaks at what might be in his bright future.
Three Quick Strikes:
1. Not to be lost in Cruz's fine outing is the fine bullpen work we witnessed across the board from the Mudcats. Recent ACL call-up RHP Jeison Pena continued to show he belongs with 2 IP, 1 H, 1 BB, and 3 K. He was backed up by RHP Karlos Morales who continues to claim a meaningful role as a late-inning out getter with 1 IP, 0 H, 0 BB, 1 K ball. And, it would appear we have a second closer in RHP Brannon Jordan who picks up his third save in five opportunities with a scoreless 1 H and 2 K shutdown ninth inning. Fantastic stuff all around!
2. While INF Jadher Areinamo continues to get rightful notoriety in our community of fans, we may have overlooked OF's Luis Castillo due to his recent minor tailing off after a red-hot start to his ACL season. Tonight, Castillo showed up in a big way with a 3-for-4 line and the go-ahead homer late. It's clutch two out hits like this that remind us why he was rewarded with 'Player of the Month' accolades playing in Arizona:
3. Not to be outdone in the 'Don't forget me!' department, INF Eduardo Garcia had a pleasant return to effectiveness at the dish tonight. He finished 2-for-4 on the evening, with a solo shot; two runs; and the home run RBI. But, what I get excited about if I'm honest is the null set in the strikeout department. This is what will play across all levels. It's a work in progress, but we're rooting for the young man to keep on showing out:
---
We will see DSL and ACL clubs taking to the diamond again tomorrow. Who knows, maybe we'll get real hot and see an 8-0 evening. Either way, we'll be watching and giving you all the low down from 'down on the farm'. I'll personally be tuning into see if RHP Justin Jarvis can make it three consecutive victories in Quad Cities. I'll probably check in on LHP Brandon Knarr 's outing at Mississippi as well. As always, thank you for reading and supporting Brewers prospects as they look to make their way to the Major Leagues. 
Organizational Scoreboard including starting pitcher info, game times, MiLB TV links, and box scores

Arizona Complex League Scoreboard

Dominican Summer League Scoreboard

Standings and sortable stat pages

Current Milwaukee Brewers Organization Batting Stats and Depth

Current Milwaukee Brewers Organization Pitching Stats and Depth
Think you could write a story like this? Brewer Fanatic wants you to develop your voice, find an audience, and we'll pay you to do it. Just fill out this form.
MORE FROM BREWER FANATIC
— Latest Brewers coverage from our writers
— Recent Brewers discussion in our forums
— Follow Brewer Fanatic via Twitter, Facebook or email
1