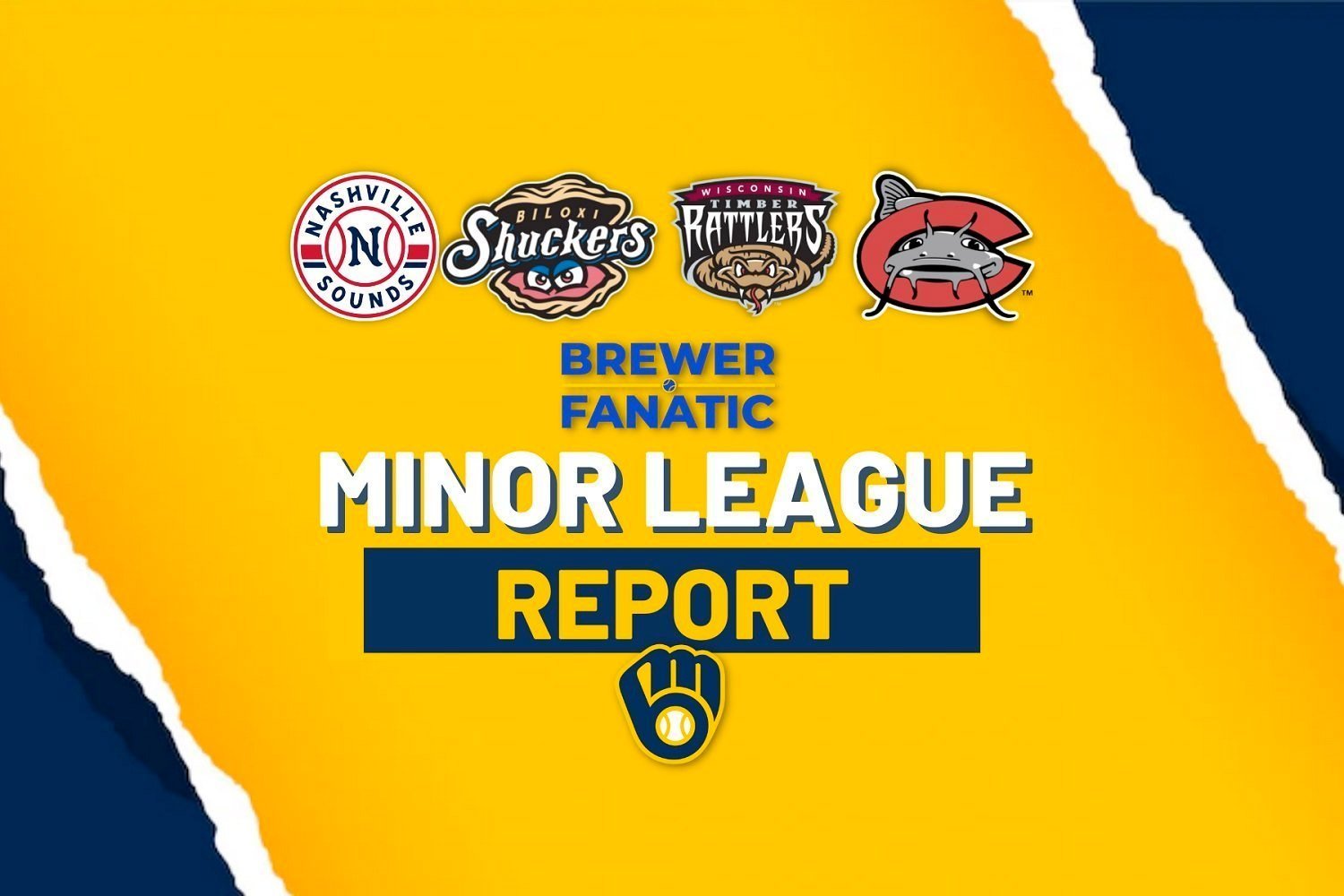 Image courtesy of BrewerFanatic
Our own @Smichaelis9 penned the pieces highlighting the best month-long performances among Crew minor leaguers. Each piece deserves a wide audience:

Article: Brewers Minor League Position Player of the Month: July 2023

Article: Brewers Minor League Starting Pitcher of the Month - July 2023

Article: Brewers Minor League Relief Pitcher of the Month - July 2023
 
---

TRANSACTIONS:
RHP Colin Rae optioned to AAA Nashville
LHP Clayton Andrews recalled from AAA Nashville
 
---

Final: Durham (Rays) 7, Nashville 3

Via the Sounds' site, we encourage readers to review each of the affiliate write-ups as part of your season-long Link Report routine:
Brewskis' Gloves Shine in Defeat - Spectacular defensive plays by Nashville do not factor in 7-3 loss to Durham
Pre-Game Media Notes via the SoundBytes blog for this game 
Box Score / Wrap

Nice showmanship from Monte Harrison in that video clip embedded in the game summary. It's been a difficult year at the plate (.575 OPS) for the former Brewers 2nd rounder, whose primary career contribution to date has been helping to net Christian Yelich.

OF Skye Bolt did not play after exiting Friday on a swinging strike three. Keston Hiura was idle, as was Abraham Toro. Would Toro have more value on the current big-league roster than struggling-since-May Brian Anderson? Yes, but it doesn't appear Anderson (and his defense) are going to be cut loose any time soon. Toro could be a prime candidate for the 27th / 28th roster spot September 1st.

Not faulting RH starter Jason Alexander, but hope he enjoyed collecting the pro-rated MLB minimum through July 8th, when we was activated from the Brewers' 60-day IL. Rehabbing from any injury is no fun. His efforts for the Sounds are now expected to be very Jason Alexander-ish.

Patrick Dorrian is on fire:
---

Final: Pensacola (Marlins) 4, Biloxi 3

Via the Shuckers' site:
Chourio Homer Makes History in Shuckers Loss to Blue Wahoos - Shuckers tally three runs on three homers, fall to Blue Wahoos on Saturday night

Pre-Game Media Notes 
Box Score / Wrap

The Shuckers bullpen has had its good moments to be sure, but those moments are primarily represented by pitchers not with the current club in an active capacity. RHP Harold Chirinos was unscored upon in 11 appearances (14 innings) before a May 24th placement on the 60-day IL. LHP Darrell Thompson dazzled with a 0.68 ERA in nine appearances before his bump to AAA Nashville. RHP Abner Uribe's 1.80 ERA in 15 turns on the Shuckers bump? We know where that landed him. As a reliever, RHP James Meeker had a ridiculous 44-to-3 K-to-BB ratio in 34.1 innings, but he's now a starter. Highly-touted RHP Justin Yeager, acquired from the Braves in the big MKE-OAK-ATL deal, made three scoreless appearances, the last on May 11th, before his long-term injury.

Biloxi led here, 3-1 through six innings. Then, not so much.

While I could always appreciate his bat-to-ball skills and his overall performances relative to age (and that aspect, age, is not to be overlooked), I never quite understood the MLB Pipeline (and others) love for OF Carlos Rodriguez. He didn't slug (at all, meaning at all) in the DSL, at Rocky Mountain, or Wisconsin. But my goodness, this was a blast worthy of ALL CAPS:
There I go again, burying the lead:
We are blessed by the young man's presence, Brewers fans.

Tyler Black, sat Thursday, played Friday, sat Saturday.
 
---
Postponed:  Wisconsin at South Bend (Cubs)

Via the Timber Rattlers' site:
Timber Rattlers Rained Out in South Bend - Doubleheader set for Sunday at Four Winds Field

This extended interview with Timber Rattlers reliever Nick Merkel gets deeply personal by the midpoint. If you're able to make time, it's quite worthwhile:
There's also this for you as well in lieu of a T-Rats game Saturday. This Matt Wood interview had been featured on our Brewer Fanatic home page in recent days.
---

Final: Carolina 4, Fayetteville (Astros) 2
Castillo Drives in Two as Mudcats Take Series Lead 3-2 
Box Score / Wrap

Four-game lead over Lynchburg (Guardians) in the second-half standings (Down East won the first half). Sweet!

Brewers brass have never wavered on their public comments on, and faith in 2021 4th round community college RHP Logan Henderson, despite Henderson not making his debut until an injury-limited 13.2 innings in 2022, Well, Henderson is showing us why in his age 21 Carolina season. Putting together these "compilation" highlight segments takes effort, thank you, Mudcats production team, for these 51 seconds:
Listed (perhaps generously) at 5'11" with a stout lower body makeup, can we dream on a Marcus Stroman, a Roy Oswalt career path? That's totally unfair, but the fact remains you won't find many successful starting RHP's under six feet tall. No Tim Lincecum comp, there will never be another Freak in his prime, and Henderson certainly has a more traditional release. NOTE: Oswalt was listed at 6'0", but that was considered a reach, no pun intended. Pedro? The GOAT, don't even.

You look up, and infielder Jadher Areinamo's batting .298 (on base three times here). The 19-year-old (correct, not 20 until late November), doesn't slug nor walk (at least not yet), thus the rather pedestrian .702 OPS. But again, 19, darn we lose sight of age sometimes with the Mudcats.
 
---

Final: ACL Brewers 4, ACL White Sox 3, nine innings (scheduled for seven)

Box Score / Wrap

First of all, check out some wonderful Maryvale photos of the new highly-touted draft picks via Phrake Photography - fantastic.

Given the photos you just enjoyed, you're ready for Mike Boeve, Cooper Pratt, and Eric Bitonti game updates, right? Sorry, they were all idle on Saturday.

Then be sure to visit the wrap for the details on how neither ghost runner scored in the 8th, and how the A-Crew scored two in the 9th vs. the ChiSox one. Drama!

Notes from my co-worker @damuelle on this contest:

After walking 25 in 18.1 IP coming into this game, nothing suggested 19-year old RHP Darling Solano would be granted a start, much more deliver this: 4 IP, 1 R, 4 H, 0 BB, 1 K.
Offensively, CF Dylan O'Rae provided another two singles and his 26th stolen base, but it was 3B Ney Serrano who really came through with three singles, two RBIs and a stolen base. SS Alexander Perez also had an RBI double to open the scoring.
LHP Anfernny Reyes earned the win for pitching the two extra innings and only allowing the Manfred Man to score in the second frame.
The game also featured organizational debuts for 10th round pick 23-year old RHP Morris Austin (1 IP, 1 R, 2 H, 1 BB, 1 K) and undrafted free agent 23-year old RHP KC Hunt (1 IP, 0 R, 0 H, 0 BB, 0 K).
 
---

Final: DSL Phillies White 7, DSL Brewers #1 Squad 0 

Box Score / Wrap

Only five knocks for Team Uno here, no Pizzeria Uno road postgame trip earned for ice cream.

$1.4 million bonus baby middle infielder Kevin Ereu had the lone extra-base hit, a double. Ereu has a good OBP of .341, but the youngster (yes, very young, only turned 17 years old in May) has struggled otherwise, not matching the success of Milwaukee's other two 2023 17-year-old international millionaires, OF Yophery Rodriguez and INF Filippo Di Turi, who were named DSL All-Stars.

We must note the scoreless work of less-heralded RHP Enniel Cortez, who received only $25,000 this summer. Please read this post via @Joseph Zarr on our forum thread for Saturday.
 
---

Final: DSL Brewers #2 Squad 5, DSL Astros Orange 2

Box Score / Wrap

OK, bear with us. The Cerveceros Dos were actually outhit by the Brewers #1 club by a 5-2 mark, yet came away with this victory. How?

Welcome to rookie-level ball.

Astros pitchers walked 16, plunked one, and threw seven wild pitches. Oh, throw in one balk.

Meanwhile, Crew pitchers fanned 16, but walked five and hit three batters (all by otherwise impressive 17-year-old Venezuelan rookie RHP Ismael Yanez, who sports a 1.46 ERA through five starts).

All but one Cervecero drew a base on balls, with five doing so more than once, led by 16-year-old Dominican infielder Roderick Flores with four free passes. Somewhat incredibly, the only member of the lineup not to walk was stud 2nd-year INF/OF Demetrio Nadal, he of the .333/.474/.540 line (a 1.014 OPS despite the 0-for-5 here).
 
---

Thanks for again joining us on our daily jaunt through the Brewers system!  On Sunday, the rookies rest, while the Timber Rattlers will get in both ends of their double dip - it's sunny in South Bend.

Organizational Scoreboard including starting pitcher info, game times, MiLB TV links, and box scores
Current Milwaukee Brewers Organization Batting Stats and Depth
Current Milwaukee Brewers Organization Pitching Stats and Depth
 
2