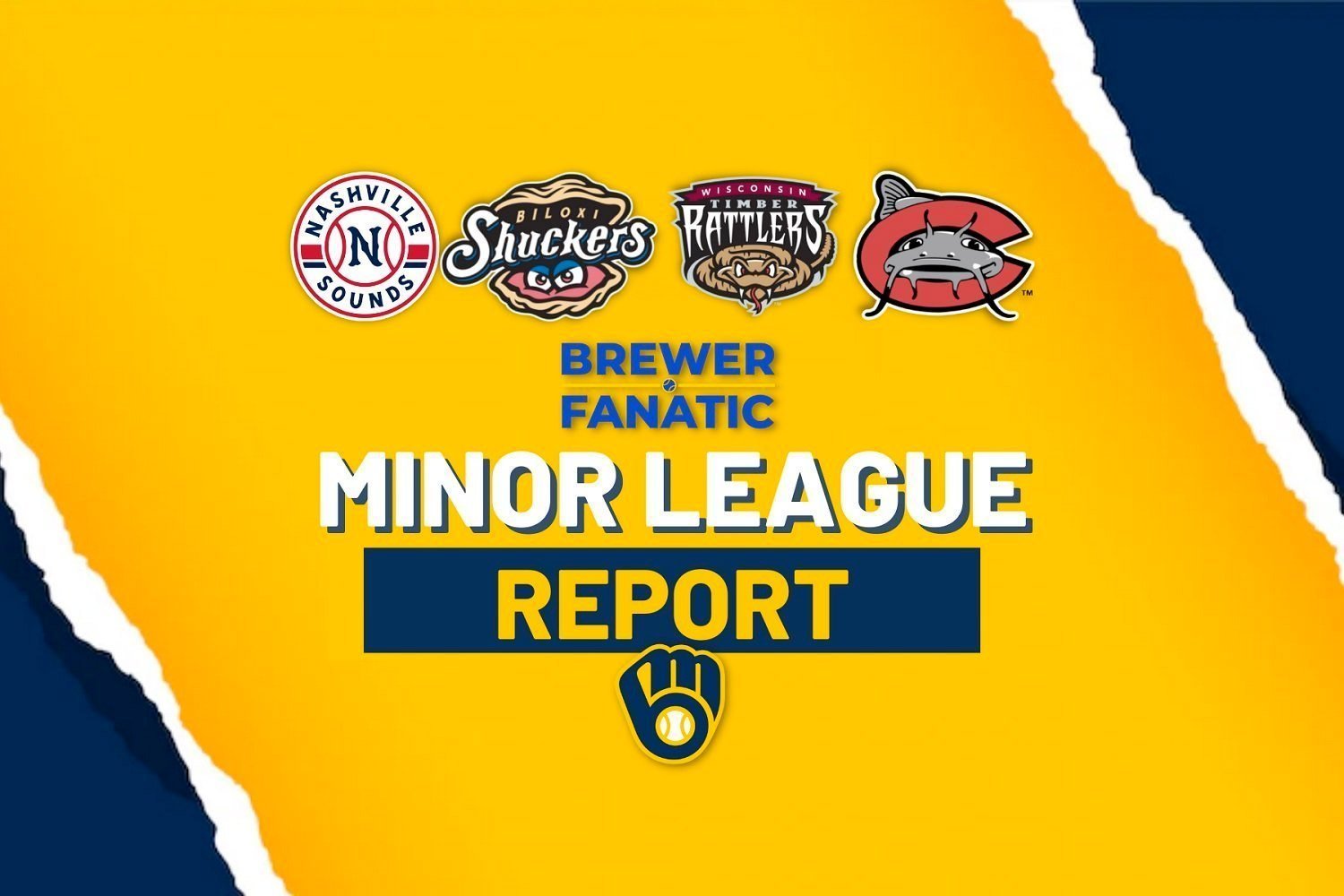 Image courtesy of Brewer Fanatic
TRANSACTIONS:
---
Final: Down East (Rangers) 4, Carolina 3, 11 innings; Carolina loses best-of-three series two games to one
Via the Mudcats' site, we encourage readers to review each of the affiliate write-ups as part of your season-long Link Report routine:
Mudcats Fall 4-3 in Extras in Playoff Series Finale
First off, thanks to Voice of the Mudcats Greg Young Jr. for coordinating audio broadcasts for these two games in the technologically-barren landscape of the Wood Ducks home ballpark. I, for one, was diligently listening while my iPad streamed the big league action from Milwaukee. 
History will indicate that the Mudcats were foiled by their inability in the 11th to bring in any of their three baserunners, but you could argue that the game was lost in the first inning. In 49 games in 2023, infielder Juan Baez committed 18 errors, though only one error in eight games since his August 29th promotion to Carolina. Playing third base for a second straight night Friday, Baez (who only turned 18 years old in June, mind you) had a one-out throwing error. Starting RHP Yorman Galindez couldn't pick up Baez and allowed a two-run double. The Mudcats were fortunate to limit the score to 2-0 as LF Jace Avina nabbed a runner at the plate when the next batter singled.
And there it would remain through seven innings as Galindez worked three frames and RHP Jeferson Figueroa was perfect through the three middle innings.
The best Carolina opportunity came in the 6th as the game log will show. Runners on 1st and 2nd with no outs, when Luke Adams, DH'ing in this game, grounded into a forceout at third base and the inning fully fizzled shortly thereafter. Adams would not miss his opportunity when it came around again in the 8th with a man on:
Adams himself is only 19 years old, and hasn't even cracked the 19-and-one-half-mark yet, so we can allow for the teenage enthusiasm. Safe to say he knew it was gone off the bat. Imagine the celebration if it was a go-ahead blast.
If this was a big-league playoff game, there would have been no zombie runners during the final two innings. But there were, and it was so for both teams.
Let's hear it for RH reliever Chase Costello. In Game One Tuesday, he threw 37 pitches in two innings (one run allowed). He managed 3.2 scoreless innings in fewer pitches here (35), and stranded two inherited runners upon entering.
This report will focus on this one game, and is not meant to be a post-mortem on the Mudcats' fine season. A disappointing way to say goodbye to Carolina for now, but the experience gained throughout will prove valuable for a talented crew. It should be a fun summer of 2024 in Appleton.
---
Though the Sounds are still alive in the postseason chase, the Shuckers are really alive in a much more time-sensitive way, so we venture to Biloxi next.
Final: Biloxi 9, Montgomery 2
Via the Shuckers' site:
Tobias Myers Strikes Out Eight, Shuckers Keep Playoff Hopes Alive - Biloxi smashes three homers in 9-2 win, Wes Clarke falls a triple short of the cycle
What is less daunting than having to win three in a row against your primary rival to reach the postseason? 
Having to win two in a row.
Nine runs? How about nine video clips from the Shuckers' media feed?
We'll post two here, symbolic of being able to breathe from the start:
Manager Mike Guerrero has a wealth of riches to choose from for his Saturday night lineup against RHP Cole Wilcox, who has made 24 starts for the Biscuits but hasn't dazzled with a 5.40 ERA.
It's a free MiLB.TV game, by the way.
Wes Clarke aids in that lineup flexibility. Behind the plate while Jeferson Quero rested, it allowed for Zavier Warren and his 1.269 (!) September OPS and Brock-Freakin'-Wilken to both be in Friday's lineup, at third base and DH, respectively. Mix in Ernesto Martinez at first base and one of those five will begin on the bench Saturday.
Via MiLB Pipeline's Sam Dykstra, in Biloxi for the weekend:
Junior Caminero squares off against Tobias Myers. The two were traded for one another in Nov. 2021.
Caminero is a beast of a prospect, just 20 years old, right up there in the Jackson Chourio realm. (Chourio walked and singled here, by the way.) The Guardians wish they had that "give up a lottery ticket" trade back.
The Brewers will benefit from grabbing Myers after an ultra-disastrous 2022 and inking him to a rare two-year minor league deal. In this game, Caminero reached twice vs. Myers, 1-for-2 with a walk.
So the stakes remain high on Saturday night, and the Biloxi backs are still up against a wall, but staying alive is fun.
---
Final: Nashville 8, Charlotte (White Sox) 2
Roller's Six RBI Carries Sounds Past Charlotte - Nashville outfielder leads offensive charge, Sounds rout Knights 8-2
MLB White Sox: 58-92
AAA White Sox: 49-93
AA White Sox:    49-87
So yeah, be thankful you're here at Brewer Fanatic.
With a win and a Durham loss vs. Louisville, the Sounds are within 4.5 games (with 8 games remaining) of the Bulls in the International League second half title chase.
So who is this Chris Roller cat? Four years in the Dodgers' system as a 30th round pick out of a Texas JUCO back when they had more than 20 draft rounds. Grabbed in minor league Rule 5 by Cleveland (December 2020), and acquired for cash by the Crew to fill a needed gap with a month left in this season, all he's done with Nashville is post a .405/.542/.676 line in 11 games. Will the Brewers bring the soon-to-be 27-year-old back this fall, away from minor league free agency? Stay tuned.
We see you, Garrett Mitchell. Three K's as part of an 0-for-4? No matter, welcome back.
Tyler Black - heating up, getting more comfortable each night.
With each game summary out of Nashville, we can't help but be reminded that Abraham Toro has had a pretty spectacular AAA season. His 40-man roster spot isn't going anywhere.
---
An odd 4:35 Central start for Nashville, 6:05 for the critical Shuckers game - enjoy your Saturday, everyone.
Organizational Scoreboard including starting pitcher info, game times, MiLB TV links, and box scores
Current Milwaukee Brewers Organization Batting Stats and Depth
Current Milwaukee Brewers Organization Pitching Stats and Depth
Think you could write a story like this? Brewer Fanatic wants you to develop your voice, find an audience, and we'll pay you to do it. Just fill out this form.
MORE FROM BREWER FANATIC
— Latest Brewers coverage from our writers
— Recent Brewers discussion in our forums
— Follow Brewer Fanatic via Twitter, Facebook or email
1