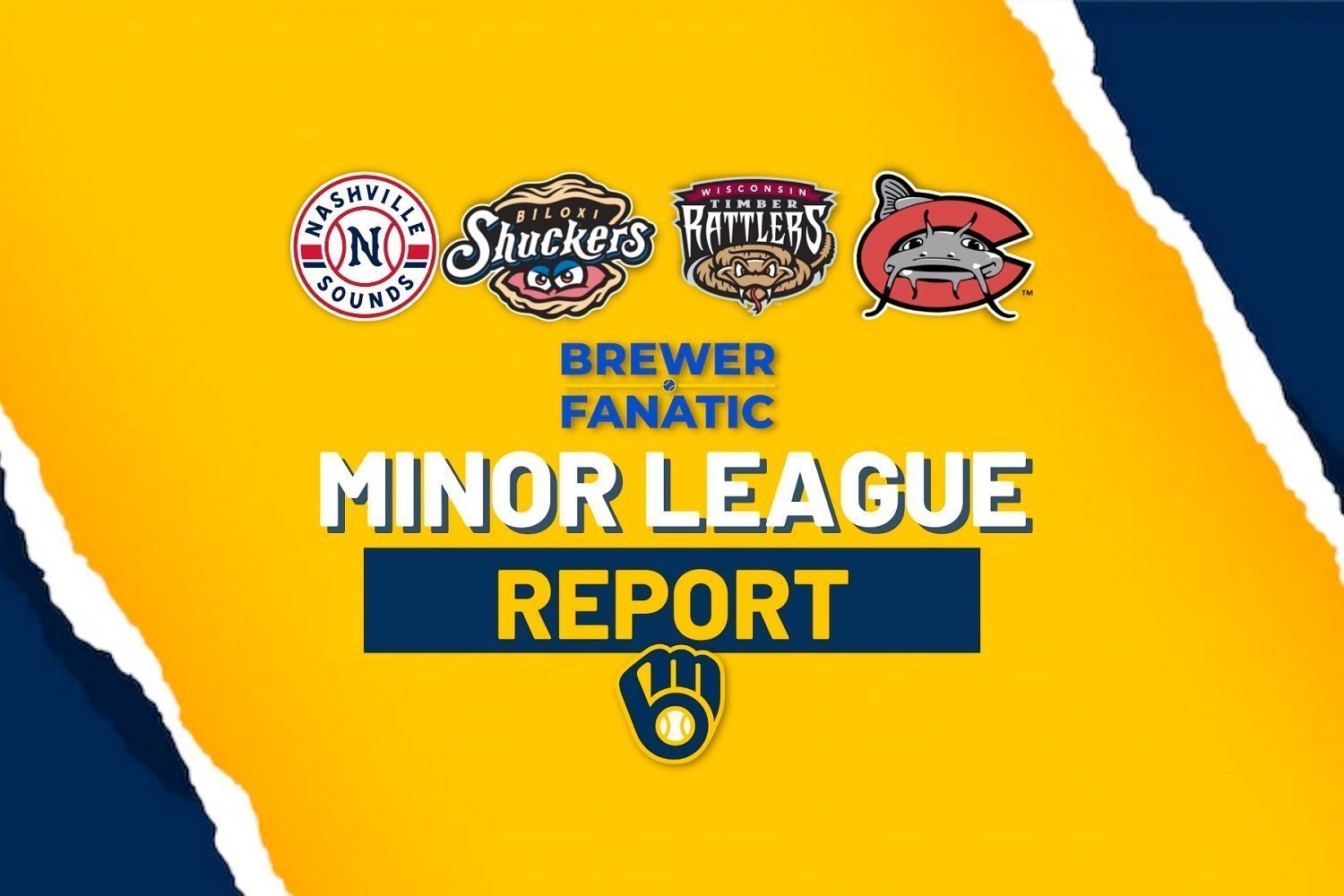 Image courtesy of BrewerFanatic
TRANSACTIONS:
For background on the two southpaws, please visit our transaction thread post here.
---
Final: Montgomery (Rays) 2, Biloxi 1
Via the Shuckers' site, we encourage readers to review each of the affiliate write-ups as part of your season-long Link Report routine:
Shuckers Eliminated from Playoff Contention with Loss to Biscuits  - Biloxi concludes season Sunday with Fan Appreciation Day
The moment was set.
Bottom of the 8th, Biloxi facing the same 2-1 deficit they had since the 4th inning. Tampa's uber-prospect, third baseman Junior Caminero (0-for-5 on the game) committed an error on an Ethan Murray grounder with one out. Speedster Eric Brown Jr. pinch-ran for Murray.
Leadoff man Isaac Collins has been so strong in 2023, a real breakout season, including a .919 OPS in ten September games. Collins kicked off the Biloxi at-bats thusly:
Our @Joseph Zarrwas among those watching live in the 8th:
"Collins fouls off two heaters - the second one was a meatball and he regretted getting under it. He then goes down looking on a dead center curve. EBJ takes second and the throw goes into CF. Now on 3rd. Two down. Chourio to the dish."
Jackson Chourio, up to this point, had been working a strong on-base game. He lined a single in the first, but was gunned down trying to steal to end the inning. Chourio walked with two outs in the 3rd (followed by a Brock Wilken base on balls), but both men were stranded. Chourio led off the 6th with an infield single but was immediately eliminated on a Wilken GIDP. 
A week grounder to second base off Jackson's bat ended the 8th.
There was a very eventful and unfortunate sequence in the bottom of the 4th involving catcher Jeferson Quero and Manager Mike Guerrero. We have it detailed for you here, please review.
Zavier Warren attempted to rescue the Shuckers with a two-out double in the 9th. Is Warren that "slow"? With Guerrero out, the Shuckers bench chose to pinch-run for Warren (6-for-9 in SB attempts this season) with Ernesto Martinez. That left only OF Lamar Sparks on the bench. Seldom-used catcher Nick Kahle had entered the game for Quero after the injury you read about at the prior link. Sparks could have been utilized with designated hitter Wes Clarke moved out of the DH spot to move behind the plate in the 10th inning. Or better yet, Martinez could have simply pinch-hit for Kahle. 
When Kahle popped out to end things, one wondered what impact the Mike Guerrero ejection had on those late bench decisions.
No matter how you shake it, this defeat, like the Carolina loss Friday night to end their season, was very frustrating. Kudos to TJ Shook, James Meeker, and Cam Robinson on their mound efforts.
Sigh...
---
Final: Charlotte (White Sox) 9, Nashville 3
Sounds Winning Streak Comes to Screeching Halt - Dorrian knocks three hits but Sounds lose 9-3 to Charlotte
RISP: 1-for-16
Caleb Boushley with an unfortunate starting effort, Luis Contreras allowing three of Boushley's inherited runners to score.
Despite a 38-29 record in the second half, the Sounds elimination number with seven games remaining is down to just three, because, of course, the Rays' minor league rolling pin saw Durham win yet again.
Feel free to peruse the box for a few nuggets of positivity, but in actuality, not much.
---
The Biloxi season finale is at 1:05 Central, the Sounds play at 4:05. Enjoy your Sunday, thanks for reading!
Organizational Scoreboard including starting pitcher info, game times, MiLB TV links, and box scores
Current Milwaukee Brewers Organization Batting Stats and Depth
Current Milwaukee Brewers Organization Pitching Stats and Depth
Think you could write a story like this? Brewer Fanatic wants you to develop your voice, find an audience, and we'll pay you to do it. Just fill out this form.
MORE FROM BREWER FANATIC
— Latest Brewers coverage from our writers
— Recent Brewers discussion in our forums
— Follow Brewer Fanatic via Twitter, Facebook or email
1